AMF 850
---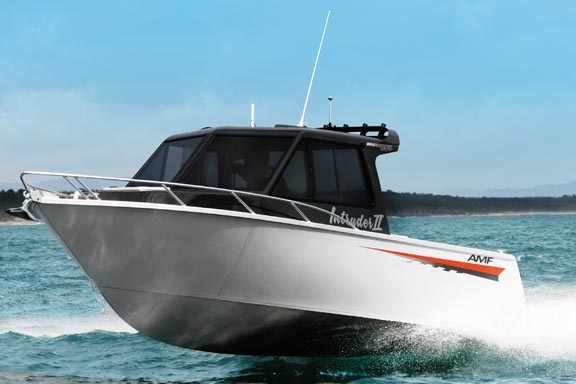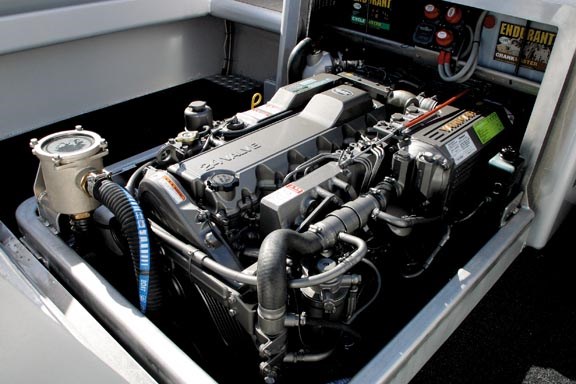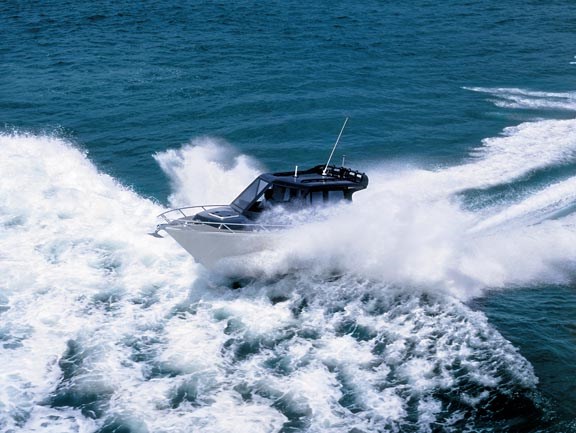 Intruder II is a custom built, safe and solid trailerable vessel designed on an 8.5m version of AMF's latest development fine entry hull
The design (worked in conjunction with her owner) called for a strong, dry, fast and safe day boat for some serious blue water cruising and the odd spot of fishing for the extended family. Our first impression concurs the finished result is all that with a ripper of an engine to boot.
The hull measures 8.5m with a beam of 2.5m, and a vee degree of 18 at the transom. Structurally the 850 possesses an 8mm alloy hull, with 5mm sides and the cabin is constructed in 4mm, allowing AMF's 12-year standard hull warranty to apply. With true bluewater intentions the cabin glass is also built for anything with 8mm armour glass in the front and 6mm port and starboard (all finished in a soft grey tint).

Windage also has a part to play as many hardtop aluminium boat owners know, so AMF has rounded all corners of the cabin. AMF founder Paul Sharratt points out the benefits of rolling the edges stating it is a significant factor in cutting down windage both on the water and when travelling by trailer, a point already noted by staff while transporting the 850 many miles to several boat shows around NZ. The cabin roof rear also features a drain-flow system to keep any roof bound rain or spray from falling straight into the cockpit and onto her passengers.

Getting underway the heart of the beast comes alive. The Yanmar 6LPA diesel roars, and the distinctive sound of a turbo whirrs into life while harnessing all of the available 315 horses from the 4.2ltr 6cyl motor. The block is the same shared by the long time proven Toyota Landcruiser, one of the few vehicles with a towing weight capacity to legally haul the big AMF, estimated at around the 2.8-2.9 ton laden weight and 3.5 ton all up on the trailer.

To turn power to drive is a Merc Bravo 3 leg spinning 2x26" props. Originally the prediction was for 24" props, but the hull slides easily and the Yanmar built too many revs on the first sea trial. The 26'ers seemed spot on, and although we had only three aboard on our test voyage reports where we touched on 40 knots. Duane from AMF reported that even with seven adults on board during trials with the boats owner, the 850 showed a consistent max speed of 38.5 knots. This motor was chosen because it fitted with the design goal of around 300hp with reasonable weight, and AMF is predicting at a good cruise speed of approx 25 knots she will use a fairly frugal 17-20ltrs per hour.

Safety is obviously a key issue through the design and equipment on board the 850, from the obvious EPIRB, extinguisher and Simrad CE54 plotter/sounder with very easily readable 15" LCD screen, but Paul Sharratt also points out the less obvious, passive built-in safety features. These include gunwale height sealed air tanks for anti rollover if swamped, sealed floor flotation, and the lowering of the inbuilt fuel tanks within the initial design to utilise the third of a ton max fuel load ballast for rollover resistance and static stability when floating at rest. Total fuel capacity is approximately 350ltrs.
The large cockpit is only interrupted by the hump of the engine box and has removable carpet over a checker-plate alloy floor. Practical features include deckwash hose, cockpit floodlight, and a lift-out section gives walk-thru access onto the wide full width transom platform and boarding ladder.

Heading into the hardtop cabin is through a wide sliding door giving that real estate favourite - indoor/outdoor flow. Comfort and finish inside is impressive, and fitting with the day boat mode, with greater emphasis placed on open space and accommodating seating for skipper and guests rather than potential berths. Although further forward a single step drops down to the wide V-berth area with surrounding shelf storage and marine toilet beneath the removal centre squab.

A further hatch on the forward wall allows extra gear storage and access to the Lofrans windlass. The saloon features a portside four person lunch/chart plotting table with the forward seat boasting a well padded swing back rail allowing it to convert from an aft facing table seat to a forward facing place for passengers en route. Quite clever and very practical, and gives the cabin a larger cruising boat feel. A removable floor panel mid cabin also unveils a great dry storage area for longer items.
The helm features the comprehensive Yanmar controls and indicative dials, the fore-mentioned Simrad plotter/sounder, JRC VHF, windlass controls, the switches for interior and exterior lighting including nav and a Pioneer stereo. Behind the scenes is a 10 amp DC conditioner to guarantee a safe working voltage and minimal electronic interference with sounder and VHF, plus a Seaspension helm seat (more about that later).

The 850 had no trim tabs, and showed no signs of needing them. Looking up shows an intention for night outings with a good amount of well-presented roof mounted interior lighting, and passenger grab rails for those bumpier trips, which we made good use of on the test day.
After launching at Tauranga, we headed out into an incoming spring tide backed by an onshore breeze between the Mount and Matakana Island. The recent stormy conditions left behind a fairly rough sea, with consistent rolling-to-sharp 1.5 - 2m swells and the odd breaker.

Originally we were on board the smaller fibreglass photo chase boat (thanks to Glen Chappell from Dreamboats Tauranga), and we found chasing the AMF through the open choppy waters at pace a no-go. The AMF was able to continue at a hefty rate of knots with ease, while we took a pounding. With the photo session done (back in the calmer harbour), and now onboard the 850, the rolling sea beckoned.

The Yanmar makes a healthy snarl when fed plenty of diesel, although with the cabin door open can be quite noisy to those inside. Slide the door shut and the difference is huge, with the most audible distraction (if you can call it that) coming from the whistle of the turbo - a noise I just love.

Heading straight into the swells we regularly launched the 850's hull clean, with most landings fairly soft and more often than not tail first (she's a big bit of engine aft). Even when carving into the face of the following swell the AMF never protested with a hull shudder or window shake, although as a passenger at this stage some serious hanging on and knee work was called for.

Under normal conditions one would not be hitting these seas at over 30 knots, but the boat is definitely up to the job if needed. It's about now I noticed Duane was sitting happy as a sand-boy on the well-suspended skipper's seat driving through all the rough and tumble, with a smile.

The helm position is adjustable in many ways with a height/angle variable wheel (same as a car) as well as the superbly sprung Seaspension seat that can be adjusted forward or back, as well as to your preferred height. Under way the captain's chair is the spot to be, with a totally cushioned ride no matter what you're launching off or landing into, and even in these choppy conditions your butt never leaves the seat. Thumbs up for this product.
he enclosed hard-top cabin has great all round visibility, and gives a secure elevated view of the surrounds, making you sometimes a non-believer of the amount of knots the speedo is telling you the 850 is currently travelling. Running with the rolling sea the 850 surfs true and with its power assisted hydraulic helm steers accurately with fairly light input.

We played a bit in the breaking surf on Matakana's southern seaward coastline with no ill effects and even kept the cockpit carpet dry. The 850 will cavitate in a pushed tight turn and if nailed from a snail's pace, although giving her a handful from any planing speed (min about 14 knots) and the AMF takes off with ski-tug acceleration.

This is a fast, safe, trailerable family vessel, with impressive build quality, custom fitted to the owner's specific usage. As tested the AMF 850 will set you back around $239,928 on the trailer, and with its large cabin and 2.5m beam it is easy to envisage this base design able to accommodate extra berths, or a galley, depending on prospective owners needs. With its sure-footed rough water capabilities I'm sure Intruder 2 has already seen plenty of open-sea action since our test, even with our dodgiest summer in years.
While on our visit to the AMF factory we spotted another marginally bigger 8.5m pleasure vessel in production, built to commercial strengths, as well as their first rigid hulled inflatable quick response vessel 8.5m in length. Add to that a 7.5m flat barge to survey requirements and you get the impression top end custom building is what these guys are all about. ?
Keep up to date with news from Trade-A-boat or like us on Facebook!