Bazooka
---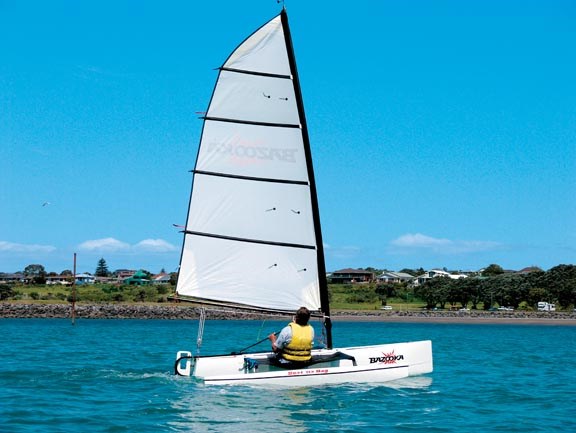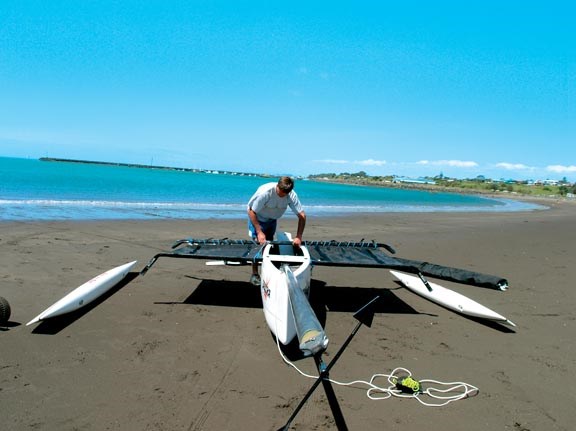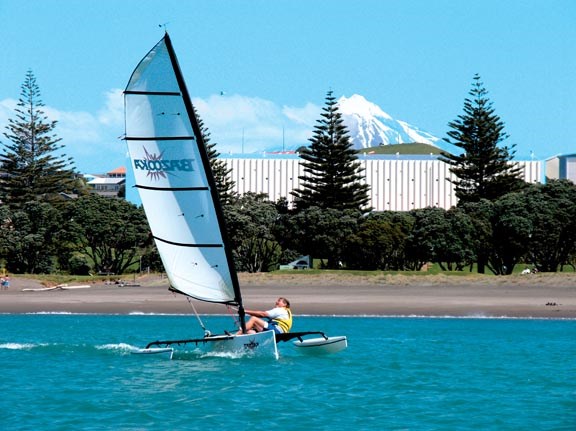 A bazooka, according to Collin's dictionary, is "a portable tubular rocket launcher that fires a projectile capable of piercing armour; used by infantrymen as a short range anti-tank weapon."

Its origins sound closer to my heart though; "named after a pipe instrument invented by American comedian Bob Burns (1896 - 1956)", the dictionary continues.

But there's another bazooka too, a 3.7m trimaran built in New Plymouth, New Zealand, which is also something of a rocket and can make music under sail.

Builder Paul Muller turns up at Ngamotu beach in his Subaru station wagon with two long, lean shapes strapped to the roof rack. "Boat 'n a Bag" says the writing on one and "Bazooka, the Roof Rack Rocket" is emblazoned on the bow of the other.
"I sort of designed them for inner city living," he says. "People who live in an apartment can keep one sitting in the hallway or spare room and, when they want to go sailing, just wheel it down to the beach. Marina berths are getting scarce - and expensive…but you can keep a Bazooka anywhere."

Within 10 minutes, a Bazooka had been lifted off the car, the cover removed, the amas (floats), crossbeams, mast, sail, rudder and tiller lifted out from within the main hull and fitted. The little maritime missile is ready for launching.
Just over 18 knots of wind whistled through Port Taranaki as we pushed off the beach and the trimaran leaped into action. Within minutes we were reaching back and forth across the harbour; buzzing with exhilaration and smiling broadly enough to split my head in half. And the Bazooka played up to the second part of her dictionary definition and began to emit a loud hum - music to a sailor's ears.

"I wanted a boat to sail off the beach near my home on the exposed and rough west coast at Taranaki," Muller had explained earlier. "I hadn't done any sailing before - or much boating for that matter - so it had to be really stable, user friendly and lots of fun. In other words, it had to be a multihull."

Part of Muller's 30-year career as an aircraft engineer had been spent in Fiji and he had a hankering for the swift outrigger canoes sailed around Suva by the Fijians.

Taranaki boat-modelling enthusiast, Bruce Ewing, drew up the original plans and his son Tony built the fibreglass prototype about ten years ago. Eight boats were made from this mould but another five have been built since with larger cockpits, better finish and improved buoyancy.

An Australian builder, Ross Guinea, also built several boats. "There are Bazookas sailing in Melbourne, Canberra, Coffs Harbour, Gold Coast, Fiji, Hastings and New Plymouth," says Muller.

One boat has created an addition to the sailing lexicon: 'Bazooka widow'. "We delivered it to a guy in South Taranaki on Boxing Day - he had never sailed before; but he rang back a few weeks later to say that he'd sailed his Bazooka dozens of times; in rivers, lakes and off beaches. If there's no wind he rolls up the trampolines and paddles it - or clamps a two horsepower outboard to the cross beam…and goes fishing. His wife reckons she's going to put an axe through it."

Tacking to and fro up the harbour I could see that owner's point. With our combined 160kg on board, the boat responded well with either of us hiked out on the trampoline, sitting in the middle hull or just sitting on the trampoline with our legs inboard. The wide gunwale contributed to the Bazooka's ergonomics of ease.

The 3:1 mainsheet tackle could have done with a jam cleat perhaps, but it was plenty powerful enough to handle the 8m² mainsail and the boat was comfortable to sail without any knuckle, toe or shin cracking protrusions and a soft lining of synthetic carpet inside the hull.

It took this keel boat sailor a while to get the hang of the Bazooka but her stable and forgiving nature made up for any operator shortcomings and I quickly grew more and more confident at pushing the mini multi with every minute on the water.

Once we regained boat speed after each tack, I was surprised by how close-winded she was, sailing well at about 30 - 40 degrees off the wind. Two long, low aspect skegs, one on either side of the main hull, help prevent leeway and also act as legs to keep it upright when the boat is beached.

With the Bazooka back in ankle deep water, Muller swung into action. The aluminium cross beams came off after unscrewing four thumb screws and the amas came next with a quick flick of their stainless steel catches. Both amas are asymmetric, with their flat sides on the outside, like a Hobie Cat.

Next the main halyard was eased to let the sail down. "The mast is a two part carbon fibre spar, made by C-Spar in Auckland," says Muller. The sail has a zipper on the luff which is zipped up with one hand while the other hauls on the halyard. The clew of the fully-battened sail is attachedto the end of the carbon fibre boom and the sheet fastens to a short rope traveller at the stern of the main hull. Muller's experience in the aviation field comes to the fore here and all the engineering is functional and tidy.

The main hull is solid GRP with a false floor for stiffening and two self drainers at the after end which, along with the four underfloor watertight buoyancy compartments, suggest that the boat would take a lot of sinking. My 88kg sitting on one ama just put it under water. Muller says the boat will take 230kgs.

Both amas have non-skid moulded to the tops to help bathers climb aboard if the boat is being used as a swim platform.
Seven minutes later, with all the constituent parts neatly stowed inside the main hull, the 65kg Bazooka was zipped back into its bag and swung back atop the Subaru. Muller wiped his hand together with the air of a magician whose rabbit has just disappeared into a top hat.

Bazooka is the only multihull dinghy built in New Zealand and is meant to fill the market gap between a windsurfer and a Hobie 14. A set of wheels which clip to the hull make it easy for one person to moor or launch and it takes very little room to store when not in use.
"It'd be perfect for cities in Europe or the states, where there's very little spare space," says Muller.  "It's great for urban apartment dwellers. When people want to go sailing they can just wheel it down to the beach, between cars in a car park or whatever, and away they go.
"The boat has had a fair old thrashing in some very rough sea conditions off the Taranaki coast, through surf breaks and
on choppy lakes but none have, so far, come to grief," he adds. They have also been deliberately capsized and have proven easy to right.
"Their owners seem to love them - we get together every year to hold a regatta and socialise." A fully spec'd Bazooka, made to order, costs about $NZ10,000 but that price includes membership of the growing group of fans and enthusiasts.
"It's neat," Muller says. "Everyone who has bought one has become a friend and people often ring up to say where they've been - or what they've done - with their Bazooka…or make suggestions to improve the next model."

Part of the fun would be watching friends' faces when they ask what you've got inside the long black bag in your hallway. "Oh that," you could say, "that's my Bazooka." ?
Keep up to date with news from Trade-A-boat or like us on Facebook!