Charparral 330
---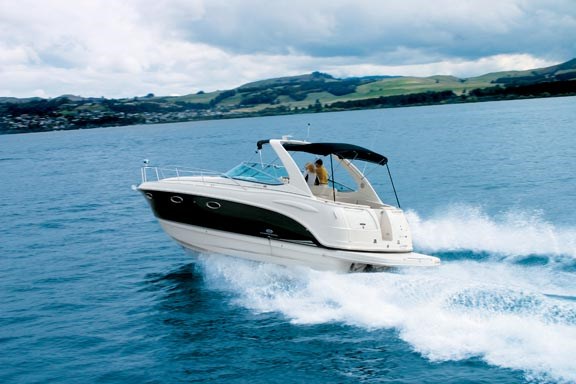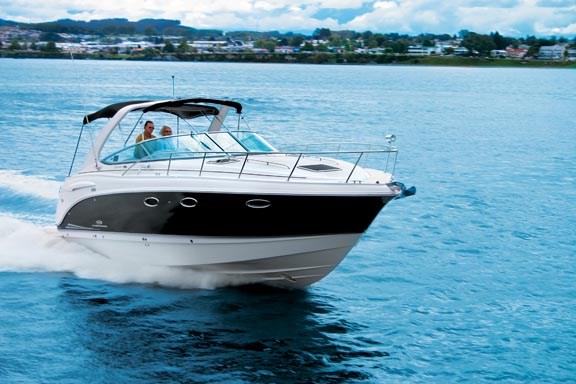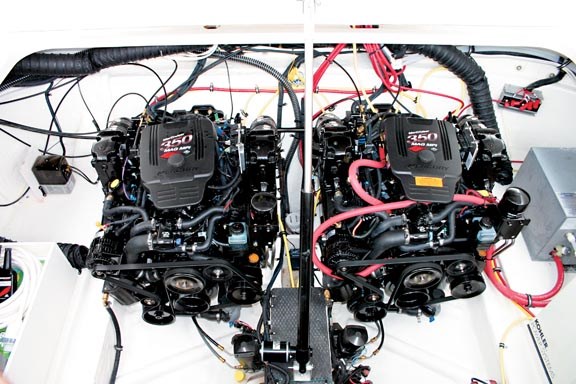 The Chaparral 330 offers a lot of bang for your buck
The first Chaparral 330 in New Zealand, Hi Chaparral provided an excellent opportunity to inspect and examine a marque that carries a formidable reputation in the US and Canada. A reputation not only for a superlatively quiet ride (despite the generous horsepower), but also for its comprehensive construction technique. Not surprisingly, the quietness of the ride and the construction technique are directly related.

Chaparral's quad-radial lamination system (evidently a "must-see" on factory tours) claims to put strength where it is most needed. It includes the MaxGuard gelcoat (which prevents yellowing, fading and chalking), blended with a smidgen of Hydropel (for maximum bonding and strength), and a "lasagne-type layering mix" of woven roving and fibreglass mat skin coat. This strengthens the hull without adding unnecessary weight.

Next comes Spray Core 2000 – to stop pattern print-through by the fibreglass – followed by marine coring for structural rigidity in the decks and last, an injection of closed-cell flotation foam in all the cavities under the floorboard. These are not used as storage space, and this is perhaps a key factor in the quiet ride. While the construction method might seem a case of overkill, there's no faulting the boat's immaculate finish.

The boat belongs to Tim Boddy, former owner of  The Hidden Valley of Orakei Korako Geyserland. He and Auckland's John Keenan recently formed a partnership to import and distribute the Chaparral range in New Zealand. Keenan has invested in a 290, the 330's slightly smaller sister.

Hi Chaparral's an impressive vessel from every angle. I hopped on to the extended swimming platform and stepped through the transom's centre door to a world of style and elegance. There's more than enough room in the cockpit to take 10 friends for an exhilarating rocket-ride in spacious comfort.

Pack the sunglasses, though, as this is white city at its pristine best, offset with subtle shades of ultra-soft vinyl.
It's a great entertainment area. There's a padded, U-shaped settee and table on the starboard side and a L-shaped version to port. A wet bar (double basin) with a granite-effect top is complemented by a fridge and optional ice-maker – and what I would come to see as the Chaparral-touch – a take-ashore cool box sitting snugly under the L-settee.
Forward of the wet bar, on the port side, is another lazy L-shape settee. It allows three adults or four grandchildren to chat with the skipper and mate who share a large, double seat that offers choices of sitting or standing. Good party potential.
I soon had my mitts on the mahogany helm. Visibility is excellent, even though the foredeck must be four metres plus. The designers have got the angle just right. Yet another Bentley moment.
The business end of the 330 is just that: a good mix of ergonomic design, simplicity and precise information.
There are two, four-in-one dials providing data on oil pressure, trim, volts and temperature, and alongside is a two-in-one rev counter and speedo and an engine sync gauge. On the port side of the helm is a row of conveniently-positioned Constant-Lite rocker switches, covering secondary func-tions like the anchor and bilge, while immediately behind the helm's central hub are the two trim tab rockers – right at your thumb.
Access to the foredeck is through a split windscreen and an easy step up through the gap. No clambering out onto the gunwales and edging your way to the front.
Performance
The building south-easter had created a half-a-metre swell and a close chop on Lake Taupo. A gentle ease forward on the twin controls twitched the tail of the twin Mercruiser 5.7litre V8s. They deliver their power through Bravo 2 legs and she popped out of the hole, without the big boat dig-into-the-hole effect, transitioning onto the plane in a blink of an eye.
It's a very stable ride. The modified V running surface extends the full length of the boat. With a deadrise of 19 degrees and at nearly 3.5m in the beam, she is not a rock 'n roller. That said, I'd like to take her for a run – say returning from Great Barrier in a south wester – to see how she handles a bigger sea. 
Light-as-a-feather, the helm elicits a response instantly. I picked up the Cruise Cat ferry powering across the lake and headed straight for it, to test her handling of a big wake. Hi Chaparral was up to the challenge, slicing through it at pace and accelerating away at a tad under 60kph without a drop of water on board. So, no opportunity to test the self-bailing, cockpit drainage system.
A series of tight turns and wiggles, with just the right amount of lean on the curves followed and it was clear that I'd have to try all year to catch her out. This is a performance boat and then some. The manufacturers claim a mere 1kph difference in speed when fully laden and carrying 10 up, versus a crew of two, minimal water in the tanks and 100 litres of gas. At 3,000rpm she cruises at 25 knots (29mph) and sips 17.2 US gals an hour.
The boat is nimble and agile, and in addition, is fitted with a bowthruster to help with manoeuvring her girth into tight berths.
Interior
Entry to the accommodation area is via a wide companionway, slightly off-centre. I had mentally conditioned myself for the cabin: after all, it is an American boat. But nothing prepares you for the opulence and spaciousness. It is hugely flash and the space – particularly the 1.96m headroom – is really something I could get excited about. That clearance extends to the bathroom with its shower, flushing toilet and basin.
The master cabin, up for'd, is very Hollywood-ish at first sight, as you glide down three carpeted steps, with its curving lines, plush upholstery, half-a-forest of cherry wood and a couple of solid maple, click-away tables. The main table moves down at the click of a switch to form the centrepiece of the V-berth.
A fibreglass inner liner, with so-called "moulded radius" corners, creates the ultimate seamless look, while three over-sized deck hatches, and countless portholes make for a light and airy feel. Anything but a below-deck cabin. The cabin also features the electrics switchboard in a discreet locker, so that the skipper doesn't have to go stumbling about to switch off at night.
Aft is a second, double berth cabin, and as with the master suite, every berth, seat and step sports a clamp release to reveal additional storage space. I liked the Chaparral-touches in the aft cabin wardrobes where cedar wood lining has been fitted to banish any engine/petrol smells.
Galley
You have this feeling that the galley will be a helpful ally when you explain to your wife why you simply have to buy this boat. It's really a full-on kitchen with a granite-effect top, a two-plate electric stove (with fiddle rails), expansive countertops, an AC/DC refrigerator, a microwave and oodles of storage space.
The piece de resistance for me, however, was the engine room: and I mean room, not compartment. At the touch of a button the aft section of the cockpit hinges up (at the transom) to reveal the pair of quiet-running Mercruiser engines, the 16,000 BTU air-conditioning/heating unit, 5KVA generator and auto fire extinguisher.
And the secret to that signature, quiet running performance is immediately apparent: the entire engine room is one mass of sound absorbent and reflective material. Works wonderfully.
At slightly under $400k, the Chaparral 330 offers a lot of bang for your buck – particularly with our dollar sitting where it is relative to the greenback. It might not appeal to everyone, but it's difficult to ignore. Just like a Bentley. ?
Boat supplied by Global Motor Yachts, tel (07) 3768919 or 021 903960.
Keep up to date with news from Trade-A-boat or like us on Facebook!