Lemon Bay Sled 5.5m
---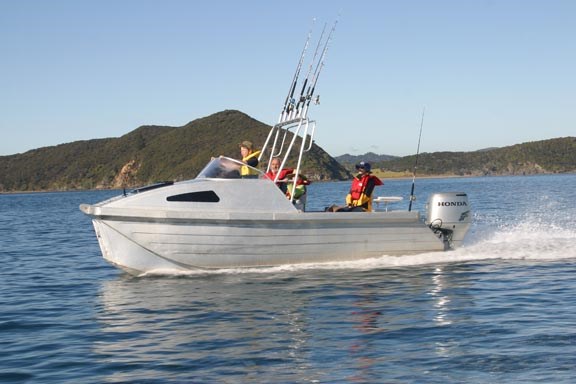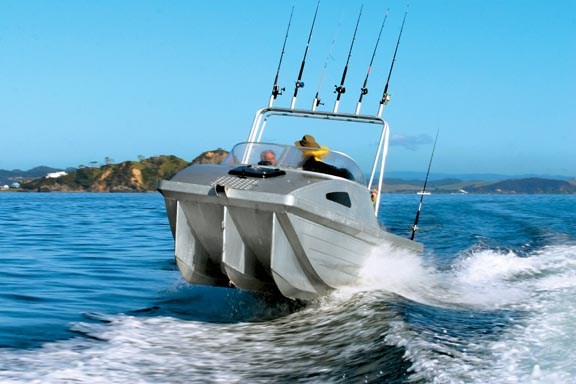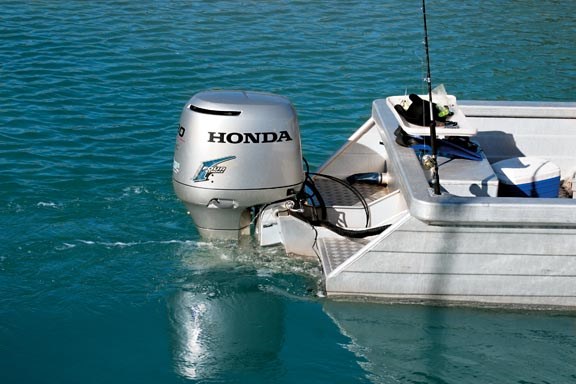 This boat defies first impressions – every time you look at it you get a different viewpoint. From one angle it looks like a barge, from another the sleek lines are evident.
The space available on its 5.5m length really has to be experienced to be fully appreciated.
And what of the handling? Can any vessel with a rectangular front end really perform? The only way to find out was to try it.
A window of fine weather gave us the chance to go up to Russell in the Bay of Islands, and put the Lemon Bay Sled through its paces. We combined this with a day's fishing, some dolphin watching, and threw in a ride through the Hole in the Rock.
Designer Paul France first conceptualised the Sled in 2001, after looking for a boat that gave him stability at rest and performance at speed. The requirements cause conflicting design considerations, so he combined the best of both worlds.
A basic flat-bottom barge structure gave stability, space and plenty of tortional strength. And by adding three narrow sponsons to the hull, he created a drive surface that has minimal wetted area for maximum efficiency.
At rest, the boat settles down and the flat bottom gives it stability. As the boat moves forward the hull lifts onto the planning surfaces of the sponsons, giving a light and fast boat. Air pressure under the hull also softens the ride, eliminating the crashing down one would expect from what is essentially a flat-bottomed boat.
France has now built more than 10 "sleds", ranging from five to seven metres in length, and in a range of configurations from an open runabout to a fully-enclosed cabin version with a double bunk. Every boat is semi-custom, and buyers can specify the exact layout required. DOC has bought a five-metre centre console model, primarily to patrol the Waikato River. But it also wanted a boat capable of heading out from Raglan over the infamous bar. The sled that was built for DOC has been surveyed to "Inshore Limits" – certified to operate up to 12 miles offshore.

The boats are constructed from 3mm aluminium, with 4mm treadplate for the decks. France says this is more than adequate due to the design's inherent strength and the small areas between the frames and sponson girders.
There are five separate pressure-tested buoyancy compartments, ensuring this boat passes all survey requirements. The gunwale comprises an airtight section that runs around the entire boat.
This has proved effective in keeping the boat upright during flooding tests, and also gives a comfortable, broad gunwale and an efficient fender strip.Under the desks a further airtight chamber provides the main buoyancy, with each of the three sponsons also forming separate compartments.Engine requirements are surprisingly modest. The boat tested had a 130hp, four-stroke fitted, but France recommends a 90hp. Certainly we never needed anywhere near the maximum power output of the fitted engine, and the boat gets up onto the plane very quickly.Fuel consumption was not accurately measured but we used around 40 litres for several hours running, and covered about 50 miles.

Layout
The test boat was a basic demonstration model, with a cuddy cabin layout. A surprise is the inclusion of two full-length (and full width) bunks in the cabin. The bunks are sturdily constructed of aluminium plate, and require just a suitable squab to make them comfortable. There is ample stowage under the bunk, and thanks to a recessed floor section it is not compulsory to bump your head every time you get up.
The cockpit has a treadplate floor, and is fitted with self-draining scuppers. In this version a bench has been built forward of the outboard well, to act as a seat and also to hide the batteries and fuel containers. This model came with portable plastic fuel containers, but built-in fuel tanks are an option. Twin plastic seats are fitted to pedestals welded to the floor, and the driving position was comfortable. A fitted rocket-launcher is also designed to take clip-on clears to enclose the cockpit. The rocket launcher has a hinge and pin mechanism, enabling it to be folded down to fit into a low-ceiling garage.

The demonstrator version did not have many accessories fitted. A Raymarine DS500 colour sounder was the only electronic item. A full range of engine instruments is, of course, standard, and the boat has a hydraulic steering system. The wide dashboard area – a very usable surface – is protected by a Perspex windscreen.

Up front, a large hatchway provides easy access to the anchor locker from inside the cabin, although it is also possible to approach this around the sides of the cabin. An absence of non-slip surfaces on the outside is one shortcoming (although easily rectified), and a welded aluminium bow rail is a further option to be considered. This model did not have an anchor winch fitted, but there is ample space for one should it be required.

Construction quality is excellent, and it's a very solid boat. The welds were all neat and substantial. France normally leaves the aluminium uncoated, but Nyalic can be applied for buyers who want a higher standard of finish. The self-draining cockpit makes cleaning the boat a simple matter of some work with a hosepipe.
Performance
This boat is exceptional. Taking my hands off the wheel the boat stayed dead straight, thanks to the three narrow sponsons acting as keels. Striking a large wash at an angle was predictable, and try as I might I could not get the boat to "crash" down.
A "mush" is a better description of the sensation of landing after becoming airborne over a big wave. The combination of air pressure under the hull plus the fine entry of the sponsons make for a surprisingly soft ride.
Making sharp turns at speed was also a revelation. Cambered surfaces on the outside of the lateral sponsons cause the boat to react like a conventional hull, heeling over into the turn, rather than away from it like many catamaran hulls. On the other hand, it heeled far less than a mono hull would and overall the ride is much flatter. The only downside I could find to this hull is that perhaps it does not turn quite as sharply as a mono hull would.
We spent several hours at rest while fishing, and the boat was extremely stable. We had one person onboard who was prone to motion sickness and she was pleasantly surprised at how well she felt. This was despite the swell that picked up in the early afternoon. And yes, we caught fish – a dozen or so nice terakihi.
The Lemon Bay Sled has space, comfort, fuel economy and performance. Add rugged construction and over-the-top safety features, and it's a difficult-to-fault combination. France has had a number of enquiries about the possibility of making a model smaller than 5m. Realising that aluminium would be too heavy in this size, he has recently built a plug for a 4m fibreglass version. Initial production should begin sometime next year.
For more details check out www.lemonbaysled.com
Keep up to date with news from Trade-A-boat or like us on Facebook!