Mustang 3500 Sport Cruiser
---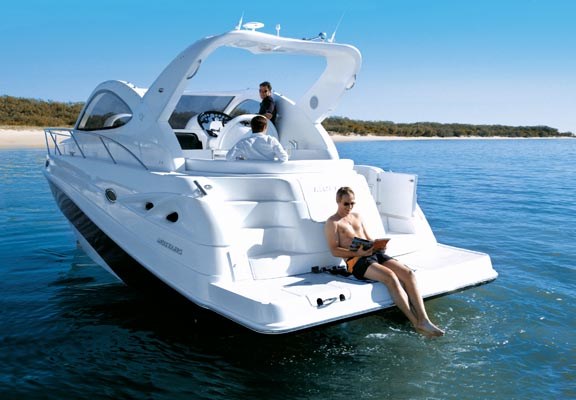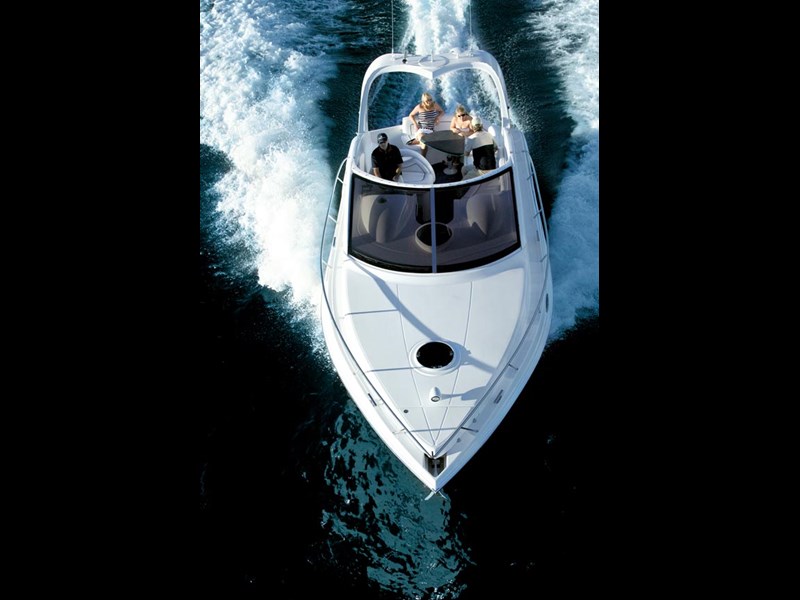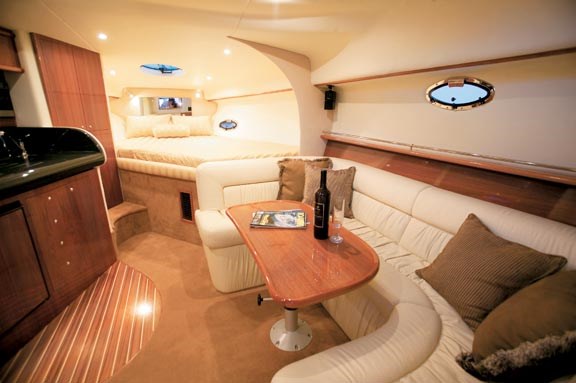 Launched last year at the Sanctuary Cove Boat Show, the Mustang 3500 Sports Cruiser shows every sign of becoming company's top seller
The bigger sisters in the Mustang stable (the 3800 and 4600) have between them collected a string of awards in Australia for their superior cruising and family-oriented qualities, so it's surprising that the design team thought it necessary (or even wise) to meddle with a winning formula.

But the result is striking. Externally, the 3500 has much more 'graceful' lines than its predecessors, a function mainly of the gently sweeping sheer and lines that 'flow' naturally from hull to topsides and back again. The effect is a far more integrated  or 'holistic' image. Inside, a fresh, new layout echoes the plush ambience of an upmarket, New York penthouse. Overall, it's a very smooth package that definitely makes a statement about its owner.
Performance has also come in for some enhancement: a slightly deeper V has been introduced to the hull. It's designed to improve tracking performance and certainly seems to be effective in a seaway.
Cockpit

It's much more than a 'cockpit' – it's actually a large, flowing, outdoor entertainment area equipped with a large wet bar, an ice box and an adjustable cockpit table with a sun lounge in-fill. Again, the designers have created an 'integrated' space, a synthesis of curves, spaces and lines that flow easily into one another, leading down to a large swim platform. It's crowned by a graceful Targa arch – and the result, well – 'sundowners' is the obvious word that comes to mind.
Someone has to drive the boat though, and on the 3500, it wouldn't be the worst job in the world. The helm station is high-tech but stylish – a gleaming crescent of Mustang gauges positioned behind the sports wheel. Feels a bit like an aircraft cockpit – but with way more class.  Between them, the adjustable seat and adjustable helm will accommodate any frame and provide customised levels of comfort.
Controls are right at your fingertips. In addition to the throttles, they include switches for the electric anchor windlass, electric-hydraulic trim tab system, the bow thruster (not a standard item), and they're complemented by a digital depth sounder and VHF radio. There is also a set of remote controls for the CD player, with the sound delivered through a serious set of Majestic speakers in the cockpit.

As with existing Mustang models, access to the 3500's engines is a pleasure: the entire aft section of the cockpit hinges up on hydraulic rams, providing plenty of room for tensioning belts and changing filters – or just admiring the engines.
Our test boat was fitted with a pair of 285hp, five-litre V8s. Volvo Penta GXI. Petrol. For a New Zealand observer, the greatest oddity about the Mustang stable (or more accurately, its clients) is the overwhelming preference for petrol rather than diesel engines. Of course, buyers may select between a range of engines sizes (petrol or diesel) but the diesel option will inflate the price by around $30,000 per engine, depending on the model.

Mustang marketing manager Jan den Braber says Australians prefer petrol – mainly because of the cost differential – but also because they don't have the smoke or odour issues that tend to accompany diesels. Mustang's New Zealand agents also point out that the petrol option is becoming increasingly attractive to local buyers. Without carburetors, modern petrol engines don't carry the same fire risk as their predecessors. Still, the 3500 due in New Zealand later this month is fitted with twin 315 hp Volvo Penta diesels.

The GXI petrol engines are warranted for three years and come with Neutra Salt – to wash the salt water out the engine internally after use. They're fitted with Duo Props which Mustang says reduces fuel consumption by 10 to 12 percent and produce lower noise levels.
Interior

The most obvious difference between the 3500's layout below and that of the earlier Mustang models is the angled, double berth up forward. It sets the tone for a much more 'interesting' arrangement. Again, it all adds up to a clever blend of angles and shapes: the space seems to 'fit together' more logically.

Discreet halogen lighting, soft vinyl surfaces and leather upholstery are offset by wall-to-wall carpeting and gleaming, cherry joinery. There's also plenty of headroom. Mustang's den Braber is a towering 6'6" – and is able to move through most of the boat without bowed head.

The boat's equipped for a family or two couples. A second double berth (thwartships) nestles under the forward end of the cockpit. Unlike the forward berth, it's more of a 'cubby hole' sleeping arrangement: plenty of length and width, but nowhere near as much headroom. You have to crawl into the bed – but once you have, there's no sense of being cramped.
Both areas are serviced by a single bathroom, set on the port side, with shower, electric toilet and a vanity with a single-lever mixer. Most of the bathroom is moulded fibreglass (including the floor) and a holding tank and pump out are standard.
Meals are prepared in a comprehensive galley (okay, it's a 'kitchen' that wouldn't look out of place in an apartment). Included are twin-plate electric hob and sink set into a granicoat kitchen top. Above is a microwave oven, more of the cherry cabinets, and a refrigerator.
Our boat didn't have a generator (though with all that room in the engine bay, one could easily be fitted). Instead, Australian boaties tend to drive their Mustangs from marina to marina and hook up to shore power.  Without the same marina infrastructure, New Zealand buyers would be wise to opt for a gas hob. Our boat was also fitted with air-conditioning, though this is not a standard feature.

Opposite the kitchen, on the starboard side, is the saloon. It features the same, subtle halogen lighting and a leather settee, with an adjustable dinette with infill – so it could be used as another double bed if your party had six rather than four. Surrounding the saloon are stainless steel portlights, hatches and a skylight, and in one corner, a 12 volt, flat screen LCD TV and DVD player.
Performance

Well, we got to drive the boat on the Broadwater – the Gold Coast's 'intra-coastal waterway' – as well in the open sea where a lazy two-metre swell was running. She performed sweetly in both environments.
There's good insulation in that engine bay – the V8s weren't intrusive. On the Broadwater she cruised at 21 knots, with the engines ticking over at 3600 rpm. Test data suggests that between them, the engines would be sipping around 78 litres an hour at that speed.
A slight nudge forward on the throttles, to 4100 rpm, pushed the speed to 24 knots.

Out at sea, going into the swell, we slowed down and let the 3500 ride the swells. No hint of cavitation and when we turned around, she ran true. A most surprising characteristic was the lightness of the helm. The power-assisted steering is almost too light – the boat flicks easily from side to side. I guess one gets used to it – but you have concentrate on making tiny movements on that wheel. I'm sure those cynical Aussies thought I'd been drinking.

One final thought – I'm not sure why the owner of our boat had had a bowthruster fitted. I guess it's useful in really, really tight berths, but she pirouetted easily with the twin engines.

Well, she's a handsome vessel, and I've no doubt she'll turn heads when she arrives in Auckland. It's smaller sister, the Mustang 2800, is very popular in New Zealand, and with the 3500's starting price of around $320,000, I suspect 2800 owners might be tempted to consider an upgrade.
And that, I am sure, dovetails perfectly with the Mustang strategy. Just have to get that production line running in triple quick time… ?

Keep up to date with news from Trade-A-boat or like us on Facebook!