Rumblefish
---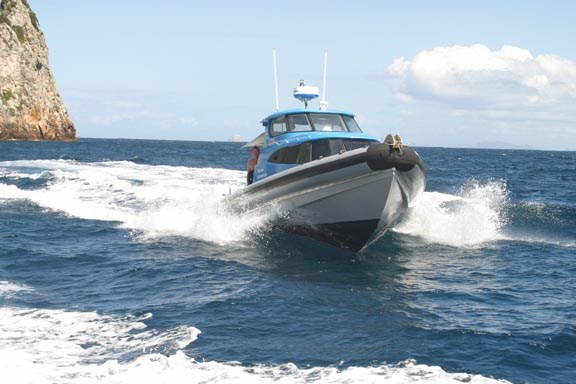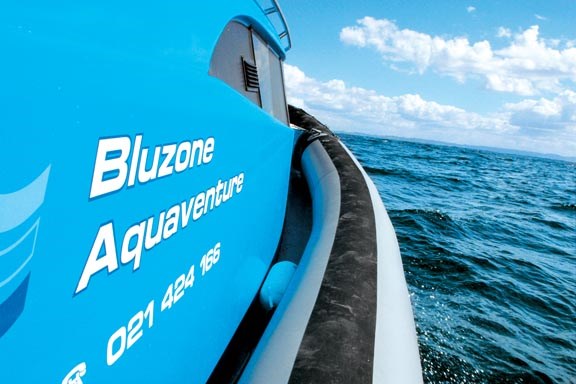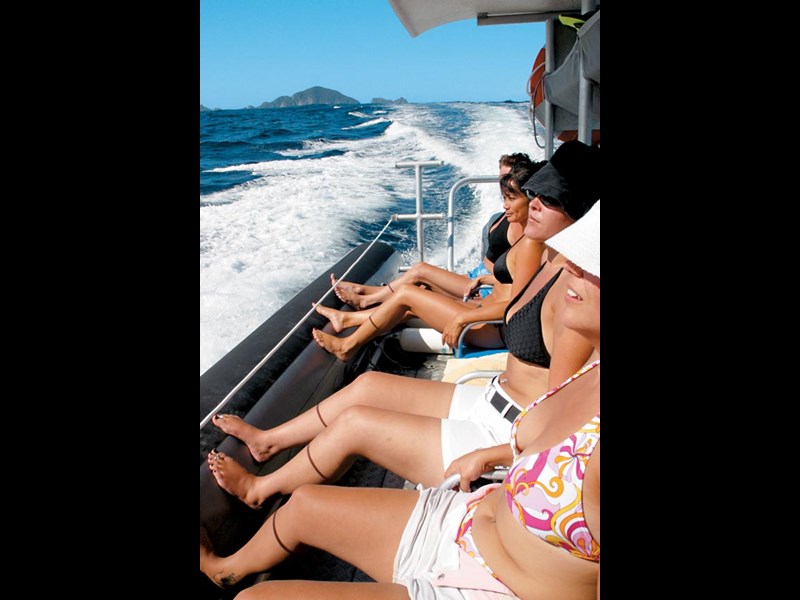 he 12m Rumblefish is from the drawing board of Auckland's Brett Bakewell-White, and it succeeds admirably in meeting her design brief. She's quick and comfortable, and copes easily with 10 divers and all their paraphernalia. At anchor, she's a convenient dive platform: divers simply roll backwards off the rubber tubes and clamber back on board via two stern-mounted ladders – to a waiting cup of hot soup. Good stuff.

Bluzone's owner/operator is Alex Misiewicz, an underwater photographer and diveboat operator with some 25 years experience. He's worked all over the world, but mostly in the Red Sea, where until two years ago he ran a 25m-liveaboard dive charter vessel.
So when he returned to New Zealand to set up Bluzone, he knew exactly where he wanted to operate (the Poor Knights –  New Zealand's ultimate dive destination), and what sort of boat he wanted: something that would offer divers a fast delivery to relatively distant sites.

A boat that could carry enough tanks to give 10 divers two dives a day. In effect, with sufficient speed to get back and forth, there would be no need to carry a dive compressor for filling tanks out at the dive site.
He'd seen the aluminium-hulled RIBs operated by New Zealand police. "With their low slung tubes they're tough and ideal for diving, and they offer good handling in heavy seas – with plenty of grunt to power away from threatening waves."

His investigations led to Bakewell-White, and while the initial concept featured a much flatter hull (to provide the speed), they adjusted the plans to provide a sharper entry and increased the deadrise to enhance directional stability.
Part of Misiewicz's brief included the twin, long-shaft Yamaha 225s. "I didn't even consider looking at other options. I'd read and heard so about these engines. Everybody raves about them – and having used them now for three months, I'm delighted with the performance. They're very quiet and economical."

They do seem a happy match with the vessel. The Poor Knights are 12 nautical miles from Tutukaka, and Rumblefish – cruising comfortably at 28 knots – typically covers the distance in around 25 minutes.
Our trip to the Poor Knights took place in rather more trying conditions. The huge easterly swell the weather forecasters described as three metres looked closer to six – and it was running against a wave action kicked up by the building south-westerly. The result was a fairly confused sea. Getting through the Tutukaka entrance was – well, let's call it character building. Misiewicz later confessed they were the biggest seas he'd seen in the entrance.

Still, Rumblefish went about her business with a satisfying surefootedness. Dry weight is around 4.5 tonnes (six tonnes laden), but with all that horsepower on tap, she was easily able to dart across the troughs and ride over the crests. Out at sea, she took the swells in her stride, cruising up the faces and over the top at 24 knots.

The Yamaha's are quiet – even at 4,500rpm – allowing for conversation between the divers without shouting.
The boat's also surprisingly quiet and very comfortable, with the aluminium hull knifing cleanly through the water. Very few airborne moments – and hardly any pounding. Fuel consumption at cruising speed is about 100 litres per hour – and a little more when the boat's flat out (32 knots). She carries 600-litres of petrol in two tanks.  

Rumblefish's facilities are designed around two sections separated by a helm station – an enclosed cabin forward with bunks/settee, bathroom with electric toilet and galley – and the aft deck for the divers. I was most impressed with the latter. At face value, fitting 10 divers and all their equipment on to a 12m vessel might seem improbable. The design meets this challenge thanks to a centrally-mounted "island" with bench seating running fore and aft. Divers sit in back-to-back, with the 22 dive tanks sitting in purpose-designed holders between the twin rows of seating.

Under each seat is a large, pull-out plastic bin – big enough for a diver's wet-suit, fins, mask, BCD, reg and weights. When 10 divers are suiting up together, the potential for confusion and missing gear is extensive. This system works well to minimise the chances. In addition, Misiewicz has installed a system of baskets in the upper section of the island, for divers to stow things like sun screen and towels. Very neat.

Kitted up, divers simply turn around, sit on the tube and fall over backwards into the water. It's a slightly higher drop than from the side of a Zodiac or an Aquapro inflatable, but not excessive. Emerging from the water, you hand your fins and BCD/tank to the dive operator, and climb over the stern via drop-down, aluminium ladders. There's a fresh, hot water shower on the stern for washing down.

The helm station area incorporates twin pedestal seats separated by a centre ailse that leads to the cabin. In addition to the Yamaha instrumentation, the boat carries a comprehensive Furuno navigation package. The NavNet three-in-one unit (chartplotter, radar and depth sounder) is complemented by an autopilot, ICOM VHF and compass. There's also a DVD/CD player with Fusion speakers that keeps everyone "in the mood" between dives.

An added bonus of the Furuno unit, says Misiewicz, is the potential it offers for showing real-time dive action on the boat. "I plan to rig a small camera on the back of the boat and connect it to the Furuno. It will not only show those on board what's happening aft, but with the fitting of a recording facility, it gives me the opportunity to create DVDs for each dive party, as a sort of take-home memento." The aft deck is covered by a sun roof, and it's fitted with a number of lights for night dives.
The auto-pilot, he adds, works superbly. The seas were too rough to use it on our run, but in more settled conditions, he says, he hardly touches the helm. "The Yamaha's counter-rotating props seem to promote the directional stability – she runs very true, and I'm not conscious of the auto-pilot doing any hard work."  The hydraulic steering to the twin engines is surprisingly light – and reinforces the sense of the boat's agility and nimbleness for negotiating unfriendly seas.

Stepping down into the carpeted forepeak cabin, Rumblefish has a bathroom immediately to port, with a vanity/basin and an electric toilet coupled to a holding tank. Opposite, to starboard, is a small but functional galley with a two-plate gas burner, 12-volt fridge and sink (hot and cold water).  As an express dive boat, Rumblefish is not really equipped for overnighting, but two could sleep on the twin settee bunks in relative comfort. Misiewicz plans to add two pipe cots above them, lifting potential overnighting capacity to four.
There is plenty of storage under the forward bunks for items such as life jackets, first-aid kit and boat spares.
Cabin superstructure is constructed from fibre-glass epoxy – a strategy designed to reduce weight and maintenance, and because Misiewicz thinks the rounded curves of the fibreglass structure are more aesthetically pleasing than aluminium. A Maxwell hatch is set into the roof for channelling fresh air into the boat while at anchor.

Rumblefish is a robust, pragmatic and sea-friendly vessel that should become a popular option for divers on a tight schedule. If you are prone to bouts of seasickness and have been put off diving the Poor Knights because of the long haul – well, this boat will have you there before your stomach even realises things are a little unsteady. It's an exhilarating ride. ?
Keep up to date with news from Trade-A-boat or like us on Facebook!