Seaswirl Stirper 2101
---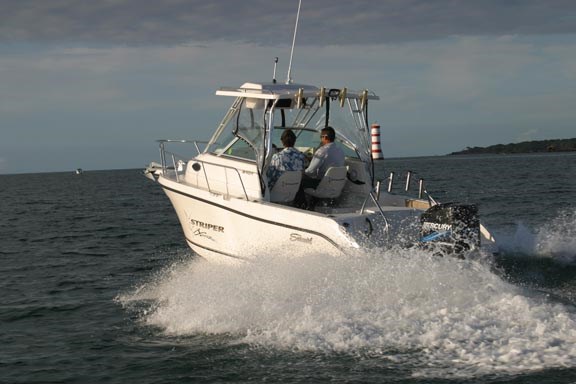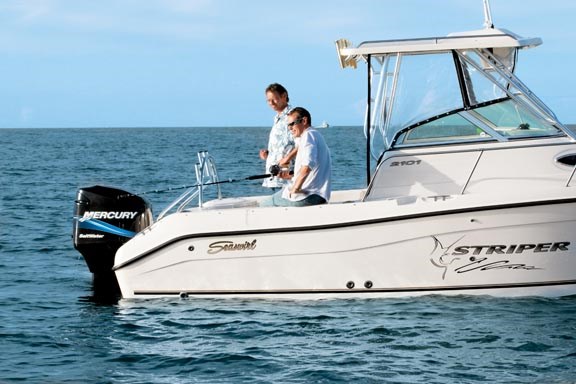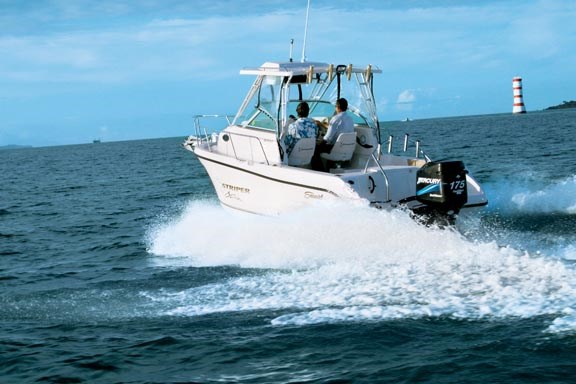 Great fishability combined with eye-catching lines, its handling and rough water abilities all make for an excellent package
With some 6,000 employees and 12 manufacturing centres in the US and Canada, Genmar Holdings is the world's largest builder of recreational boats. Its brands – well known to New Zealanders – include Carver, Champion, Four Winns, Glastron, Larson, Wellcraft – and Seaswirl.

Given that pedigree, the Seaswirl 2101's designers would have been hard pressed to create something distinctive, but they've succeeded. For a start, it seems a lot bigger than you'd expect from a 6.55m LOA boat, and the reason is mainly its large internal volume. Seaswirl has designed this boat for the keen fisherman – as well as his family. So there's plenty of space for fighting kingies, complemented by a variety of well-designed, comfortable creature comforts for those extended, stay away trips.
The 20° deadrise and 2.59m beam also suggest that the boat is more than capable of a blue water sortie, so when Whangaparoa's Gulflands Marine offered us the use of the boat for a few days, we jumped at it. I quickly arranged for a respected fishing partner to "help" me with a comprehensive trial of the 2101 – a fishing trip to and around Little Barrier Island.
Construction
It's a solid vessel. Seaswirl boats use a process developed by Genmar called VEC technology. It utilises a high-tech, fibreglass moulding system that produces boats with what the company calls exceptional durability and structural integrity.
The computer-controlled, closed mould system allows precise bonding and thickness control, creating a seamless and very strong hull and deck unit.
The construction technique also facilitates a quieter ride with less vibration. Given the unpredictability of New Zealand conditions, these construction benefits should appeal to prospective buyers.The quiet hull ride is complemented by the low noise level of the 175hp Mercury. It springs to life instantly and is very responsive. It's a delight to be able to have a normal conversation with the motor running.

The Mercury and Seaswirl are also a good match from a performance perspective. The engine provides ample power and gives the boat a cruising speed of between 24 to 33mph, depending on the sea conditions. At one point, with the tide running against a 30 knot wind, the sea was very confused, but after adjusting the boat's trim, the 2101 handled it easily. Hydraulic trim tabs are a standard feature.

A quick burst powered the boat to a top speed of 45mph. Gulflands says the Seaswirl 2101 and 175hp Optimax combo typically returns a fuel consumption of around one litre per km. With around 400 litres in the under-floor tank, the 2101 has a reasonable cruising range.

The boat's robustly-constructed hardtop provides excellent weather protection. It's surrounded by clears and is equipped with a full canopy and a drop-down Alaska pack – good for keeping the chills at bay during winter fishing trips.
Fitting and removing the canopies is a quick and easy affair: they slide in and out of channels fitted to the hardtop.

Fishing
The boat is superbly equipped for landing big ones. In addition to the four rod holders on the hardtop's rocket launcher, there is a rear rocket launcher providing support for another four rods, as well as four gunwale rod holders – ample space for even the most hardened fishing fanatic.
It's a more han comfortable fishing platform. The boat is stable at rest and the padded combing offer good support after you've hooked one. Fitted into the transom is an oval-shaped, 114-litre livebait tank. It's equipped with dual water-feeding systems. The lid is also the bait board, but I believe most fishermen would prefer a better baitboard fitted to the rear launcher – as this would allow permanent access to the livebait tank.
After despatching some bottom livebait, we soon attracted interest from a few hungry kingfish and hooking one provided a good test of the Seaswirl's walk-around sides. They're protected by solid bowrail, and having walked around the boat twice in the sloppy seas, one comes to appreciate the safety and security it provides.

Under the seats of the Seaswirl are two 87-litre fish boxes and we filled one of these with salt ice – it kept our fish well-insulated for the two-day expedition. A large underfloor compartment provides more storage in the cockpit that could easily soak up any other items deemed necessary for safety or extended trips away.
The Americans seem to be masters at making use of every nook and cranny. A built-in recess is designed for a fire extinguisher and a two-tray tackle box is also fitted. Another side storage compartment (next to the passenger's seat) adds to the ample cockpit storage.
Access to the dual batteries is through two doors built into the transom and all the wiring here is neat and well laid out. There is also room for the storage of three fenders, spare ropes, along with a bucket and a float. Fresh and saltwater wash down switches are also fitted into the transom wall. These proved to be easy to knock on while fishing or seated in the removable rear seats, though this problem could easily be fixed by fitting a isolating switch onto the inside of the transom wall.

Electronic aids do their job well. The boat is fitted with a Hummingbird 197X sounder/chartplotter, and its definition provided good target separation and clearly showed the deep pinnacles we were searching for. Next to this is a stylish instrument panel which includes three extra switches for any additional accessories. Under the hardtop, centred, is an overhead roof box housing the VHF, with additional space for any other items.
Interior
A large, lockable door opens into the cabin which in sleeping mode could fit three adults. The squabs are comfortable and upholstery and finishing is of a high standard.
The 2101 is equipped with a cabin table and pedestal with a built-in recess for drinks. When not required, this folds away into a dedicated recess.

A toilet, along with a sink and meths cooker, complete the creature comforts required for overnight trips. An overhead hatch – fitted with an insect screen – provides natural lighting. Long side pockets provide more space for sleeping bags, pillows, blankets and so on.

Anchoring in the 2101 is an easy affair. The anchor locker holds 60 metres of 14mm rope and 12 metres of chain – more than adequate for most anchoring requirements. There is no windlass, though one could easily be fitted. The upside, though, is a relatively generous foredeck for sunbathing.

An E-Z loader trailer with eight pairs of wobble rollers per side supports the 2101. It's fitted with hydraulic brakes, tandem axles, a dual-ratio winch and plastic wheel guards. While some adjustment to the rollers is needed to make this a drive-on-and-off affair, no doubt this could be easily sorted at Gulflands Marine.

All in all this is one impressively-designed boat. Great fishability – and many of its standard features are often considered extras in other makes and models. Combined with eye-catching lines, its handling and rough water abilities all make for an excellent package. The worst part was having to give it back. ?
Keep up to date with news from Trade-A-boat or like us on Facebook!