Stabi 389XR
---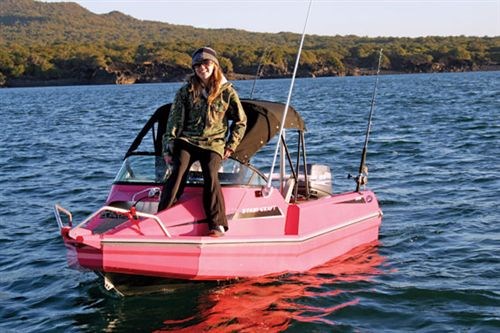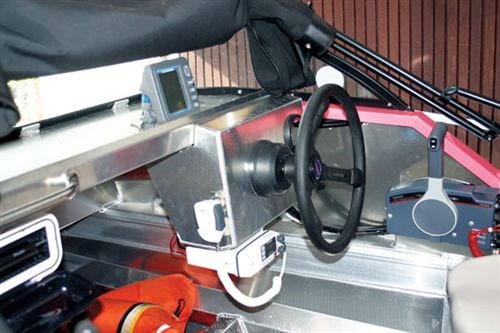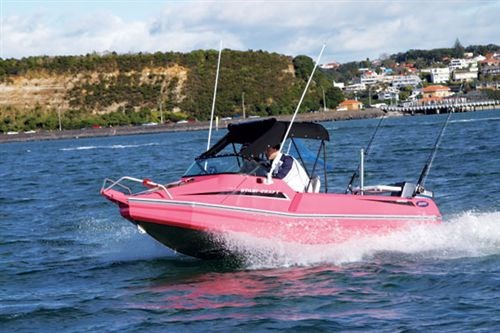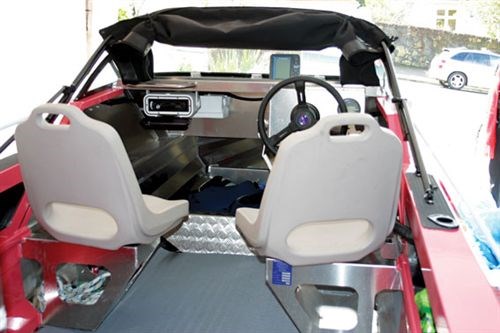 Charlotte Jones is not your typical 23-year old advertising account manager. Sure, she likes spending money on shoes and clothes, but what really gets her heart racing is hopping into her new, pink Stabi for a spot of fishing or diving.

That Charlotte is passionate about boating is not particularly surprising. Her entire extended family has been into boating for as long as she can remember. In fact, her earliest memory is being taken down to the sea in a travel cot – and going fishing with her parents on the Kaipara harbour. Her Uncle and Aunt both built their own boats – one a 35ft launch and the other a 40ft yacht.

After acquiring her dive ticket a few years ago, she's spent as much time above the water as below it. She and Mum often borrowed Dad's boat to sneak out for a quick fish at the family home in Waipu. Both ladies insist they catch more fish without him, though he vehemently contests that.

Career opportunities required Charlotte to move to Auckland, "and life with out a boat became a bit of a drag. I mean what's a girl to do? Well, I knew I'd have to get myself a boat." Given her slight build, she knew had to be of a manageable size, and with her interest in fishing, diving andwater skiing, it had to be stable as well.

Following plenty of investigation and a chat with Paul Dunn at Marine North in Whangarei, the deed was done: Charlotte purchased a new Stabi 389XR, the perfect big little boat for every thing she wanted.

With a tow weight of around 460kg and a dry hull weight of 215kg, Chalotte says the boat is very manageable. "Towing and launching is a breeze, even in windy, rough conditions."

She says the boat performs like a much bigger boat, and on our photo shoot day, it comfortable accommodated the nasty chop created by the 20-25 knot southerly whistling down Auckland's Waitemata Harbour.

The little Stabi cruised up the channel at a brisk 22 knots, its low chine and pontoons pushing the spray aside, keeping the occupants warm and comfortable. Its high windscreen and canopy, along with the swivel seats, offer good visibility as well as plenty of protection from the elements.

The 40hp Yamaha provides plenty of lift and pushed the boat effortlessly, but if the boat was filled with dive gear, a little more horse power may be desirable. A bigger engine would work more easily and give better fuel economy.

"Its sealed pontoon construction gives the boat an extra sense of safety," says Charlotte, "making it the ideal day boat for adventures further along the coast. The hull is fabricated from 3.5mm alloy plate, while the tube material is 2.5mm thick. It really feels like a tough boat."

Despite the nasty chop the 389 powered along happily. "On occasion we landed heavily but we stayed dry and considering the chop it provided a surprisingly good ride." She says the boat is very maneuverable at both top end and lower speeds, and it reacts positively to the helm.

A spot of fishing

Half an hour later, at her favourite fishing location, Charlotte dropped the pick.
"The large anchor well is very accessible, even with my relatively short legs. I am easily able to lean over the windscreen to set the anchor, and there's a cleat right at the windscreen, so it's no problem tying it off." The anchor well is self-draining and has plenty of space for rope/chain and anchor.

With an internal beam of 1.25m, the 389XR offers plenty of room and good storage up front under the small cuddy cabin for day goods. There's more storage down both sides for gaffs, oars, water skis or other bits. A small bait board (attached to the ski pole mount) is set into the transom.

Rod holders – aft and forward on both sides – offer plenty of space for rods. The boat has a maximum load capacity of four adults, though two or three would be more comfortable for a day's fishing, diving or water skiing.

At rest, the "Stabi" brand comes into its own. "The stability is fantastic," says Charlotte. "The wide sides offer more seating and a comfortable, safe platform for divers when entering the water or boarding the boat. All fishermen appreciate stability." The 389XR has an external beam of 1.7m.

The cockpit's bench seat is wide enough for two anglers, allowing them to swing around with the canopy deployed, and enjoy good protection from the breeze. The boat's stereo was complemented by Charlotte singing along to U2's Beautiful Day. The two antennae fitted neatly to either side of the boat don't affect its cosmetics at all.

With the fish not being overly cooperative, we upped the pick after an hour and headed for home. The conditions had improved with the breeze dropping to a steady 10 to 15 knots. With smoother seas, Charlotte opened her up on the way home and tore along at a good 26 knots. At the ramp she retrieved the boat easily and rinsed her off.

Charlotte's impressions? "This is a great little machine, offering an excellent ride in what were very trying conditions. I reckon it would suit the novice as well as the experienced boatie, and it's ideal for everything from fishing and diving to water skiing and a bit of general family fun. And the best part? It's very affordable."

When you're next out on the Hauraki Gulf for a day's fishing, watch out for the Pink Peril (you can't really miss it). Charlotte's living proof that girls can have just as much fun – if not more – than the boys. And one small word of warning: don't be stereotypical about what you think she might catch – it might be bigger than yours…


Keep up to date with news from Trade-A-boat or like us on Facebook!