Hanse Fjord 40
---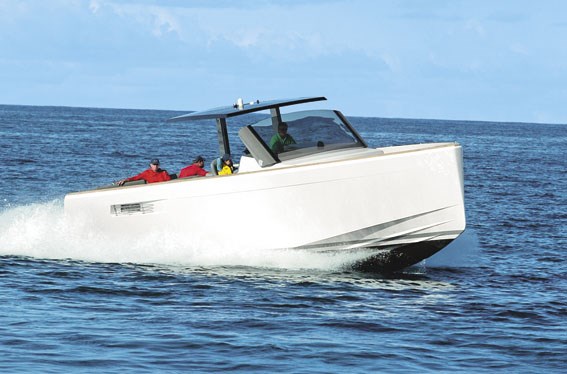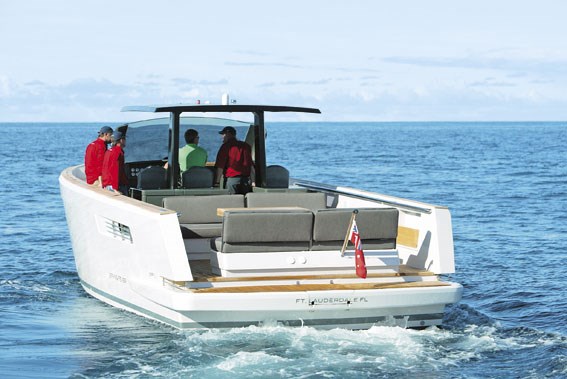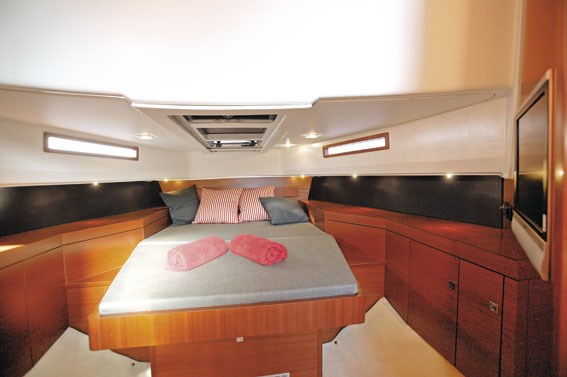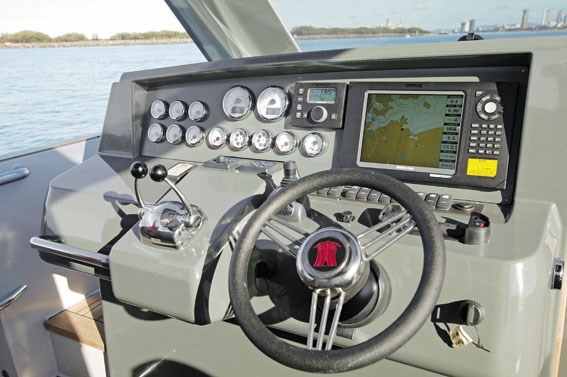 There is nothing stereotypical about the Hanse's Fjord 40 Open. Modern to the extreme, this motorboat is wowing the boat show circuit with its bold view of the future.

Most boatbuilders play it safe – walk a straight line and design their boats according to customer feedback and the wants of the mainstream market. Then there are those that lead; who stand out from the pack with craft that command attention and stir the senses in new ways.

German yachtbuilder Hanse is from the latter school. Its owner Michael Schmidt, 59, is unmarried, a tireless worker, famous sailor, daring businessman and, well, pulling no punches in his quest to conquer yachting and, now, as seen here, the motorboating world.

Take his Fjord 40 Open that debuted at the Sanctuary Cove International Boat Show. Everyone I met who trounced about its decks couldn't help but smile. Here's a refreshing boat, a party boat, moreover, something that challenges our preconceived notions of how a boat should be. But that's hardly surprising if you look at the talented team that Schmidt assembled for his futuristic Fjord powerboat project.

Clearly, the Fjord 40 Open, the first of the new marque to arrive in Australasia, has more than a whiff of the Wally Yachts about it. Take a bo-peep at the Wally website and you will soon discover that this Fjord 40 Open looks like a Wally tender.

But it is not a copy. Rather, the artisans behind the Fjord 40 Open and other imminent Fjord models are All Seas Design (which also does Wally Yachts). The company includes Frenchman Patrick Banfield, well known for his Med-style minimalist boats, and partner Jim Wilshire, a West Australian who has designed a lot of offshore patrol boats and fast ferries. The interior is from Mark Tucker (Design Unlimited), an Englishman known for nautical style. So it's something of a collaborative effort using the best available talent, which is how Schmidt operates.

Fjord facts
In case you don't know, Fjord has been going since 1958 and is said to be the inventor of what we now know as the sportscruiser. Most famous for its Terne (a classic day cruiser), Fjord was in fact the biggest powerboat builder in Europe in the 1970s.

The plan in its new guise, and under the auspices of Hanse, is for Fjord to build 15 powerboat models from 32 to 65ft over the next four years. There will be three different configurations: Open, Cruiser (think sport yacht) and Flybridge. To facilitate production, Hanse is now in the throes of building a dedicated factory for its powerboats and, another recent acquisition, Moody Yachts.

The 40 Open is priced from $768,806 with IPS 400s, but costs $853,409 as tested with upgraded IPS 500s Volvo 370hp D6 engines, a cool optional light-grey coloured hull, optional Simrad electronics including autopilot and optional Volvo Penta docking system aka Joystick.

Build Qualities
Hanse is now building its yachts in epoxy. So it is with the Fjord 40 Open, which has a polyester and foam deck but, with SP Systems epoxy for its hull, enjoys at least 10 per cent weight savings and serious gains in strength. Weighing in at just 7600kg, and with the upgraded IPS 500 motors on this boat, the Fjord 40 flies.

Just as importantly, to me at least, the engineering seems first rate — in fact, it meets Germanischer Lloyds — to deal with the stresses of high-speed power boating. Twin hatches to the engine room revealed plenty of room around the Volvos with IPS and I spotted the fuel filters, SeaFire suppression system, EVC control boxes and noted double hose clips on all the lines.

There's a separate utility space accessed through a hatch under the helm with water tanks, holding tank, pumps and, where you want them, the batteries (twin engine-start and separate house batteries). Shorepower and a charger are included, while you could mount your optional generator — 240V European appliances would be nice, along with air-con below decks — as well as store a case or two of French fizz in this hold.

Though the 40 Open is, by virtue of its exciting centre cabin or virtual centre console layout, destined primarily as a dayboat, a restaurant runner, a commuter and entertainer, short-haul oceanic travel is a possibility. This is a good thing as most cities have a nearby port that you can whip away to for lunch and an overnighter… a perfect proposition for the Fjord 40 Open.

Naturally, the deck gear is a real highlight, simple and fashionable but still functional. The trendy popup alloy cleats are like something you expect in a superyacht; there are abundant stainless steel grab rails tracing the cockpit coamings; pad eyes with trick snap-lock fittings so you can swing fenders; and an optional folding anchor system in the bow that takes some beating. Stowed away in running mode you don't see the ugly plough that heads most production boats.

There are aft rope lockers for keeping your lines neat and tidy, a flagstaff for flying the Jolly Roger or champagne-glass ensign, and twin open walkways for terrific access to the boarding platform. There you will find a central deep-reach swim ladder and hot/cold deck shower (of course). The teak cockpit (self draining of course) is planked with 3in wide strips rather than the usual 2in or thereabouts. At night, the lighting is said to be eye-catching.

German entertainer
Storage comes in spades, with a huge hatch for packing away all the lounges cushions for the cockpit seating when you're done. A highlight is the fixed seating that includes two transverse lounges so you face your guests at rest, and twin teak lunch tables.

As is, seating exists for eight, but get this — with the supplied spare cushions you can create a box-shaped seating area around a much bigger lunch table for 14. And you can convert the cockpit seating into two massive sunpads for post-lunch snoozing or soaking up the rays.

What about amenities? Though appearing minimalist, there's a decent moulded centre — Fjord calls it an on-deck galley — behind the helm featuring a two-burner gas stove, deep sink, and fridge with freezer tray.

Sleeping beauty
You should note the flush Lewmar hatches that Hanse has made a signature feature of its yachts, which cast light down below. Down three steps is something else again: shades of a superyacht with a stately ambience courtesy of designer Tucker, sexy downlights and Euro fittings that add to the class. Definitely one for the boat proud.

The cabin is surprisingly roomy, catering for guests wanting to use the five-star amenities, and accommodating of a couple looking to weekend away (300lt of water is adequate). The AC/DC panel is neat, there's a water gauge, hanging locker and storage near the cabin entrance. Oh, and your choice of cherrywood, oak or mahogany (per test boat) joinery.

But the highlight down below, surely, is the island double berth in the bow, presenting as it does in a most seductive manner, with headroom at its foot, a soft bedhead, hatch with privacy and insect screens, and storage for weekend attire. The Sharp Aquos 24" television is within view.

Rightfully, everyone likes the upmarket head with Corian-topped vanity, pullout Bosini designer shower, Tecma loo, square porcelain sink, designer taps, mirror and more. And full headroom all the way in and back out to the cockpit again. Pour me another one. German beer seemed perfect.

Fjord the Stream
In a word: fun. In another: refreshing. And yet another: party time. Indeed, you couldn't help but whoop and smile behind the wheel of the Fjord 40 Open. The helm seating, with in-vogue grey vinyl upholstery (leather optional), has fold down seat bases for more room while driving on your feet and drink holders in between. There's also a separate passenger seat nearby.

The low-glare dash, behind a dual-width Plexiglass windscreen that works, harbours the Volvo Penta engine gauges, fuel gauge and rudder indicator (superfluous with the supplied Simrad autopilot, which won pilot of the year), Simrad CX 44 combo depth sounder and GPS chartplotter with engine-data feeds, QL trim tabs, and the joystick for fingertip low-speed manoeuvring.

However, the well-supported T-top with Plexiglass sunroof panes is more for looks than shade. Thankfully, with plenty of freeboard and a high, yacht-like bluff bow riding well clear of the water, there is oodles of buoyancy all round. This is a dry boat that travelled across the water almost like an albatross on the wing.

The sports wheel with Fjord insignia is, with these IPS 500s, linked to Volvo fly-by-wire steering. It's snappy and responsive at mid and low speed but, as with most IPS steering systems, it's more graceful and, for safety reasons, forgiving in the turns at high speed.

As far as figures are concerned, the GPS read 14.6kts at 1750rpm, which is a handy low-speed cruise for traversing bad seas; 18.2kts at 2000rpm for a smooth easy ride; 25.8kts at 2500rpm for optimum cruising; and 32.5kts at 3000rpm should conditions allow. Top speed was 38.5kts and such was the true-to-name Pacific off the Gold Coast that it was almost possible to run that hard.

All told, the Fjord 40 Open is a riot and, as its importer will freely admit, it's out there. In fact, Australasia may not be entirely ready for it. But being different makes this boat stand out from a crowd that, at the boat shows, has only been full of praise. It could just be the perfect conveyance for hitting your waterfront lunch digs or lunching aboard.

Meantime, get ready for the Fjord 40 Cruiser in the next few months. If this 40 Open is any indication, it's bound to be sought after. Different, daring and desirable, and entirely by good design.

Specifications Fjord 40 Open
(price as tested $853,409 with IPS 500s Volvo 370hp D6 engines and options). Priced from $768,806 with Volvo IPS 400s

Hull: Epoxy hull and composite deck
LOA: 11.99m
Beam: 3.99m
Draft: Approx 1.00m
Weight: 7600kg (dry w/std motors)
Fuel: 1000lt
Water: 300lt
Engines: 2 x 370hp Volvo IPS 500, six-cylinder, electronic, turbocharged diesels with common rail fuel injection and IPS drives

For more information, contact Tony Newmarch Marine Brokers at (09) 413 9465.


Keep up to date with news from Trade-A-boat or like us on Facebook!