Windhaven - One of a kind
---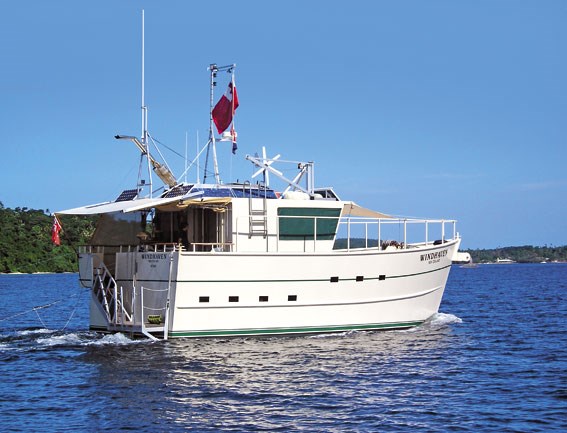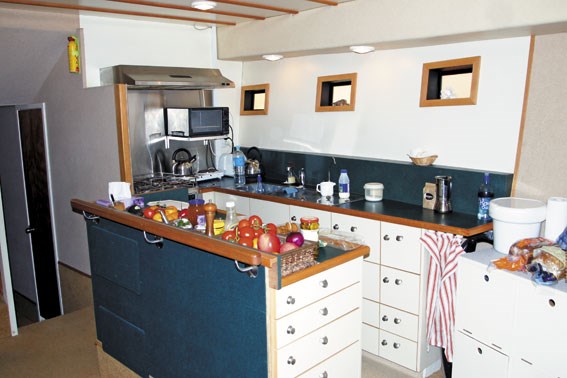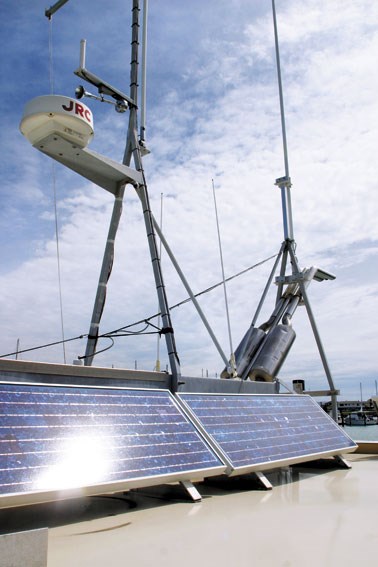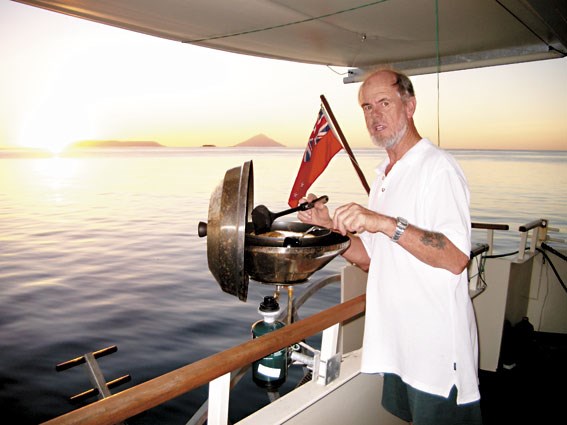 A 40' launch capable of cruising non-stop for 5000 nautical miles, Windhaven lends new meaning to the word 'unusual'. But then her designer and builder – Napier's Noel Parsons – is an unusual thinker with a flair for outside-the-square engineering.

Parsons launched Windhaven in 2002 with a view to extended blue water cruising – really extended cruising. With a range of around 5000 nautical miles, she's more than capable of trans-oceanic voyages. In fact, she's already completed two trans-Tasmans, and has been to Tonga and back – 10 days each way.

The boat carries 6500 litres of diesel, and on a 40' boat, you'd wonder that there was space for anything other than fuel tanks. But she's a remarkably spacious vessel, very stable and comfortable, and equipped with all the modern amenities you'd expect in an upmarket waterfront apartment.

Construction is steel (6mm hull plates), and despite her 35 tonnes displacement, she returns a very respectable fuel consumption. At her five-knot economy cruising speed, for example, she sips around 1.16 litres per nautical mile. At her maximum continuous cruising speed of 6.5 knots, consumption rises to just 1.7 litres per nautical mile.

That efficiency, says Parsons, is the sum of an easily-driven hull, a perfectly-matched drive train – and a fuel-frugal 100hpYanmar engine. Actually – there are two 100hpYanmars – but only one screw. More on that in a minute…

Parsons has a life-time of boating experience (sail and power) and is emphatic that in terms of long-range cruising, there's not much difference in cost-per-nautical-mile between the two modes. "Once you start factoring in costs such as sails and rigging maintenance, variable winds and a yacht's longer voyages – and compare that with an economical diesel running at a constant speed – the power option can hold its own."

Windhaven is his proof.

A tinkerer and inventor with a natural ability for developing practical solutions to awkward engineering problems, Parsons has had little formal training in boat design – but he does have truckloads of experience. His background includes a diesel mechanic apprenticeship, years of skippering long-liners and trawlers around New Zealand, running a mussel farm and operating a dive charter vessel in the Marlborough Sounds/Fjordland.

Together, these roles provided plenty of opportunity for absorbing a thing or two about marine design and fabrication, about "what works on a boat – and what doesn't", and why some hulls are more sea-kindly and energy efficient than others. Windhaven's the synthesis of those ideas.

His enthusiasm for cruising under power was reinforced after a stint with sailboat cruising. In 1996, as part of a retirement plan, he and wife Val bought a new Catalina 42 in the United States, with the view to "cruising aimlessly, maybe doing a circumnavigation." They spent two years on the South California coast, Mexico, and returned to New Zealand via the Pacific Islands.

"That experience taught me that a power boat is no more costly to run than a sail boat, providing it travels no faster. I also believe power offers other benefits – especially greater comfort – so we decided to sell the Catalina and switch to a power boat." He drew up plans for Windhaven, began building in June 1999 and launched her three years later.

Her liveability is self-evident. With expansive accommodation and living areas, she sleeps eight in four cabins (three doubles and one with twin bunks), with two bathrooms (electric toilets and a 1000-litre holding tank) and a split level saloon.

The lower saloon hosts a well-appointed galley and a large, macrocarpa dining table, while the upper saloon features the helm station, a lounge and sofas. There is excellent surround visibility from the upper saloon (through large, 10mm toughened glass windows), with masses of space for fishing or soaking up the sun on the aft and foredecks.

Design

The sense of space on Windhaven is largely a function of her extraordinary beam (18'6"), which Parsons says also contributes to her stability and safety. "Her beam is half the waterline length – much wider than usual for a boat of this length. This greatly reduces rolling and pitching. Furthermore, the molded depth (the distance between the main deck and the hull bottom) is 76 per cent of the beam.

"These proportions, when considered relative to the length, facilitate a very satisfactory separation of the meta-centric height from the center of displacement and represent a powerful righting lever.

"In addition, her freeboard is more than 20 per cent of her length and the bow height is 25 per cent of its length, so at 40' long, the sides rise 7'10" above the waterline to the deck. This height helps to prevent the sea coming aboard in heavy weather – and enhances safety and comfort."

Her seaworthiness was vividly illustrated in a 65-knot Cook Strait cauldron a few days after she was launched.

Engines

Windhaven is crammed with an eclectic variety of "Noel inventions and innovations", and for me, the two most intriguing are the drive train and the windlass.

While she's a single-screw vessel, she carries two identical 100hp Yanmar 4JH3THE engines. The second one, says Parsons, is a spare. "It's a back-up, but can be used to drive the boat."

Unlike most twin-rig installations where the engines are mounted side-by-side, these have a "staggered" configuration – one slightly aft of the other. If this sounds confusing – bear with me.

Both engines have 2:1 transmissions, and both can drive the prop (independently), thanks to an ingenious drive train arrangement. Each engine is equipped with a drive shaft with universal joints. They angle in from each gearboxes' rear flange, and connect to a 2:1 reduction box mounted on the centerline. This reduction box is connected to the prop shaft.

Only one drive shaft is connected at a time, and switching from one to the other requires removing four bolts and attaching the second drive shaft in its place. Parsons says the switch only takes minutes.

So what's the idea? "Convenience. If one engine fails, I have an immediate back-up. And as a single screw vessel, she's easier to maneuver than a conventional twin-rig vessel which loses one of its engines.

"Furthermore, if one engine is due for a service and oil change, it can be taken out of commission until I get to the next port or anchorage, where the work can be tackled in stable conditions. And because the engines are staggered, there is much more working room around each of them."

At the end of the drive train is a 27" x 22" aluminium bronze four-bladed Tiger propeller – designed and fabricated by Auckland's Henleys Propellers & Marine. "They did a superb job, and worked with me for the entire drive train concept."

Windlass

An examination of Windhaven's ground tackle stops you in your tracks. With her windage and weight, the 125lb Manson anchor on the bow is understandable. But the chain takes some getting used to. Attached to the Manson is 5m of 16mm chain, followed by 30m of 20mm chain, followed by another 10m of 16mm chain, followed by 50m of 13mm chain. Did I mention unusual…?

"Anyone with an understanding of anchoring dynamics knows that anchor performance is dramatically improved if you can use a weight to keep the 'pull angle' of the rode or chain as flat as possible. The 20mm chain creates the 'anchor buddy' effect, and also allows me to use less scope and reduce the swing in a crowded anchorage."

The really fascinating part is how Parsons gets all that weight back on board: a home-made hydraulic windlass. The hydraulic pump is driven by one of the engines, but rather than a conventional gypsey (which couldn't handle three chain sizes) the windlass uses an arrangement of sheaves (much like those on a yacht's main sheet). While this easily accommodates the different chain sizes, it also provides a lifting capacity of six tonnes!

A dry boat

A factor that reinforces the "home-on-the-water" impression on Windhaven is the lack of smell – even in the bilges. There's no hint of the typical wet-dog, mouldy interior whiff that plagues many boats.

Years of living aboard boats ingrained a determination in Parsons – his boat would be dry. He's equipped Windhaven with a pressurised ventilation system. Fresh air is pumped throughout the boat (a blower runs continuously though quietly) – through the cabins, toilets, showers, galley, saloons, and all other spaces.

Fresh air and a full inventory of 240vAC/12vDC electrical/electronic equipment leads to the inevitable question: how is all this gear powered? Well, with a battery of batteries – eight x 100 amp/hr 6v (house), two x 200 amp/hr 12v (starting) and one x 200 amp/hr 12v (radio) – and an inverter.

To keep them all brimming with energy, Parsons uses a three-pronged approach. In addition to the 80 amp alternators on each engine, Windhaven bristles with solar panels and a wind generator – eight x 80 watt solar panels and an Aerogen 6 wind generator (up to 30 amps).

Power for the washing machine, oven, kettle and toaster is courtesy of an inverter. Water is heated by the engines and/or a LPG gas califont. She is also fitted with a reverse osmosis Yachtsman's Mate watermaker (90 litres/hr).

Electronics

Windhaven has been Category 1 surveyed for her offshore voyages and Parsons describes her as a "go anywhere, any weather" boat, and the array of electronics at the helm station reinforces that claim. It includes an auto pilot, GPS plotter, echo sounder (all Simrad), supported by an Interphase Twinscope scanning sonar, a JRC Raster Scan 2000 radar and a Davis Weather Monitor II weather recorder. Communication with the outside world is courtesy of a Kenwood TKM-707 SSB radio and a selection of VHF radios.

She's undoubtedly one of the most interesting boats I've ever encountered – and perhaps the saddest part about her is that Noel and Val will not get to enjoy her as fully as they might have hoped. Changed circumstances have forced them to reconsider their cruising plans, and Windhaven is for sale. If you're not in Napier, you can find more information about her and her inventory at www.windhaven.org.nz, or phone Noel on 027 294 0266.


Specifications Windhaven

LOA: 12.2m (40')
Beam: 5.6m (18' 6")
Draught: 1.7m (5' 6")
Construction: Steel
Moulded depth: 4.2m (13'9")
Displacement: 35 tonnes
Engine: 2 x 100hp Yanmar engines (one spare), single screw
Max Speed: 7.7 knots
Diesel: 6500 litres in six tanks
Range: 5000 nautical miles (1.16 litres per nautical mile at 5kn)

Keep up to date with news from Trade-A-boat or like us on Facebook!