Eclipse 750
---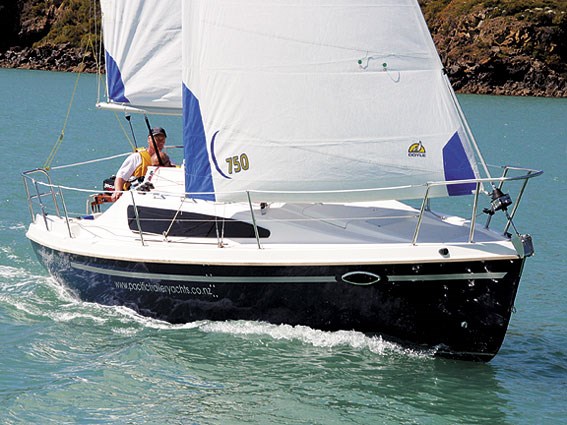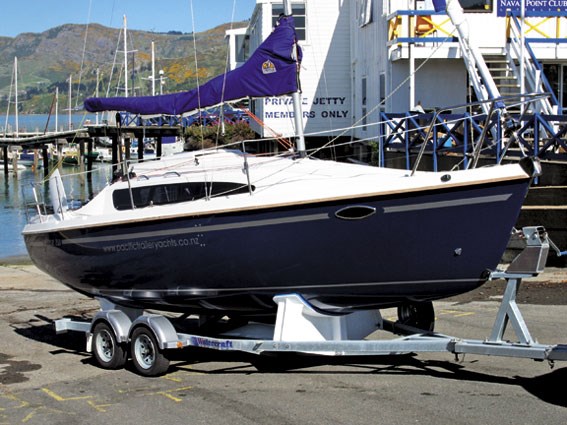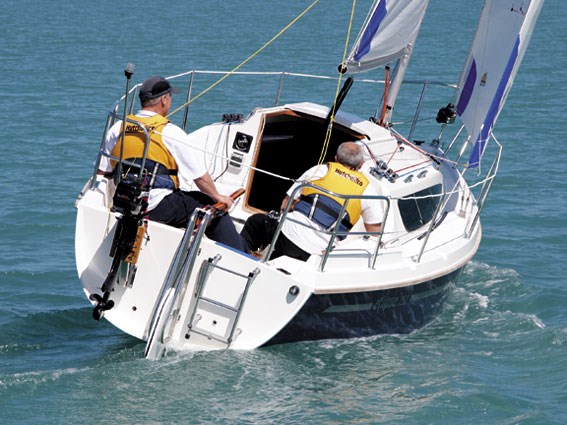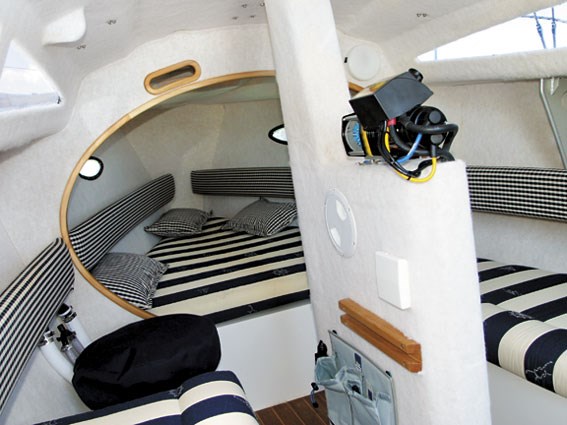 It's been more than a quarter of a century since New Zealanders could buy a new, home-grown trailer sailer. But the drought's been broken by the recently launched Eclipse 750 – and the wait's definitely been worthwhile.

Produced by Christchurch's Pacific Trailer Yachts, the Eclipse 750 is a reinvention of the Trojan 750 – the popular Alan Warwick/Ferris de Joux design of the late '70s – though "reinvention" doesn't do the boat justice. She's many levels of sophistication above her predecessor – hence the new name.

While it uses the basic Trojan hull, the Eclipse's new, open plan interior and radically redesigned keel have created a trailer sailer that presents an excellent combo: a surprisingly spacious cruiser capable of sleeping three adults and two children, and a fast, agile, highly responsive racer.

A little Irish luck featured in the Eclipse's development. The owner of Pacific Trailer Yachts – Irishman Jon Lynch – arrived in the country a few years ago and, as a keen sailor, immediately set about trying to buy a modern, secondhand trailer sailer. He soon discovered there was no such thing – New Zealand's production yacht building industry faded into obscurity following the introduction of Muldoon's Luxury Tax in the 1980s.

The Trojan 750 was one of the casualties, but Lynch nevertheless did find one that had been built relatively recently. And as luck would have it, the seller also had the moulds. Lynch bought boat and moulds, and began exploring the production of a "modernised" Trojan. After running the sums, Pacific Trailer Yachts – and the Eclipse 750 – was born.

While the Trojan's lines were always shapely, Lynch has emphasised them with a number of subtle changes. They include longer, sweeping 6mm tinted acrylic windows in the coachroof sides and a lowered transom. Coupled with the 7/8ths fractional rig – a well-raked, tapered mast sporting swept-back spreaders – the overall effect is a much sleeker, more performance-oriented yacht.

Perhaps the most significant change, however, is to the keel. Trojan 750s were produced in two versions – the Mark 1 (fixed keel) and the Mark 2 (trailerable), where the ballast was repositioned internally. To capture the benefits of both, Lynch opted for a drop keel but extensively modified it to a NACA (National Advisory Committee for Aeronautics) foil shape, and added a "high lift" foil-shaped lead bulb.

All up the ballast is 500kgs (75kg keel plate and 425kg bulb) and it extends 1.6m below the waterline. The keel's quickly lowered and raised with a 1000kg electric hoist (fitted to the top of the centre casing inside the boat) and is locked in the 'up' and 'down' positions with a 16mm stainless steel bolt.

It's fair to say the effect of the new keel is electric. The boat has excellent stiffness, points beautifully, tracks as though on rails and tacks on a dime. To gain maximum benefit from the keel, Lynch also lowered the transom by 100mm. This drops the retractable rudder (also a NACA foil) by a similar distance, providing superior "bite" when the boat is heeled. Feedback is great.

Close-hauled in 17 knots of wind (apparent) on Lyttleton Harbour, the Eclipse exhibited excellent sea manners – only a whisper of weather helm, no impulse to round up in the gusts, and best of all, the speedo hovered around six knots.

The boat's designed to take up to a 12hp outboard engine (8hp is recommended), though our review boat was equipped with a 3.3hp Mercury. The Mercury pushed her along without any problem – testament to an easily-driven hull. She's a slippery package, well-balanced and exciting to sail.


Construction

Christchurch's Reflex Industrial Products produced the first hull, deck and internal liner, and the completed assembly was sent down the road to Davie Norris Boatbuilders for finishing.

The open plan interior is a significant departure from the Trojan design, and offers much more usable space. It's mainly achieved through the removal of the Trojan's "chainplate" bulkhead (slightly forward of centre).

To regain the rigidity provided by that bulkhead, the hull now incorporates a 750mm wide solid laminate "band" that runs from one chainplate, through the keel area and up the other side to the other chainplate.

Hull and deck use vinyl ester resin (for improved osmosis protection) and CSM/Woven roving. Biaxial and triaxial E-glass reinforcement is used in medium and high stress areas respectively, while hull and deck are bonded and thru-bolted. Areas around the mast base, winches, clutches and cleats are reinforced with 25mm marine grade plywood, as are the cockpit floor and transom.

A major benefit of the full-length, moulded liner (it's bonded to the hull sides and cabin sole and acts as a longitudinal bulkhead for additional rigidity) is positive buoyancy. The sealed void between the liner and hull is filled with around 2m3 of high density polyurethane foam. Even if the hull is seriously holed, the yacht will float. As well as flotation, the foam mutes hull noise.

Overall, this construction produces a lighter but stronger hull (the bare hull weighs around 650kgs) than the Trojan, and the Eclipse carries a limited 10-year transferable warranty against osmosis, and a five-year structural warranty.


Interior

It's a 7.5m yacht, so to find it equipped with a fairly comprehensive galley and an electric toilet is something of a surprise. The galley's contained in a clever, slide-out cabinet that lives under the port cockpit bench when not in use. It glides out on rollers, and its 1.2m length features a two-burner, stainless steel hob and a sink with a folding faucet.

Toughened glass lids fold over the hob and sink, providing a large working surface. A manual pump draws fresh water from a 25-litre tank in a cockpit locker. Headroom in the galley area is 1.7m (5'7"), but a neat design feature is the main hatch which pivots up (as well as slides open) to provide full headroom for taller chefs.

Good storage within the galley unit will accommodate pots, pans, cutlery, plates and cups. Essentials such as wine and beer are kept cool in a 14-litre Waeco fridge/heater that lives behind the companionway stairs, and like the galley unit, is easily slid out when required.

I particularly liked the saloon table. When not in use it's stowed under the forepeak squabs. But it's quickly fitted – it slides into recesses attached to the centre casing – and easily seats four adults.

It's a cosy interior, with traditional nautical décor incorporating blue-and-white striped upholstery and a veneered teak and holly cabin floor. Sleeping accommodation is best described as a "three-plus-two" – three adults (two on saloon sofas, one in the quarter berth under the port cockpit bench) and two children in the forepeak.

Storage facilities include a fairly deep shelf that runs the full length of the cabin and forepeak on both port and starboard. A combination of energy-efficient LED and halogen lights are fitted to the underside of the shelf. Oval portlights in the forepeak provide natural light, while a large forepeak hatch provides ventilation (and also serves as a sail locker).

The toilet's mounted under the port chainplates, and while its position relative to the saloon might seem a little intrusive, there are privacy curtains for those coy about using it. It is, after all, a 7.5m boat.

Perhaps the only blemish in an otherwise well-appointed interior is the 1000kg electric hoist (it draws 80 amps) for lowering and lifting the keel. It's mounted on the centre casing for ease of access, but it's very "in-your-face". It could easily be hidden in a small, purpose-built cabinet.


Cockpit

At 1.5m wide with seat lengths of 1.8m, it's a spacious cockpit able to accommodate four sailing buddies in comfort. No problem if you don't have crew though – easy access to the mainsheet, traveller and jib sheets facilitates sailing single-handed. Sitting at the tiller, the action of the foresail telltales isn't really visible, but hike your butt on to the coaming and there' no excuse for luffing.

Full width lockers with hinged lids are found under the stern seat. One holds the fuel tank, and the other the 25-litre fresh water tank. There is also ample room for ropes and fenders. Just forward of the two cockpit floor drains is a sealed locker that houses the 120 amp/hour "house" battery. The boat's equipped with a shore power connection for battery charging.

Wide side decks give safe access to the uncluttered foredeck. Your way forward is aided by stainless steel grab handles on the coach roof and non-skid sections moulded into the working surfaces. A self-draining anchor locker has ample space for the anchor, 25m of chain and 50m of warp.


Tidy sheets

Lynch has put plenty of thought into the layout of the running rigging – all sheets lead to the cockpit through an array of deck organisers and cam cleats. Most can be adjusted by hand, but there's a single, coachroof-mounted ST40 Lewmar self-tailing winch to help when muscles begin to tire. Jib sheets run aft through adjustable cars.

Spars are manufactured by Fosters, and comprise an anodised aluminium mast and boom (80mm section with tapered top). There is one set of aft swept spreaders and an adjustable backstay for working to windward. The mast is deck-stepped and easily raised and lowered by one person using the optional mast raising kit. Without it, a second person is required to guide the mast into its cradle when lowering.

Our review boat was equipped with standard cruising sails (from Doyle) comprising a fully-battened main and a roller-furling jib (Furlex). Given the performance of that keel, however, it's only a matter of time before the sails are swapped with a racing wardrobe – a main with a deeper roach would really galvanise this spirited hull.

With a towing weight of 1885kg, the Eclipse will require a medium-sized sedan to get her to the water. She sits on a galvanised, tandem-axle trailer with Duratorque suspension and disc brakes on the front axle. A useful feature is the hinged extension bar which affords an extra 1650mm when launching at low tide and on shallow launching ramps.

The Eclipse should provide a welcome and much-needed boost to New Zealand's trailer sailer scene. She's an ideal, easy-to-handle solution for a young family keen to cruise with small children. But on Sunday afternoon, once Dad has bent on the racing sails, she becomes a slick, competitive racer – one that should comfortably hold her own against the fleet of Trojans, Noelexs and Ross 780s.

For more information, contact Pacific Trailer Yachts, phone (03) 377 1398 or 021 024 55 848, or email jonlynch@pacifictraileryachts.co.nz

Specifications Eclipse 750
RRP: NZ$94,500 (ex GST) with trailer and 8hp engine

Construction: Hand laid GRP
Trailer: Watercraft tandem axle (braked)
LOA: 8m
LWL: 6m
Beam: 2.49m
Length on trailer: 9m
Towing weight: 1885kg
Draught keel up/down: 600mm/1600mm
Ballast: 500kg
Displacement: 1476kg
Main (fully battened): 14.6m sq
Genoa # 1 (optional): 17m sq
Jib # 2 (standard): 12.5m sq
Spinnaker (optional): 35m sq

Keep up to date with news from Trade-A-boat or like us on Facebook!