Fyran Pursuit 600GT
---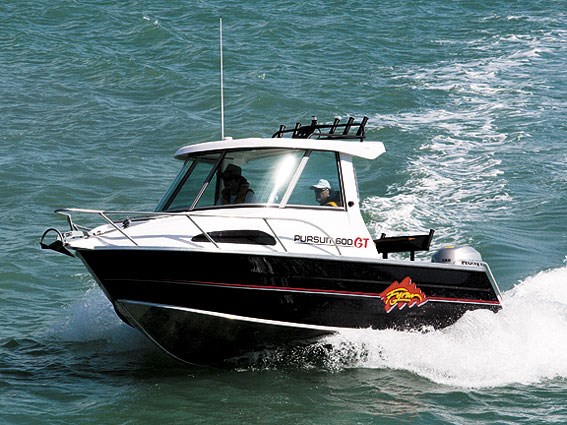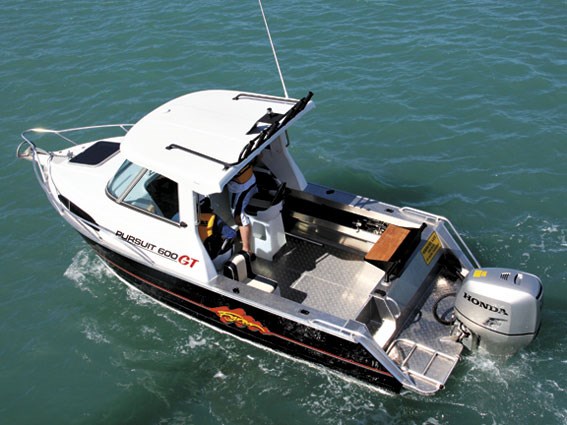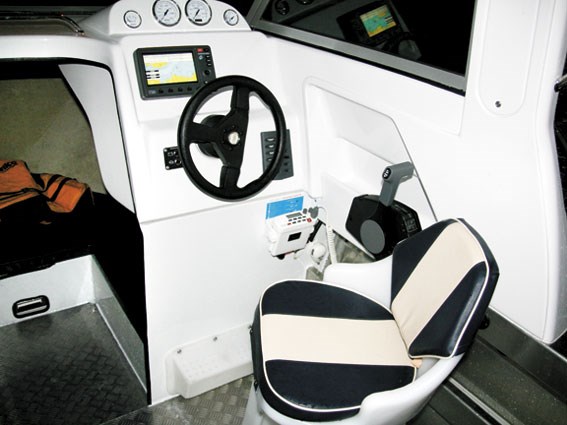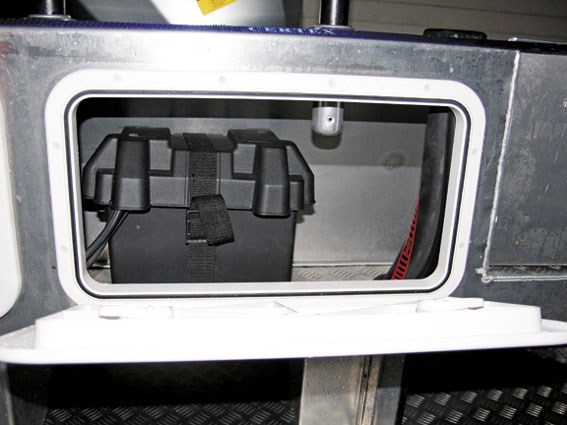 Renowned for building top-quality, stylish and tough boats, Fyran has produced another cracker in its newest model, the Pursuit 600GT.

Like the rest of Fyran's Pursuit range, this boat is a fusion between aluminium hull and fibreglass superstructure, and the combination delivers the best features of both materials. The hull, built from 5mm aluminium plate, is seriously tough and combined with built-in reserve buoyancy compartments has been CPC-certified as 'unsinkable'.

The fibreglass cabin and hardtop has soft, rounded lines that would be difficult to reproduce in aluminium. Fibreglass is also quieter and warmer than aluminium, and installing aftermarket fittings and accessories to the boat's interior is easy.

A black hull, bright white cabin top and the bold Fyran graphics give the boat a particularly striking appearance. While one should never buy a boat solely on its appearance, this one's looks will easily sway you. The quality of build is carried throughout the boat.

Its layout confirms the Pursuit 600 GT as a serious fishing machine. The small day cabin is balanced by a large open cockpit, with everything well-placed for its intended purpose. The cockpit, with its generous 2.18m beam, has high, broad gunwales.

Apart from better safety in rough seas, the high gunwale also provides good thigh-support while fishing, and it's a comfortable place to sit. It serves as a mounting point for rod holders and other accessories, and a wide shelf runs under the gunwale all the way forward – perfect for fishing rods and other accessories.

Any water or mess in the cockpit drains from the treadplate floor into the bilge and is discharged by a 900gph pump. This also makes the boat easy to clean, with a simple hose-off at the end of the day taking care of any mess. Underfloor is a 115-litre fuel tank, easily enough for a full day's boating. A fuel gauge (not fitted) would be useful.

Hanging off the stern is a 135hp four-stroke Honda outboard, and the generous boarding platform keeps the engine well away from the boat. It's also a great place to stand and fish. This boat was equipped with the optional walk-through transom and fold-down alloy boarding ladder, which makes this an excellent diving platform. The battery compartment is in a central transom locker, with a second, dry locker to starboard.

One of Fyran's custom-designed baitboards fits into two rod holders mounted on the transom. Comprising a powder-coated aluminium frame and a hefty chunk of timber as the cutting surface, it has to be one of the simplest yet most effective bait boards around.

High enough to avoid backache, the design has a trough along the back for knives, sinkers and other gear to roll into – rather than off the board. The cutting surface is sufficiently raised to be able to easily fillet fish, while still catching juices and keeping the boat clean.

Since the cutting board is an insert, one side can be used for bait, and then it can be flipped over to present a clean side for filleting the catch. The unit also has a drain hole that drains well clear of the transom, avoiding a major cleanup issue after the day's fishing.


Helm

It's well laid out, with a swiveling plastic seat upholstered in easy-clean vinyl. The soft steering wheel is comfortable, and the throttle falls easily to hand. Throttle action was very light but positive, and was a pleasure to use.

Electronics include the Seiwa Baraccuda chartplotter/fishfinder combination. It's an excellent unit and its 7" screen is clearly visible in bright sunlight. For a first time user, though, it takes a while to scroll through the detailed menus to find the various functions.

The unit's also radar-capable, making it an ideal single-unit solution. There is ample space on the dash to fit a bigger display unit if preferred. A Cobra VHF radio, a comprehensive bank of Honda instruments and a switch panel make up the rest of the electronics. The only real omission from the dash was the previously-mentioned fuel gauge.

Passenger seating is a king-and-queen setup, with the main seat swiveling and the queen seat fixed. Both helm and passenger seats are mounted on polyethelyne pedestals with useful storage space below. Other factory-fitted seating options are also available. Grab handles are conveniently positioned, and both skipper and passenger have bulkhead-mounted footrests.

The hardtop is a great feature of this boat, and provides snug shelter from the elements. A rocket-launcher style rod holder is mounted along the trailing edge, providing storage for six additional fishing rods. The roof is lined, and the large, forward-sloping window provides a useful dash stowage area.

Two bunks are in the day cabin, and although not quite long enough for a serious overnighter, they're ample for a mid-afternoon snooze. The cabin floor is a step down from the main deck. A separate squab hides the optional chemical toilet, and as anyone with a family knows, this feature can be the make-or-break difference between a great day out and a miserable ordeal, so it's good to see it offered in a boat this size.

Cabin sides are lined, and the shelf continues forward through the cabin. An oversize, sensibly-positioned hatch makes it easy to stand in the cabin and access the anchor well. The well has its own half-flap which deflects any waves that may break over the bow. Although an anchor winch is not fitted, the large Rocna anchor was easy to retrieve by hand.

The boat is equipped with an unbraked multi-roller trailer from Albany-based Hosking. With an all-up towing weight of 1350kg, it is well within the ability of most family sedans.

Launching the boat was an easy, single-handed job, thanks to the superb multi-roller configuration. The Honda fired up first go, and we headed out for a serious day's fishing on what proved to be one of the nicest days so far this year.

The glass-calm conditions were no test for the boat's capabilities, but it did mean we were able to open the throttle wide. With four adults and a fuel load of fuel in the tank we were soon pushing 34 knots, and then dropped to a more economical 25-knot cruising speed for the rest of the trip.

Gannet Island proved a productive fishing spot, and we soon 'blooded' the boat with a mixture of snapper, kahawai, gurnard, blue mackerel and a couple of small sharks. Despite four people fishing actively, there was space to spare and very few tangles.

More blue skies the following day, but the wind had picked up, pushing a nasty, metre-high chop. Despite these conditions, which saw us regularly taking spray over the bow, we were able to keep to a reasonable speed of just under 20 knots.

These are the conditions that allow a hardtop to show its true colours, and we remained completely dry and comfortable. A windscreen wiper would have been useful to clear the spray, but despite the lack thereof visibility was good through the huge windscreen.

We nosed into Garden Cove on Waiheke to a slice of paradise. The bay was completely sheltered from the wind and swell, and we eased the boat into the shallows onto the fine sand. An aluminium hull is ideal for this type of use, with no worries about running it onto a beach.

The journey back, with a quartering sea from the rear, again demonstrated the boat's superior handling, and clean-up at the marina involved a simple hose down and flush of the engine.

Although we could not measure fuel consumption accurately, we travelled around 79 nautical miles, mostly at around 4200rpm, over the two days and there was still plenty of fuel in the tank. The boat performed flawlessly, handled well under differing conditions and is suited to a variety of uses.

Would I buy one myself? Without a doubt.

Specifications Fyran Pursuit 600GT Hardtop (Price as tested:$59,589)

LOA: 6.01m
Beam: 2.18m
Construction: 5mm aluminium (hull) with fibreglass cabin and hardtop
Deadrise: 16o
Engine: Honda 135hp four-stroke
Fuel: 115-litre underfloor tank
Towing weight: 1350kg
Trailer: Hosking multi-roller, unbraked, galvanised
Electronics: Seiwa Baraccuda GPS/Chartplotter, Cobra VHF radio

Keep up to date with news from Trade-A-boat or like us on Facebook!