Lazercraft Hardtop 680 GT & 620 Sports GT
---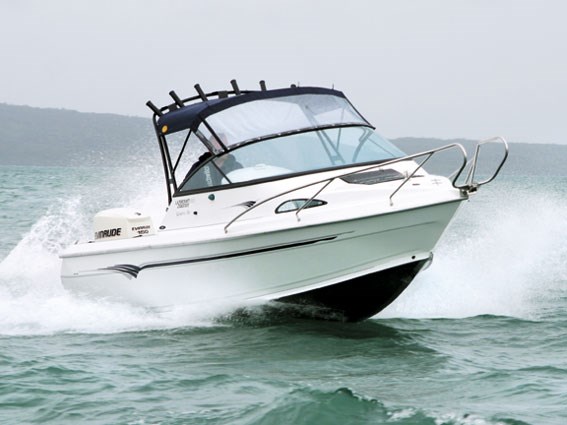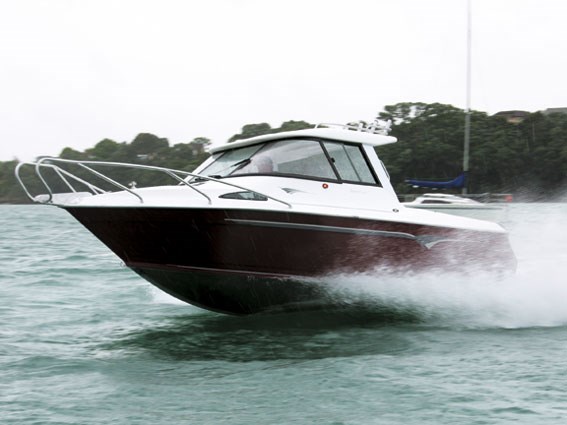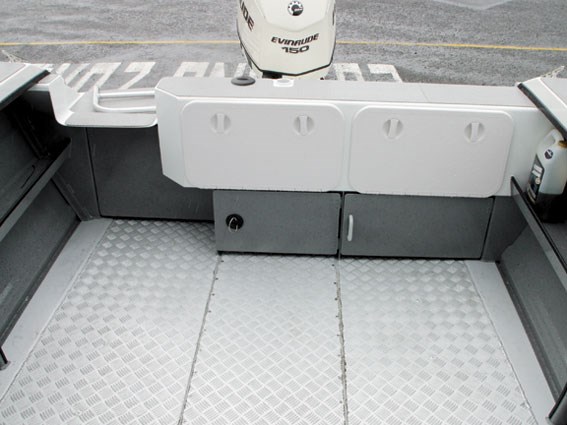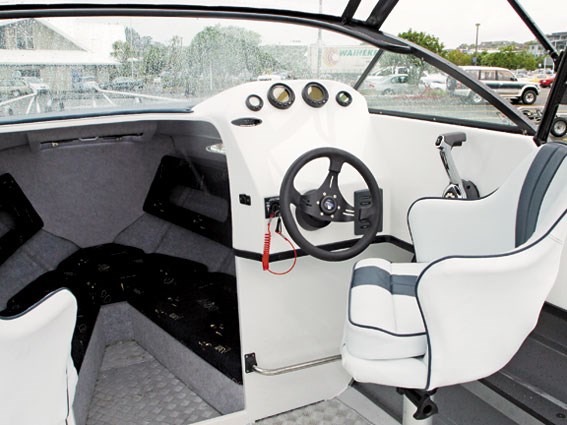 Though Dunedin is not well-known for its boating – unless you boat there – it is home to Lazercraft Marine, manufacturer of arguably the most handsome trailer boat range in the country.

Founder Gavin Childs began producing the Lazercraft brand in 1984 for local clients, but in 1991, with the launch of his first composite/alloy GT 550, Childs and Lazercraft turned a corner. The company has not looked back.

These days Gavin is no longer on the tools with the day-to-day management of Lazercraft falling on the shoulders of sons Jason and Shane.

While not a large manufacturer – about 50 boats a year – Lazercraft is credited with being the first builder to combine the qualities of aluminium and fiberglass to produce a tough yet elegant model range.

Lazercraft has two primary ranges – the Sports GT cuddy and the GT Hardtop. Sports GT models start at 5.80m and include a 6.20m, 6.80m and a 7.40m. The GT Hardtop series is available as a 6.80m and 7.40m.

Jason says the combination of a fiberglass top and an alloy hull has a number of advantages, none more so than the compound curves and flowing lines that can be achieved using fiberglass moulds.
"In a production sense, it's not economic to produce curvaceous shapes in alloy. By blending the two mediums we can produce a stylish boat without any compromise to strength or hull ruggedness. The hull can still be beached or bounced on a ramp without too much concern and the checker-plate alloy floor will repel dive bottles and weight belts without damage."
Other positives, he says, is that the electrical and electronic circuits are installed in the glass top and are thus isolated from the alloy hull should there be any stray current leak.
Pre-installed cabling also means there is no need to route cables around, behind and under frames, bulkheads and paneling when it comes to installing and connecting instruments.
Manurewa's Kev and Ian's Marine was recently appointed Auckland's sole Lazercraft dealership and to mark the occasion have taken delivery of two highly spec'd demonstrators – a 680 GT Hardtop and a 620 Sports GT.
Sales manager Andrew Deadman says both designs share Lazercraft's unique Hydralift hull design but clearly demonstrate the benefits of both the hardtop and cuddy cabin deck and cabin layouts.

Jason says Lazercraft has not recently had the exposure it would like in the Auckland region and says the experience and product knowledge offered by Kev and Ian's Marine is a critical element for success. "Having the Yamaha and Evinrude franchise is also a big plus for us because these brands are well matched to our boat and have been our outboards of choice for many years."

Lazercraft 680 GT Hardtop

Since its debut at the Auckland Hutchwilco Boat Show, the 680 HT has been one of Lazercraft's most popular models and now accounts for about 60 per cent of sales across all model sizes.

Positioned between the 620 and the 740, the 680 is Lazercraft's response for a model that is not as daunting as the flagship 740 yet offers considerably more volume and livability than the smaller 620.

Like all Lazercraft models, the 680 HT is a hybrid with fibreglass deck and topsides mated to an aluminium hull. It is a particularly successful partnership, combining the smooth aesthetics of a fibreglass finish with a robust aluminium hull.

A subtle half-round rubbing strake conceals the transition between aluminium hull and fibreglass topsides, and with a crisp white finish on the hull it is difficult to determine where the alloy ends and the fibreglass begins.

The 680 boasts a fine-entry bow, a 20o transom deadrise, a 2.48m beam and a portofino stern featuring Lazercraft's Hydralift transom design – all contributing to fine, flowing lines. The hull is backed by a two-year factory warranty.

The 680 hull is fabricated from 5083 marine-grade aluminium with 5mm plate forming the hull and transom and 3mm plate for the topsides and cockpit sole. The hull has a pronounced chine rail that keeps wash at bay while planning strakes provide additional life. Overall, the 680 HT is a sharp-looking package with clean, purposeful lines and a shapely and well-matched hardtop.

Without instrumentation (other than the 200hp Yamaha V6 four-stroke engine gauges – speed, fuel management, rev counter and trim-tab gauges) the single mould dash console presents a little bare, but it is large enough to accommodate large-screen chartplotter-fishfinder combo units. As standard the boat is fitted with a six-pole panel, Sea Star hydraulic steering and a pair of rockers for the Lectratab trim tabs, a standard feature on the boat.

Dedicated recesses are moulded into the dash unit for a steering compass and GPS receiver while on the port passenger side a recessed storage well has been added for personal items. The entire dash area has been padded and upholstered in colour-matched vinyl for a stylish and practical finish.

A feature of the Hardtop series is the moulded cabin door that slides on runners to quickly and securely separate the cabin from the cockpit. This is a real benefit for anglers that travel to fishing competitions because expensive reels can be safely stored aboard.

Inside, the cabin carries full-length V-berths with an optional inset to create a generous double berth. There is adequate personal storage with double-tiered parcel shelves on both sides supplemented with bins under the squabs. A chemical toilet will fit neatly between the berths providing genuine overnight or weekend cruising options.

Again, the cabin is nicely lined or upholstered in vinyl creating a warm and cosy retreat with no obvious hint of what lies beneath. Even the storage lockers under the berths are lined with carpeting.

Not only does this lend to the boat's style, it is very effective as insulation against hull slap while helping to retain cabin warmth. A large acrylic deck hatch fitted with gas struts is set into the cabin top providing plenty of natural light and easy access to the foredeck and anchor winch.

Up on the foredeck, a moulded fibreglass anchor locker is set into the deck behind a stainless steel bow roller. An aluminium pulpit rail encloses the foredeck with additional grab rails strategically located on each side of the hardtop.

Historically, Lazercraft has foremost been regarded as offshore capable fishing boats and that heritage remains today with a cockpit layout and design that provides anglers with everything they need.

Most notable about the cockpit design is the additional height of the cockpit combings. These are at such a height that all but the tallest angler will have to step up off the cockpit shelves to get a seat. But the combings are wide and secure with a rubber non-slip covering. It is good to see too that the alloy shelves are large and deep and well-supported with alloy gussets to support the weight of people using them as steps.

The cockpit sole is alloy non-skid plate fully sealed and Nyalic-coated for longevity and easy care. Storage is excellent with a large enclosed bin tucked under the port side of the transom with a similar but smaller locker in under the starboard side. These are supplemented with a dedicated battery locker built over the top. A live bait tank is fitted under the transom overhang and a ski pole has been securely mounted amidships at the transom.

As a top-of-the-range demonstrator, this 680 HT was fitted with a pair of king/queen combination seats providing excellent storage options under the passenger side. The driver's seat is adjustable forward and aft and hinges forward to reveal a stainless steel sink.

A battery of six rocket launchers grace the aft end of the hardtop with a further four set into the combings.

The stern is equipped with a half-step recess giving easy step-over access to a small alloy platform that extends each side of the outboard pod – the port side being fitted with a stainless steel fold-down boarding ladder.
Under the aluminium floor is the built-in 180-litre fuel tank (it can be increased to 210 litres as an option).

All up, the 680 HT on trailer tips the scales at 1850kg. Lazercraft continues to manufacturer its own trailers which are built to a very high spec from 5083 marine-grade alloy. The 680's trailer is tandem-axle and fitted with mag wheels for additional wow factor. Its brakes are equipped with stainless steel calipers for extra reliability and longevity. Skids as opposed to rollers ands a wide central tread-plate walkway and 10:1 winch make launching and retrieving a no fuss exercise.

Lazercraft 620 Sports GT

While slightly smaller, the 620 Sports GT gives nothing away to its stable mate in terms of its construction, with the same 5mm hull and transom and 3mm topsides. It also features a fully-moulded one-piece fibreglass deck and cabin top that melds seamlessly with its alloy hull.

Matched to a new-generation Evinrude 150hp two-stroke engine, the smaller 620, with its wraparound, close-fitting windscreen and fold-away bimini top, is just as stylish as the larger 680.

While the 620 shares many similar fittings as the 680, it does not have the sliding cabin door. Instead, it has large open access to the cuddy cabin. This is fitted out similarly with twin V berths and parcel shelves. It is also fully lined and carpeted with an acrylic overhead hatch and small teardrop cabin windows. Seating is similar too, with a king/queen combo on the passenger side providing excellent dry storage.

The cockpit sole is fully sealed and welded and finished with Nyalic. The cockpit combings are wide and fitted with non-skid rubber for sure-footed security when moving around the boat.

Again, instrumentation is left to individual owners to fit according to needs and budget, but like its sibling, the 620 features the same moulded amenities for GPS receiver and steering compass. The new Evinrude engine monitoring system gauges (i Commander) provide options for digital or analogue-style read-outs with a variety of ways to display navigational and fuel management functions…very cool.

If the devil is in the detail – and it so often is – then Lazercraft has every reason to be proud of its products. It seems the harder you look the more you see. While Mother Nature turned on a shocker for our soiree out of Half Moon Bay, limiting us to about 30 minutes on each boat, it is enough to say that the handling and ride characteristics of both boats is what you would expect from a manufacturer that has been in the trailer boat game for as long as Lazercraft has.

The attention to detail, finishing and the sheer style of Lazercraft boats has been recognised and rewarded over the years with most models taking out industry awards for originality and finish. The partnership between Kev and Ian's Marine and Lazercraft will result in well set-up boats and a new channel to market that will no doubt pay dividends for all concerned.

Specifications

Type 680 GT Hardtop 620 Sports GT
LOA 6.80m 6.20m
Beam 2.48m 2.35m
Weight 1850kg (on trailer)
Engine Yamaha 200hp V6 four-stroke Evinrude 150hp
Price as tested: $95,350 and $69,995 

Boats supplied by Kev and Ian's Marine
Cnr Mahia and Holmes Rds
Manurewa
(09) 267 4999
www.kev.co.nz


Keep up to date with news from Trade-A-boat or like us on Facebook!