Riviera 44
---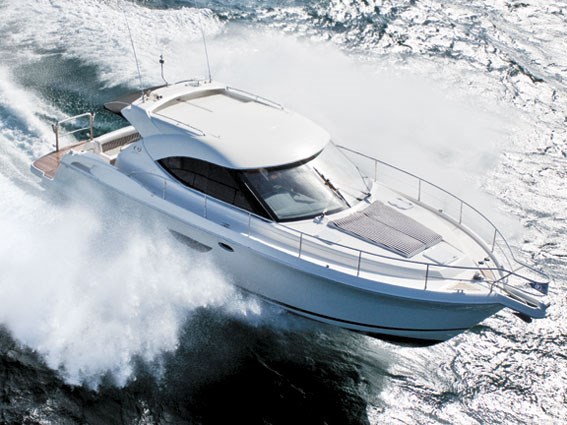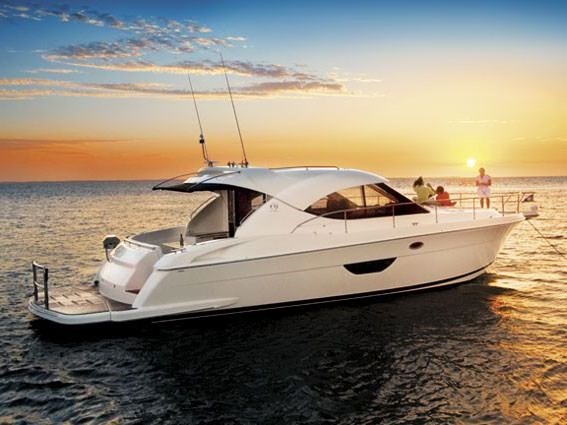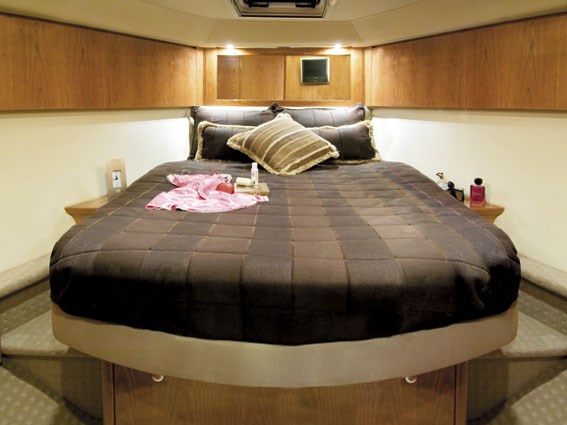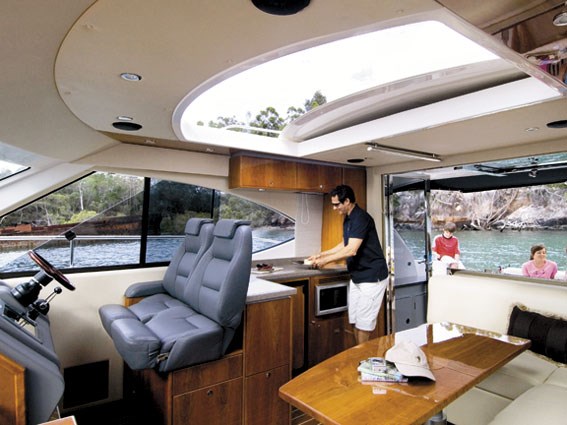 With the launch of its new 4400 Sport Yacht, Riviera has entered a new era of manufacturing, where lighter, stronger hulls and Volvo's IPS drives offer better performance and efficiency.

As you'd expect from Riviera, the 4400 (LOA 15.12m) is a gleaming, streamlined package that instantly caresses your aesthetic sensibilities. First launched at the Sydney International Boat Show in August, it's the latest in the marque's European-style SY series. And like its sisters (the award-winning 3600 SY and 4700 SY) it continues the indoor-outdoor design and the sense of light and space.

It's designed for those who want a little more space than what's available on the 3600, without the 4700's bulk. But "in-betweener" is too simple a description: it's a lot more boat than that – thanks largely to Riviera's decision to adopt vacuum infusion moulding for the hull's construction, and fit Volvo's IPS drives. Both are firsts for the company.

Riviera boats have a reputation for many things, but light hulls have never been among them. Vacuum infusion moulding changes that – it delivers a lighter, stronger hull (the 4400 has a dry weight of 12,500kg), and the model represents the start of the company's move to use the technology across all models.

This strategy shift – and the adoption of IPS – offers many benefits, but the two key ones are performance and manoeuverability. Better acceleration, hotter top-end speed, sharper fuel efficiency, longer range – and with IPS' joystick control, much greater agility and precision for easing the boat into awkward berths.

Interestingly, the 4400 is evidently the first Australasian cruiser with a hull specifically designed around IPS. Where other manufacturers have adapted existing hulls to the requirements of the pod drives, Volvo insisted on designing the 4400's hull from scratch. Riviera designers worked with the finished form to develop a fresh interior concept. So, even though the genesis of the design is somewhat unusual, the result, in a word, is superb.

The boat's quick (around 30 knots at WOT – 3260rpm) and at cruise speed (25 knots) the twin 435hp, turbo-charged Volvos are each consuming around 57 litres per hour. The electro-hydraulic steering has got to be the lightest I've experienced on a boat this size (literally finger-tip stuff), and that joystick works a treat, spinning the boat on its axis, crabbing sideways – responding smoothly to every subtle twist. Very easy docking.

A more subtle advantage of the IPS/hull design collaboration is low noise and lack of vibration. Muting is no doubt helped by the Volvos exhausting underwater – and perhaps because they sit much further back in the hull than conventional shaft-drive installations. But absence of vibration (throughout the rev range) I would suggest, flows from superior hydrodynamic design. Whatever the reason, it's a welcome treat to be able to converse normally when the boat's in full cry.

Onboard living

It's a stylish two cabin, two bathroom layout, fully air-conditioned (and heated) and packed with all the modern conveniences. It inherits the al fresco lifestyle concept used on other Riviera models – courtesy of the pillarless stainless steel hopper window and door in the aft bulkhead. When both are open (the window hinges up and clips up against the ceiling), there's a free flow between cockpit and saloon. An easy, expansive area for entertaining guests.

For her length, she's a fairly beamy boat (4.58m) and the sense of space is accentuated by light flooding in from the large, distinctively-shaped windows on the sides, an expansive sunroof that glides open at the touch of a button, and a curved, wrap-around windscreen. All that light highlights the interior's rich tones – an elegant composition of cream leather, gleaming cherry wood joinery and warm, Amtico flooring.

While the boat's accommodation comprises two cabins with double berths, the aft cabin actually sleeps three (a thwartships double and a fore-and-aft single). So, while two couples is the ideal cruising party, the aft cabin configuration offers a little more flexibility for family outings.

It's a full beam, spacious cabin – the designers have taken full advantage of the engines sitting much further back in the boat. The airiness is enhanced by the mirrored aft bulkhead, and natural light pours in from portholes on either side. They also provide good cross ventilation.

Its en suite bathroom has dual entry (from the companionway as well as the cabin) and features a separate shower stall with a glass shower door. So the Vacuflush toilet stays dry – and the lofty headroom allows for enthusiastic lathering. As with earlier Riviera models, a glass bowl basin sits on the vanity benchtop – very elegant.

Up front, in the forepeak master cabin, the queen-size, walk-around island berth takes pride of place. With matching, cedar-lined his and hers lockers on either side plus drawers under the berth, there's no shortage of storage space. A 15" LCD TV is mounted on the aft bulkhead, and the en suite bathroom is a mirror image of the aft one.

Saloon and Galley

It's a somewhat futile exercise trying to describe the living areas – the photos do a much better job – but rest assured, the saloon/galley is comprehensively and tastefully appointed. Special features include a sumptuous leather lounge with chaise that runs the length of the saloon on the port side. The folding timber table is mounted on high/low pedestals – so depending on the occasion, it converts from a dining to a coffee table.

Then there's a liquor cabinet with drawers and an elaborate entertainment system that includes a 26" LCD TV. When not in use it disappears silently (another touch of a button) into a recess built into a forward bulkhead. Surround sound is provided by a sub-woofer and four speakers in the saloon, with additional speakers (and a remote control for the stereo) to the cockpit.

For the gourmet chefs, the galley hardware includes a microwave oven, a stainless steel, front-opening refrigerator (with a freezer compartment) and a Fisher & Paykel drawer dishwasher. Air conditioning is standard to the saloon and galley areas with outlets to the windscreen to help prevent fogging.

The extensive inventory of electronic/electrical equipment fitted to the 4400 obviously equates to a significant energy demand. But the engineers have been shrewd in catering for it. It's a 24-volt system which allows for simpler charging, lower current draw and smaller cables (reduced weight) than equivalent 12-volt systems, and wide use of LED lights reduce current draw. All batteries on board are maintenance free, and serviced by engine alternators as well as a genset. And with the on-board DC-AC Inverter, watching television while at anchor or in the marina is whisper quiet.

Skipper's Realm

Settle your butt into the helm station and you might not want to leave. Plush, ergonomically-designed, leather seating for two (the helm chair has electric fore and aft adjustment), with a richly varnished sports steering wheel (and that joystick) within easy reach. Moulded footrests with teak inlays are fitted for comfort.

Leaving the skipper to play with his toys, everyone will naturally gravitate to the cockpit – it's that kind of area – and when they're ready for a rest, they'll continue on to the broad sun deck up front, where they'll find loungers and drink holders.

With its wide transom lounge and hi/lo table on gas-assisted legs, the cockpit's a made-for-a-party area. A wet bar, including solid surface top with sink and mixer tap, is built into the port forward quarter. It's also equipped with a stainless steel refrigerator and an (optional) ice-maker.

A large, 2.1m wide storage locker (accessed from the swim platform) is built into the rear of the transom for fenders and mooring lines – and judging from its size – just about anything else you'd care to store in there. It's vast.

Despite the overwhelming sense of luxury penthouse living, the 4400 is also a pragmatic boat, and bristles with clever, practical features. One example is the hydraulic swim platform designed for easy launching and retrieving of a tender or PWC. It's lowered to just below the surface of the water, the tender/PWC floated into positioned, and raised with a push of (another) button. It's also a feature scuba divers will relish.

Another example is the rear-view camera mounted on the aft end of cockpit roof. The image is fed into the chartplotter, and in busy lanes allows the helmsman to keep on eye on traffic astern. More importantly, it provides a crucial view when reversing into marina berths.

The 4400 retails for around A$927,000 (ex factory) and New Zealand agent Neven Barber says two will be arriving in the country within weeks of one another. If you're keen to pore over the vessel (and I'd highly recommend it), one will be on display at the Auckland On the Water Boat Show in March.


Out-take: "Internally, we have used the advantages of an infusion-moulded hull to reduce weight and have added an internal liner throughout the forward areas of the boat so that all storage space is gelcoat lined." Riviera


Specifications Riviera 44 Sports Yacht

LOA 15.12m
Beam 4.58m
Draught 1.2m
Dry Weight 12,500kg
Fuel 1500 litres
Water 460 litres
Holding Tank 151 litres
Engines Standard – twin Volvo IPS 500 turbo diesels rated at 370hp each
Upgrade – twin Volvo IPS 600 turbo diesels rated at 435hp each


Keep up to date with news from Trade-A-boat or like us on Facebook!