Yamaha F350 - V8 Outboard
---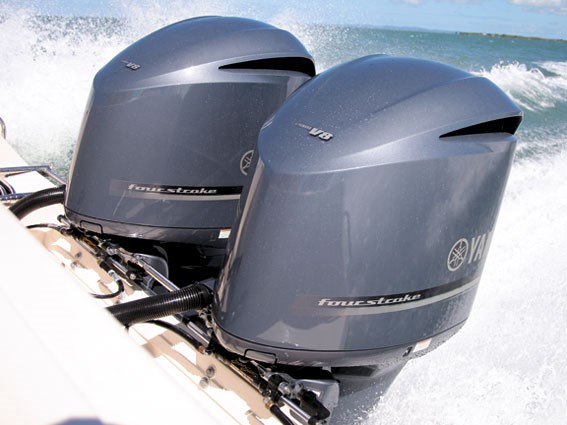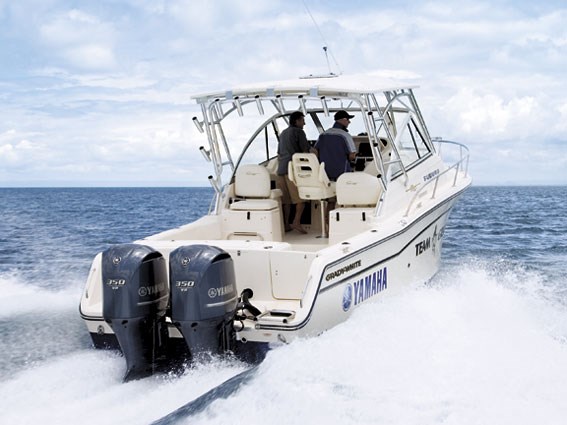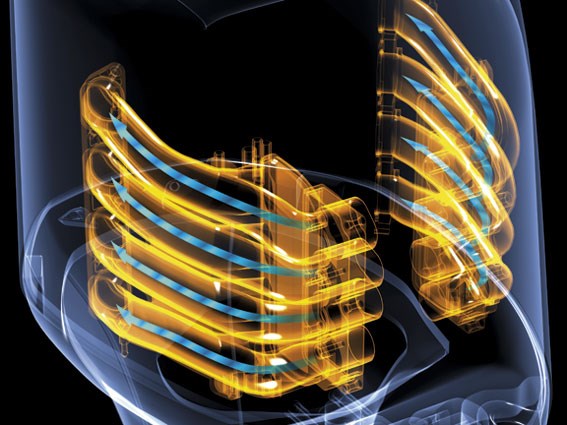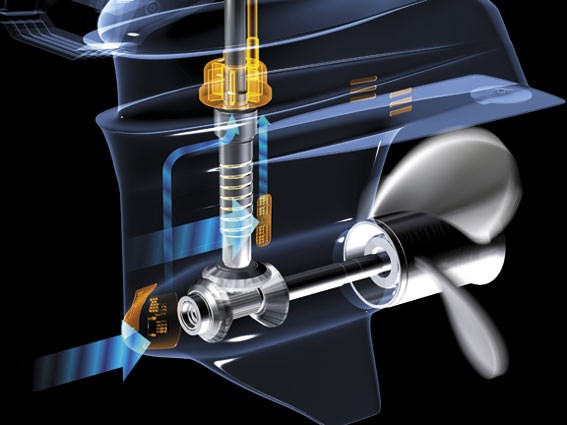 Yamaha's big gun – the F350 5.3 litre V8 outboard – delivers huge torque and offers owners of large offshore boats an irresistible advantage: lots more fish-fighting space in the cockpit. Even better, it comes with sophisticated manners.

The F350 was displayed at a number of New Zealand boat shows during 2007, but the first opportunity to see it in action came at a media launch in Australia late last year. And to get straight to the point, it is a remarkable engine.

It delivers everything implied in the 350hp/V8 description – oodles of torque and deep, gut-wrenching acceleration (a 45 per cent increase in thrust over a conventional 250hp four-stroke outboard). What's missing is the V8 rumble: it's a remarkably quiet, smooth engine, free of any expected vibration. Boating journos glanced backwards on a number of occasions as we coasted to a stop – "whoops – the engine's just died."

It's also equipped with a fascinating array of engineering innovations (it received the prestigious IBEX 2007 Award for Innovation late last year) that deliver performance, surprising fuel efficiency and the promise of hours of trouble-free running.

Apart from the space advantages in opting for an outboard on a large offshore boat (in place of the more conventional inboards with shafts or stern legs), there is also a substantial weight benefit – not only versus inboard engines, but also twin-rig outboards. Consider that the F350 weighs in at around 365kg – compared with the 440kg of twin Yamaha 150s (220kg each).

Test Boats

The F350 was fitted to three boats – an 8m Stabi-Craft, an 8m Abrolhos GRP fishing vessel (from Perth builder Commodore Marine) and a twin-rig on a Grady White 305 Express.

The latter – a beautifully-proportioned 30-footer equipped for serious offshore fishing – tips the scales at just over 5.2 tonnes, and it thrived on the twin V8s. It climbed on to the plane smoothly and effortlessly, even with full fuel tanks and seven gents aboard (average weight around 85kg). At a sedate 28 knots cruise speed, the engines were turning over at 3500rpm and consuming 82 litres/hour. At WOT (5900rpm) that changed to 44 knots and 250 litres/hour.

The twin-rig also illustrated a number of the technological benefits that come with the F350. For a start, it's a "drive-by-wire" model – so there are no throttle and gear linkage cables. While this makes for easier installations, it's particularly so for twin (or triple) rigs, and/or dual helm station configurations.

More importantly, the remote control system is equipped with Yamaha's Auto Synchronizing Throttle function – an automatic multi-engine synchronisation feature. No need to try and balance rpm/thrust: the F350's digital brain (Command Link®) does it for you.

And game fishing aficionados will take heart from the one-touch idling speed adjustment function – it allows you to select the desired idling-trolling speed on the digital tacho panel (in steps of 50rpm between 600 and 1000rpm) without using the throttle.

Visually, the most surprising aspect of the F350 is its relatively compact size. That's largely a function of the narrow, 60o V engine block, but it's aided by a clever design innovation: the exhausts run "in-bank" – between the cylinders – not outside.

Technology

For die-hard petrol-heads, the list of features on the F350 read like a "dream custom creation", with no expense spared. At its heart is the 32-valve, double overhead camshaft design. That delivers easy breathing, but it's enhanced by Variable Camshaft Timing (VCT). VCT boosts torque by advancing or retarding (depending on the load) the angle of the intake camshaft to increase valve lift, duration, and overlap in the low- and mid-rpm ranges.

That's complemented by a multi-point fuel injection system – it provides fine control of the fuel volume and ignition timing through the ECM, which means efficient combustion from low speeds all the way up to high speeds. The end result is better fuel economy and cleaner exhaust emissions.

My favourite feature is the direct "coil-in-cap" ignition. The F350's eight spark plug caps have built-in ignition coils. Sea water and conventional spark leads make for a notoriously poor marriage – the coil-in-cap system eliminates any chance of a short circuit.

More exotic are the ionic combustion sensors – adapted for the first time on an outboard. They monitor combustion conditions by detecting the production of ions in the flame. The ECM adjusts the ignition timing based on the ion density to improve combustion.

Design features that contribute to the reduction of vibration and noise include the large-capacity intake silencer, the damper on the flywheel, forged engine mounts, the water-sealed outer wall and the labyrinth exhaust design. So despite being 40 per cent larger in displacement than a 250hp Yamaha outboard, the F350's noise level is about the same.

To harness the F350's power and torque, Yamaha has designed an all-new Saltwater series XL line of stainless steel propellers. And to maximise prop performance, the engine's lower unit has been beefed up with large, stronger gears and bearings.

Of course, Yamaha enthusiasts will tell that the engines never break down, but in case the worst does happen on the F350, its YDIS (Yamaha diagnostic system) provides information about the conditions and history of engine trouble when connected to a personal computer for easier diagnosis and servicing. The engine comes with a three-year warranty.

The F350 is a sublime piece of engineering, and despite its retail price of between $45 and $47K (depending on the model), it already has a solid sales history in New Zealand: 30 have been sold and Yamaha New Zealand managing director Greg Fenwick says more stock has been ordered.

A new, 300hp V8 variant F300 outboard has also been released internationally.

Yamaha F350 Specifications

Engine: 60o V8 (5330cc/325ci)
Prop shaft horsepower: 350 @ 5500rpm
Cylinder heads: DOHC / 32 valve with Variable Camshaft Timing Compression: 9.6:1
Ignition system: 32-bit ECM with integrated coil-in-cap ignition Alternator Output: 50A (40A @ 1000rpm)
Lubrication: Wet Sump
Gear ratio: 1.73:1
Weight: 365kg
C.A.R.B: 3-Star

Keep up to date with news from Trade-A-boat or like us on Facebook!