Doral Alizio 28
---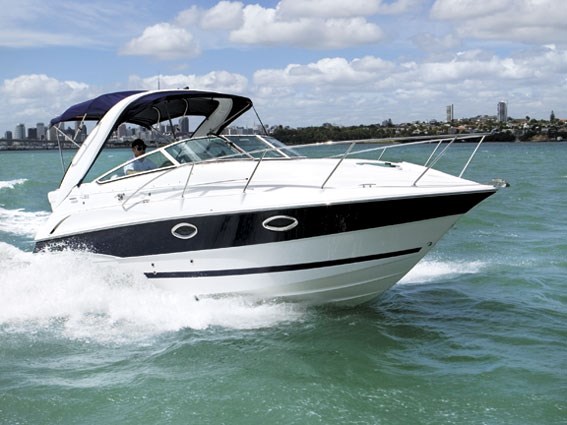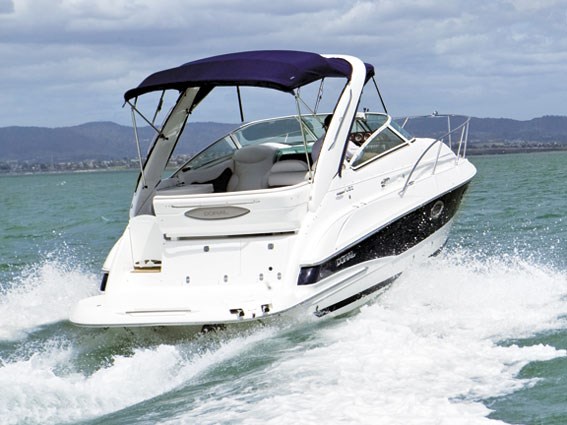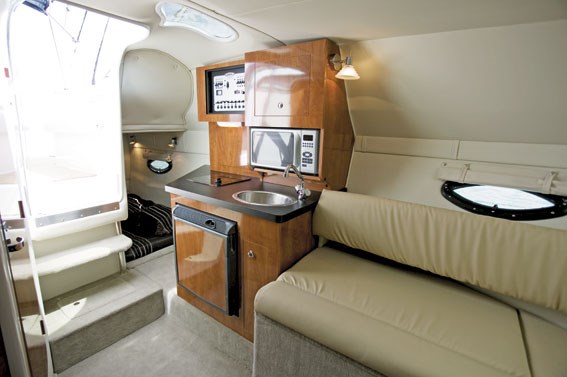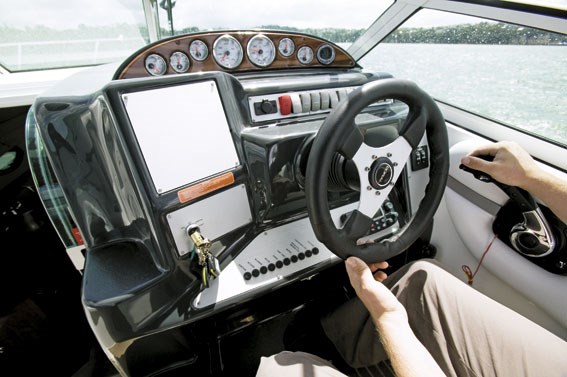 A sudden spike in the range of high-end, imported launches is giving New Zealand buyers more choices than ever before. The latest contenders – from Canada's Doral – should find a ready market.

The agency for the Doral sports yachts and express cruisers was secured late last year by Westhaven's Laurie Collins Marine Brokers, and the deal sealed with the arrival of five boats – the flagship 47.5-foot Alegria, 39-foot Boca Grande, 33-foot Intrigue, 29-foot Venezia and the 28-foot Alizio. All will be on display at this month's on-the-water boat show in Auckland.

They're plush, superbly-crafted vessels with sleek lines – bristling with classy fittings and stylish design. And any concerns that New Zealand buyers might be unreceptive to North American "lake" boats have quickly been dispelled. Two of the five – the Intrigue and the Boca Grande – have already been sold.

Who's Doral?

The company began operations in 1972 in Grand Mere, Quebec, with a series of runabouts, and in the mid-1980s (during a boom in the Canadian boating industry) it introduced its cruiser class. Popular models included the Prestancia 300, Monticello 270 and the Boca Grande 350.

In the mid-1990s, following a short acquisition by French boatbuilder, Jeanneau, Doral once again changed hands, this time with Canadian entrepreneur Erwin Zecha. He instilled a new direction – and new designs. Today, the company manufactures around 450 boats a year, exporting them all over the world.

The baby of Doral's sports cruiser range, the Alizio 28 is best described as a lightweight, entry-level cruiser – an excellent boat for learning the ropes. It's ideal for a couple (or a couple and two children) – but will sleep four adults at a push.

It's equipped with a single bathroom (electric toilet and shower), a compact but functional galley and a surprising amount of space. And forget any suggestion that "entry-level" equates to docile performance. As a relatively light vessel (around 2900kg lightship) she's nimble and responsive and handles easily. Her 320hp, 5.7-litre V8 Volvo (petrol) provides plenty of punch when your throttle hand gets a little enthusiastic. Top speed is 40 knots – and at cruise speed (22-25 knots), the Volvo's consuming 30 litres an hour.

All in all, a sharp-looking, user-friendly cruiser with top performance – and one that won't give you grey hairs when it's time to negotiate your way into the marina. But perhaps the best thing about the Alizio is that you don't even need a marina berth. At her size and weight, she's easily accommodated in Westhaven's Pier 21 drystack – even with her targa arch – offering the ultimate arrangement in hassle-free cruising.

That targa arch, incidentally, is mounted on heavy duty hinges, and if necessary it can be lowered to ease the boat into areas with restricted height. This would be useful, you'd have to agree, for Europeans taking the boat along the canals…

Quality

All Doral boats are NMMA-certified and use the company's Core Guard production technique, a process which incorporates hand-laid hull and deck construction. That's supported by an accent on durability, with 316-grade stainless steel hardware used for fittings such as the heavy-duty bow rail, bow roller, rub rail insert and telescopic ladder. Doral offers a 10-year warranty on the hull and deck, and three years on the cushions (more about these in a minute).

Step aboard the swim platform and the port transom door leads you to a large, stylish cockpit with a "lounge" with a sumptuous, L-shaped settee and a hand-basin – all offset by thick carpeting. The settee (lots of storage underneath) wraps across the transom and along the starboard side. Carpets are easily removed for cleaning, and the entire area is self-draining, designed for a quick wash down with the hose. You also need to remove the carpets to gain access to the engine – through a large hatch supported by gas chocks.

Whoever does Doral's vinyl upholstery needs a pat on the back – it's superbly finished, featuring intricate stitching, piping and two-tone infills. A bimini attached to the targa offers good protection from the sun, and in foul conditions, when the wraparound clears are deployed, the entire cockpit/helm area can be insulated from the elements.

Further forward – on the port side and opposite the helm station – is my favourite feature on the Alizio: a chaise lounge (with that same, intricate upholstery and stitching). It's a particularly inviting place for relaxing and watching the wake streaming behind the boat, and allows easy conversation with the helmsman.

He (or she) sits on a plush, double helm seat, equipped with an adjustable bolster. It's a racily-styled area, with a comprehensive display of Faria instruments for the Volvo, and a sports steering wheel. This boat wasn't equipped with a chartplotter (Laurie Collins' Doral sales manager, Dominic Lowe, says he prefers to let buyers make the choices about electronics). As the photos show, though, there is plenty of space to fit a fairly large chartplotter.

The helm station also sports a rack of rocker switches as well as controls for the Lenco trim tabs and the Maxwell HRC-6 winch on the foredeck.

There is access to the foredeck via the walkaround side decks, but they are fairly narrow, and in unsettled conditions a better bet would be via the windscreen's hinged centre section. Moulded steps on the side of the helm console provide convenient footholds to the windscreen "door". Out on the foredeck is a large sun pad equipped with integrated pillows .

Cabin

Entrance to the Alizio's cabin is via a sliding, reinforced glass door, and it's another striking piece of design. It's moulded to echo the curves of helm console (it slides in behind the console). Apart from the aesthetics, it allows light into the cabin when the door is closed.

You step down into a carpeted, oval-shaped dinette area, with plenty of headroom. A U-shaped settee is up front, surrounding a height-adjustable (and entirely removable) laminated table. With the table removed, an infill squab converts the settee to a double bed. Again, there is plenty of storage under the settee cushions.

Immediately to port is the galley, with the bathroom opposite. It's a compact galley, equipped with a fridge (12-volt DC and 240-volt AC), a single plate cooker, microwave oven and stainless steel sink.

When not connected to shore power, the Alizio's 240 volt AC appliances have to be run via an inverter or a genset. Neither was fitted at the time – Lowe says buyers are required to make the choice, and that the petrol genset tends to be more popular (in offshore markets) than the inverter. The boat is fitted with two carbon monoxide detectors.

The bathroom – with an integral fiberglass liner – is fitted with an electric toilet (and holding tank), vanity and mixer and a shower. The bathroom also contains an access door to the back of the dash instruments.

Accommodation

Owner and partner sleep in a thwartships double berth tucked under the cockpit. The boat boasts a 2.59m beam, so it's a fairly generous sleeping area. It features a storage cabinet with two doors, an opening porthole with screen, and a reading light. Good clearance at the head of the bed allows you to sit up for your first cup of coffee.

Performance

She's a pleasure to drive – smooth, light and agile, responding precisely to the Teleflex hydraulic steering. At cruise speed the Volvo murmurs along happily and quietly – flat out it understandably becomes a little more intrusive. The counter-rotating, stainless steel duo props on the stern leg do their job efficiently, returning a cruise speed consumption of 30 litres an hour (22-25 knots). With her 246-litre fuel tank, that offers a healthy cruising range.

There are a number of engine options for the Alizio. She performs well with Volvo's 320hp 5.7 GXI, but other possibilities include a 300hp Mercruiser, a 230hp Cummins-Mercruiser 2.8 QSD, and a 320hp Cummins-Mercruiser 4.2 QSD.

As reviewed (with GPS and Maxwell winch) the Alizio will set you back $160,000 – not bad for a cruiser that incorporates designer decor and craftsman-quality cabinetry in the salon, and simple, lasting elegance topside. Check her out at the Boat Show.

Specifications – Doral Alizio (Price as reviewed $160,000)

LOA (with swim platform): 28'3" (8.61m)
Beam: 8'6" (2.59m)
Fuel: 246 litres
Water: 114 litres
Waste: 114 litres
Caibin headroom: 1.78m
Deadrise: 14 degrees

Keep up to date with news from Trade-A-boat or like us on Facebook!