Etap 37s
---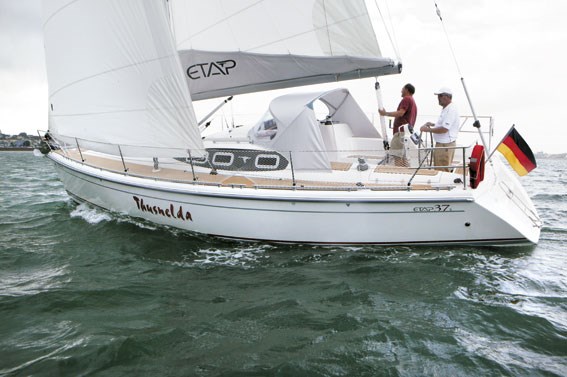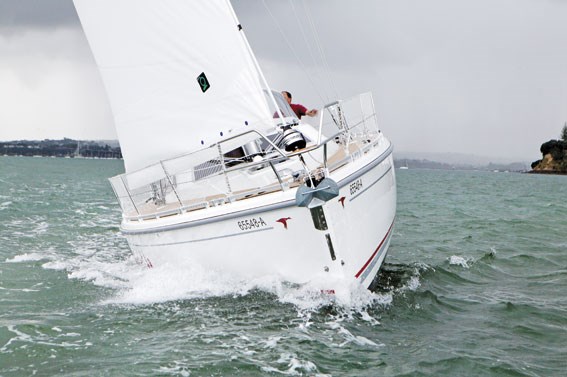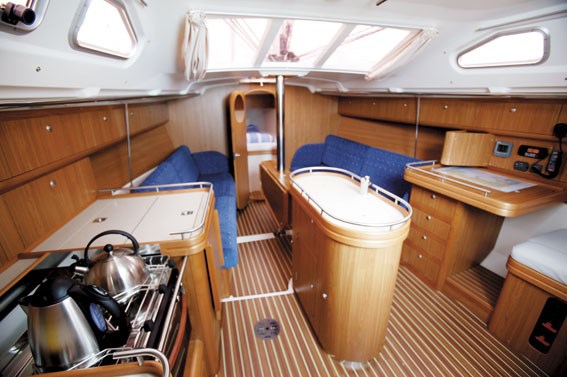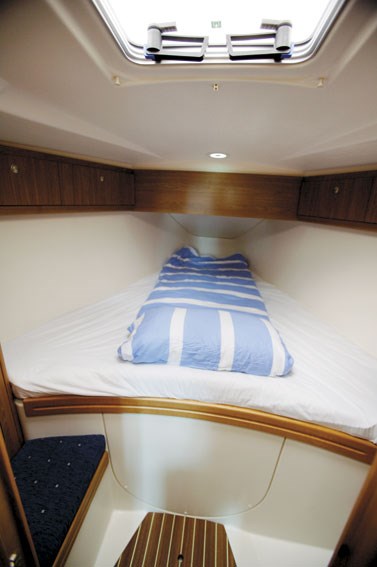 It's a brave yard that builds a reputation around the claim that its vessels are unsinkable, but this is indeed what Belgian production yacht builder Etap Yachting has claimed since the launch of its first yacht in 1970.

A minnow in this part of the world, Etap has only this year had any formal representation in New Zealand following the business expansion of Australian importer Ausail Pathfinder into New Zealand.

The Etap 37s is described in company literature as a pilothouse yacht designed for the offshore sailor seeking comfort, safety, performance and style – nothing unusual there. What is unusual is Etap's assurance that its yachts are unsinkable. This is a huge claim and one that will no doubt give rise to lively debate at the yacht club. But more on this later.

Etap was formed in 1948 by Achilles Daelmann. Based at Malle near Antwerp, the company initially operated as motor rewinders but progressively moved into the manufacture of light fittings which is still its core business activity. The foray into yacht building was coincidental. In the late 1960s fibreglass was an emerging technology and a material that Etap considered had potential in the manufacture of lamp fittings.

To learn more about it, Etap built a 22-foot trailer sailor and, given the success of the project, went into commercial production in 1970 with he Etap 22. Eighteen hundred boats later Etap expanded its boatbuilding operation with the launch of the Etap 28 in 1977. The range now includes nine models from 21 to 46 feet.

Earlier this year, however, Etap Yachting was purchased by German yacht builder Dehler. Once Germany's largest manufacturer of cruising yachts, Dehler collapsed in 1998 but re-emerged in 2004 with a new owner. Dehler says its business as usual for Etap and has indicated its intention to invest in new Etap product and double staff at its Malle factory over the course of the year.

Design

Etap has no in-house design skills and instead relies on European naval architects Mortain and Mavrikios for its design work, including the 37s. The firm's clients include Dufour, Feeling and Locwind.

The Etap 37s hull presents a relatively low profile, especially given its billing as a pilothouse sloop. With an almost plumb bow and flat sheer – running to a reverse transom – the 37s carries maximum beam well aft to good effect. Pilothouse designs can suffer aesthetically, but the 37s benefits from a soft, rounded look and an attractive window design that includes a full-width flush mounted picture window across the front of the cabin.

The Etap 37s differs notably in her topside height, which is considerable. Topside height delivers a dry foredeck but also increases windage which can affect windward performance. For practical purposes, however, getting on and off the 37s is going to require more than a spring in your step. The three-step transom is not walk-thru in the contemporary sense but this problem is mitigated if you're happy with reverse docking.

Etap cockpit design is traditional in so much as it recognises that the best place for a mainsheet block is in the cockpit with the traveler positioned near the helmsman. An arrangement out of favour these days because of the physical constraint it imposes, Etap has responded by designing the traveler so it can be simply and quickly removed and stored in an aft locker. The mainsheet block is transferred to a pad-eye in the cockpit sole or to fittings on the combings which allow the mainsheet to be completely removed from the cockpit.

Teak trim on the combings and cockpit seats is standard and recessed into mouldings to good effect. The cockpit sole and cabin top carry an aggressive, non-skid pattern moulded into the glass which provides sure footing when moving around the boat.
Halyards and sail controls are led aft through Antal jammers on the cabin top and sheeted off on Lewmar 40 self-tailing winches. The 37s has inboard sheeting tracks, with the headsail sheets led back to self-tailing Lewmar 44s.

The rig is a standard 7/8ths fractional, deck-stepped, Selden spar with twin spreaders and single-point chainplates. The spar is fitted with Selden rod kicker and manual backstay tensioner. Instrument housing options include the pedestal facia and a fibreglass pod mounted above the companionway.

A notable departure from similar production yachts is the aluminium extruded toe rail secured to the deck by fastenings into which the stanchion rails attach. Breaks in this extrusion form three bollards each side for fore, aft and spring lines.

The Etap's decks are wide and clutter-free with well-placed aluminium hand holds on the cabin top. Being flush deck, however, there is little in the way of support when moving forward of the mast. The anchor locker is deep and self-draining and the stainless steel stem head fitting is sensibly designed to accommodate twin anchors.

Accommodation and layout

Unlike some production builders, Etap does not offer alternative accommodation plans. What you see is what you get. But the 37s is sensibly laid out and stylish in a practical sense.

The layout is dominated by a centre island galley placed amidships, which allows easy two-way access through the interior of the boat. The island, with twin circular stainless sinks set into a Corion countertop, is the focal point and demarcation between galley to port and chart table to starboard.

The cabin sole is at two levels providing 6'6" headroom aft of the island and 5'11" forward in the saloon proper and forward cabin. The companionway entrance is wide but not excessively deep. Interestingly, the top companionway step is the only place you can sit and enjoy the full panorama provided by the front window.

Immediately to starboard at the foot of the stairs is the head and shower unit with a wet weather locker set further back in the cabin. This is a great arrangement because it means crew don't have to walk wet gear through the boat. It also provides a secure place to undress without being tossed around. It would have been nice to see some sort of grate and drain at the foot of the companionway to capture the worst of the runoff from crew coming below, especially given the yacht's quality teak and holly sole. The head and shower unit is well finished and fitted with hot and cold water, shower and self-draining floor.

Opposite (to port) is the aft cabin. This provides full headroom within the cabin entrance and is well equipped with twin hanging lockers, one fitted with shelves. There is a small upholstered seat, two opening hatches – one into the cockpit and the other onto the deck. The bed is a genuine double though sitting headroom is a problem. The cabin opens onto the main galley unit which is crafted from solid cherry wood and cherry wood veneers and has a Corion top fitted with stainless steel fiddle rail.

Storage is generous in a double bank of overhead lockers and drawers built into the galley unit. A stainless steel oven and two-burner hob are fitted as standard, along with a top-opening, 120-litre 12v compressor fridge/freezer. There is little in the way of counter space but this has been addressed in part by the inclusion of a small bench that folds up to link the galley unit with the centre island. The island also carries a solid fiddle. The measure of any galley is whether you can cook (and serve) in a seaway. I suspect the jury is still out on this point.

The forward-facing chart table and navigation station is well thought out and comfortable with good storage options. The battery bank and switches are housed under the navigator's seat for easy checks and maintenance. The switch panel is well laid out and fitted with circuit breakers, volt meter, fuel and water level indicators and optional 230v socket. All wiring is numbered and colour-coded for easy reference.

The saloon is not large but adequate with velour covered fore and aft squabs with armrests, which are an interesting point of difference. The saloon squabs are fitted with lee cloths and there are dry storage options beneath the squabs. The saloon table is fixed on the centre line and, with drop leaves in, will comfortably accommodate four guests.

The forward cabin is well laid out but compact and just large enough to qualify as a genuine double. It is fitted with overhead hatch, a pair of hanging lockers on both sides and a small seat on the starboard side. The yacht's single water tank is fixed under the berth and packed in with closed-cell foam.

On balance, the 37s is not a "big" 37-footer, but through sensible design it offers more practicable accommodation than some larger production yachts. The cherry wood veneer finish and teak and holly sole are first class and the interior is both light and airy. The only question is how well the galley will function at sea.

Construction

A unique aspect of Etap construction is a hull structure that the French merchant marine (Marine Marchande) has certified unsinkable. Etap has backed this claim with several tests including a successful crossing of the English Channel with the yacht flooded to the bunk rails. Its crew of yachting writers made it safely across and without incident.

To receive certification each Etap design is required to pass four key tests. It must retain freeboard of not less than three per cent of its overall length when flooded; it has to float in a near-horizontal position; the flooded yacht (with a crew of eight) has to be able to right itself from 90 degrees; and the flooded yacht has to be able to be sailed.

"Unsinkability" is achieved by a process that involves production of an internal liner that's coated with closed cell foam and bonded to the hull. This provides additional stiffening and anchor points for the internal fit out.

This is not uncommon in itself, but in the case of Etap the width or depth of cavity between the outer hull and internal liner is such that voids are injected with closed-cell foam. Foam thickness varies throughout the boat but measures six inches in places.

The hull is formed with polyester resins and an ISO-NPG gel-coat to resist moisture saturation and the onset of osmosis. The hull is hand-laid and wetted out with rollers. The lay-up consists of two layers of rovings with additional laminate thickness in high stress areas, including the keel and chain plates. An internal grid-liner and bulkheads are then glassed into the hull.

The two-piece liner is then sprayed with two-pot polyurethane closed-cell foam and bonded to the hull. Cavities are injected with additional foam.

The deck is similarly double-skinned with the addition of plywood stiffeners and aluminium backing plates in key areas to capture deck hardware fastenings. The hull is bonded to the deck with resins and mechanically fastened with rivets and thru-bolted at four-inch centres. The join is then wrapped with a rub rail.

Performance

The standard Etap fin keel is a cast iron section drawing 6' 5". A shoal draft tandem keel similar to those seen on some America's Cup yachts is an option. In effect, two short keels are mounted to the hull and a wing-bulb is connected to each. The result is a claimed improvement in performance by increasing lift when sailing to weather.

Etap describes its 37s as a performance cruiser, which is a fair description given the yacht's moderate 6550kg displacement and 9.9m waterline length. Fitted as standard with a 135 per cent furling genoa, there is no shortage of sail area to get the yacht sailing well in most conditions.

Our sail on Auckland Harbour was dogged by light and fickle winds of less than seven knots, which is hardly testing stuff for a yacht of this calibre. What we were able to ascertain is that the yacht sailed well in the light, maintaining an average four or five knots in not much more wind speed. With just 1.75 turns lock to lock, the wheel steering is direct and smooth and tacking in light airs proved no problem.

Having the traveler well back in the cockpit meant we were able to induce varying amounts of draught into the main and this, in combination with different sheeting angles, proved the Etap 37s to be responsive and lively. A reassuring feature for long distance sailors is the standard inclusion of an inner forestay for hanking on storm headsails. When not in use, the stay is held out of the way by a fitting mounted on a lower spreader.

In summary, the Etap has a familiar Kiwi boat feel. The cockpit is well laid out and secure with sensibly placed and sized winches and deck hardware and on many counts the Etap lives up to its billing as well-built and well-performed offshore cruising yacht.

Specifications Etap 37s pilothouse sloop (Price as tested $380,000)

LOA: 11.26m
LWL: 11.03m
Beam: 3.85m
Draft: 1.95m/1.35m
Displ: 6350kg/6550kg (shoal draft)
Ballast: 2000kg/2200kg (shoal draft)
Engine: Volvo D1 30 29hp saildrive
Water: 250 litres

Vessel supplied by Ausail Pathfinder Marine Group. Email info@ausailpathfinder.com.au or visit www.ausailpathfinder.com.au

Keep up to date with news from Trade-A-boat or like us on Facebook!