Extreme Boats 570 Sport Fisher
---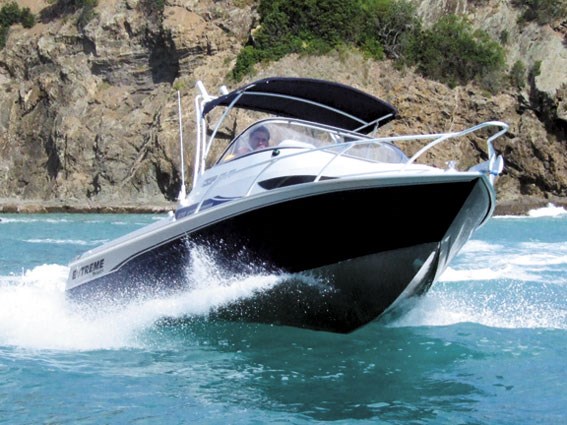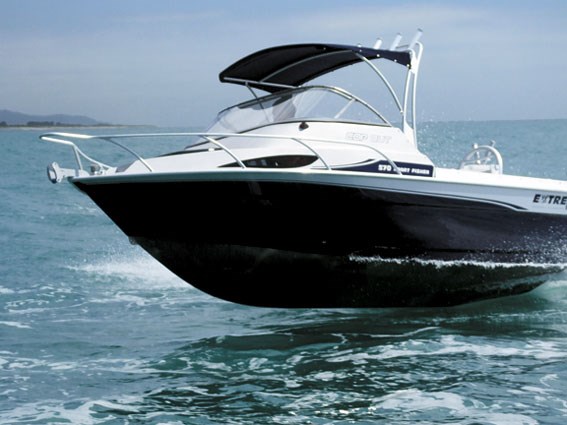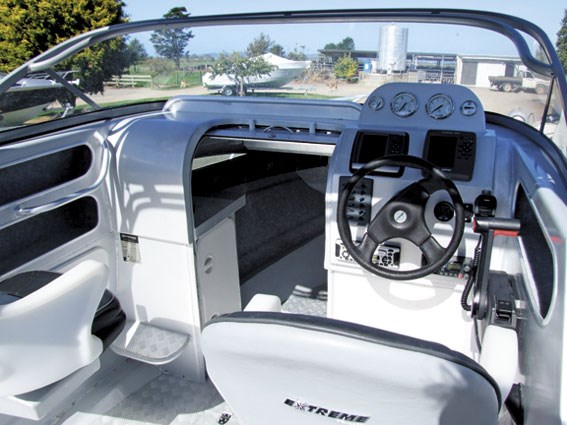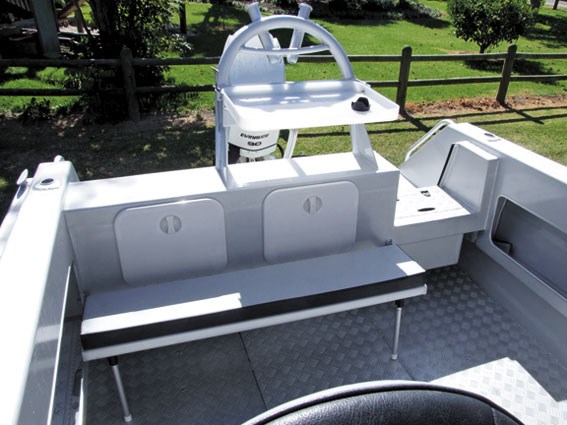 Winner of its class at last year's Hutchwilco New Zealand Boat Show, the new 570 Sport Fisher from Whakatane's Extreme Boats raises the ante in capable-yet-affordable entry-level trailer boats.
Extreme Boats has come a long way in a relatively short time and is now an established and recognised brand in the fiercely-competitive aluminium trailer boat sector. The company's latest design, the Scott Robson-penned 570 Sport Fisher, made its debut at last year's Hutchwilco New Zealand Boat Show where it was judged Boat of the Show in its design category.
The award is the second for Extreme Boats and further cements the company's reputation as a manufacturer of boats that offer excellent build quality at an affordable price.
Designed as a capable entry-level boat, the 570 Sport Fisher is a no frills package designed to meet the needs of family boating rather than catering exclusively to dedicated fishers. Based on the larger offshore-capable Extreme 650 Sports Fisher/Game King, the 570 features the same hull scantlings.
While essentially a day boat with no provision or facility for overnighting, the 570's 5mm plate hull and fully-welded box construction makes it a capable, all-seasons performer. In standard trim the 570 Sport Fisher on trailer fitted with a 90hp Johnson retails for a shade under $40,000. Add stylish painted topsides, Nyalic protective coatings, electric capstan, lockable cabin door, bimini and rocket launcher and a new generation Evinrude E-TEC 90 and the 570 still comes in at under $51,000.
It's little wonder the boat is finding a ready acceptance both here and in Australia and New Caledonia. The company's growth and expanding market is due in no small part to continued re-investment in the business by owners Glenn and Di Shaw. Having established Extreme Boats as reliable, well built and sea kindly over the last eight years, the Thornton couple now has confidence to re-invest in the Extreme brand. This has led to the purchase and use of automation and CAD technology.
Not only does this improve unit build time, it also ensures a consistent and uniform build quality across the Extreme Boats range and removes the risk of human error during the fabrication process. As successful dairy farmers, Glenn and Di say the business skills and management practices applied on their farm have been successfully transferred to their manufacturing business. "As farmers we put a lot of weight on having the right mix of skills and technology to manage the business," says Glenn.
"This reduces our exposure to risk and poor work practice through third party contractors and suppliers. "We've adopted this model with our boat building business. Almost every component that goes onto or into our boats is manufactured and fitted in-house. This applies to fabrication, construction, fit-out, upholstery and trailer build."
He says the infrastructure required to achieve the company's goal has come at a price and has seen staff numbers double in the last 12 months. Extreme Boats has also had to commission a second factory to make way for fit-out bays, a trailer shop and an upholstery loft. With a model range from 5.7m to 7m and a build schedule approaching 70 units a year, Extreme Boats hopes to increase orders by about 30 per cent to ensure a decent return on investment.
"We've concentrated hard on design and build quality and growing our range. We're very comfortable with this aspect of our business and are ready to get more aggressive on the sales and marketing side and we've appointed a national sales manager to help achieve this."
Hull design
The 570 Sport Fisher is typically Scott Robson with a long, fine bow entry and a variable deadrise culminating at 20 degrees at the transom. Like her Extreme Boats stalemates, the 570 has an exceptionally wide and turned down single chine rail that measures 120mm at the transom and narrows to 80mm amidships before tapering off at the stem.
There are no planing strakes nor an external keel bar, but the self-flooding keel cavity does provide a degree of sacrificial protection when beach launching. With a beam of 2.22m, the 570 is about 200mm wider than similar-sized trailer boats and this further aids the boat's stability at rest.
Built on a small, V-shaped jig, hull construction is conventional and solid with full length box stringers and fully-welded frames creating three large underfloor buoyancy chambers, each pressure tested to 3.5psi before the cockpit sole goes down. All metal work is from marine-grade 5083 aluminium plate and each design is certified and approved for survey which means the boats can be put into charter with minimum capital outlay.
Cuddy cabin
Best described as a cuddy, the forward cabin on the review boat was fitted with the optional aluminium roller door which secures the cabin for safe storage. The amidships cabin entrance is reasonably wide but requires quite a stoop to get in under the roller door. Once inside, the cabin provides minimal sitting headroom on a half-squab on the starboard side.
This is flanked with an upholstered yet narrow parcel shelf that provides some back support when seated. Being at head height, however, the roller door is the dominating feature and, given the limited length of the cabin in terms of rod storage, the door might be more restrictive than useful. Opposite to port is a general utility locker with an aluminium fiddle rail and Sopac plastic hatch opening to a reasonably-sized storage locker.
A small overhead deck hatch hinges aft and rests against the windscreen giving easy-reach access to the open aluminium anchor locker. The review boat was fitted with an optional Quick windlass and single Sarca anchor roller. While the anchor locker is certainly deep and solid, the lack of protection for the windlass motor is not ideal. The windlass pressure switch is flush mounted on the forward cabin bulkhead and operated by the knee when standing through the hatch.
A small single-rail push pit runs aft to the main windscreen providing a modicum of support should it be necessary to go forward across the superstructure. The cabin is lined in grey front runner and fitted with a matching pair of small cat's eye windows. In describing the cuddy it is important to remember that it is effectively a storage area and must be judged as so and therefore achieves its primary objective well.
Cockpit
Back into the cockpit and the plastic wheel is flush mounted against the main aluminium bulkhead. A single roto-moulded plastic helm seat is bolted to an aluminium plinth welded to the superstructure. While these seats swivel there is no facility for height adjustment. Options do include vinyl seat coverings. The dash fascia is simple yet practical with ample space to flush mount instruments, in this case a fitted Garmin fishfinder, GPS/plotter, six-gang BEP switch panel, Solara VHF, Fusion stereo and full suite of Bombardier engine instruments including a Navman fuel gauge.
A small parcel shelf on the driver and passenger sides provides reasonable storage for personal items while matching Sopac hatch lockers built into the main bulkhead cater for larger items. Both driver and passenger are equipped with solid welded footrests, but at average height I found this too low to gain a solid brace. The passenger is well catered for with a welded side hand rail and a forward hand rail mounted across the top of the dash.
The anodised aluminium and acrylic windscreen is stylish and well positioned, affording a clear view across the top of the screen when standing while providing protection from wind and spray when seated. The solid checker-plate cockpit sole is divided equally into two, 110-litre under-floor fish/dive tank bins. These are fitted with bungs which allow the lockers to be filled with seawater from the flooding keel beneath.
The real advantage here, other than being able to retain catch quality, is the additional ballast that can be shipped aboard to provide greater stability at rest. The portofino stern provides walk-thru access on the port side and is fitted with a drop in aluminium board that is retained in cleverly designed slides fitted under the transom when not being used. A 25-litre live boat tank is plumbed in under the step-thru.
The cockpit combings are wide and solid and have been raised 150mm over existing models to provide additional security when underway. Rod storage consists of two holders in each combing with a further three in the semi-circular and very solid bait board housing welded onto the transom rail. Storage is further supplemented with twin parcel trays for tackle boxes, gaff, net, fenders, lines and the like.
A three-quarter aft bench seat is another new addition to the 570 and this can either be hinged down or completely removed when not required. The transom is fitted with a conventional parcel shelf for the boat's cranking battery and oil reservoir with the battery switch mounted alongside. An optional removable bimini top incorporates an aluminium rocket launcher with six rod holders and solid hand rail for cockpit passengers. When removed, the 570 Sport Fisher will easily clear the stud of most domestic garages for easy and secure long term storage.
Performance
Fitted with a new generation Evinrude E-TEC 90hp outboard (falling midway between the recommended 70 to 115 horsepower range), the 570 Sport Fisher is a nimble performer. Whakatane's shoaling seabed and the power waves that form near the bar are an ideal testing ground for any boat's manners, especially on an outgoing tide and opposing onshore breeze.
Given a relatively light 580kg displacement and 5.75m hull length, the 570 proved more than capable if not lively when pushed hard into a short yet steep wave train. The engine match was, to my mind, ideal giving good hole shot performance and surprisingly long legs while keeping transom weight to a minimum. The 570's fine entry section slices cleanly through the swell with no obvious tendency to want to screw off or steer by the bow in a following sea.
While fitted with mechanical cable steering, the helm is firm yet incredibly well-balanced, tracking evenly and straight despite the best efforts of the helmsman and crew to upset her balance by moving their collective weight from side to side. I'm skeptical that any 5.75m boat could be described as soft riding when pushed hard across a choppy sea. What I can say is the 570's 5mm hull felt solid and sure underfoot and recovered with a reassuring stern-first attitude when launched hard off a swell.
And what about that excessive chine? Well, trim down, apply full lock and full throttle and hold on. The 570 spins on a dime and recovers without fuss. And, as Glenn was keen to demonstrate, the boat is entirely predictable even when the helmsman is not. Performance and handling cannot be challenged but, during more extreme manoeuvers, I felt a little vulnerable at the wheel. I found it difficult to brace myself and kept trying to protect my right arm from being knocked against the edge of the cockpit combing.
The foot rest, in my case, was too low. This is a minor complaint and an easy fix. So, in summary, the Extreme 570 Sports Fisher rates right up there in its class. What it lacks in bells and whistles – reflected in its price – it more than compensates with strength, agility, durability and capability.
Specifications Extreme 570 Sport Fisher
(Price as tested $50,632 inc; Priced from $39,752 inc)
LOA: 5.75m
Beam: 2.22m
Weight (dry): 580kg
Weight on trailer: 1200kg
Height on trailer: 2.13m
Fuel Cap: 90L
Deadrise transom: 20o
Hull: 5mm
Transom: 4mm
Warranty: Five years Boat supplied by Extreme Boats, 117 Eastbank Road, Thornton, RD3, Whakatane. Email info@extremeboats.co.nz or visit www.extremeboats.co.nz
Keep up to date with news from Trade-A-boat or like us on Facebook!