Kingfisher Legacy 550
---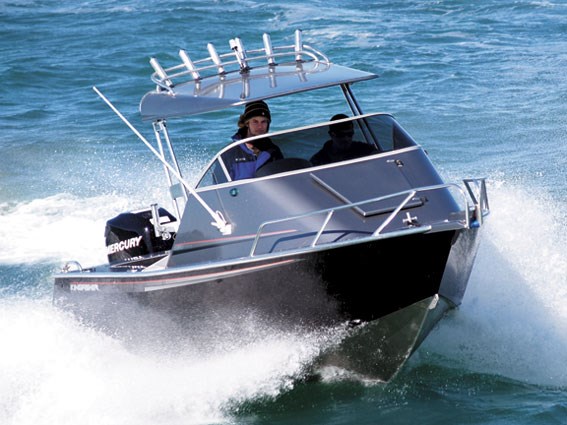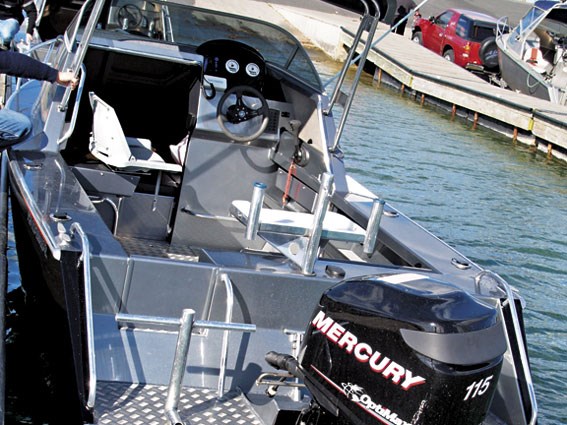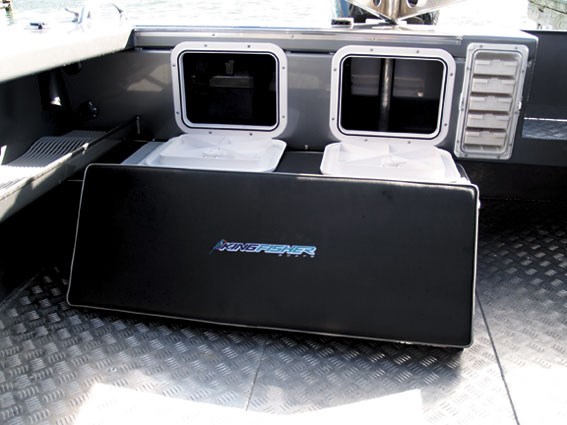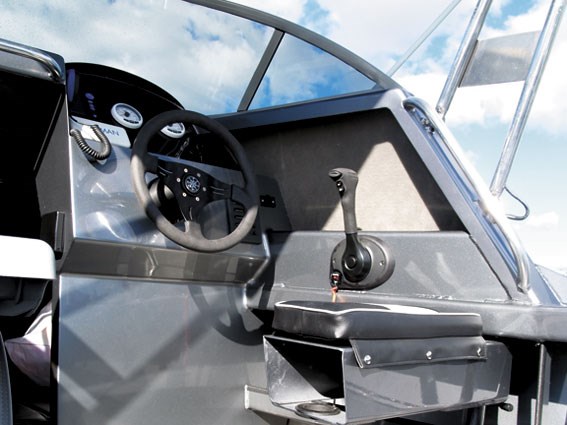 Fine finish and good looks don't mean a boat ain't fit for fishing, as Lindsay Wright found when he took time out on Kingfisher's new Legacy 550

Almost every launching ramp in the country has one; the resident expert who knows everything about boating, and Sulphur Point in Tauranga is no exception. After Kingfisher Boats' two new Legacy 550s had floated free of their trailers and were tied to the jetty, the local expert sauntered down to give them the once over.

"Too flash," he sniffed and strolled off to opinionate elsewhere.

At first glance, I'd been tempted to agree. It's the Legacy XS's half round polished aluminium rubbing rail, glinting in the weak winter sun, that does it. The glossy black finish on the aluminium hull, complemented by a rich gun metal grey deck and dodger, all combine to give the boat a balanced, classy glow not normally seen on 5.5m runabouts.

But further along the jetty, the basic Kingfisher 550, rugged and purposeful in raw aluminium, provides an insight into the fisher-friendly workboat beneath the stylish exterior of her sister. There must be a bit of magpie in most of us because just about all the bystanders gravitated to the shiny model.

Kingfisher has been in business for 12 years and has earned a dedicated following of owners with its thoughtfully designed and well built range of boats – from the handy 615 Cuddy to the barely trailerable 1030 Sportsfisher. As of this month, the company has joined forces with Alloy Boats whose flagship 50-foot catamaran Kazara featured in July's Trade-A-Boat.

The two boatbuilders will keep the Kingfisher and Alloy Boats brand names but share new 7500 square feet purpose-built premises in Judea, Tauranga, and manufacture a range of boats – from Kingfisher's quirky little alloy River Rat jetski and RIB models on upwards.

"We're currently building 15 to 18 boats a year," says marketing manager Chris Carter, "but with the shared premises we're hoping to up that to around 40 or more. Improved production efficiency and joint marketing will benefit both us and our customers."

The all new Kingfisher Legacy 550 will spearhead the marketing push, and sharp design work by Auckland's Howard Smith has produced what should become a Kiwi classic.

Neither company is scared of new ideas and fresh concepts abound on the Legacy 550. At first it looks like there's no helm seat, but as soon as I point out this shortcoming, an alloy arm materialises from under the gunwale with a choice of moulded plastic bucket seat or generously padded bum perch.

The ideas begin at the hull. The 5mm-thick, fully welded bottom plating has an enclosed area which holds 180 litres (176kg) of ballast water. When the boat comes to rest and the fishing begins (or sea conditions cut up and there's a need for extra stability), lifting a T-bar handle at the transom allows water to flood into the area and stabilize the boat. Once the boat gets underway the water empties out in seconds and the tank can be closed off again.

Chris demonstrates this with the air of a magician pulling a rabbit out of a hat, and sure enough, beam on to a 40-50cm slop, the boat's roll slows right down.

Also hidden under the 4mm alloy treadplate cockpit floor is a pressure-tested 70-litre fuel tank with fully-welded buoyancy tanks on either side and a stowage area. Some owners might prefer a bigger fuel tank. Despite her diminutive size, the 550 is quite long-legged and feels secure and comfortable at sea, so people will find they want to go that little bit beyond the range of the available fuel. There is room, however, for tote tank stowage.

The Legacy XS (upmarket) version of the boat is powered by a 115hp Mercury Optimax, while a 90hp Mercury provides the push for the basic model. Wound out to 5000rpm, the Optimax-powered version clocked 30 knots (55.6km/h/34.5mph) and the basic 550 was only slightly slower. Chris says he hasn't yet worked out fuel consumption figures. Recommended horsepower range is from 90 to 150hp.

"The hull continues right out to the back of the engine mount," says Chris. "It's not an added on pod, so there's heaps of buoyancy back there for heavier, four stroke outboards."

The standard engine's start battery lives in a watertight locker inside the transom, with room for more voltage if owners decide they need to run more electrical goodies or extra lighting for summer camping out.

The 550's hull is built with 5mm 5083 marine-grade bottom plating fully welded to a keel bar, plus four full-length, fully welded stringers with 4mm side plating and 5mm transom. The cabin and solid alloy bimini is 3mm thick. Kingfisher backs its work with a six-year full hull warranty.

Howard Smith's hull lines show a sharply raked stem transformed into the smooth variable deadrise sweeping back to an 18-degree vee at the stern. A prominent spray chine, where bottom meets the sides, help keeps loose water down where it belongs.

Driven hard into a 500mm slop, the 550 is surprisingly steady and normal conversation is still possible – unlike the shouting match that's necessary in the slap/bang/whop wave walloping ride of many alloy hulls. The 5mm bottom plating is probably a contributing factor for this, along with the lack of spray bars on the bottom plating.

The removable rolled alloy bimini is one stylish addition to the Legacy XS 550. "We weren't quite sure what to call it," says Chris. "It's not really a hardtop… but it's not just a bimini either. We were concerned that it would make the boat lift at speed, but it seems to have the opposite effect."

I'd thought there might be some funneling effect of air though the gap between the bimini and acrylic tinted cabin screen, but it doesn't seem to make any difference.

Wide open cockpit space is one enduring impression of the 550. Rounded 200mm wide gunwales give plenty of perching room while hanging a line over the side, and there's a heap of room on board for dealing with the catch without entangling other anglers.

Versatile

The 550, in its different guises, is a boat for all seasons. A handy fold-down boarding ladder, ample dive bottle stowage and cockpit space galore for suiting up will appeal to those who take their pleasure below the water. A step through door gives good access to the boarding platform and the plastic bait board at the stern lifts out, rotates and clips back in as a ski pole (and the observers seat swivels through 360 degrees for a good all round lookout) for skiers.

Fishers have a rack of gear bins built into the gunwale at the stern for their convenience, and step-through access to the boarding platform for landing big fish. Two rod holders are spaced out on the gunwale either side of the cockpit and the rakish rocket launcher sports another six for trolling work.

Careful thought has gone into the geometry between gunwale and cockpit floor so that it's comfortable to spend time leaning overboard, and good toe grip makes anglers feel secure and not like they're in the early throes of a plunge overboard. Rod stowage racks are built in under either gunwale and more gear space is under the two stern seats.

"Flash" she may be, but the XS 550's interior is designed for easily washing out the aftermath of a great day out on the water. Black vinyl upholstery (by Upholstery Services in Cambridge) is generously padded and comfortable. There's no partition between the forepeak cabin and cockpit (though fitting a curtain would be a piece of the proverbial…) but an insert can be removed from the vee berth and an optional toilet fitted.

Dark grey Autex Performer outdoor carpet is glued to all interior services so there's no glimpse of raw aluminium anywhere.

One of the beauties of aluminium construction is the integrity it allows for deck fittings. The Legacy 550 has an anchor bollard and mooring cleats that would look at home on boats twice its size – you're not going to rip these babies out in a hurry and, if you do, you'll have bigger problems on hand. A large alloy hatch allows access to the anchor gear, or air for the vee berth, and dogs down with a compression fitting and rubber gasket to minimise possible leakage.

The helm position, with either bucket seat or padded bench, fitted my 1.86m frame fairly comfortably and the Mercury engine controls fell easily to hand. The instrument panel had room for more gauges if an owner felt he needed them. A generous shelf above the dashboard also allows room for whatever galaxy of sounder/plotter/GPS or radar equipment an owner needs to pursue his or her favourite maritime activity. Two transducer plates have been welded onto the hull for horizontally mounting sounder sender units.

A sure indication of a boatbuilder that actually uses its product is the number of handholds provided. Kingfisher has a policy of getting its workers out on the boats so it follows that both models of the Legacy 550 are well supplied with gripping gear – the upmarket XS more so because of the bimini supports.

Chris says the Legacy XS version weighs about 1200kg on the DMW single axle trailer and the basic boat is slightly lighter.

The Kingfisher 550 is bound to become a legacy in many Kiwi households. From design through to construction it's hard to fault – and if it's possible to have a soft spot for an alloy boat, count me in.



Specifications Kingfisher 550 Legacy (Price as tested: $ 56,275.00*)

LOA: 5.5m
Beam: 2.3m
Construction: 5083 marine grade alloy
Engine: 115hp Mercury OPTIMAX (direct injection) two stroke
Trailer: DMW single axle

*Price for basic hull (with Mercury 90hp) and DMW trailer $ 35,538.00

Keep up to date with news from Trade-A-boat or like us on Facebook!