White Pointer 9m Custom Cruiser
---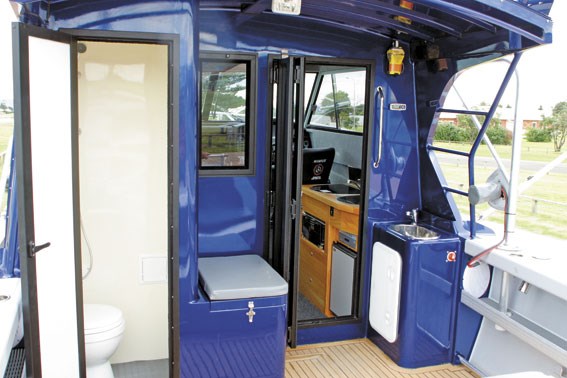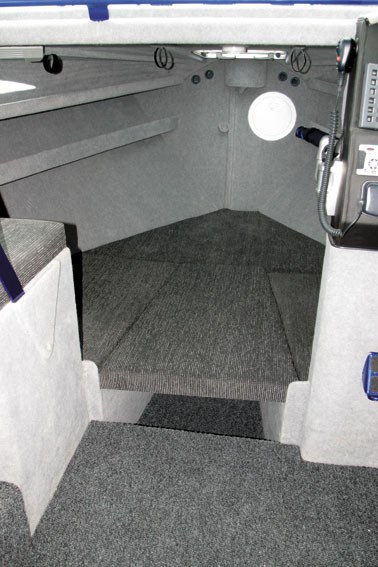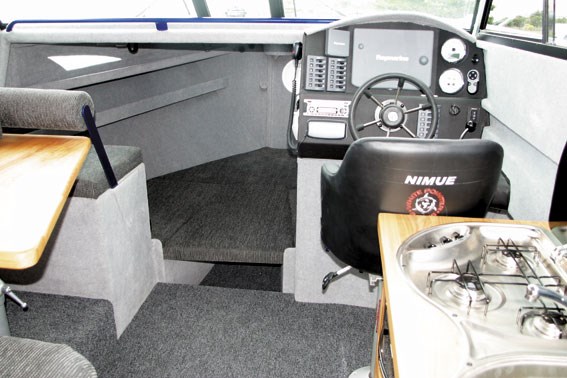 On the back of an enviable success in the 7m and 8m Custom Cruiser range of aluminium trailer boats, White Pointer's Rex Briant continues to push the design and build envelope with larger, heavier and more sophisticated boats.

The latest offering to leave his Gisborne yard is the 9m Custom Cruiser Nimue, bound for the Waikato where it will indulge its owner's passion for deep-sea fishing and diving while providing home comforts for extended coastal and in-shore cruising.

The first thing that strikes you about this boat is its sheer physical size. It is imposing to say the least and not a towing proposition for the faint-hearted.

Sure, White Pointer's custom-made trailers are well matched with the latest electronic brake-away system – cab-controlled remote, stainless brake calipers, braided hoses and bronze alloy disks. But at 2.9m wide and tipping the scales at 3500kg (light) you will require some pretty serious torque and nerves of steel, not to mention a pair of flags to comply with towing regulations.

That said, getting this rig on and off the trailer is straight forward and efficient with a manual and electric trailer winch to provide the grunt while polyethylene skids, bunks and rollers lead the way when using the on-board horses to get you high and dry.

Custom Cruiser

What's in a name? More than you might think. It was by chance this writer some years ago witnessed Briant's anguish as he searched for a generic description to encapsulate the design philosophy behind what was then the first of White Pointer's new 7.3m Custom Cruiser class.

"Cruiser", he argued, ran the risk of alienating his existing client base that had purchased White Pointer boats on the back of testimony as to their deep-sea capabilities and rugged, no-nonsense construction.

None of those qualities had been lost in Julia – the boat in question – but Julia had features that until now had no rightful place on any self-respecting hard-core fisher's boat. These features included a full-function galley, hot and cold water, plumbed head, cockpit shower and a professionally applied two-pot paint system that could not be ignored.

"You can't ignore women," argued Briant. "Women have tremendous influence over purchasing decisions, especially those involving disposable income. Cater for their tastes and you can't lose."

Eventually, after much soul searching, Briant settled on 'Custom Cruiser' and his relief was palpable as we retired to the bar.

His Custom Cruiser concept clearly hit the mark because White Pointer has continued to develop this aspect of design while sticking largely to the time-honoured construction methods that have served so well.

Briant's business development manager Tony Bourke says Nimue is the fourth boat in the 9m class to be launched and marks several significant design changes to further enhance its cruiser function.

Most notable is the addition of a fully enclosed head and shower unit in the cockpit and twin, stern-boarding gates, each fitted with its own twin-action boarding ladders.

The boat also benefits from professional custom joinery in the galley, leather trim at the helm and high-quality furnishings and coverings. Expansive Flexi-teak decking and mirror finish two-pot coatings combine to create an aesthetically pleasing and stylish rig.

Bourke says the customer was 'hands on' during the design phase and had a well-defined wish list that extended to items seldom (if ever) seen on a trailer boat. Notable among these is a TracVision satellite television tracking antennae that should make it possible to keep one eye trackside at Ellerslie while steaming at 30 knots for the Ranfurly Bank.

He says the owner has considerable diving and fishing (game and bottom) experience and intends to trailer the boat to both the east and west coasts and participate in open-water competitions.

"Our client's dual interests in fishing and diving played a significant part in the cockpit design. Our brief was to provide easy access on and off the boarding platform with ample storage options for dive bottles and gear.

"Similarly, he wanted an interior layout that was roomy, versatile and accommodating of family comforts. These requirements resulted in our first 9m to feature the fully-enclosed head and shower in the cockpit."

Bourke says this aspect of Nimue design had an influence on cockpit layout but the net result is a boat that offers enhanced privacy and comfort without compromising the crew's ability to work the boat when trolling or bottom fishing.

Born of the sea

Safety and security are paramount when voyaging offshore in trailer boats and White Pointer has left nothing to chance here with solid aluminium transom rails and gates that could have come right off the farm. Full length and waist high, the transom rails are fitted with twin gates that are secured by spring-loaded slide bolts fabricated into the boarding ladders.
Teak-laid, the transom platform is full length and generous in width with a raised mid-section over the central duo prop well. Despite her proportions, every inch of space has been used to good advantage with the twin tuna tubes recessed into the aft combings being a case in point.

Access from the transom to the cockpit is across an aft half-height bridge deck on both the port and starboard side under which is a pair of live bait tanks with glass fronts – now commonly referred to as fish TV.

The cockpit sole is dominated by the central engine cover which incorporates a removable bait board and gang of rod holders. The engine cover hinges aft and does not require the board to be removed. In game fishing mode however, the board must be removed and stowed below to allow the game chair to be fitted. This is necessarily a long way off the sole when in position and is fitted with a stainless steel foot brace to compensate.

The cockpit combings are relatively high and wide, with laid in non-skid rubber matting cut around three rod holders each side and matching recessed stainless steel cup or sinker holders.

Parcel shelves/bins run the full length of the combings and these are secured with fully-welded gussets to cope with the weight of crew using these as a step up to the combings when going forward. Captive rod holders are fixed under the shelves providing secure rod storage when under way. At sole (foot) level, a small aluminium tube is fitted into welded cleats fore and aft as a means of retaining additional dive bottles should they be required. While this rail effectively denies anglers toe room, they are easily removed for storage elsewhere.

Dedicated tank storage is served by two large under floor cockpit bins with heavy lids. These lids are not captive and while it is highly unlikely they will move in flight, they are a bit awkward to deal with when retrieving or storing tanks.

The starboard forward quarter of the cockpit forms the enclosed head, shower and sink unit and extends roughly one third of the cockpit beam. This is flanked with a single bench seat under which is a generous, stainless steel 12-volt freezer box. The forward port quarter has White Pointer's now familiar moulded corner unit with additional sink with califont and dedicated gas bottle locker within.

Bourke says White Pointer extended the hard top overhang by 300mm to accommodate the new layout.

An ability to secure the cabin from the cockpit has many advantages and this is achieved with a bi-fold extruded aluminium door that folds back and secures neatly. This is offset with an aluminium window in the bulkhead that latches outboard to help create a sense of flow between the cockpit and saloon.

Game rigged, Nimue is also fitted with a heavy duty craypot winch on the port combing. The winch davit is simply lifted, turned and dropped into position. Cockpit cruising comforts include a kick-ass stereo with boy-racer sub, remote control overhead spot light, recessed overhead halogen lighting, full width hard top grab rail and an additional upholstered seat at the leading edge of the engine box.

Clever bits include inspection hatches built into each side of the aft combings to allow easy access to the engine blower hoses that exit outboard via stainless vents.

Tea for two

The interior design is standard White Pointer with a raised saloon and galley table to port with galley opposite to starboard. Fitted with a three-burner hob, Smev grill, stainless sink and under-bench fridge, cooking at sea is a realistic proposition. My only complaint is the lack of a prep area. The saloon table is large and the squabs comfortable and well positioned to afford views front and rear.

The helm station is built on a quarter bulkhead frame on the starboard side, leaving an open and inviting passage to the main accommodations in the bow. With matching leather pedestal helm seat and dash, the bridge is stylish and functional and provides ample room for large-screen nav aids without dominating the interior.

Nimue bristles with the latest Raymarine suite of electronics including combination plotter/radar/sounder, autopilot, VHF, Fusion stereo gear and an impressive cluster of proprietary Volvo engine and fuel management systems and automatic attitude controls for the trim tabs.

Fitted with dual opposing wipers, tinted side opening windows and toughened glass raked windscreen, the 9m cruiser is as good to look through as it is to look at.

In standard trim the boat will sleep two couples or three singles comfortably but this can be increased to four with the addition of a Pullman cot berth fitted above the forward vee berth. The interior standard of finish is good but I am not a fan of frontrunner linings which tend to mark easily and are difficult to clean. The forward cabin has good under-squab storage, twin parcel shelves and ample sitting headroom. Fitted with a LewMax hatch and solar vent, ample lighting and White Pointer's signature cabin windows, it makes for a cosy yet airy retreat.

Let it rip

Bourke says the owner elected to fit Volvo Penta's new D6 350hp common-rail six-cylinder diesel engine with duo prop stern drive. This, he says, is an upgrade of the D6 310hp plant fitted to previous 9m boats. Volvo innovations include EVC station side control for easy manoeuvring.


Engine commissioning tests returned the following fuel consumption figures:

1200rpm 6.5 l/ph 7.4 knots
2000rpm 19.4 l/ph 17.6 knots
3000rpm 45.3 l/ph 32.1 knots
3600rpm 74.6 l/ph 39.0 knots

With no wind to speak of and glassy conditions beyond the breakwater at Gisborne, this wasn't an ideal day to review the boat's manners in a seaway. It did, however, provide an opportunity to explore the approaches to Gisborne and test onboard systems.

Volvo's new D series diesels have a reputation for quiet and responsive running and the 350 did not disappoint, being barely audible at idle through top-of-the-line, fire-proof engine box insulation.

The fly-by-wire electronic gearbox controls, power steering and throttle controls are silky smooth and responsive and, with the assistance of automatic self-leveling trim tabs, a helmsman could be left feeling redundant in the grand scheme of things.

From trolling speeds to wide open throttle, the big 9m cruiser felt sure footed and predictable in every way with a clean and well-defined wake tossed clear by the variable single chine rail. The duo prop appeared well matched to the horsepower with only the slightest hint of cavitation when subjected to hard and fast cornering. Noise intrusion through the hull is effectively dampened through the combination of 6mm hull plate and the insulating properties of built in foam buoyancy and linings. Even with the rear door open conversation was easy.

Like many custom-built boats it is often challenging trying to take everything in in one sitting. Often the more you look the more you see. Nimue is such a boat. The standard of engineering and finish is first class and worthy of its custom-built billing and 20-week build time.

While Nimue falls short of a concept boat, the changes incorporated by Briant and his team to meet the owner's specific requirements have further enhanced the design's appeal as an all-season, all-purpose boat that further blurs the margin between trailer boat and launch.

Specifications White Pointer 9m Custom Cruiser

LOA: 9.20m
LOH (hull): 8.20m
Beam: 2.90m
Weight: 3500kg (dry)
Hull/transom: 6mm
Topsides: 4mm
Superstructure: 3mm
Fuel: 500 litres
Transom deadrise: 18o
Engine: Volvo 350hp six-cylinder diesel

Price as tested $311,000 (exc GST)
Priced from By negotiation

Vessel built and supplied by White Pointer Boats, 189 Stanley Rd, Gisborne. Phone (06) 868 6519 or visit www.whitepointerboats.co.nz


Keep up to date with news from Trade-A-boat or like us on Facebook!