Club Sea-Doo 2008
---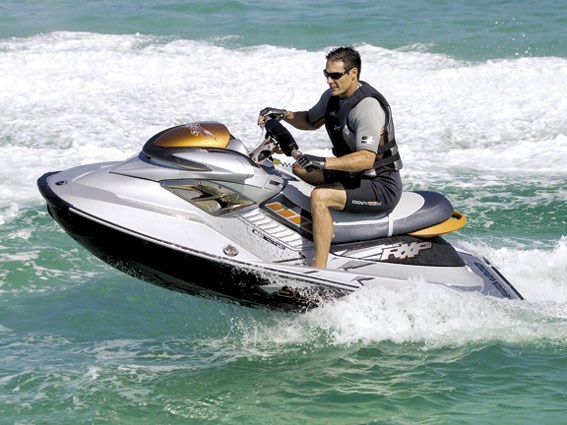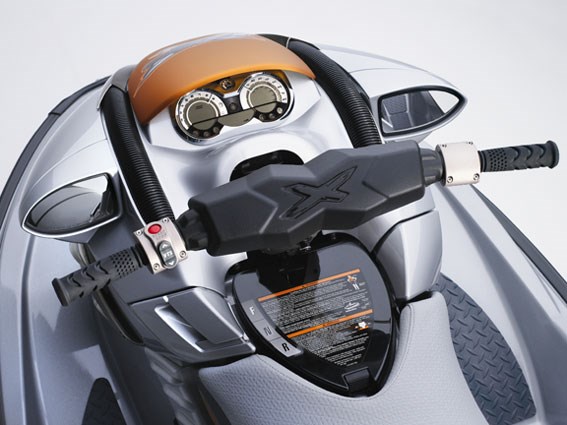 After two decades setting the agenda in personal watercraft, Sea-Doo was not about to let its 20th anniversary pass without a bang. And that is just what guests got at Club Sea-Doo 2008 held at Brisbane's Tangalooma Island Resort.

While the North American market got a glimpse of Sea-Doo's 2008 line-up late last year, Club Sea-Doo was Bombardier's first opportunity to unleash its new 255hp X models on the Asia/Pacific market.

Said quickly, 255hp sounds pretty much the same as Sea-Doo's existing 215hp engine, but when expressed in terms of zero to 50mph in 2.9 seconds, suddenly everything changes.

For those of us that have never experienced that sort of acceleration – and many of us haven't – Sea-Doo's new muscle craft will out-perform many exotic super cars over a 200-metre short course sprint.

So, how does it feel to have that much power on tap? The short answer is exhilarating, but like me, none of the guests I spoke to at Club Sea-Doo was able or willing to unleash the full potential of these new super X machines.

The risk in doing so is to be torn bodily from the machine in whole or in part, losing first your ears and then your head after which, it follows, the rest of your body should follow.

The sheer force generated by these new supercharged three-cylinder 1494cc Rotax engines is eye-watering and definitely not for the faint-hearted.

So why, we might ask, would Sea-Doo want to pack so much grunt into its new X models when, realistically, riders will seldom if ever have the strength or stamina to tap them out.

The simple answer is because Bombardier can and had to retain Sea-Doo's standing as PWC horsepower kings, delivering the best power-to-weight ratio in the intensely competitive and innovative personal watercraft market.

That honour was held, albeit briefly, by Kawasaki with its Ultra 250hp model. But just where the race for pace will take the next generation of personal watercraft remains to be seen.

Fitted to the RXP-X two-seater and the RXT-X Offshore three-seater, the new 255hp engine is based on Sea-Doo's existing RXP 215hp Rotax three-cylinder engine.

The additional horsepower is derived through a larger supercharger and an external intercooler that cools and compresses air entering the combustion chamber.

Sea-Doo says that, collectively, the new configuration produces 20 per cent more boost pressure. To cope with that additional power the X models are also equipped with larger fuel injectors and have a re-mapped ignition system to deliver the ideal fuel/air mixture.

Twenty years out front

Since re-launching the modern Sea-Doo watercraft in 1988, Bombardier has developed Sea-Doo into an internationally recognised brand with more than one million units manufactured around the world.

Sea-Doo is today the international market leader with a 47 per cent PWC market share and global sales in excess of 110,000 units a year with year-on-year growth in key sector markets. While New Zealand forms only a small slice of the Sea-Doo pie, market share remains strong with a small but steady sales growth across the Sea-Doo range.

This success, says Sea-Doo's Asia and Pacific general manager Gregoire Dupont, reflects Bombardier's relentless commitment to innovation and design and the growing popularity of family-orientated, three-seater models.

"Just as Sea-Doo introduced the first and only Closed Loop Cooling System on the PWC market and Sea-Doo's exclusive Off-Power Assisted Steering, Sea-Doo has raised the bar again with the world's most powerful Rotax 4-TEC engine."

Sea-Doo's 2008 innovations are not restricted to the engine. The new RXP-X and RXT-X have a new X-pattern billet steering column and billet finger throttle and are fitted as standard with a Variable Trim System. This allows the rider to jump between two preset trim positions by simply tapping the VTS rocker switch twice.

Wake Sports innovation

While the new X model muscle craft were clearly the crowd favourite, Sea-Doo also introduced what it says is the first PWC designed specifically for water sports.

Powered by a 215hp or 155hp Rotax engine, the new Sea-Doo Wake Sports models feature an integral dual water ballast tank system that sculpts into the rear of the craft. These rear ballast tanks fill in less than three minutes, adding 91kg to the rear of the craft. The Wake Sport is fitted with a rear facing foot brace for the pillion spotter and a retractable ski pole. Options also include a removable wake board rack.

An industry first, this quick-connecting ballast system sits securely on the rear platform and uses water pressure from the engine pump to fill the tanks. The additional ballast delivers greater "pop" when launching off the wake and delivers greater jump height for easier wake-to-wake jumping and advanced manoeuvres. The exterior surface of the ballast system is also finished in nonskid for easy and secure re-boarding.

Other changes to the 2008 Sea-Doo line-up include new colour schemes across its model range and a 215hp engine option in the luxury GTX model to compliment its standard GTX 155 offer.

Like all Sea-Doo watercraft, says Gregoire Dupont, these new models are designed to deliver at least 10 years of family fun on average with affordable pricing and low maintenance requirements to take the hassle out of ownership.

"Our 20th anniversary celebrates many milestones, but none more so than the fact that all our Sea-Doo watercraft have earned the CARB 3-star rating for ultra-low emissions while meeting EC rules for low noise.

"Moreover, today's Sea-Doo watercraft are 70 per cent quieter and 90 per cent cleaner than pre-1998 personal watercraft. We are very proud of this achievement and believe these refinements will ensure continued growth in the PWC market and result in a growing acceptance of personal watercraft by all recreational boaties and maritime authorities."

Keep up to date with news from Trade-A-boat or like us on Facebook!