Four Winns V378
---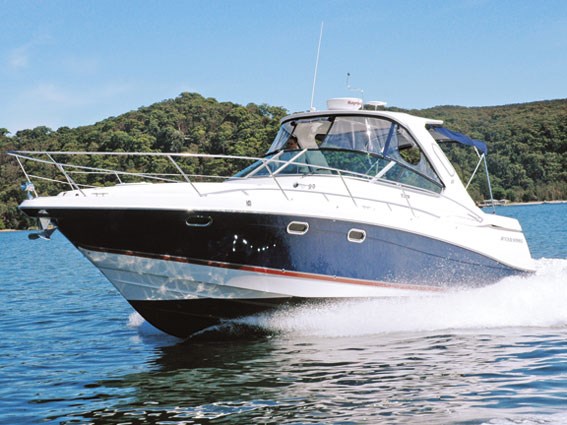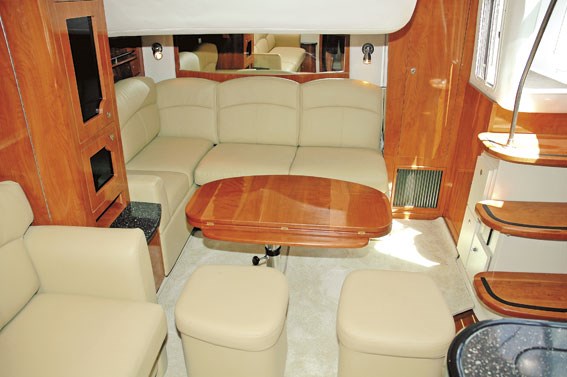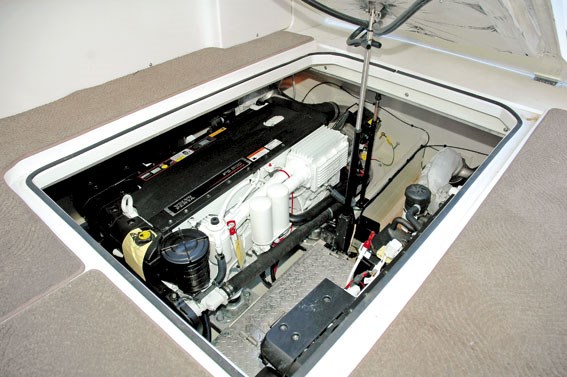 "I want a boat with a stick thing," said the prospective buyer to the agent. The ensuing demonstration run was on this Four Winns Vista V378, a trick new sport cruiser with Volvo Penta IPS 500 engine options and joystick docking device… one of those stick things.

The aspiring captain was, I'm told, a boatshare client who suddenly found himself heading out way too often. Time for a boat of his own and, being new to outright boat ownership, one of those stick things to make docking a snap made good sense.

But while boatshare and IPS are to be congratulated for introducing new blood to captaincy, I was thinking this V378, the biggest boat in the Four Winns range of sport cruisers until the V458 recently burst on the scene, was a smart weekender for new chums and dab hands.

Besides IPS making life easy around the marina, creature comforts are many. They include a generator for at-call and away-from-dock 240V power, so you can cruise and cook aboard. The boat's open-plan interior also has 16,000 BTUs of air-conditioning (read one Crusair unit). Then comes the Aussie Pack. What's that, you ask?

The story, I'm told, goes something like this. The Vice President of Four Winns was trawling the Sydney International Boat Show last year when he noticed the stainless steel mounting bracket on the transom of a lot of boats. It's upon this bracket that boat builders and/or dealers typically mount a drop-in barbie (240V model on this boat thanks to a generator), a cutting board that doubles for food prep, and a rocket launcher so you can fish a few lines at once.

Imitation being the best form of flattery, the VP headed back to America and got his design team to build and offer the mounting bar as an option called the Aussie Pack. As an aside, I first saw this multipurpose bar on a Kiwi boat decades ago, so it might be another example of acquisition by stealth. There was also white caulking instead of black in between the 'planks' of optional Flexiteek covering the boarding platform. It, too, gives this otherwise Yankee-to-the-core sport cruiser a refreshing new look.

Designs on the weekend

With the aforesaid barbie and the big extended boarding platform, this is a comfortable boat for kicking back outdoors. But we're not finished yet. The dealer was going to fit a Zodiac tender on the transom using a pair of Weaver Snap Davits. This way, you can paddle or motor to shore, which is something you will want to do often on a weekender.

Just as importantly, access to engine room was excellent for your pre-departure checks, though with the electronic common-rail Volvo Penta D6 diesel engines with IPS 500s, the check amounts to little more than making sure the bilge is clean. And while there is a day-inspection hatch to climb down into, the cockpit floor lifts at the press of a button for superlative access.

A couple of things to note: thanks to the IPS pod drives there's a surfeit of space in the engine room, with room to store an outboard on a custom bracket if you had to. Second, there are labelled seacocks, aluminium wing tanks for the 1136L of fuel, a Seafire fire- suppression system, and a relatively big 159L black water holding tank to cater for a party or weekend.

Though I was surprised to find the Kohler generator didn't have a sound shield, the engine room was well insulated and gennie noise wasn't intrusive when I ran the unit and the air-con and headed inside to plonk myself down in the saloon on the lounge nearest the engine room. The batteries are on the centreline of the engine room – better if they were low-maintenance types – but full marks for the master battery panel in the cockpit with terminals so you can jumpstart the hydraulic life for the engine room if you have flat batteries. It must have happened to someone in the past.

The hull, meanwhile, hails from the revered Raymond C Hunt stable. There are a moderate-to-deep 19 degrees of deadrise and some lifting devices like strakes, a plank or some such thing, for the boat jumped out of the hole much quicker and more level than expected. Trim tabs helped with hole shot, too, but once up and running the boat ran nice and level and vision was aided by the reverse sheer in the deck line. It also proved a dry boat, but more on the ride later.

Outdoor living

The oversized boarding platform is a boon to your waterfront living. We have talked about the aforesaid Aussie Pack and tender to come, plus there is the requisite swim ladder, hot/cold deck shower, a boot for storing fenders and lines, and two recessed wet lockers for carrying swim and dive gear. As touched on, the Flexiteek is nice underfoot and there was a transom remote for the Sony sound system with CD stacker that Four Winns now prefers.

But wait, there's more, like trick optional underwater lights and standard issue LED cockpit courtesy lights. Think summer night parties and swims. I also like the twin Shorepower inlets, so at the marina you can run the air-con, cooktop, make cappuccinos and hot water without tripping things out.

Cockpit seating centres around a U-shaped lounge and, with two fold-up casual chairs, you can do eight for lunch and mostly shaded under the extended canopy that we left up to demonstrate this purpose. Got to be sun smart these days. The boat has a full set of camper covers and the cockpit lounge also converts to a daybed/sleepout.

The moulded amenities centre to port, was built-in and, despite having a sink, upmarket Corian counter, icemaker, fridge, garbo, drink holders and storage, it didn't intrude on cockpit space. In fact, the V378 has a fabulously roomy cockpit that, quite by design, allows a clear thoroughfare to the cabin even with a full house. Let me expand on that point…

Seating on the V378 is pushed across to starboard and the bridgedeck or helm station, up a step, isn't full-width. It has a smallish longitudinal co-pilot lounge for two tucked in pretty close to a two-person helm bench seat. But the upshot is room for an offset thoroughfare to port to the cabin instead of the usual arrangement where you walk or fight your way in between the co-pilot and helm seats.

The result of this offset seating and portside walkway is that the cabin is beautifully accessible. With lift up (40oz) heavy-duty, over-locked and rubber-backed cockpit AND cabin carpets, plus non-skid running above and below decks, you can create a real party boat. Leave the carpet in place for luxury weekends for two then remove it for the kids' pirate-themed birthday party.

I liked this idea, as the terrible tykes can run amuck from the water through the cockpit and down to the galley and head without trashing your boat. Which is good thinking, especially as the V378 is a great family boat and doubly so as the boat tested here was destined to go into a managed share-boating fleet.

Last but not least was the access to the foredeck. The best route is via the moulded step-up dash and through the opening windscreen, though the boat has walk-around decks, too. Moulded toe rails, a bow rail with intermediate wire (you don't often see that on a boat like this) and a concealed windlass add to the user-friendliness of the foredeck. Then there are the two sunpads you clip in place to create another lounging area.

As for details, the stainless-steel capping on the windscreen was a nice touch, as were the side-opening vents on the windscreen, the spotlight for picking up a mooring after dark, and the hardtop and canvass pack that offers weather protection.

Inventive interior
There are two interior layout options for the V378: totally open-plan or with a bulkhead and door to the forward stateroom that provides better privacy for its occupants. The boat driven here had the latter and I think the V378, which measure more than 41ft (or 12.50 metres overall) has the volume to wear the bulkhead without feeling cramped.

With the door to the stateroom open the boat still feels open and, with no aft or mid cabin but a convertible lounge arrangement and privacy curtain, you get plenty of living space. With the cabin door closed, there's privacy for two couples or preferably a family of four.

Here's something else interesting. One of my pet hates is converting lounges into beds with cumbersome infill panels, especially if you have to do this each night. Here, you simply press a button and the rear lounge folds down into a double bed. Bravo!

Otherwise, the lounge and its return provide seating around a solid cherrywood dinette that, with two poufs, can handle four/six. The aft lounge also faces a large-screen Jensen television with DVD on the cabin bulkhead. But the mid-saloon two-person lounge that runs longitudinally before the television is the one to grab when in lounge-lizard mode. You can sprawl out and, with a pillow behind your head, watch a movie in real comfort here – after which, you might stay put and sleep. There are infill sections to turn this into an impromptu bed.

The first thing you notice upon entering the cabin is the galley immediately to port with abundant high-gloss cherry veneer cabinetry. There are storage nooks everywhere, plus a nice spread of amenities: Corian counters, twin bench-height fridges with a freezer tray, basic microwave, sink with spray rinser, and two-burner cooktop. There's no extractor fan but an opening portlight nearby and two opposite for cross-flow ventilation.

Elsewhere were cedar-lined hanging lockers and a massive head forward. It's a big moulded compartment with giant separate shower stall, aircon and deck hatch, Vacuflush loo, sink, Corian-topped vanity, and full-length bevelled mirror. Just watch the 250L of water. (I'm told the boat's separate 170-litre grey water holding tank can be converted into additional water. That would be a great move.)

The stateroom hasn't a great deal of floor space, but who cares? Instead, most of the cabin is taken up by one big, obtuse bed. There's a separate television and plenty more storage. I'm imagining it will be difficult not to sleep well here, post-lunch with the air-con running, and overnight.

Best of IPS
The IPS 500s with Volvo Penta 370hp D6 diesel engines were a terrific match for the V378. The IPS drives cost about $14,000 over the same D6s with shaft option, but as much as $66,000 over the base twin 8.1L 375hp Volvo Penta petrol powerplants. But take it from me; it's worth the upgrade to diesels, at least in terms of running costs, driving pleasure and resale value. Big V8s are being seen as dinosaurs these days.

I liked the integrated dash, too, with flush-mount Raymarine gear, including C80 chartplotter, matching autopilot and VHF radio. This factory-fitted electronics pack is good enough for serious hands-free coastal cruising. Besides throttles, joystick and Volvo Penta electronic engine monitoring panel, there was a nice spread – stainless-steel rimmed, analogue engine gauges, trim tabs, Sony stereo remote with MP3 or iPod compatibility, wipers, and a big switch panel. And a drink holder, of course.

With full trim tab, the boat held plane at 11.2 knots and 1800rpm and vision was good. Power up and 2000rpm gives 14.1 knots, a low-speed plane. But the bow seemed to come down and the boat runs more level at 2500rpm for a 20.4-knot cruise, and that's with only a touch of trim tab.

The V378 slotted into the cruising groove at 2750rpm for 24.4 knots with no tabs and the motors remained nice and quiet – vision was still excellent – and it remained in the groove right up to 3000rpm and 28 knots, whereupon I cranked the wheel around and the fly-by-wire steering responded better than any other IPS I have driven. Sporty, at last.

My notes read fast and smooth at 3500rpm, which returned 34.7 knots, and 3700rpm gave a top speed of 36.4 knots. Though a sport cruiser rather than a sport yacht by virtue of the boat's length, the V378 has long legs – or pods as they were – and a big boat feel.

With that, Four Winns has successfully broken into a new league and bought more time. And with the IPS option, there's a whole new generation of captain jumping aboard. To this end, pod drives really are revolutionising boating and I, too, am beginning to think I want a "stick thing".


Specifications Four Winns Vista V378 (Price as tested: A$650,000 w/twin Volvo Penta IPS 500s and a boatload of options). Priced from: A$493,625 w/twin Volvo Penta 8.1L petrol sterndrives

Hull: Solid GRP with composite balsa-cored sides and decks 
LOA: 12.57m
Beam: 3.89m
Draft: Approx 1.07m
Deadrise: 19 degrees
Weight: Approx 9440kg dry with IPS500 engines
Fuel: 1136L
Water: 250L
Holding tanks: 159L black water + 170L grey water

Engines: Full electronic six-cylinder turbocharged and after-cooled Volvo Penta diesels with common-rail fuel injection and IPS pod drives (rated 370hp at 3500rpm)

Keep up to date with news from Trade-A-boat or like us on Facebook!