Hanse 430e
---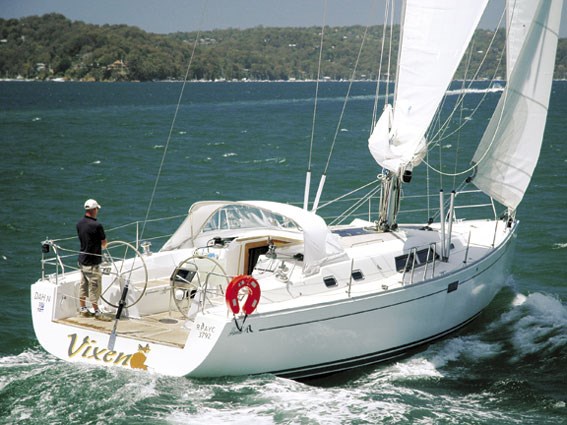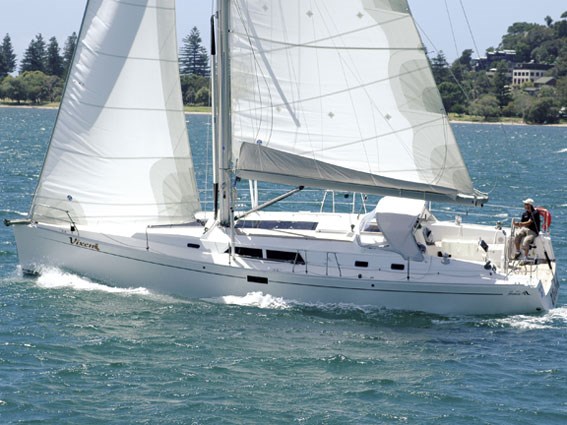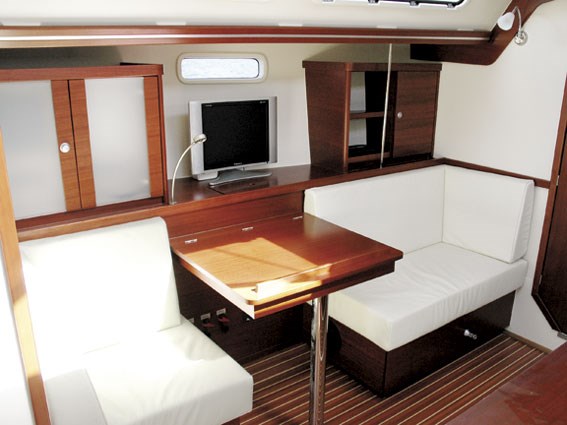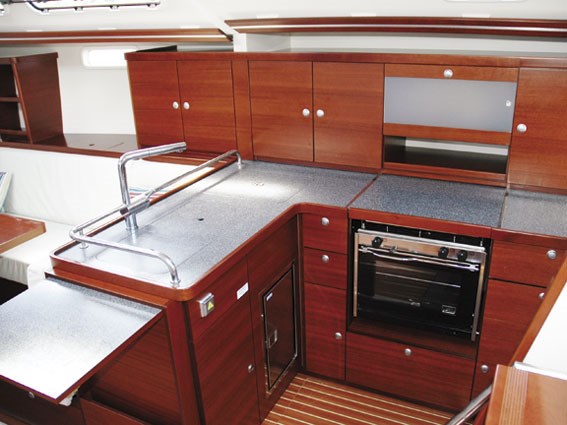 For ease of sailing, there's not much to rival Hanse's new 430e, writes David Lockwood. And to boot, it offers looks with performance.

"Tacking," barks the helmsman, as he tugs on the wheel. The headsail luffs, you throw the sheet, the bow goes through the wind, then you speedily sheet it back in on the winch drum on the opposite side. But where's the winch handle?

A mad scramble and you find it on the cockpit floor. Lucky for you, it wasn't washed overboard. And with that handle and a not inconsiderable amount of muscle you sheet the headsail, trimming it all the way back in with some vigorous cranks. None too pretty amid the twilight fleet.

Tacking is, of course, an integral part of sailing. Tacking well is what wins races and not tacking well is what loses them. Tack smartly and you will reach your cruising destination in snappy time, too, all of which isn't lost on a German yachtmaker doing its best to rule the waves.

In fact, Hanse has been taking the world by storm with its unique yachts that boast many special things, including…a self-tacking headsail. While not the first yacht with a self-tacker, Hanse designs its craft for the ground up for a self-tacker. That way, performance is assured.

While most of the power on the Hanse yachts comes from their big mainsails, I was assured the new 430e would be no more difficult to tack than throwing over the wheel and changing position to the windward side.

That proved true. And, for this reason, a self-tacker will prove a godsend on busy waterways where you have to tack away suddenly from things like ferries, or when sailing with feeble or timid crew, and when heading out shorthanded, as we did.

In fact, the 430e sailed here was so well set-up that the yacht dealer decamped from the marina on his own, sailed the yacht solo to our meeting point, and after my time aboard promptly reached back home in 20 knots of wind. Impressive. But more on the sprightly sail later.

The epoxy edge

There's a lot else to embrace about the Hanse 430e. For an extra $18,800 over the standard fibreglass hull, the owner ticked the box for epoxy hull option. Why wouldn't you? Not too many other yacht manufacturers offer an epoxy hull, which is lighter (up to 20 per cent says Hanse) and stronger than a standard fibreglass number.
Which has to help performance. Either way, the yacht is built to demanding Germanischer Lloyds standards, which is reassuring.

There was a so-called Windcraft package from the importer on the 430e that costs $12,000 but includes almost double that in value of extra cruising comforts. Among them were a cockpit table for staging lunch under the boom tent, a windlass for push-button anchoring, a three-blade folding propeller, two additional house batteries, VHF radio and CD player, Simrad wind instruments (plus a chartplotter on a pedestal), stainless-steel gas bottle and more.

But the big open-ended cockpit, which can cater for a crowd, the flat non-skid decks that are easy to get around, and the twin steering wheels all come standard. And, thanks to those wheels, plus the relatively small self-tacking headsail, your vision is unfettered when sailing this yacht. No blind spot as is often the case when flying a big overlapping genoa.

Teak decks were a nice touch, too, and with flush hatches over the saloon — more about them later — you can kick back under the boom. A couple of beanbags, a book and a bottle of something, and you're set.

A deep (optional all-lead) keel helps offset the high-aspect, tapered, twin-spreader performance Sparcraft alloy rig, which is deck-stepped with a solid vang and adjustable worm-driven backstay. The mainsail is 63m2. Think that will be a handful to raise? Think again.

The 430e had an optional electric halyard winch. Extend the index finger and the big battened sail is hoisted aloft. When you want to drop it, it falls to a boom bag between lazyjacks. The reefing system, which we eventually called on, is true single line.

Ordinarily, there are four lots of two-speed Lewmar winches to take care of sheeting. But the owner pulled out all stops and added the best winches you can buy, Anderson 52ST two-speed models, which are veritable works of art and wonderful to crank. More sailing pleasure.

All the lines on deck lead back to the cockpit, and the winches near the wheel can be used as primaries if you're short handed. Of course, the lines are encapsulated under moulded deck hatches to keep the 430e clean and tidy. And with a massive rear lazarette you can carry a roll-up tender and outboard off the deck.

Interior style

With three cabins and two heads, the 430e as tested is right much were the yacht market is champing these days. Easily sailed, rewarding with performance, and accommodating for those holidays away. Hanse offers layout options: the demo yacht had its forepeak stateroom bed double berth on the centreline, but if you want a bigger bed you can have it offset.

There are also options for two cabins in the stateroom, which might be better for charter, plus you can have one or two aft cabins. But with such a big lazarette for storage, there's plenty of room for the two aft cabins in what is a beamy yacht back aft.

On the styling front, the 430e is something else again. Quite by design, Hanse uses an all-female team to create interiors that target and woo the important co-signatory of the cheque book. The ambience on the 430e was modern, with hard edges in keeping with current design trends, but not so avant garde in the colour scheme that it will date.

Dark mahogany timber with a satin finish and white leather together look smart, but with umpteen (over 100 I'm told) soft-furnishing and cherrywood joinery options you can stamp your own style on the interior, too.

Importantly, I noted hand rails where you instinctively reach for them, that headroom was a real highpoint throughout the yacht, and that ventilation was tremendous thanks to an abundance of opening hatches. The twin new flush Lewmar saloon hatches work just like a sunroof.

Besides the double bed, the stateroom in the bow has a generous amount of built-in wardrobe and storage space for heading away. There's also a neat built-in seat and desk in case you want to crank-up the laptop or make yourself beautiful. The private ensuite features trendy European bathroom fittings including a rubber-nibbed pencil shower. Mmm…

Amidships, the saloon has been configured in such a way to enhance social discourse. The dinette and U-shaped lounge can seat four in real comfort. Opposite are two built-in chairs; the aft most, and the table in between them, doubles as the chart table, perhaps the only real compromise on the boat.

You get a two-burner gimballed gas stove/oven (no grill function), a microwave is an option, and a massive 130-litre fridge with top and bottom access in the 430e's galley. Servery space is enhanced by a fold-up counter extension. Twin sinks and 320 litre of water will keep cruising buffs happy, as will the yacht's second communal head with huge separate shower stall. The aft cabins each feature a double bed, lockers and hanging space.

Performance too

Access to the upgraded 55hp Yanmar diesel engine (a 40hp model is standard) with Saildrive was excellent and, under power, the yacht motors to a fast clip. But thanks to the Judel/Vrolijk team, the 430e is even more slippery under sail. And not just with its self-tacking headsail…

The owner of the 430e sailed here is a twilight-racing buff. For greater performance he, his son and a few crew remove the self-tacking sail and fit an optional 130 per cent Hood headsail. Quick as that, more power in light airs. And, I'm told, he has been enjoying podium and top-three finishes since taking delivery of his $474,080 yacht.

Meantime, the two of us flew a full head of sail in a strengthening 20-knot northeaster that was very much to the Hanse's liking. We maintained 6.5-7 knots upwind and, on a beam reach, cracked 8.5 knots. In fact, we never really dipped below eight knots when reaching.

These are great speeds and, in messy water, the yacht felt solid, with little or no creaks, didn't unduly pound, and was responsive.

The Jefa steering from Denmark felt balanced, too, and though the yacht was on its ear it wasn't inclined to roundup or slew sideways. More the determined German.

Yet for all these attributes, the 430e remained a snap to sail and it's for precisely this reason that Hanse has introduced so many new owners and dab hands to the marque. The enjoyment factor is high and, on an easy-to-sail yacht like this, the last thing you are inclined to do is yell or bark orders.

What's more, with a self-tacking headsail, there's no grinding as you work your way to windward. My kind of comfortable cruiser and, with the right gear as found here, a smart club racer to boot. Add the family and gad about up the coast, river or bay and you're living in luxury.

A very nice yacht. As the Germans would say: über alles, meaning above all. And after racing (an APS would be a neat addition) or cruising: prost!

Specifications Hanse 430e (Price as tested: A$474,080 for three-cabin layout, epoxy hull and engine upgrade. Priced from: $388,000 with GRP hull and 40hp Yanmar)

LOA: 13.15m
LWL: 12.00m
Beam: 4.18m
Construction: Composite vacuum-bagged hull using SP Systems epoxy
Draft: 2.20m (standard deep-draft)
Displacement: 10,900kg (dry)
Ballast: 3200kg lead
Fuel: 220 litres
Water: 320 litres
Fridge: 130 litres
Engine: 55hp Yanmar 4JH4

SAIL AREA
Total: About 123.5m2 with 140% genoa, 102m2 with self- tacking jib
Main: 63m2
Self-tacking jib: 39m2


Keep up to date with news from Trade-A-boat or like us on Facebook!