Superior Boats 1050 flybridge cruiser
---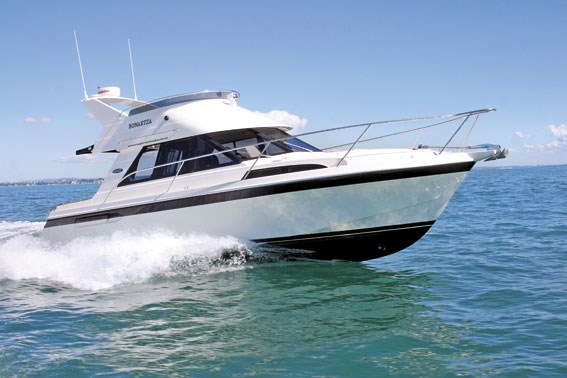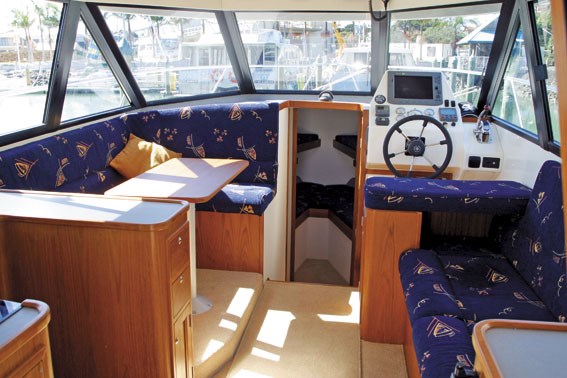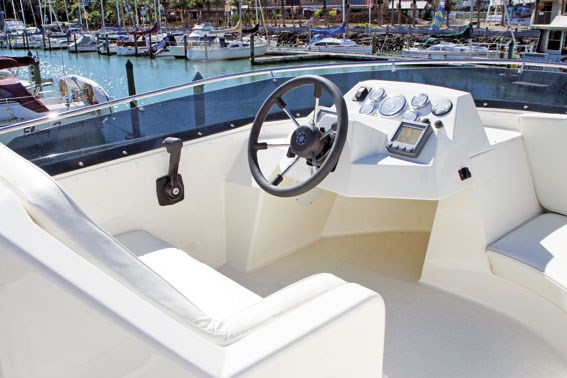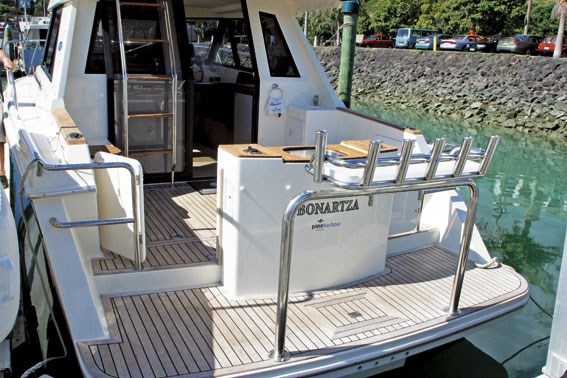 There is a saying that if something ain't broke, don't fix it. It is an adage that underscores the philosophy behind Superior Boats' development of the Superior 1050 flybridge cruiser.

That the boat looks familiar is no coincidence. Some will remember the distinctive hull lines and reverse deck sheer as that of Jim Young's original Vindex 3000. Many more will recognise it as the popular Formula 33.

Whichever way you look at it, the Superior 1050 has aged better than a supermodel and presents today as a modern and contemporary design as so many of Jim Young's designs still do.

The design was commissioned by Auckland boat builder John Senior in the mid-'80s to fill what he considered was an opening in the flybridge market for a stylish and modern mid-size cruiser.

The former owner and manager of Senior Boats, John says the first three boats were built in timber after which fibreglass moulds were taken and a further 19 composite boats followed.

Senior recalls that half the boats were sold as hull and decks and the other half were factory finished and sold as turn-key packages.

Like so many production boat yards at that time, Senior Boats did not survive the 1987 share market crash and production of the Vindex 3000 ceased.
"It was a fabulous design," says Senior, "and a very successful boat for us in its first two years of production, but the crash put an end to that. The business was unsustainable and we put the moulds on the market."

As short-lived as its production was, the Vindex 3000 moulds did not lie around. Auckland's Formula Boats spied a business opportunity and purchased them. It then began producing hull and decks branded as the Formula 33.

Formula Boats real interest, however, was not laminating hull and decks but designing and building bigger, high-end cruisers that would establish the Formula brand as the quality product it is recognised as today.

Laminating hull and decks is a numbers game. The more you make the better the rewards but, in the grips of a recession, the numbers weren't there to make it work. Increasingly too, the work encroached on Formula's growth and the company ceased production and put the moulds back on the market.
It was an opportunity Auckland boatbuilder Sam Dorotich had been seeking. Having done his time with Markline Cruisers, Dorotich had struck out on his own in 1986 and established South Auckland Boat Repairs.

Working initially from his garage at home, Dorotich progressively built up a successful business repairing fibreglass boats. As his business expanded he moved into larger commercial premises and began to diversify, taking on contract laminating for other boat builders.
Dorotich had not long purchased the familiar Marksply 700 hull mould and designed a new cabin and re-launched the boat as the Superior 750. South Auckland Boat Repairs name was changed to Superior Boats to better reflect its core business.

With the infrastructure in place and a team of experienced laminators to call on, the sale of the Formula moulds was an opportunity too good to miss.
But like the yards before him, customer demand lay in hull and decks rather than factory-finished boats.
Royalties retained by Formula Boats after the sale prevented Superior Boats from rebranding the boat or changing its design, thus limiting Superior Boats' options.

So hull and decks it was and the company got very good at it, building more than XXX boats between 1995 and 2003 when all royalties over the design expired. This cleared the way for Superior Boats to introduce design changes as it saw fit and allowed it to rebrand the boat as its own.
By now, says Dorotich, Superior Boats business had further evolved and the lion's share of work was contract laminating and building designer GRP trailers. Demand for the Formula 33 had waned.

"The market had also changed. We were increasingly going head-to-head with cheap imports which made it difficult, on paper at least, to justify the Formula's pricing. Similarly, the standard of finish of home-finished boats varied considerably and this was seen to have a negative effect on boat values."
Dorotich says there was never any question in his mind that a market still existed for the Formula 33 but the numbers weren't there to justify hull and decks production. The decision was made to scale back and build factory-finished boats only.
The vexing question, he says, was what design changes (if any) Superior Boats would introduce to stamp Superior Boats ownership on what was essentially an iconic design.

"Our customers were very clear on one thing and that was that Jim Young got the hull design right from day one. To mess with what was an extremely capable and well-proven hull would be at our peril.

"A recurring criticism, however, was a lack of cockpit space and storage options. We concurred. We reasoned that a relatively simple and effective fix would be to cut away the transom and extend the boarding platform to increase length overall to 34'5" (10.5m).
"That is what we did. The difference was striking and effective, creating a greater sense of cockpit space and function while optimising storage within a central transom island."

Dorotich says Superior Boats was now also able to offer customers an element of interior customization, although in reality most buyers so far have elected to make only minor modifications.

To date Superior Boats has built nine factory-finished Superior 1050s, which has worked out at three boats a year, which Dorotich says is about right given other manufacturing commitments. "We have no real interest in becoming high-volume builders and the demand isn't there."
So what makes the Formula/Superior 1050 such an enduring success?

The answer, according to those who know best – owners – is the boat's all round versatility, interior volume and layout and her sea-kindly manners.
Of moderate deep vee semi-displacement design the hull is easily driven yet relatively full in the bow to maximise internal volume. At 5500kg, the boat is not light but is capable of 25 knots from a single 350hp diesel installation and a fast, economical cruise of 19 knots.
John Senior says one of the design's most enduring qualities is its soft ride and ability to maintain a fast cruise in challenging conditions where others boats of similar size might throttle back to prevent excessive pounding.

It is no coincidence, either, that a good number of boats have gone to Wellington and Mana and are seasoned Cook Strait campaigners. Others have operated successfully in bare boat charter fleets.

Superior construction

Hull construction is of balsa-cored GRP laminates incorporating an isophalic gelcoat and final tissue layer of vinylester resin for increased strength and resistance to blistering of the gelcoat.

The decks and superstructure are similarly of GRP with a balsa core sandwich for rigidity, strength and impact resistance. The main structural bulkheads are taped to the hull for additional strength and stiffness and the structural floors and engine bearers are from Douglas Fir. Interior bulkheads and joinery are from solid teak and teak veneers and finished in two-pot lacquer.

Sam and Jacqui (SP) Dorotich's own Superior 1050 Bonartza was launched last year and performs the dual role as a company demonstrator and showboat. It is a fine example of Dorotich's boatbuilding skill and is fully optioned with full teak cockpit overlay, canvas bimini and covers and the latest Raymarine electronics. It does not, however, differ in interior finish, layout or styling from the standard Superior 1050 offer.
And that offer is a genuine turn-key package that includes everything you need to head to sea from day one. Standard equipment extends to items like an electric anchor winch, anchor and galvanised chain, 4.5hp bow thruster, 12-volt refrigeration, four-burner oven, shore power, smart charger, twin showers… the list goes on and on.

In fact, says Sam, the only items not included in the base price is navigation electronics and covers because owners generally have strong ideas on what is right for them. Again, owners can choose the engine of their choice.
Al fresco style

The extended boarding platform has achieved a much greater sense of space and volume while lifting the boat's appeal and practicality for divers and sports fishers.

While essentially an all-rounder, the Superior is very well spec'd for both bottom and game fishing with plumped live bait tank, dedicated drop-in bait board, ample rod holders, washdown pumps and large cockpit chiller box – all standard items.
The cutaway transom has not come at the expense of cockpit safety either, with the addition of twin GRP transom gates fitted to the aft stainless safety rails. These then secure firmly against each side of the central transom pod.

Finished as standard with a teak, covered top, the pod is as stylish as it is practical with useful storage within. It is fitted as standard with stainless sink, hot and cold shower and twin rod holders that double as mounts for the bait board.

The cockpit coamings are also teak-covered and have a storage locker built into the coaming each side. A large chiller box with teak covered lid is built in against the port side while opposite, to starboard, is a moulded vanity unit with hot and cold water with stowage below.

The solid glass cockpit sole is divided in three sections with each section forming a hinged locker to provide easy access to the engine beneath.
The aft saloon sliding door is anodised aluminium and secures to port when open, providing excellent flow from the galley and saloon to the cockpit. The flybridge staircase is fabricated from stainless steel tubing with teak steps and is pretty much straight up and down.

If I was to make any criticism about the design it would be these stairs. They're quite steep and the distance between steps would, to my mind, preclude the less agile from enjoying the flybridge. But the options are limited and owners have worked with them for 20 years.

Home comforts

Back indoors the U-shaped galley is set immediately to port and superbly equipped with four-burner LPG stove and oven, Laminex countertops with under-bench cupboard, drawers and vege bin. A nice and often overlooked quality is the uninterrupted views from the galley port, starboard and aft. The 12-volt fridge is checked into a solid teak support directly opposite the galley, which on the Dorotich's boat forms the base for the DVD/TV.

The saloon features a dinette arrangement on the port side with a step up to an L-shaped lounge with a smallish table mounted on a single, aluminium plinth. The advantage of a raised saloon is that guests can enjoy views from the large cabinside windows. Opposite is a single settee that doubles as a berth if required.

The starboard helm station is set off the main bulkhead with a moulded GRP fascia for flush-mount instruments and gauges with a large flat dash area forward for bracket mounting large screen navaids. The helm seat is an upholstered bench that hinges forward when not in use to increase seating options in the saloon.

Some key points worth noting are the excellent all-round visibility from the helm and the useful timber footrest that doubles as easy storage when underway. Instruments are well laid out and the wheel position falls naturally to hand.

The boat's accommodation is forward of the main bulkhead and down a set of three companionway stairs. The master double cabin is immediately to port and features a double berth, hanging locker, fabric headlining, reading lights and an overhead hatch. There is good standing headroom within the entrance and adequate sitting headroom when in bed.

Directly opposite is the electric head and shower unit. This is moulded as a one-piece unit with a non-skid floor and is a credit to Superior Boats' flawless laminating. Bright, easy to keep clean and practical with overhead hatch, vanity and useful stowage, buyers couldn't ask for or expect more.
The forward guest cabin is the roomier of the two cabins and is fitted as standard with four full length bunks that are both wide and comfortable. The top bunks suffer from little sitting headroom but cabin headroom is good throughout. The standard of finish and attention to detail is evident throughout with upholstered head-liners, fitted carpet and fabric linings on the hull.

All aboard

But there's only one place to be on a warm summer's day and that is on the flybridge. Up top it's all about crisp style with an L-shaped lounger for guests and a single helmstation. The flybridge moulding is impeccably finished with just enough height to offer protection without distracting or obscuring what is an excellent bird's eye view. Features here include an aft-raked Venture windscreen with supporting stainless top rail, single layer engine control, trim tab controls, engine instrumentation and alarms.

Dorotich's Superior is fitted with a 5.9-litre, 330hp, six-cylinder Cummins diesel with a remote mounted V-drive on a lay shaft spinning a 24 x 20, four-blade Briski propeller.

He says the Cummins falls midway between the 300hp and 350hp recommended range and delivers 24 knots at WOT (2800rpm) for 63.6 l/ph. This comes back to 50 l/ph at 2400rpm, giving a fast cruise of 19 knots.

There is no doubt that Dorotich and his Superior Boats team have breathed new life into what is and has always been a highly-respected design. The strength and quality of construction is what we have come to expect from Kiwi boats and the teak fitout is sophisticated, stylish and functional.
The extended cockpit and central island pod add a contemporary quality that further enhances the boat's capability for diving and fishing. Subtle as they are, the changes introduced by Superior will ensure this Jim Young classic will hold its own in any company for many years to come.

Specifications Superior 1050 Flybridge cruiser 

LOA: 10.5m
Beam: 3.7m
Displacement: 5500kg
Fuel capacity: 500 litres
Water capacity: 340 litres
Price as tested: $365,000
Priced from: $330.000

Superior Boats Ltd, 25-27 Holmes Road, Manurewa, Auckland. Phone (09) 268 2222, email info@superiorboats.co.nz or visit www.superiorboats.co.nz


Keep up to date with news from Trade-A-boat or like us on Facebook!