Altech 10.25 RS
---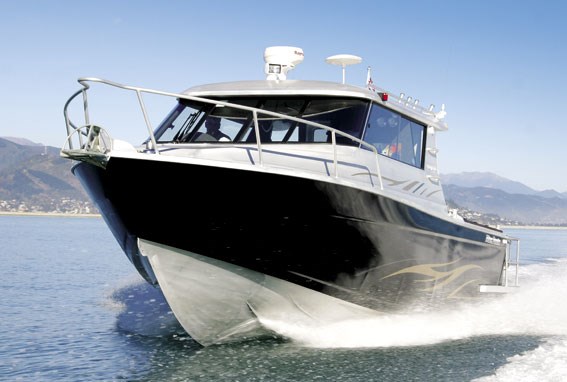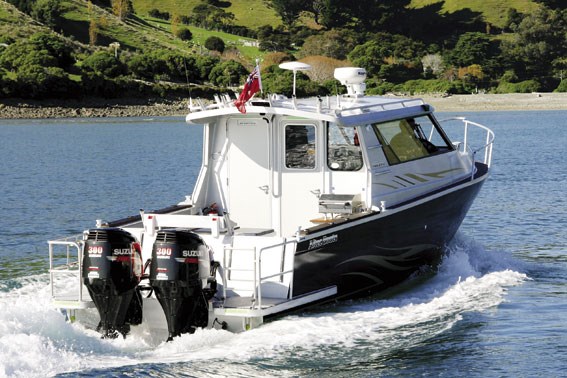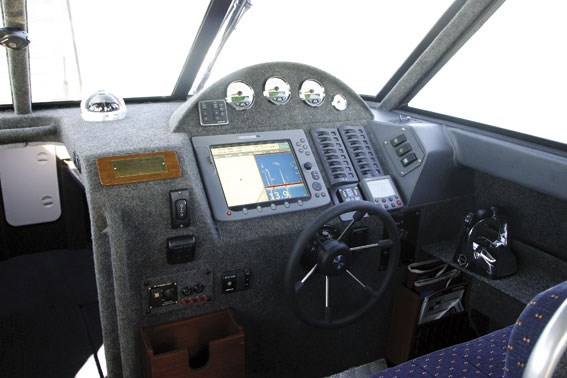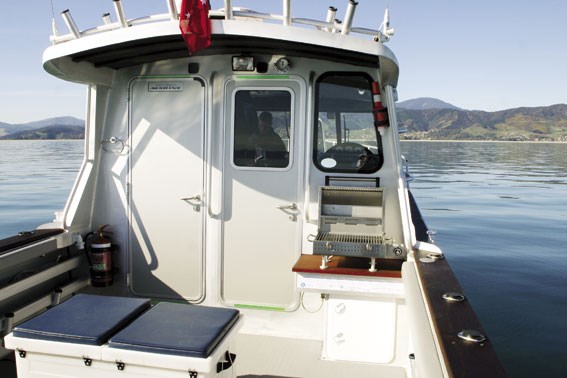 Big, powerful and capable, the Altec 10.25 RS from Lyttelton's Altec Engineering is a purposeful and stylish custom hardtop design that falls within a niche but growing market for large, multi-purpose aluminium boats.

A concept boat of sorts, the 10.25 RS has a solid history behind it, coming from the manufacturing base of Lyttelton Engineering, the South Island's largest general marine engineering company established back in the 1950s.

While you won't find Lyttelton Engineering's stamp on the boat, you will find the name Altec Engineering. This is the boatbuilding subsidiary of the parent company. But as custom boatbuilders, Altec is not recognised as a brand.

And as general marine and industrial engineers, Lyttelton Engineering's custom boat building activity is secondary to its core engineering business. This does not extend to marketing its products, which is a function better served and achieved by third parties.

This is where Nelson's Mario Dellabarca and his team at Dellabarca Marine enter the fray. The grandson of Italian immigrants, Mario was born and raised in Wellington where his family had worked as boatbuilders and fishermen for several generations. Boats and boating was in his blood.

It should come as little surprise, therefore, that Mario would follow the family path and eventually end up at the helm of his own marine business. As a young man he took the splash and bought a 7m Osprey pontoon boat and got stuck in setting it up for charter.

It was an after-hours, backyard project, but it was a project none the less that set him off on a pathway that would eventually led all the way to his showroom at Dellabarca Marine.

After working the Osprey with some success, Mario upgraded to a new 7m White Pointer hull and deck package. This, he again fitted out to his own specs and worked the boat for a short time before deciding to go bigger again – upgrading to a new 8m White Pointer.

"I'd worked out by now that what I really enjoyed was the fit outs. Chartering was a good experience, but it's hit and miss with seasonal uncertainties and the usual hassle that comes with hospitality. I decided to concentrate on buying White Pointer hull and decks and fitting them out for sale. And that is what I did."

Mario says the more boats he did, the better he got at it and the more confident he became buying bigger premium boats and setting them up in such a way that they would have wide general appeal in a fickle market.

"I soon worked out that the margins just weren't there in the smaller boats so I concentrated solely on building value into bigger ones. As a product of that I started looking for new opportunities, and hence my involvement with Altec Engineering."

He says while Altec custom boats are relatively unknown, every boat is manufactured to exacting survey standards for a variety of commercial applications and built on proven Scott Robson hull designs.

The Altec 10.25 RS is Dellabarca Marine's largest project to date but follows several 8m designs that have been finished in house and sold quickly to commercial users seeking superior build quality and strength.

Mario says the 10.25 RS differs from previous projects in that the boat has been set up not so much as a commercial proposition, but as a recreational boat with an emphasis on live-aboard comfort without sacrificing its offshore potential.

Construction

First things first. The 10.25 is not a trailer boat. At 3.1m in beam and weighing about five tonne dry, you'll need a Mac truck and a band of pilot vehicles before hitting the road. Even then you'll be restricted to towing at night.

The Altec, then, must either be permanently moored or launched and retrieved on a low-rise trailer, possibly with a beach tractor. But this arrangement is not so uncommon in the Nelson Bays, Kiakoura and Marlborough regions.

Because the Altec 10.25 is not designed as a trailer boat, its designers have had the luxury of building a bulletproof boat without having to pay too much mind to its end weight. This has allowed the use of 6mm alloy plate on the hull and 5mm topsides, reducing to 4mm plate for the superstructure and deck. This has been matched with serious 1200-litre long-range fuel tanks and a single 400-litre water tank. It's also allowed for a 60-litre holding tank and an auxiliary 200-litre spare tank under the cockpit sole for additional water or fuel.

Bulletproof is an apt description. The hull is built on three full 6061 T6 alloy bearers and stiffened with a total of 12 bow-to-stern stringers. All bulkheads and exterior welds are continuous with grinding and fairing where required for superior aesthetics.

The boat's hull strakes are also fully welded and the topsides are further protected with a full-length alloy rub rail. Again, an external keel bar has been added to increase impact resistance and provide additional hull strength and stiffness if beach launching.

The exterior strength and weighty construction has been matched onboard with a fully welded and self-draining 4mm cockpit sole with a single yet deep under-floor cockpit locker. The aft cabin and toilet/shower doors are both top quality Seamac aluminium fittings designed to comply with offshore survey requirements.

The transom design has been optimised to suit twin outboard installations as fitted to the review boat, but single or twin inboard diesels on shafts could be specified as an option at the construction stage.

For all of the boat's size, it is laid out simply and effectively and reflects Mario's experience fitting out White Pointer boats, which he still completes and sells from his Nelson yard.

The 10.25 has a single walk-thru transom boarding platform on the starboard side, protected with a galvanised aluminium pushpit and hinged transom gate. The boarding platform is not large and probably not ideal for game fish, but it is adequate for divers.

The transom and cockpit combings are very wide and laid in adhesive non-skid rubber and fitted with heavy duty bollards fitted at the stern, amidships and at the bow. With 23 permanent rod holders, there is no disguising the fact that this is a boat optimised as a dive or charter fishing vessel.

The impression one gets on boarding is that everything is over-spec'd yet similarly proportioned to a standard aluminium hardtop design. A clear point of difference, however, is the enclosed head and shower unit built into the port forward end of the cockpit. This is ideal as it keeps the potentially messy business of ablutions outside and provides a self-draining shower floor that is independent of the bilge. It also keeps traffic out of the saloon and forward cabin.

The head unit is well set up with an electric flush toilet and a gas califont for the hot and cold shower. Unlike similar sized production boats, the plumbing has not been enclosed behind internal liners, which lets the boat down a bit but does mean the plumbing is accessible and easy to work on.

The single saloon door is located at the centre and is flanked to starboard by a mid-height unit with internal storage and a stainless steel barbeque. The cockpit sides are fitted with twin parcel shelves and the inside transom and cockpit edges have been upholstered at thigh level for additional support and comfort in a seaway.

All-weather protection is a feature of the boat and passengers and crew will be grateful for the extended hardtop overhang and eight-foot headroom. This is fitted with overhead handrails and a centrally located remote controlled spotlight and clock.

Cockpit seating is not provided as a fixed item, but the combing width and height is such that passengers can comfortably and safely sit on the combing edges. A large, freestanding bin with an upholstered base with internal 12V Waeco freezer unit provides a mix of options, though this will need to be permanently fixed to the sole.

The quality and design of the boat's operating systems stand out as being both over-sized and over-engineered, which is not a bad thing. This is evident from the size of the pumps located under the transom for the onboard fire hydrant and washdown facilities and the twin 12V start batteries fitted with heavy duty voltage relays. The 6V house batteries are located under the main saloon and, collectively, provide 400 amp hours.

A large bait board and live bait tank with clear window are provided as standard items and the main walk-thru is well secured with a slide-in aluminium hatch that separates the cockpit from the transom.

Cooking up a storm

The Altec 10.25 is ideally suited to domestic appliances and fittings rather than so-called marine appliances, which are so often next to useless in the real world. It is good to see then that Altec and Dellabarca have chosen to fit a domestic style galley with large stainless steel bench, domestic upright fridge and a three-burner hob and oven that will actually accommodate three pots.

While the galley is not large, it is usable with storage in drawers and cupboards. Located immediately to starboard, the galley benefits from excellent visibility from the cabin windows which extend almost to the cockpit. These are complemented with windows in the aft saloon bulkhead and saloon door, which collectively deliver ample light to the interior. Overhead hatches in the head, above the galley and in the forward cabin also ensure plenty of ventilation.

Saloon seating is set around a small table in a U-shape configuration with settings for three or possibly four at a squeeze. The single pedestal table is designed to drop down to create a second double berth, and while this is useful, the table itself requires better support. The standard of finish and appointments are high, with quality carpet and fabric wall and ceiling linings, recessed LED lighting and a generous use of solid teak trim around the galley and helm station. Headroom is also excellent throughout the saloon, dropping off to about 5"7' in the forward cabin.

The starboard helm station is simply laid out with the wheel flush mounted on the bulkhead. A large open dash area provides a range of options for flush or bracket-mounted navigation instruments, while an overhead parcel tray is ideal for radios. The dash area is carpeted and trimmed in leather and teak to good effect. Solid handrails have been fitted everywhere through the boat, including around the galley and dash area, while overhead supports provide secure passage through the boat regardless of conditions.

The forward cabin has a noticeable three-step companionway, which accounts for its excellent headroom. It features single berths port and starboard or, with an infill, a large queen-size berth. These are supplement with removable pipe berths above the standard berths. While not ideal for overnight accommodation, they do provide excellent storage options. The cabin is certainly comfortably and nicely appointed with quality upholstery on the squabs and wall and ceiling linings. The storage cavities below have been well finished and painted.

Power play

It is not surprising the 10.25 is fitted with a pair of new 300hp Suzuki DF four-stroke outboards. Dellabarca Marine is the local Suzuki agent and Mario's engineering team is trained Suzuki technicians.

These big, 24-valve, four-litre engines feature variable valve timing and deliver class-leading power-to-weight ratios and are an ideal performance match to the hull. They're also whisper quiet and vibration-free when mounted with vibra-stop acoustic hardware.
The Suzuki's also come standard with fly-by-wire electronic throttle and shift controls for effortless handling and computer-controlled synchronisation between engines.

Nelson is known for its sunshine and sublime winter boating conditions and we had such a day when we put the big rig through early sea trials last month. In a mirror-calm sea we were never going to be challenged, but it did provide the ideal opportunity to test the boat's various systems.

Despite her size and weight, the 10.25 is surprisingly nimble and certainly no slouch when it comes to picking up her skirts, lifting to the plane at little over 3000rpm and tapping out at better than 42 knots at wide open throttle.

Being of Scott Robson pedigree, the hull design has been well-proven over the years. The strake design works efficiently and cleanly and the pronounced full-length chine rail gives the boat stunning grip when thrown into tight high-speed turns.

Despite being fitted with Bennett automatic gyro trim tabs, we found these were not required, trimming solely off the engines, which were perfectly weighted at the helm through a Seastar twin-ram hydraulic steering system.

Driver comfort and ergonomics are generally excellent, although visibility is severely restricted through the aft port quarter because of the location of the toilet bulkhead walls. This shouldn't pose a problem at sea, but it does create a challenge when coming alongside or berthing at a marina. This is mitigated to some degree by the very substantial rubbing strake.

All up the Altec 10.25 RS is an awesome machine. There is no skirting the fact that it is a big, weighty boat and has a certain 'ship-like' charm, but it handles and performs like any good hardtop design. The big Suzuki outboards give the boat long legs and deliver predictable and easy manoeuvring. Combine this performance with genuine live-aboard comforts and sensible tankage and the world really is your oyster.

Specifications Altec 10.25 RS (Price as tested: $375,000)


Design: Scott Robson Design
Construction: Aluminium
LOA: 11.35m
Beam: 3.1m
Dry weight: 5T (approx)
Fuel: 1200L
Water: 400L
Power: Twin Suzuki 300hp V6 four-stroke
Perf: 3500rpm @ 20 knots – 53 l/ph (combined)
4000rpm @ 26 knots – 64 l/ph (combined)
5775rpm @ 42 knots – 185 l/ph (combined)

Boat supplied by Dellabarca Marine Ltd, 121 Pascoe St, Nelson. Phone (03) 547 0105, email boats@dellabarca.co.nz or visit www.dellabarca.co.nz

Keep up to date with news from Trade-A-boat or like us on Facebook!