Bayfisher 555
---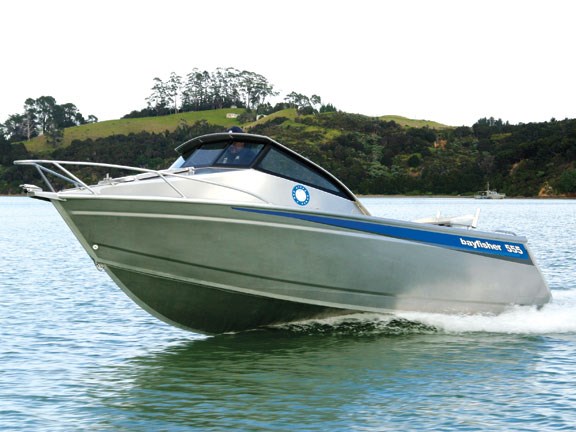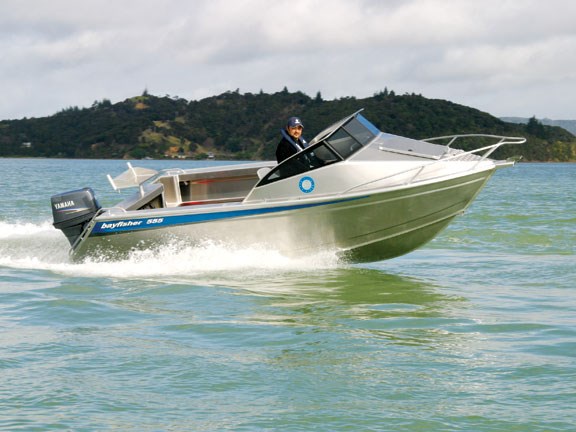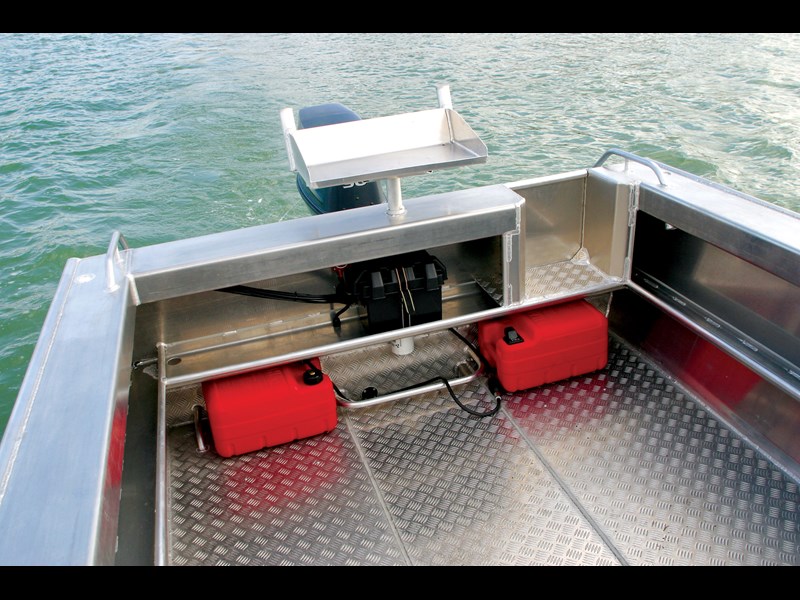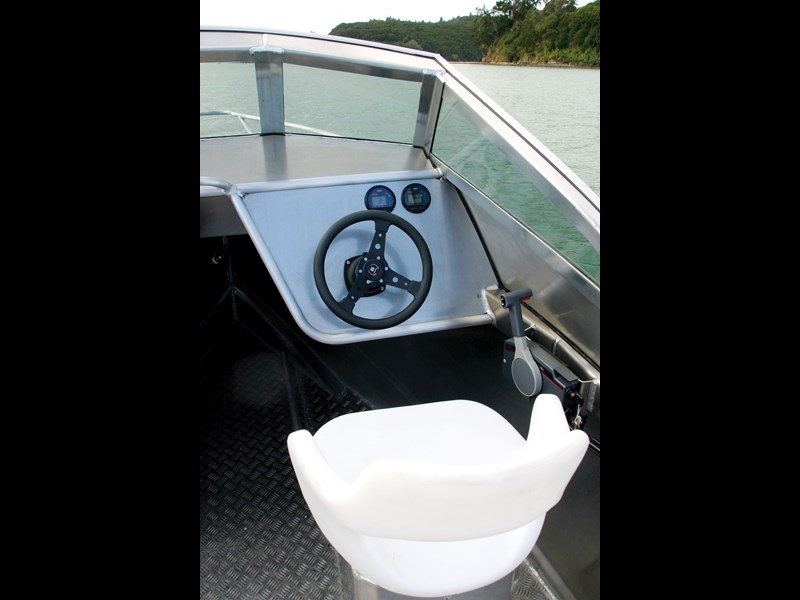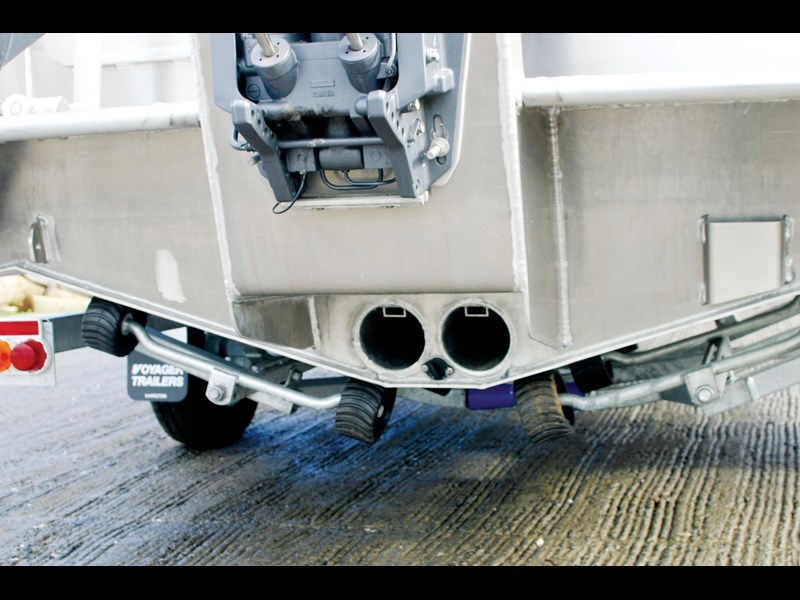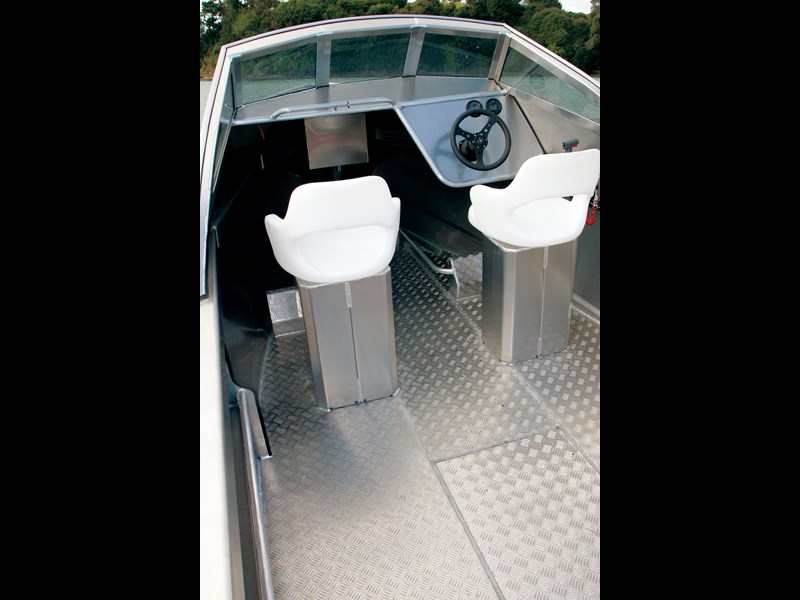 The 6mm hull plate says it all: if you're the kind of hunter-gatherer who likes pulling up on remote beaches and chasing crays around tricky reefs, the new Bayfisher 555 is your platform.
This is one solid, tough boat – you could almost call it over-engineered. But despite the emphasis on strength, the alloy construction projects clean lines and it's not a particularly heavy boat. It also delivers a smooth ride. At around $36K, it's a modestly priced package, so there's plenty of appeal – particularly for the Indiana Jones-type boaties.
The Bayfisher is built by Bay Alloy Boats (based at Haruru Falls near Paihia in the Bay of Islands). The company uses alloy construction exclusively and its product range includes jet boats, recreational fishing boats, barges and commercial ferries. The 555 is the new, smaller sister of earlier models – notably the 585 and 595 – and like them, is built around what manager Perrin Clark calls a "Cavalli" hull. Signature features are the fine entry, a delta aft section and ballast tubes.
Its addition to the fleet followed informal market research by Opua's Bay of Islands Marine Centre. Sales manager Chris Small wanted a competitively priced, easily driven, mid-size vessel – a good fishing/dive boat – to complement the dealership's stable. A tough, no-nonsense work boat. "The typical boatie up here is someone who likes to run his boat on to isolated beaches, to fossick around reefs and rocks. So I wanted something that could stand quite a bit of rough treatment – hence the 6mm bottom plates." The utilitarian vision is best reflected in the neat but unground welds.
Small had sold a number of Bay Alloy's bigger boats previously, and approached Clark. They chewed over the concept and presented a brief to Opua's Alan Walker Coast Design. Walker drew up the plans and produced electronic files for cutting the components by CNC. The superior accuracy provided by CNC, says Clark, makes for faster, sharper assembly, and improves the hull's structural integrity.
Our test boat was the first off the jig, and while the 555's recommended engine rating extends to 115hp, this one was fitted with a 90hp two-stroke Yam
Construction
Manufactured entirely from marine-grade 5083 aluminium, the Bayfisher's hull features are unusual. They include that already mentioned fine entry and delta section (running from just aft of the stem), with two, pronounced spray chines. That delta section, says Clark, facilitates beaching and relaunching.
With its limited deadrise, you'd expect the hull to be a little unstable – especially at speed. But it's not – I guess the 6mm plate keeps the centre of gravity low. It's also stable at rest – and that's largely a function of the ballast tubes incorporated into the hull. They fill when you stop, and empty in seconds as the boat accelerates.
Stability's particularly important given the exceptionally large size of the cockpit (for a 5.5m boat) – full ballast tubes will counteract any gyrations created by four, hefty blokes getting into full fishing mode.
That generous cockpit sports a fully welded treadplate floor (making for a large, sealed, pressure-tested buoyancy chamber). Within is a rigid matrix comprising six, full-length stringers and frames.
Cockpit
There are only four rod holders in the gunnels, but such is the size of the cockpit, you feel it could do with a couple more. Can you ever have too much space in a cockpit? Despite the slight lack of finesse, workmanship is neat – the nicely rounded gunwales, for example, will be kind to your thighs.
Other than the walk-through in the port side of the transom (providing easy access to the boarding platform – more treadplate), the cockpit's fairly basic. Standard, full-length shelves on either side are more than adequate for rods and other accessories. Ironically, my greatest concern about the Bayfisher 555 relates the size of the cockpit – or more specifically, to its lack of drainage. A large, sealed area could be a serious problem if you were pooped. Yes, there is a bilge pump aft (and a small bung), but if a big sea came aboard, that pump would be working for quite a while. I'd suggest the issue could easily be fixed: the floor is sufficiently high to allow scuppers to be cut into the hull sides (or even on to the boarding platform). It would also make washing down and removing the inevitable fish guts much, much easier.
Up front are two plastic, swivel seats on pedestals (with storage below). Basic, but comfortable, with conveniently positioned foot rests on the helm bulkhead, and further footrests under the pedestal seats.  It's a fairly spartan area, but the upside is it does give you mega-flexibility when customising it to your preferences.  There's enough space for fitting instruments of your choice to the dash, although you'd probably want to mount your fish-finder on the dash rather than in the aluminium panel.
One of my favourite features on the Bayfisher 555 is the wind-deflecting lip on the leading edge of the windscreen – it does a great job of keeping you hat and hairstyle intact. That windscreen, incidentally, is perhaps the clearest reflection of the innate strength of the boat. Its framework looks as though you could attach a crane hook to it and lift the boat out of the water.
Below, the forward area is spacious and again, very spartan, with only a few mounted rails for securing chilly bins and other gear. If you asked nicely, I'm sure Alloy Boats could instead install the standard V-bench seats. The foredeck contains a large, solid alloy hatch (did I mention tough?). If you did install a V-bench seat below, you'd probably want to swap that for a clear hatch (for light). The only detraction from the boat's aesthetics is the anchor locker cover. It's solid treadplate, but hasn't been "shaped" to fit the well accurately. As it's a self-draining locker – I'd be tempted to leave the cover off entirely.
Performance
So how does she go? Very nicely. The 90hp two-stroke Yamaha delivers a cruise speed of around 28 mph (4000rpm), and at WOT (5200rpm), 38mph. Despite the delta hull, it tracks well and those spray chines work a treat.
It experiences a little cavitation in tight, high-speed turns (such turns, it has to be said, are fairly unrealistic) – and that might be due to engine position. Clark and Small haven't done much experimenting with prop or engine height: dropping the engine a notch or two might address the cavitation. But it's not a serious issue.
The Bayfisher 555's standard features include a tote tank (a built in, underfloor tank is an option), navigation lights and a boarding ladder. The boat is infinitely adaptable however, and the one currently on the jig is going to have a bimini top with clears, a live bait tank in the boarding platform, an underfloor tank, and will be powered by a 100hp four-stroke engine. Other custom options include a hardtop and/or cuddy/sports top. All up weight (trailer and engine included) is around 1200kg, so it's also an easy boat to tow. It rides on a Voyager trailer.
For all its robust construction and tough design, the Bayfisher 555 is a good-looking boat, and its low-maintenance approach and relative affordability should make it a competitive contender in the mid-range fishing platform market.
Specifications
Bayfisher 555 (Price as tested - $36,750 – base price from $34,995)
LOA: 5.5m
Construction: 5083 marine grade alloy
Engine: 90hp two-stroke Yamaha
Weight: 1200kg
Builder: Bay Alloy Boats, Haruru Falls (09 402 5660)
Dealer: Bay of Islands Marine Centre – Opua (09 402 7876)
Keep up to date with news from Trade-A-boat or like us on Facebook!