Extreme 650 Game King
---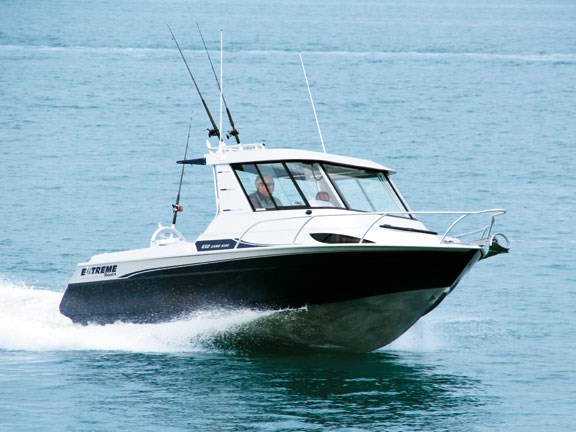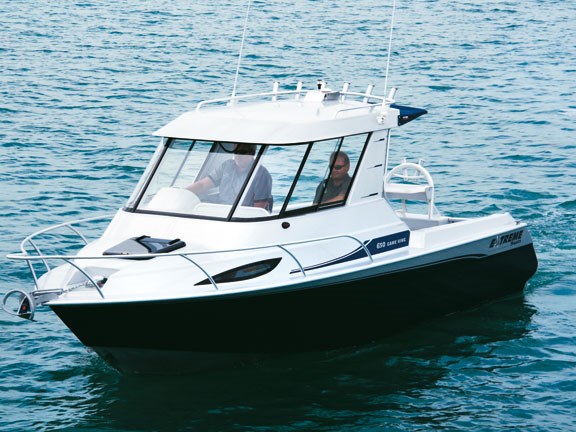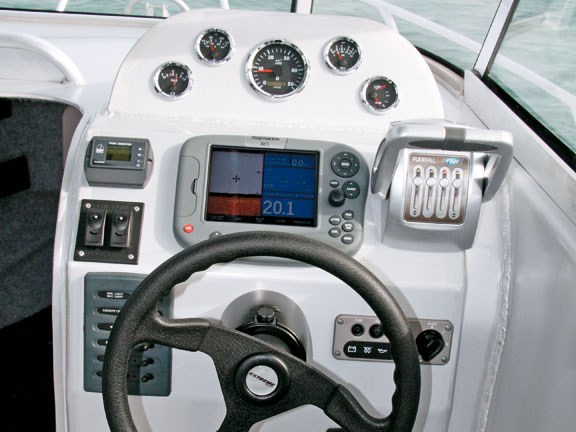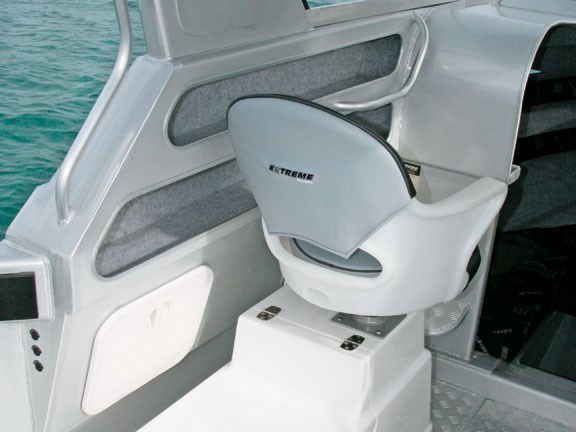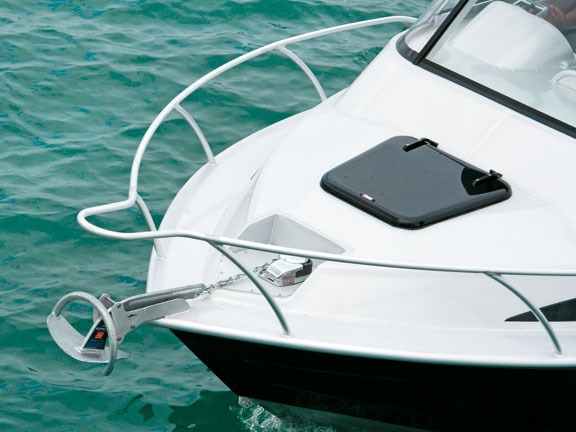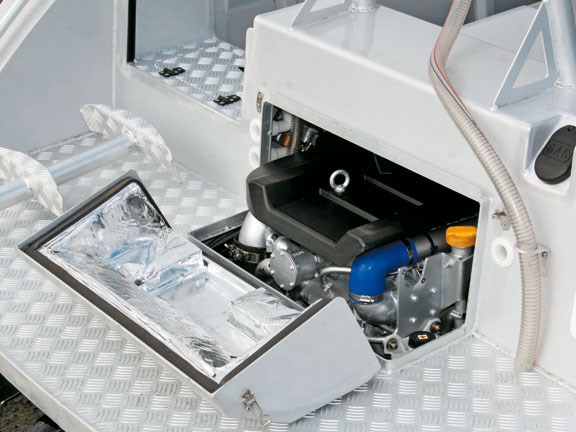 Is the current fuel price putting a damper on your boating? Too expensive to go fishing? You might consider repowering your pride and joy – with a diesel.
Papakura's Lees Delta Marine is the New Zealand distributor for the Italian-made FNM range of marine diesel engines. These compact and efficient power plants are miserly in their fuel consumption yet provide excellent power output and reliability. 
Thanks to the ever-rising price of fuel they are increasingly finding favour in small and medium-sized trailer boats. The engines are also competitively priced, making the decision between a petrol-powered outboard or a diesel-powered inboard less about the upfront cost and more about running costs.
And make no mistake, a modern common-rail diesel engine with turbocharger (or supercharger in the case of FNM) running through a stern leg is very economical to run.  We tested the Extreme 650 Game King fitted with the FNM HPEP 170hp model, and at a cruising speed of 22 knots (3000rpm) it was using just seven litres of diesel per hour (0.3 litres per nautical mile). To put this in perspective, a return trip from Westhaven Marina to Tryphena Harbour on Great Barrier Island (a round trip of about 96nm) would use as little as 29 litres of diesel, or $51 at time of writing ($1.78 per litre.) There is no outboard engine on the market which could come close to matching this economy, especially at the respectable cruising speed of 22 knots.
The test boat is a collaboration between Lees Delta Marine and Extreme Boats, based in Thornton near Whakatane. Extreme started producing aluminium boats in 1998 in small runs, but now produces more than 70 boats a year. Its boats are all based on hulls designed by Scott Robson, and it specialises in fitting these out as full-blooded fishing machines. These guys are passionate about what they do, and it shows in the awards they've collected. For the past two years their boats have won both the "Aluminium fishing boat under 6 metre" and the "Aluminium fishing boat 6-7 metre" categories at the Hutchwilco New Zealand Boat show in Auckland, as well as taking the overall "Boat of the Show" award in 2007. So they were keen to work with Lees Delta Marine to develop a concept that would take their boats to a new level.
The boat chosen for this project was 2007 "Boat of the Show" – the Extreme 650 Game King. This model has a bigger (and also prize-winning) sibling, the 700 Game King. While giving little away in terms of usable space to its bigger brother, the 650 is a fisher-friendly boat with space for up to six adults. With an overall length of 6.65m and a beam of 2.40m, it provides a large fishing cockpit, a hardtop cabin area to provide excellent shelter from the elements, and two, full-length bunks in the forward cabin. That cabin is carpet-lined for noise reduction and warmth, and the centre squab is removable to allow the fitting of an optional flush toilet. Under-seat spaces are sealed, together with similar sealed compartments under the cockpit floor. These provide the "unsinkable" buoyancy required for CPC rating, which every Extreme boat carries as standard.
A hull thickness of 5mm marine-grade aluminium further enhances the ruggedness of the boat, while the transom uses an extra-sturdy 6mm. A deadrise of 20 degrees gives a soft ride while under way, while a flooding keel lowers the boat slightly at rest for additional stability.
FNM is a specialist in marine diesel engines for the trailer boat market, and offers a range of models from 60 to 250hp. The HPEP 170 is a four-cylinder engine (1910cc), and its common-rail technology and supercharger deliver 125kw (170hp) at the crankshaft. All this comes in a package that weighs 240kg. Even when the extra 59kg of the Mercruiser Bravo One stern leg is added, this is only about 100kg more than a four-stroke outboard of similar power output. The excellent fuel economy plus the fact that the engine conforms to EU 2006 emissions regulations makes it one of the "greenest" powerplants around.
We launched at Westhaven on a calm day and the benefit of the inboard motor was immediately apparent once underway. The weight is located considerably more forward than with an outboard, resulting in the boat "squatting" less at rest and when power is applied. The boat remains relatively level at most power levels, whether on the plane or at displacement speeds.
Once clear of the inner harbour speed restriction we opened up and easily tipped 30 knots. Although fuel consumption climbs steeply once the 3000rpm optimum is exceeded, it's still fairly respectable at higher speeds. The engine and gearbox are controlled by electronic "fly by wire". The advantage of this technology is soon apparent: ultra-smooth acceleration. You can push the throttles forward as far as you like, knowing the electronic controller will accelerate at the optimal rate without wasting fuel or damaging the engine. It is also possible to safely change from full ahead to full reverse, with the electronics taking care of throttling down, changing gear to reverse then throttling back up again.
Of course inboard diesels are not without disadvantages, and engine noise is the biggest of these. The test boat's engine box was not yet fully soundproofed and the roar of the diesel at full throttle made conversation all but impossible. This is bound to be improved as the final interior trimming of the boat is completed, but don't expect the quiet purr that four-stroke outboard owners have come to know. On the other hand, the song of the supercharger at over 3000rpm is music to the ears of those who enjoy the sound of a perfectly tuned engine.
The boat handles well, although conditions weren't particularly testing. Pushing the boat through wakes saw the hull landing fairly softly, thanks to the lack of planning strakes on the hull. A single chine, normally above water level, turns the spray down and away from the boat and we had a dry ride. The boat is fitted with Lectrotab trim tabs, although we didn't need these during our test. She's well set up for fishing, with six rod holders in a sturdy rocket-launcher, and a further six spread around the gunwales and transom. The engine cover over the inboard is relatively unobtrusive, and Extreme has made a custom baitboard to fit over it, turning it into usable area.
The transom features a walk-thru on the port side with a drop-in gate. Hidden under the step of the walk-thru is a fully plumbed livebait tank with a hinged lid. The boarding platform is generous and forms a very usable fishing area when conditions allow. A fold-up boarding ladder lends the boat to dive trips.
Under the checkerplate deck are a couple of underfloor storage areas for wet gear. The cockpit drains into a bilge area serviced by two bilge pumps. A wash down hose and pump makes cleaning an easy job. The boat is Nyalic coated or painted, to ensure it stays looking good for years to come.
Up forward the anchor area is protected by a welded alloy bow rail. Hanging off the bowsprit is a Manson "Supreme" anchor, and the hard work is taken care of by an Italian-made Quick vertical windlass. Access to the self-draining anchor well is through the large forward hatch. Alternatively, you can walk around the cabin thanks to a generous non-slip tread area, with welded rails on the cabin top providing a secure handhold.
The boat comes with a 140-litre under-floor fuel tank which, at its cruising speed of 22 knots, gives a maximum range of around 460 nautical miles. This equates to 20 hours continuous running at cruise speed, and should satisfy even the most die-hard fishing enthusiast.
A custom-built, galvanised, braked tandem trailer (also made by Extreme) is supplied with the boat. This is fitted with rollers and the submersible LED light units for reliability and low maintenance. The towing weight of the whole package is about 2040kg, well within the capacity of a moderate tow vehicle.
For more details contact Extreme Boats at www.extremeboats.co.nz. For engine information, visit Lees Delta Marine at www.leesgroup.com.
Specifications
(price as tested $93,000)
Engine: FNM HPEP 170 supercharged common-rail diesel
Stern leg: Mercruiser Bravo One
LOA: 6.65 metre
Beam: 2.40 metre
Construction: Marine-grade alloy
Hull: bottom 5mm, side and deck 4mm, transom  6mm
Electronics: Raymarine A65 chartplotter / sounder, VDO instrumentation, VHF radio
Keep up to date with news from Trade-A-boat or like us on Facebook!