Sneaker 360
---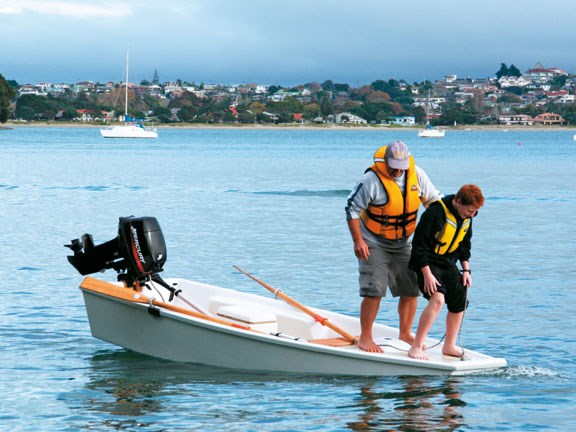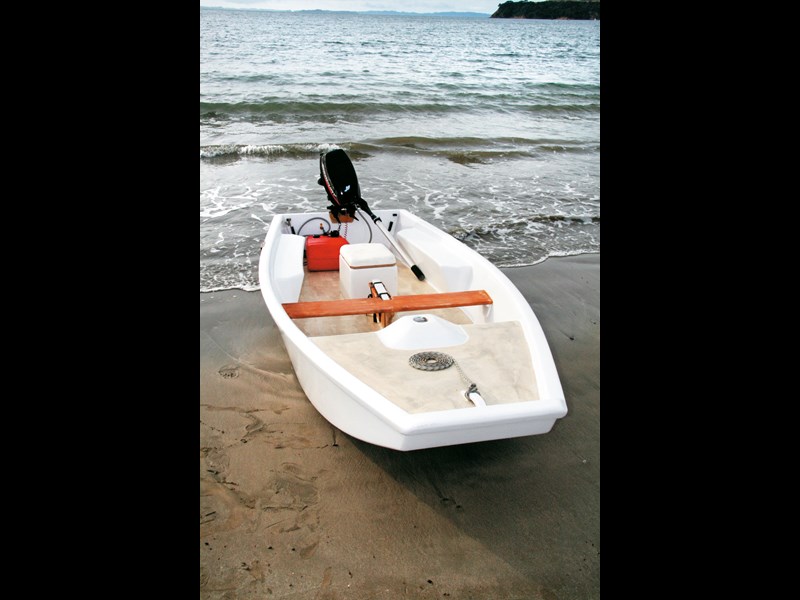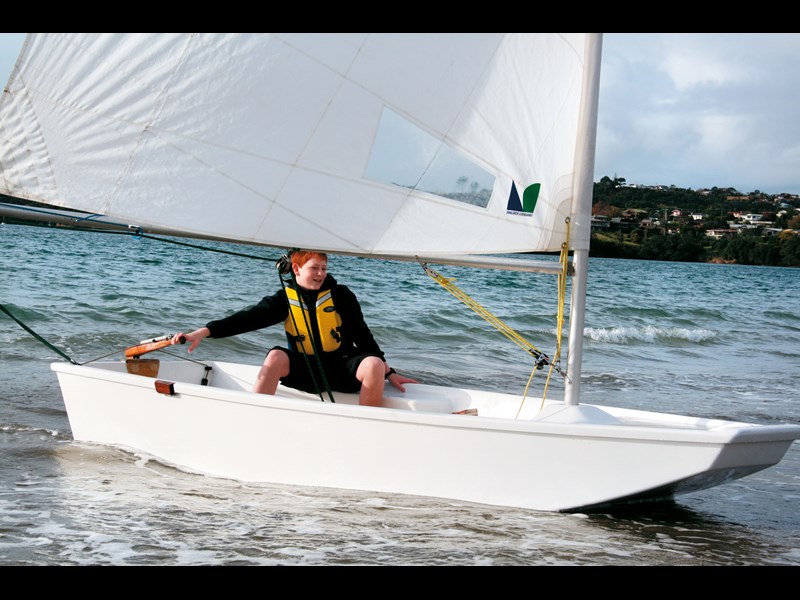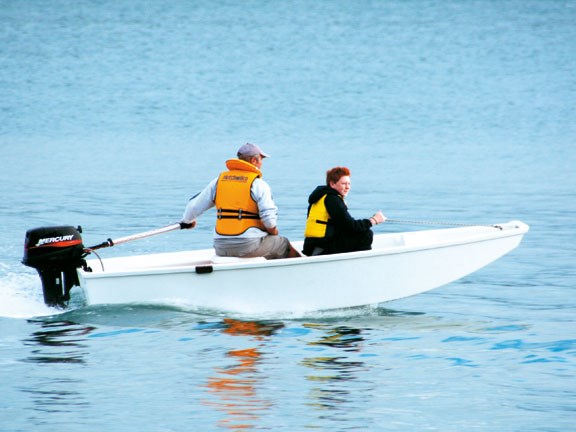 When Whangaparaoa-based Dion Rogers wanted a small, multi-purpose boat – something suitable for sailing, rowing and taking an outboard – he couldn't find anything suitable – so he did what any innovative DIYer would do. He built one.
Rogers wanted something light, unsinkable, that would float in just a few inches of water. It had to be maintenance-free, preferably made of composite materials – and inexpensive. So he set about designing and building a solution. He wanted reasonable length (for stability in a choppy sea), but one that suited standard-length building materials. He chose a flat bottom so it could be run straight up onto the beach, while only requiring the absolute minimum of water to move.
The Sneaker 360 is the third prototype he's built, and Rogers is now happy he has a hull design that achieves all his objectives. The hull is unsinkable thanks to its construction: foam sandwiched between ply and fully glassed over. A production hull could be moulded from foam-cored composite. The resulting hull weighs about 90kg in its current form, although a production boat may be slightly lighter. Overall length is 3.60m and the beam is 1.46m. 
Thanks to the flat punt-type bottom, it has a draft of about 80mm (three inches) with one adult aboard, and is easy to move around on beach or grass. Single-handed launching and retrieving is simple and quick, and the outboard is fitted in minutes.
The foam core ensures the entire hull is buoyant, with further assistance from the generous, moulded side seats (which are used when sailing). A thwart just forward of the centreboard casing provides side-by-side seating for two. For powered operation Rogers has designed a removable centre console seat and a tiller extension, enabling weight to be centralised. And in sail mode the side seats are used on the windward side.
The bow section of the boat contains a sealed dry storage area, featuring a flat reinforced deck with non-slip coating. This is strong enough to stand on while fishing, especially flycasting or softbaiting. The hull design has ample buoyancy forward to enable an adult to safely operate off this area. The mast step is incorporated into the rear of the compartment and is sealed and very sturdy.
The cockpit is self-draining through flappers at the rear. These prevent water ingress in normal conditions but if the boat takes on water they open up and drain out the back. A non-slip deck coating ensures that occupants are always sure-footed.
We began our trial in power mode: a 15hp Mercury two-stroke outboard, and this proved more than ample. With two adults and a teenager on board we got up on the plane within seconds, thanks to the flat bottom. The ride's not particularly soft (due to the lack of a "V"), but we were comfortable and surprisingly dry at about 15 knots. Rogers says with one person on board he gets over 23 knots with this engine, and the boat performs quite adequately even with an 8hp model.
Changing to rowing mode is easy, with two rowlock slots built into the gunwales. Full-length oars stow easily inside the boat and make rowing simple from the centre console seat. The lack of a keel does make the boat more difficult to steer, but it's nevertheless light to row.
Switching to sailing mode is simplicity itself. The outboard engine, fuel tank and console seat are removed. Rogers has incorporated standard sailing components, based around a Laser sailing rig, to keep costs down.
The two-part, unstayed mast slides up into a sleeve in the battened sail, and the mast is easily stepped. The sail is loose-footed to the aluminium boom and there is a good clearance between the boom and the boat. The centreboard casing cap is removed, a rudder and tiller fitted and the boat is ready to sail.
Once clear of the beach the centreboard is dropped into place. Due to the lack of a keel,it's a good idea to sail with the centreboard down all the time, even when running. We tested the boat in a 10-15 knot breeze, and it proved easy to handle.
After a short introduction we let a young sea scout take the boat out on his own, and he had a great time. Despite being unfamiliar with the handling he was easily able to control it, with tacks and even jibes proving no problem. Due to the boom height only a slight duck of the head is needed when going about, and the boat heels a comfortable amount.
Our enthusiastic sailor was unable to capsize the boat in the conditions, despite his best efforts. The hull shape helps in this regard, as it will only heel over a certain amount before the windward side starts to lift. This movement is easily felt and corrective action can be taken. Rogers says that the built-in buoyancy and self-draining hull means that the boat is easy to right if it does capsize and, depending on the weight of the occupants, bailing might not be required.
Bringing the boat in to shore is a simple matter of running it straight up on the beach (Remembering to remove the centreboard first if sailing, or unlocking the outboard tilt if under power). Rigging the boat takes less than 10 minutes, and de-rigging and getting it back on the trailer took about the same time.
Rogers has no specific plans about a production run of these boats, although would be keen to talk to interested parties. He is preparing a set of DIY plans, and says the design is suited to moulding in composite or plastic. He estimates the total cost for a production boat, including a custom-built steel or aluminium trailer, will be under $10,000.
A home-built version would come in considerably less than this, especially if a second-hand sailing rig can be sourced. The flat-bottom design also lends itself to fitting on a cheap flatbed trailer, eliminating the need for a specialised boat trailer.
To find out more about this fun little craft, contact Dion Rogers by email at diondot@gmail.com
Keep up to date with news from Trade-A-boat or like us on Facebook!