Bayliner 195
---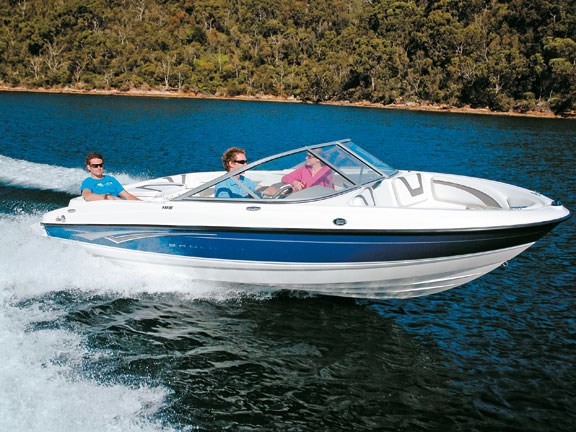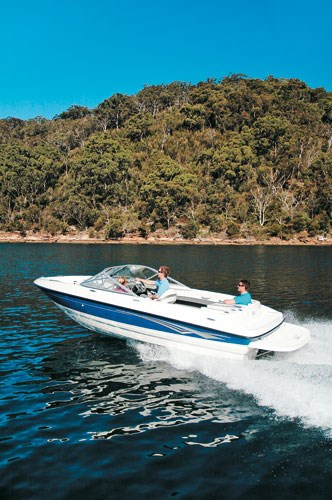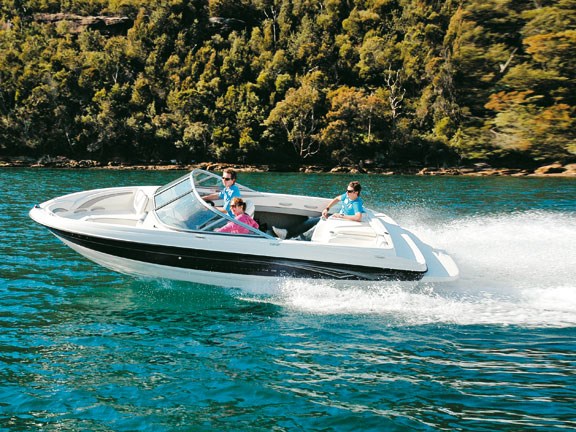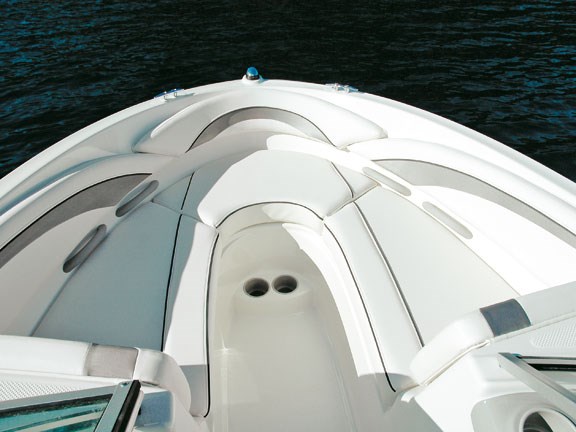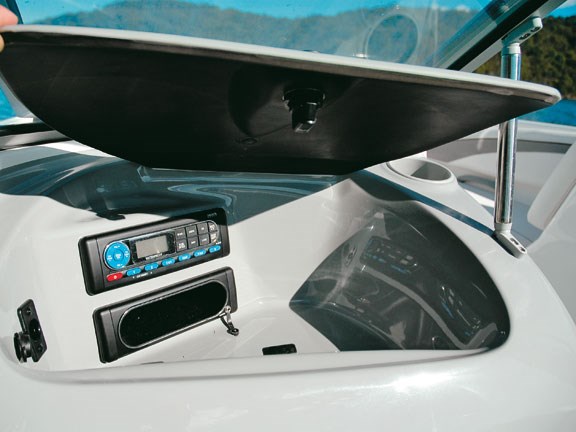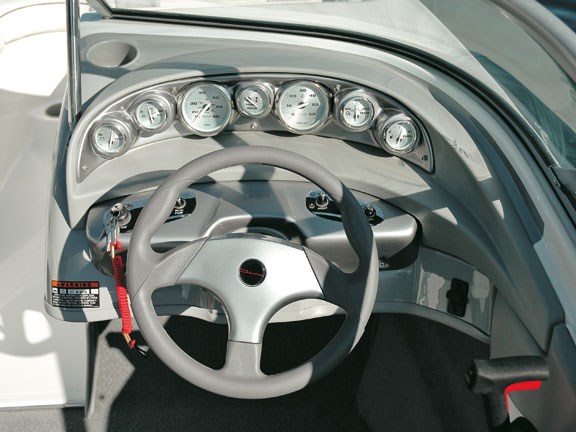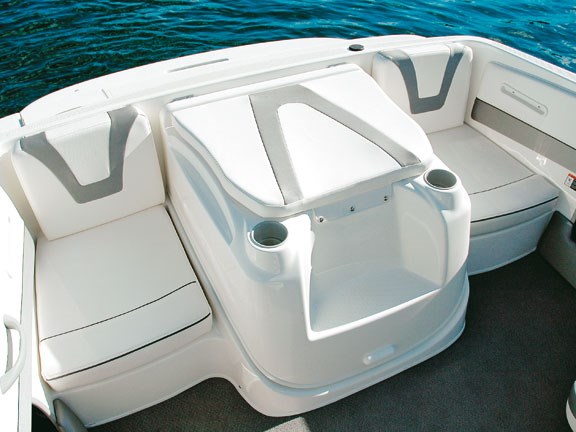 Looking to downsize? Then roll up for a gander of this year's Bayliner 195 bowrider, a slick, multifunctional family craft that won't break the bank
Downsizing. At some point, like right now, it makes perfect sense. Shift down a few gears, off-load the family home and buy a low-maintenance townhouse or unit. Get rid of the gas-guzzling urban tractor and buy a frugal family car. Oh, and how about swapping that monster, marina-hugging motoryacht for something you can slot into your garage? Bayliner's 2008-model 195 bowrider will fit like the proverbial glove.
Such thinking is behind the success of Bayliner's boats-to-go. Pitched between a traditional entry-level 18-footer and an overwhelming 20-footer (by any measure a lump to tow), the 195 makes great dollars and sense. It's 10cm wider than the 185, yet just 2cm narrower than the 205. Importantly, on trailer the 195 is a considerable 56cm shorter and, by our reckoning, likely to fit in the garage.
As well as the base 190hp 4.3lt MerCruiser petrol inboard, buyers can opt for an upgrade – a  260hp 5.0lt MPI MerCruiser petrol inboard. In fact, the 195 Bowrider is the smallest Bayliner sold here with a V8. Compact, sure, but no slouch.
For 2008, the 195 has some extra eye candy by way of new hull colours. Bayliner has for decades been obsessed with blue, but now you can get red, black or blue. There's also a decal change, considerably better upholstery than we have previously seen on these mass-produced boats, and options such as extended swim platform (fitted to the demo boat).
Should you feel so inclined, you can add the so-called Flight Package that includes even groovier graphics, wakeboard tower with integrated bimini and a deluxe steering wheel. The American boatbuilder also offers a Fish'n'Ski package with casting seat and electric motor to turn this fun runner into a neat bream or bass boat. Such are the possibilities. 
Time-proven build
What you don't get are nasty surprises in the build specification. Bayliner has been manufacturing boats-to-go for decades and backs its bowriders with lifetime limited transferable hull warranties, five-year deck warranties, and two-year warranties on the MerCruiser motors.
The handlaid GRP hull is made using vinylester resin to guard against blistering, has fibreglass box beam stringers and includes foam flotation. Composite panels and robust carpet add the utility and ease of maintenance, the wiring is colour-coded and you get a trusty Taylor Marine safety-glass windscreen.
The SRS hull is short for Smooth Ride System, a fancy handle for a moderate-vee design with 19 degrees of deadrise that strikes a balance between efficiency, stability and volume. You might find better-riding bowriders with more deadrise, but they are likely to fit inside the 195.
With full-beam forward design, the 195 offers exceptional volume and, says Bayliner, can carry up to eight adults.
Tour of duty
Though the boat hasn't a forward ladder as per most deck boats, we came aboard over the bow, noting plenty of non-skid where you plant your hoofs. The footwell is part of the GRP deck moulding and includes two drinkholders, which range throughout the boat. There are options of an infill panel to create a bow sun lounge, a casting seat per the Fish'n'Ski package or a GRP moulded table on a pedestal.
There are two cleats and dedicated anchor storage under the small centre seat base, plastic grabrails for those holding on white-knuckled while bow riding, plus a standard-issue split navigation light. But in light of recent small-boat accidents, perhaps it's time the world's biggest boatbuilder took a lead and fitted better navigation lights like the latest LED – just a thought.
As touched on, the upholstery is a better cut than we have previously seen on Bayliner's bowriders. There are trick silver colour panels to break up the expanse of white vinyl, which appeared a nice thick grade for withstanding long hot summers carrying screaming kids.
Dry storage exists under the seat bases and behind the backrests in holds ahead of the helm and co-pilot consoles. Additionally, there is an oversized underfloor ski and wakeboarding locker, and full-length cockpit sidepockets that can also stow boards.
 The glovebox is home to the boat's waterproof Sirius stereo and 12v outlet with iPod pocket and jack. The sound package was upgraded with Jensen speakers, with further upgrades possible, especially if you get the wakeboarding tower from which you can hang a pair of truly powerful speakers.
Storage space continues back aft: the starboard-side underseat area has a moulded insert so as to double as an icebox – as does the glovebox – and there's a small wet-storage locker in the boarding platform for your togs, rash tops and/or the ski rope, which you attach to the standard-issue centre ski hook.
The extended swim platform fitted to this 195 will make donning the wakeboard much easier, while also enhancing the waterfront real estate when kicking back in summer. Of course, the boat comes with a swim ladder, though you will have to wait till you get back home to take a freshwater shower.
The hull seems especially voluminous in the cockpit, which has a good deal of legroom and, as such, your thoroughfare through the boat remains unhindered.
There's a choice of seating, from twin buckets and a permanent rear lounge to that on the demo boats with single helm bucket seat, back-to-back co-pilot seat and aft jump seats.
This latter, standard seating layout is hard to beat, since the back-to-back seat converts to a comfortable daybed with tilt headrest and the seat swabs for the aft jump seats can be relocated alongside the engine box to make a second lounge. And the aft seat bases are wide and accommodating on the girth-challenged, with plastic grabrails and drinkholders within reach.
Remove the clip-on cushion over the engine box and you have walkthrough access into the 195 without stepping on the upholstery. Meanwhile, gas struts make lifting that engine box a single-handed task. Access to the belts, dipstick, bilge and fuel sender is excellent.
There are transom hatches leading to the boat's single battery and the fluid reservoir for the hydraulic steering, too. Last but not least, the grey carpet is a plush but hardwearing polypropylene pile that, though not clip-out, should be easy to keep clean and vacuum.
Away we go
The helm seat includes a flip-up bolster so you can sit up higher and gain an even better view when close-quarters manoeuvring and, say, driving the boat back on its trailer or coming back around to pick up a fallen skier. Sit down in the bucket seat behind the windscreen and the vision is great when fast running.
The racy low-glare dash includes a full spread of Faria engine gauges, big rocker switches for the blower, bilge and lights, a second 12v outlet for charging a mobile phone, tilt adjustable wheel and standard-issue throttle.
To say the 195 with V8 was eager is putting it mildly. Though the boat planed at just 2100rpm and 9.6kts, it ran flatter and more efficiently at 2500rpm whereupon it soon climbed to 2800rpm and was fairly flying along at 23.1kts, a handy family cruise and snappy skiing speed. The boat slots into the cruising groove at 3000rpm and 24kts, where the small-block 5.0lt V8 isn't working or drinking too hard, but at 3500rpm the V8 is a tad noisier while propelling the 195 to 33kts.
At 4000rpm I noted 38.2kts, 4500rpm gave a sprightly 40.7kts, and top speed of 48.7kts (more than the 50mph benchmark for a sporty bowrider) comes in at 5000rpm, whereupon the rev limiter was clicking in and out. Yeeha!
So this is a PDQ (as in pretty damn quick) bowrider that, with 132lt fuel tank, let's you go hunting for that picture-perfect, mirror-calm area behind an island – with a beach from which to swim and ski, and some trees for shade and a picnic.
But should you need to tackle the more open stretches of a big waterway, don't fret. The 195 has sufficient freeboard and waterline length to safely traverse boat wake, wind waves and bay chop. You might have to back off, but for family boating that counts for plenty.
Yet due to its compact dimensions, you shouldn't need a dedicated tow vehicle. A small family car will do nicely, which just adds more ammo to the logic of downshifters. A quick wash, tug on the covers and you can slot the rig back in the garage. Day boating — quick as that!
Specifications
Bayliner 195 Bowrider (price as tested: $64,285 w/trailer, upgraded engine, and extended swim platform).
Hull: GRP
LOA: 5.79m
Beam: 2.41m
Deadrise: 19º
Rec.HP: 190 to 260
Weight: 1202kg with 4.3lt; approx 1600kg on road
Fuel: 132lt
Engine:  MerCruiser 5.0V8 MPI with Alpha One sterndrive
Keep up to date with news from Trade-A-boat or like us on Facebook!