Hanse 350 -- pace, colour and comfort
---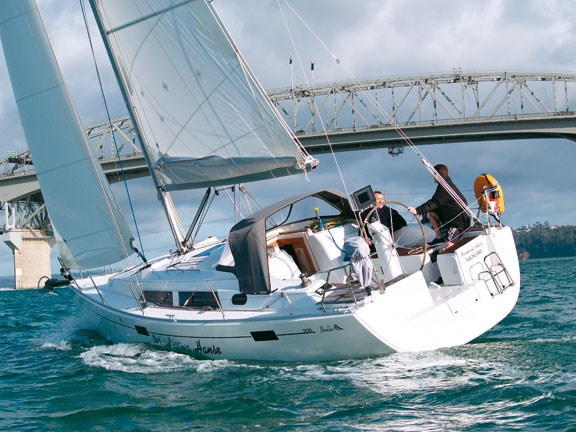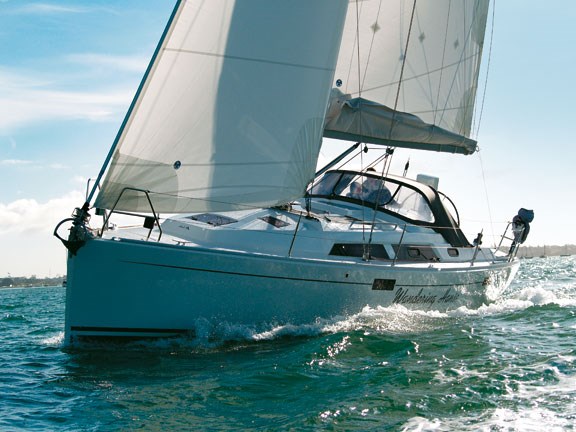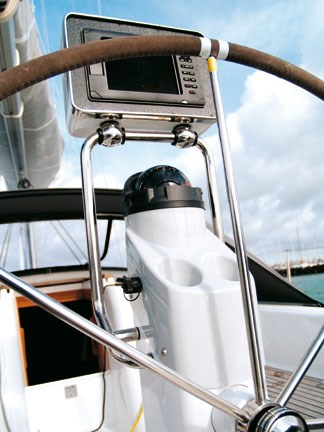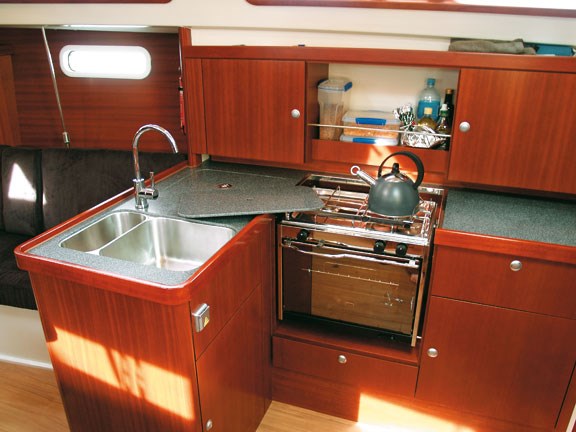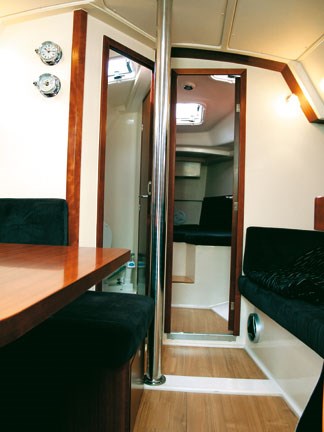 Henry Ford famously stated that buyers could have his Model T in any colour – as long as it was black. Hanse Yachts has kicked that dictum overboard: colour options are infinite, as discovered on New Zealand's latest Hanse
Construction Accommodation Cockpit Specifications
"Marianne, my partner, and I went to the Hanse website and selected colour combinations on screen before we even ordered the boat," says David Davies-Payne, owner of Wandering Hanse, New Zealand's first Hanse 350. "It's brilliant – the boat turned up exactly as we wanted her."
For the new 350's interior, the couple chose a restful and hard-wearing dark grey corded fabric on all squabs in her roomy saloon, designed to complement the rich, red mahogany veneer joinery and the wood-finish cabin sole.
"Restful" is perhaps the best way to describe the Hanse 350. Just a few minutes work on the mainsail halyard and jib sheet has the 6.4 tonne-yacht gently bending to just under 12 knots of wind; the only boat out sailing on a sparkling mid-winter day.
"This is the first boat we've owned," David continues. "We'd previously chartered boats in various places – mainly Beneteaus. So we were thinking about buying a Beneteau 31 but a friend who does a lot of sailing said; 'You ought to have a look at a Hanse.' There weren't any 350s in the country, so we flew to Sydney for a test sail – and were sold straight away. We're still learning but this is a very generous boat – she's utterly dependable. I think she makes us look like a lot better sailors than we really are."
David and Marianne chose the two-cabin 350 option with a spacious vee berth forward, ensuite access to the toilet and an equally roomy double quarter berth cabin to starboard.
"But in reality, we have three cabins – the port quarter cabin is just as big and only needs a squab to make it habitable." One other person could be accommodated on the saloon settee at a pinch.
They also opted for a three-cylinder, 30hp 3YM 30 C Yanmar diesel with sail drive over the standard 21hp engine and the extra oomph drives the 9.60m waterline length yacht at about 7.5 knots in flat water. The engine is easily accessed by lifting the companionway stairs, a one-handed operation assisted by pneumatic struts. The engine bay comes well-insulated with Acoustop panels, so the Yanmar rustles rather than rumbles. Fuel is drawn from a 110-litre integral tank located under the starboard quarter berth, with a deck filler.

Construction
All of Hanse's eight models, from the natty 320 through to the flagship 630, are designed by Bremerhaven-based Judel/Vrolijk Yacht Design and Engineering (best known for rapid race boats and for engineering maximum structural strength into hull forms with minimal weight penalties).
The 350 has a purposeful, modern hull form with an almost plumb stem and minimal overhangs. She carries the 3.55m beam well aft for buoyancy and maximum accommodation below decks.
The larger Hanses are offered with epoxy hull layup, which gives equivalent strength to the standard polyester with about a 20 percent weight saving. Fitted with the standard keel configuration, this gives a much enhanced weight/ballast ratio and a stiffer boat. The weight saving isn't as marked in smaller hulls however, so the epoxy construction isn't an option with the 350.
The 350's hull has a 100mm flange on the inside of the hull and the deck moulding is joined to this flange with adhesive and mechanical fastenings. Bulkheads are firmly glassed in place with generous tabbing to spread the loads.
Stiffness isn't an issue for Wandering Hanse. With a self-tacking jib and about 1¾ turns lock-to-lock on the mechanical link steering, she easily answers to two fingers on the leather bound steering wheel. It's easy, exhilarating sailing: reaching, running or hard on the wind. Point the wheel where you want to go and the boat follows – a little mainsail trim and you're up to optimum boat speed.
It's almost impossible to load the helm up and the only indication that the boat might be getting stressed is the top dead centre mark on the wheel being about 35 degrees to leeward. To windward, at an effortless 6.5 knots, Wandering Hanse sails up to the eye of the wind, flips through and gathers way on the new tack, with minimal reduction in boat speed.
The Hanse 350 has a large spade rudder, almost half the size of the keel, mounted on a 50mm diameter aluminium rudder stock and this contributes to the boat's effortless tacking and dead eye manoeuverability. She has 1845kgs of ballast in the cast iron "T" section bulb keel and stub, which gives her a draught of 1.85m. A 1.43m draught option with an extra 80kg in the bulb is also available.
The Isomat tapered spar reaches about 16.43m above the waterline and has two sets of swept back spreaders. It's an 11/12 fractional rig with roller furling jib that self tacks on a sheet track across the cabin top. Total sail area is 62.86m2 (698 sq ft) with 32.23m2 of that in the mainsail. The adjustable backstay and generous mast pre-bend enable owners to get pretty adventurous with sail trim options and helps to explain the boats' club-racing reputation.

"We've been selling the Hanse range for about nine years," says Tony Newmarch, (Tony Newmarch Marine Brokers, the New Zealand agent), "and have about 27 owners. Racing your Hanse isn't compulsory…but a lot of them get into it and have a ball – the Richmond Yacht Club reckons about two-thirds of its racing fleet are Hanses.
"The boats are shipped from Germany with keels, rudders and masts removed [to save volume for shipping] and we assemble them at this end. We put New Zealand options – electronics, stereos, VHF radios, dodgers, biminis and covers on them."
Accommodation
Wandering Hanse feels larger than the advertised 10.59m LOA (34'7") on deck, and the sense of space is even more apparent below decks – you get the impression someone at the factory stuffed up big time with the tape measure. The 350's saloon seems huge, helped no doubt, by the sunlight streaming into the boat through the five Lewmar flush deck hatches.
A moulded subframe takes care of keel and rig loading below the cabin sole – what's left is all space. Starting forward, there is a collision bulkhead, not quite watertight because of the wires going through it to the Lewmar windlass (added in New Zealand by David and Marianne). A double vee berth has access to the toilet on the port side and deep hanging lockers to starboard.
The toilet has a 30-litre holding tank with neatly installed valves offering a variety of disposal options. A teak seat (to sit while showering), is mounted in a recess by the hand basin.
An easy clean fibreglass liner covers all the messy structural bits and also provides some thermal and acoustic insulation. A stainless steel compression post for the deck-stepped mast doubles as a convenient hand hold in the saloon. There's a settee to starboard and a large mahogany veneered table to port, with cutlery bin under a cheeseboard cover in the center.
All boats sold in the EU must comply with a stringent set of construction standards to earn a CE certificate and the Hanse 350 has the top A (Ocean) rating.
It's a bit strange that an ocean cruising yacht (and many Hanses have undertaken bluewater cruises), doesn't come fitted with a fiddle around the saloon table. It's a small quibble and one easily remedied. I suspect it's the first thing most owners would do before heading offshore.
Likewise, I found the 350 a bit lacking in the chart table department. It may just be an old school grumble – the saloon table is big enough to spread out any chart and, in reality, most day-to-day navigation is done by chart plotter these days – but I do like a chart table space to hunker down and confuse myself in. A triangular area on the port side of the saloon is nearest the 350 has to offer.
No such problems with the galley though. The bench area has a deep fiddle, two deep sinks and a fridge box, driven by 12-volt compressor, in the corner. The sink covers double as extra bench space for preparing meals and cooking takes place on a gimbaled two-burner unit with oven. Fresh water comes from a shaped plastic 260 litre-tank under the vee berth forward.
Two deep-cycle house batteries supply the amps for interior lights and systems, with switches to enable either the house batteries or start battery to spin the Yanmar into action. A hot water tank under the port quarter berth works off shore power or the engine.
The cabin sole's a natural wood finish, which feels warm and secure in bare feet. Each panel is securely screwed down and small flush hatches, with a suction cup extractor, provide access to the 25mm stainless steel keel bolts, the electric pump and the manual pump pickup in the bilge sump.
A full width locker, about 90cm wide, stretches across the stern with watertight access from inside and adds to Wandering Hanse's formidable array of stowage space. Everywhere you look there's another draw/cupboard/locker – enough for tonnes of gear, tools, toys…whatever.
Cockpit
The big moulded binnacle comes with four drink holders and is topped by a weatherproof nacelle for the chart plotter/sounder unit. Other instrumentation is set into the aft end of the cockpit coaming and is handy for wringing that last bit of boat speed from the Hanse while helming from the windward quarter.
Below the helmsperson's feet, a removable panel gives instant access to the rudder stock and, in Wandering Hanse's case, the autopilot power head. Like most continental boats, the 350's set up for Mediterranean mooring and the walkthrough stern provides an easy step down to the wharf.
In Westhaven Marina, between ranks of gleaming boatware, David spins the boat around and powers stern first into the berth. A burst of rpm ahead stops the Hanse in her tracks and we step ashore to pick up the mooring lines and drop them over her cleats.
"Nice work," I complimented. "It's the boat," he shakes his head, "she makes me look like I know what I'm doing."
Specifications
(priced from $265,000)
LOA 10.59m LWL 9.60m Beam 3.55m Draught 1.92m (standard)
Displacement 6.36 tonne
Ballast 1845kg
Engine 22hp
Fresh water 240 litres
Fuel tank 120 litres
Total sail area 64.86m²
Keep up to date with news from Trade-A-boat or like us on Facebook!