Maritimo C60 Sports Cabriolet
---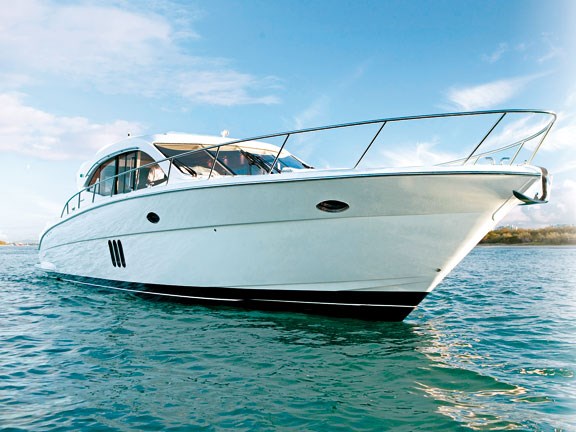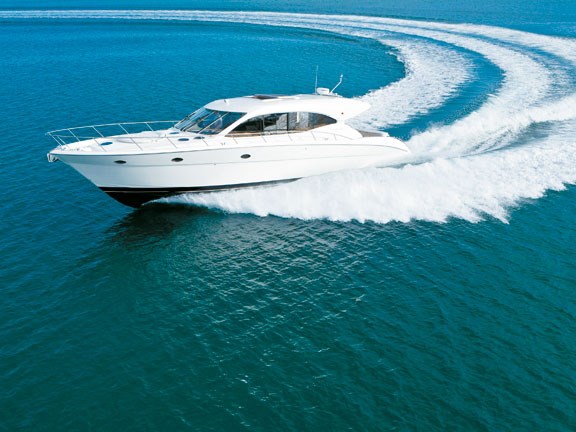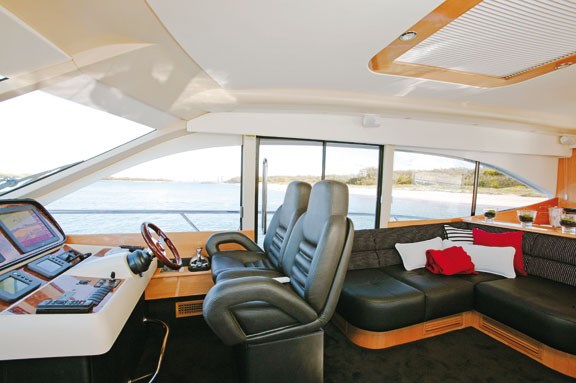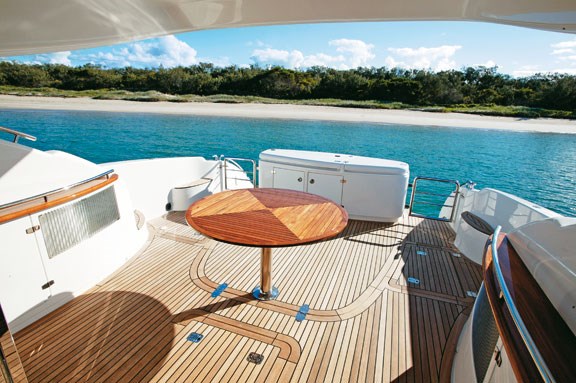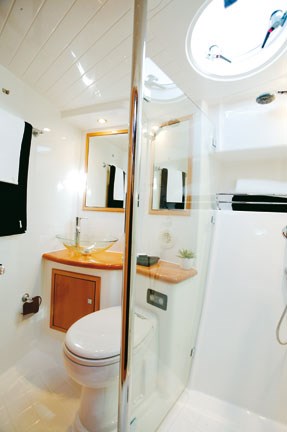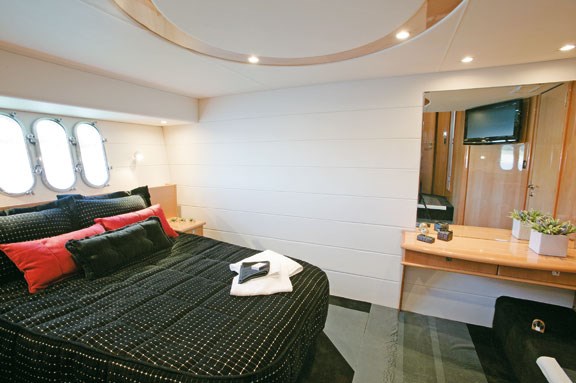 Vision for the skipper and views for the rest are immediate highlights of the C60 Sports Cabriolet, the first single-deck sports yacht from luxury Australian builder Maritimo
Construction Outdoor Living Saloon Accomodation On the water Specifications
It's stating the blooming obvious that sports yachts, cabriolets, coupes and express cruisers are increasingly vying for marina space. But I have an issue with some of these single-deck flyers. When you drive from saloon level, perhaps for hours at sea or cruising busy, local inshore waterways, you need unfettered views. The skipper needs to see what lies ahead, be it a channel marker, sandbank, flailing kayaker or turtle.
Full marks then, for Maritimo's new C60 Sports Cabriolet, the first of the Australian yard's single-deck motor yachts. Clearly, some effort has gone into providing commanding views for the skipper and terrific connectivity and vistas for the crew; all wrapped in a boat that travels quite flat without being unduly wet. And besides good vision, the saloon seating is arranged so you can converse with the crew as well as the captain.
Several other key objectives have been met in the C60. She has walk-around side decks to assist (ageing) crew and grandkids accessing the bow; an aft galley for snappy service back to the alfresco cockpit lunch setting; and a signature outdoor amenities centre including a barbie (factory fitted option) built into the transom. And, for the first time, you will find a boot in which to carry, launch and retrieve your tender at the mere press of a button. That means hassle-free access to the shore, cafes and eateries, if not the creeks for some Huck Finn adventure or to check the crab pots.
Indoors, the styling is refreshingly nouveau and, well, a step-up in class. It's a thoroughly European look, without undue glitz but well-finished high-gloss light beech joinery. A pat on the back for Into Boats, which did the bedding and soft furnishings, as some of its earlier Maritimos appeared a tad parochial. The decor here is sharp enough to work on the world stage. Same goes for the exterior lines, with sleek not boxy looks. In fact, the C60 is one of the yard's prettiest boats.
But it's more than just eye candy and a keen entertainer that you have here. By rights, a 60-footer is a boat you should be able to stow away in for weeks at a time. To this end, the full-beam stateroom, with its portrait or panorama windows and ensuite, will assuage cruising couples. And there are three additional cabins, two with bunks for kids plus a VIP with island berth and ensuite in the bow. This way, owners can head away with another couple just as comfortably as the clan at Christmas time.

Slippery sucker
Like its predecessors, the C60 is an especially efficient boat. It's this message, above all else in times of rising fuel prices, that Maritimo's patriarch, Bill Barry-Cotter, wants to get across.
Construction doesn't break the mould however, with a solid GRP hull bottom and cored sides and deck. The main bulkheads are fibreglass, including the collision bulkhead up front, while the fuel tanks are integral GRP as well.
As ever, engineering is a highlight. The base boat was fitted with twin C12 715hp Caterpillar electronic diesel engines; modest power for a boat that — with full water, fuel, a tender in the boot and all the paraphernalia and personal effects aboard — will weigh more than 30 tonnes. But this is a keen conveyance, topping out near enough to 30kts carrying about one-third fuel and full water (some 800lt), in polypropylene tanks under the cockpit floor.
And with a massive 5600lt fuel capacity, the C60 has legs. Maritimo figures following Caterpillar engine commissioning say you can travel more than 1500nm at nine knots and just over 700nm at 22kts, leaving 10 percent of the fuel supply in reserve.
That said, European and American buyers of sports yachts traditionally expect 35-plus knots in a boat like this and, for those markets, Maritimo will offer 1015hp Caterpillar C18s. Meantime, thanks to excellent sound insulation, this isn't a noisy boat. Nor will it be a bewildering one to maintain. Pre-departure engine room checks are made easy thanks to a big engine room hatch and moulded stairs.
Once inside, you will find a checkerplate floor between the Cats, a big 17.5kW Cat generator, Racor fuel filters for all three engines, washable membranes on the air intakes (tucked away in the cockpit), and bright AC lighting that runs off the standard-issue 2000W inverter. It can power the boat's entertainment system, microwave oven, fridges and AC outlets. The Tecma heads are switchable to saltwater should you be in live-aboard mode and you can get the boat with provision for
a desalinator.
The boat has foolproof wet exhausts and running gear that meets CE requirements, such as 2.25in shafts and Nibral five-blade props. At 8.75º, the shaft angle is nice and flat to maximise thrust without having to resort to prop tunnels. The fingertip-responsive hydraulic steering system is a legacy of the company's raceboat, while the C60 comes with a bowthruster and an optional sternthruster was fitted to No.1 driven here.
The electrical side of the boat is 24/240v with just a few 12v switches and a 60 amp battery charger. There are, of course, separate engine start and big house battery supplies, each with four 210 amp units. Wiring is coded and labelled and schematics are supplied. And there's 36,000 BTUs of air-con to the saloon alone — which you might need with all that glass in summer — plus separate air-con below decks to all cabins. The sunroof is a must-have option that helps make the boat.

Outdoor living
A clever push-button electric actuator raises the garage roof at the same time as it folds a section of the transom down as the launch platform for the tender. Without huff and puff, you can dispatch up to a 2.7m RIB. The demonstrator also had underwater lights, hot/cold deck shower, and twin stairwells leading to the cockpit, where a high-gloss teak table and chairs formed a handy lunch setting partly shaded under the extended moulded awning. Add a Euro-style demountable canopy for more shade again.
Besides the transom amenities centre with eutectic fridge/freezer, sink, storage and (optional) barbie, there was an (optional) icemaker, a cockpit fridge opposite, small serveries above the inboard engine vents, and (optional) teak decking. Meantime, moulded steps lead to the accommodating sidedecks, where bulwarks, handrails and a long bowrail forward back your passage.
A Muir windlass is bundled with the C60, along with a 30kg self-stow stainless steel anchor and 60m of 10mm chain. There's a raw-water anchor wash, fender and rope storage back aft, both of which are supplied, along with an EPIRB, safety pack and more.

Saloon with a view
Triple sliding doors with adjustable positions lead into the saloon, which is where this story began. It's a room with a great view, plus a handy portside galley feeding forward or back into the cockpit. Amenities range from a standing-height Liebherr fridge/freezer to a four-burner Fisher and Paykel cooktop, drawer-style dishwasher to Panasonic convection microwave oven. There is a solid Staron counter, a deep sink with spray rinser and a separate filtered drinking water supply.
The AC/DC panel is opposite, including the generator start and battery monitoring plus dedicated crockery storage and wetbar. There's also a servery space at the galley and across at the wetbar for assembling buffet lunches – or cocktails.
The lounge seating forward near the helm beckons. It's surrounded by deep picture windows and with the optional sun/moon roof (with flyscreen included so you can keep the mozzies at bay) you can dial up fresh air. There's also a big opening side window, designed so the skipper can leap out to the deck and, if need be, dock this baby on his own.
Low-slung lounges finished in executive-black leather can seat eight before a hi-low drinks table or dinette. The NEC flatscreen TV emerges on a folding rather than retractable mechanism so it doesn't swallow valuable space below decks.
Beds and bathrooms
The C60's four-cabin layout sleeps eight, with each cabin air-conditioned and fitted with an opening hatch including a roller-blind. Headroom is a high point, ranging around two metres. The starboard cabin, presumably intended mainly for kids, has smallish bunks and a cabinet containing the combo washer-dryer. The port cabin also has bunks, the lower one big and wide, and a hanging locker.
VIP guests get an island double-berth in the bow with twin hanging lockers and drawers plus a door to the communal head so it doubles as an en suite. Besides the rather excellent Tecma loos and deep 'floating' washbasins, both heads include full-sized shower stalls and natural ventilation, as well as air-conditioning.
But I was really hit by the wow factor of the full-beam owner's stateroom. You range down several levels, via a seat and mirror for dressing, to be greeted by an athwartships queen-sized bed before three portrait windows along the bedhead. Sit up in that bed and it's like floating on water, although the portlights could do with some kind of curtain if you want to sleep in.
Besides a ceiling feature, there's a walk-in wardrobe opposite, with the option of fitted opening portrait windows in it for better cross-flow ventilation, plus trendy reading lights, handy bedside tables and a private flatscreen TV. A vanity at the foot of the bed will keep first mate happy before you head to shore for dinner. The ensuite is perfectly private, too.
Time for a drive.

Up, up and away
The C60 feels like a big speedboat. The helm is located a fair way forward and it's easy to forget how much boat you're towing astern. I'm not a fan of faux walnut dash panels, but the spread of Simrad electronics – two new Glass Bridge GB40 screens with 3D chartplotter and more – SP28 pilot, Bennett tabs, and wipers with freshwater washers – are all good gear.
Bow and sternthrusters make decamping a snap, and the slippery boat shoots to planing speed nice and level with no loss of vision. Trim tabs aren't needed at this stage, though a touch of tab at cruise revs kept the bow buttoned to the ocean. And what spray was displaced can always be wiped away.
The figures I took from the Caterpillar engine control panels weren't that different to those from the official sea trials, just a whisker slower due to the boat being in the water for a while. According to my arithmetic, hull speed is 9.56kts. According to the supplied figures, 9.1kts and 900rpm uses just 30lt/h for a range of more than 1500nm.
Low-speed cruise at 1500rpm and about 15kts cost 103lt/h giving a safe range of 734-plus nautical miles; 1900rpm returned a sweet 22-knot cruise for 159lt/h and a 704-plus nautical mile range; while maximum continuous revs — read at 2137rpm instead of 2150rpm — returned a fast cruise of 26 to 27kts for 215lt/h and a range of about 600nm. At which point you really feel like you're going places. Crank the wheel around and the C60 barrels through the bends, turning flat and fast without washing off too much speed.
Fast or slow, the C60 is eager to please. She's efficient, nimble and dignified. In fact, she's so obliging you can enjoy the boat going nowhere much at all. Kick back and take comfort from the plush lounges tracing the saloon that affords such wonderful views. And when it's time to move on, you can do so without chugging the diesel. With long legs and good looks she answers some questions and points to the future.

Specifications
(price as reviewed $1.54 million)
LOA 18.8m
Beam 5.3mm
Draft 1.40m (inc props)
Weight Approx 27,000kg (hull and motors only)
Hull GRP with Aramid, vinylester resin, and foam and balsa-cored decks and hull sides
Engines 2 x Caterpillar C12s (715hp at 2300rpm)
Props Five-blade Nibral
Fuel 5800lt
Water 800lt
Holding tank 300lt
Keep up to date with news from Trade-A-boat or like us on Facebook!