Coastal 585
---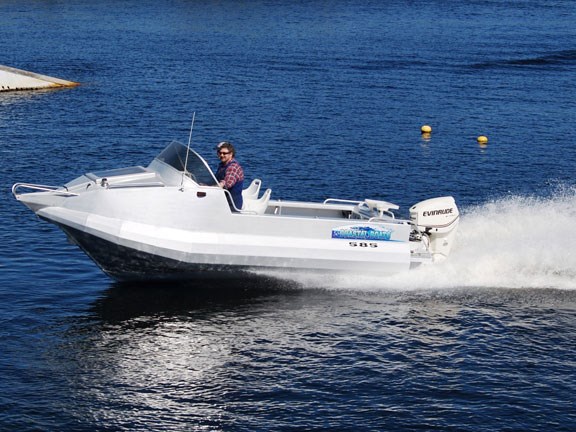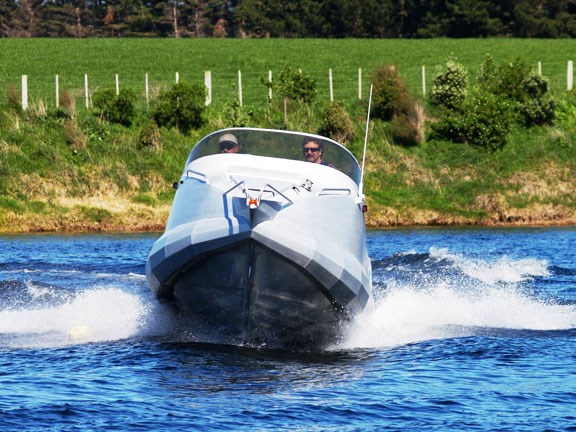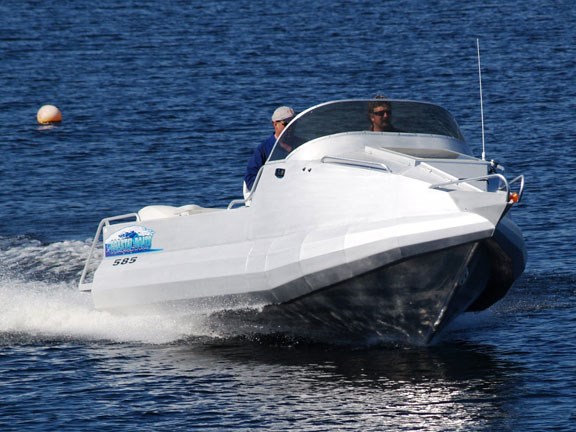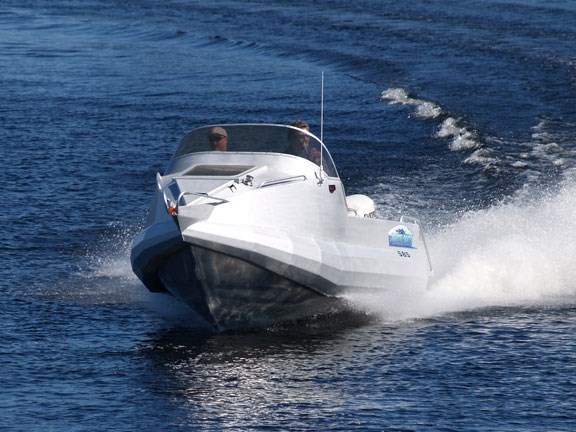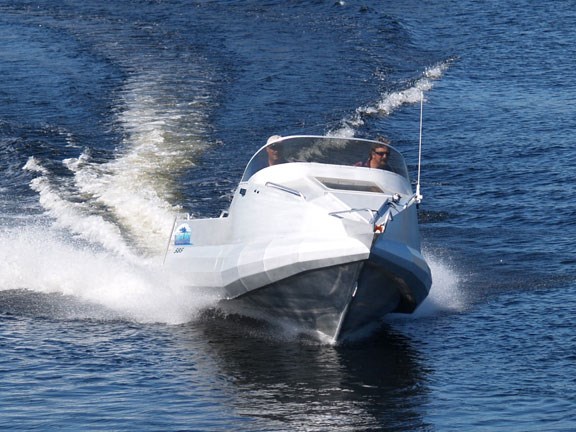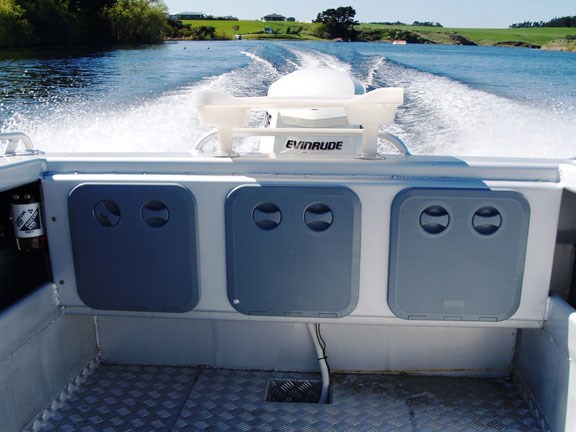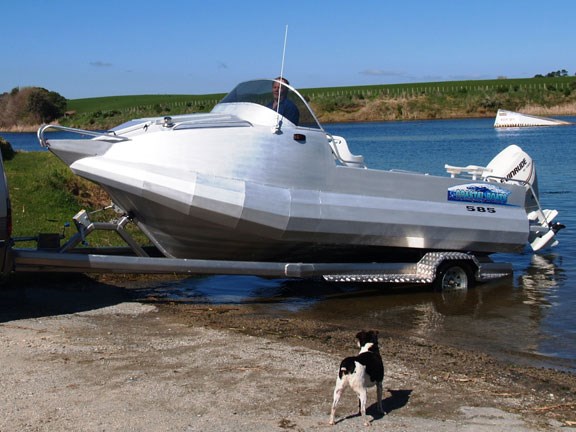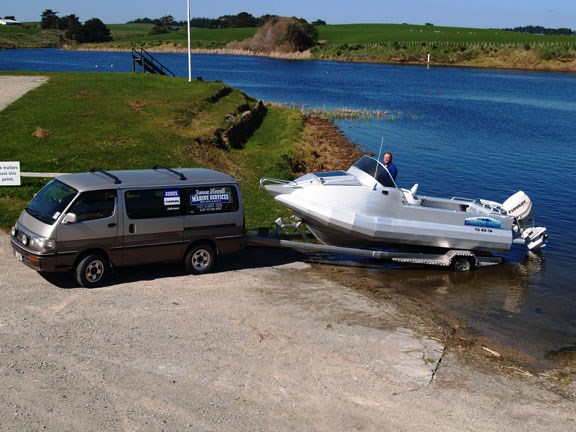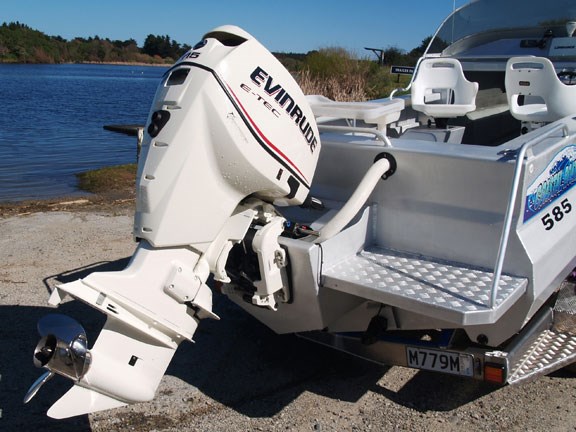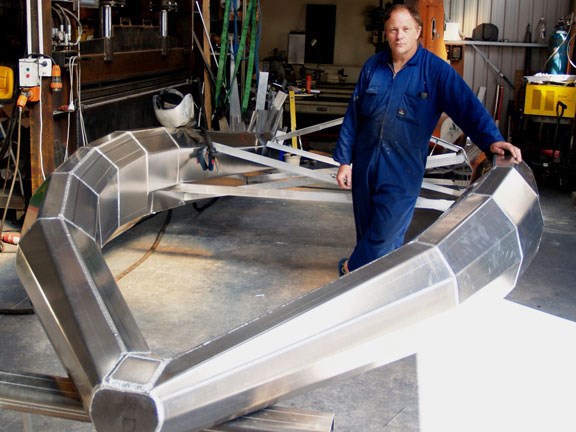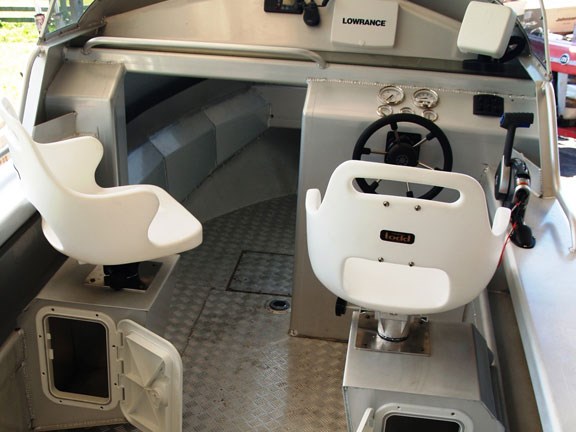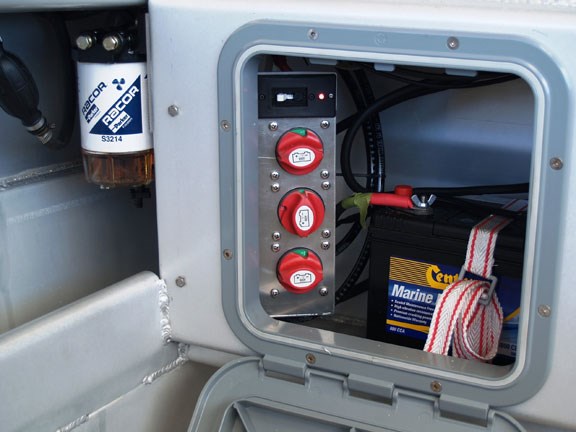 It takes an especially determined breed of boatie to tackle Taranaki's wild west coast – and a particularly hardy breed of boat. Lindsay Wright looks at a new boat that's finding favour out west…and elsewhere.
Manaia straddles Surf Highway 45, and its population of 950 people is easily outnumbered by the dairy herds contentedly munching on the rich south Taranaki coastal plain that surrounds the township. Definitely not the sort of place you'd expect to find a thriving, one-man-boatbuilding industry. 
"Yeah – that's why I'm here," says Keith Blowes. "People just leave me alone so I can get on with doing what I love – building boats."
And build boats he does – about 19 vessels a year, from 3.8m to 6.5m long, all mounted on custom Blowes-built aluminium trailers, leave his backyard workshop and head for the wild waters off the nearby coast and further afield.
Like so many Kiwi boatbuilders, the Coastal Boats story starts with a keen boatie/engineer who couldn't quite find the boat he needed among the standard breeds on the market.
"I owned a marine dealership in New Plymouth," he says, "and over the years I did repairs on just about every boat you could think of.
"A couple of years ago, I was talking to James Newell, from Marine Services in Wanganui, who said that he had people coming in all the time asking for a rugged dinghy that a couple of people could launch off a beach, through the surf and take fishing."
Blowes came up with a 3.8m aluminium pontoon boat weighing about 90kg, which filled the bill for beach launching.
"Ports of Auckland bought one as a workboat so we had to put it in survey," he recalls. "We filled it with water, then put six people on board and still couldn't sink it."
The basic boats perform best powered by a 15hp outboard, though some people have put up to 30hp on them. They retail for about $3250.
"Most of my boats are sold before they're built," he says, "so I can afford not to put any mark-up on materials. Most people buy a boat by price – it's all about giving people the best built boat for their money."
None of Blowe's Coastal Boats has ever been back for warranty work and, two years down the track, there are 27 of the tough little dinghies in operation and a waiting list for more.
The next prototype to emerge from his Manaia workshop was a 4.4m version of the original boat. Other people saw the boats, heard how well they handled and ordered bigger – which is why there are now 5.85m and 6.5m versions on the water. A commercial operator from New Plymouth is looking at a 9m version with a Maritime New Zealand offshore survey.
"Most of the designing is done in my head," says Blowes. "I'm lucky to have a good sense of how a boat will perform – I can sort of tell if it's going to be any good at sea." And tellingly, later on in the conversation, he says he also has a reputation for "hammering the shit" out of boats.
And Coastal Boats are built to take that hammering. All construction is from 5083-H32 marine-grade alloy and the bottom plating on all the boats from 4.4m upwards is 5mm thick. The frames are from 50mm x 4.5mm aluminium flat bar fixed at one metre centres, and full-length stringers brace the hull plating at 150-160mm centres, depending on the size of boat.
"These are work boats and fishing boats – built strong – if people don't like them, they can bugger off and buy something else."
For the commercial boats, which require MNZ plan approval, Alan Walker from Paihia's Coastdesign does the drawing work.
"Top man," Blowes says of Walker, "the plans are all spot on – he can take an idea and put it to paper better than anybody I've seen.
"But every one of these boats is different. There's nothing hard and fast – I tend to start a project with no finished product in mind – they develop one stage at a time. I'm quite fussy though – I've been known to cut a boat up and scrap it because I didn't like the look of it."
All boats are sold through three dealerships: Mike's Marine Centre in Silverdale, Egmont Marine (Hawera) and Marine Services Wanganui.
A new Coastal Boats 585, sitting at Marine Service's shed in rural Wanganui, is waiting to be collected by her Gisborne owner and, after a few phone calls, is made available for testing.
The first noticeable thing about the 585 is the deep forefoot and steep, progressive vee, starting from the rounded boat channel stem and angling aft to 18 degrees at the transom.
The 6mm thick boat channel is like a pipe that integrates a 10mm keel bar to form the backbone of the pontoon boat. The hull plating is very fair. Pontoons are 3mm thick and divided into two watertight compartments.
"It takes me about three days to do the framing," says Blowes. "The frames are diagonally braced – a bit like roof trusses." After the bottom plate is welded on, the hull is gently heated to relieve stress. Where the pontoons join the hull there is a flat section, angled outwards, to repel spray.
"They sort of ride like a trihedral hull," he says, "very soft and without any noise or thumping in a seaway." The test boat has a grey Nyalic coating, but generally the vessels are raw aluminium.
The hull is 5.85m long and, with 2.1m beam, offers plenty of usable space for four or more fishoes, with comfortable perching provided by the 200mm wide cockpit coaming. A bare aluminium cuddy provides heaps of storage space and a big aluminium hatch gives access for whoever's doing the honours with the anchor. A separate watertight compartment is built in for anchor storage.
The cockpit floor is 4mm thick aluminium treadplate and an electric bilge pump mounted in a sump at the aft end should take care of whatever water slops over the boat's high sides.
All of Blowes' larger boats come with a custom aluminium trailer; built with channel he bends himself from aluminium plate. The first impression is how well the 1230kg boat and trailer unit tows behind Marine Services Wanganui's 3.0 litre diesel van –  I even had a sneak peek in the rearview mirror to make sure it was still there.
It's not fair to take someone's new boat to sea, so we head for Lake Wiritoa, south of Wanganui, to get a taste of the Coastal 585.
A 115 horsepower E-Tec Evinrude powers the boat and takes its fuel from a 100-litre integral underfloor tank. A two-stroke oil tank is mounted in the transom with the start and house batteries, changeover switch and generous storage space. To me, boat and engine make a well-balanced match, but more horsepower (say 130), would be needed if she was being used to transport a team of divers and gear.
Out on the water, the Evinrude hoists the 585 quickly out of the hole and up to 61km/h at 5500rpm. The best we can do for waves is a series of tight turns back on our own wake, and the boat powers through them without any fuss and no slap/bang/wallop.
Blowes throws the Hydrive Admiral Series hydraulic steering wheel hard over at full speed. It's impressive – the boat just goes round in ever tightening circles, until the fighter-plane G forces threaten to turf us overboard. It really is extraordinary – the 585 just tucks into the turn and hunkers down without any tendency to break out or cavitate. She'd be a hell of a hard boat to beat round a slalom course.
The tracking is also exceptional, perched back on the meaty, moulded plastic Todd seats with two fingers on the wheel, the boat just powers straight down the lake. I can only put it down to the deep forefoot and full length boat channel keel and Blowes agrees.
"It gives them that directional stability – the raked stems that most boats have these days just reduces volume and buoyancy forward. They flatten them out to give more buoyancy and get a hard riding boat that bangs and crashes around the place."
Later, Blowes tells a few stories about being caught out and having to pick his way home through heavy seas. It's not just sales pitch – he's just voicing what's foremost in his mind when he builds his boats – not what they look like, or how fine the finish is.
"They're not the most beautiful boats on the water," he admits, "but if you want carpet all over the place and pretty boats – bugger off and buy something else.
"The people who appreciate these boats are fishermen who want a boat they can use hard and know it won't let them down. For me, it just means that I get to build boats – and that's what I love doing."
Specifications
Coastal Boats 585 (Price as tested – $59,484)
LOA                                     5.85m
Beam                                   2.1m
Draught                               300mm
Weight (on trailer)              1230kg
Rec HP                              90-130
Fuel                                     100 litres
Keep up to date with news from Trade-A-boat or like us on Facebook!