ArrowCat 30
---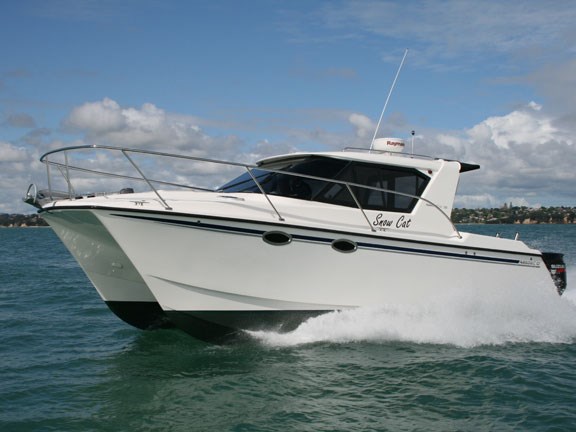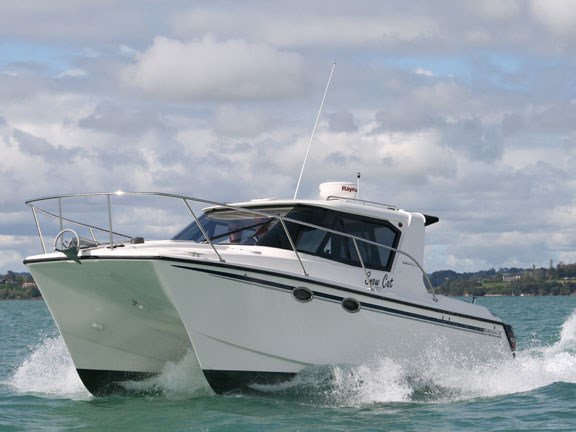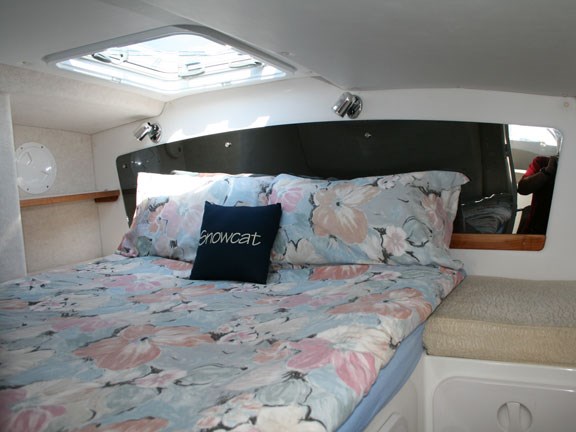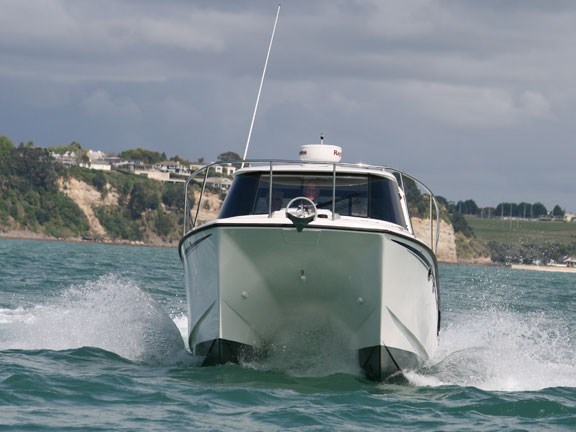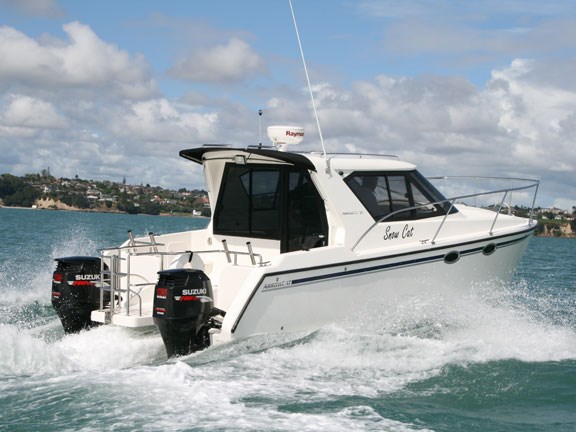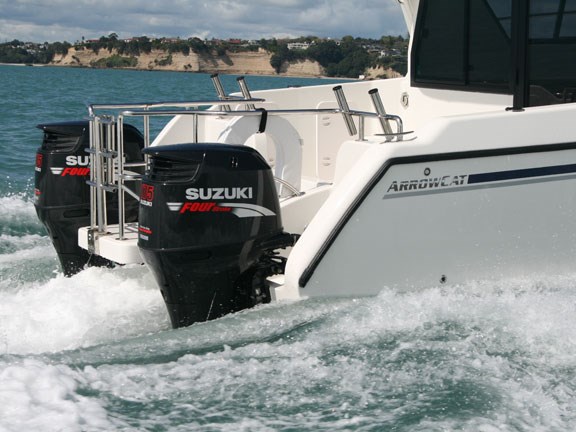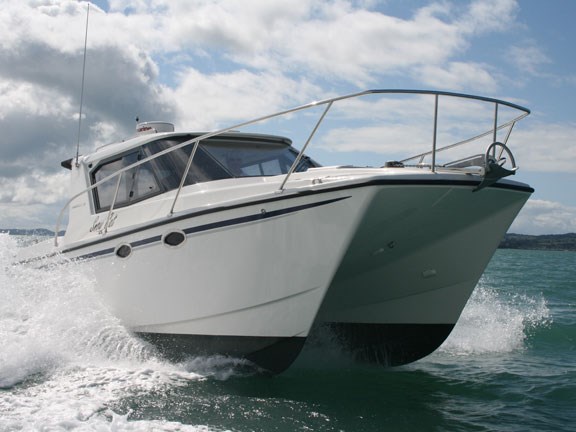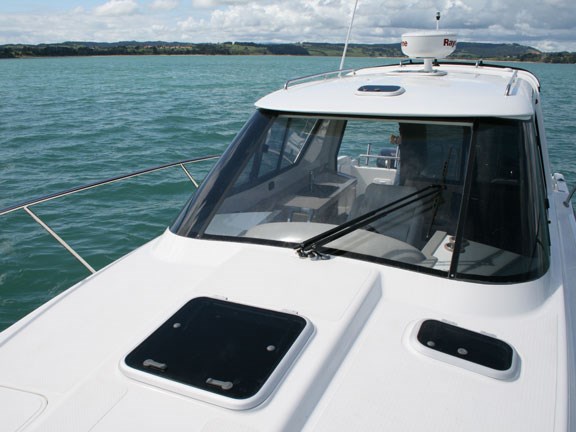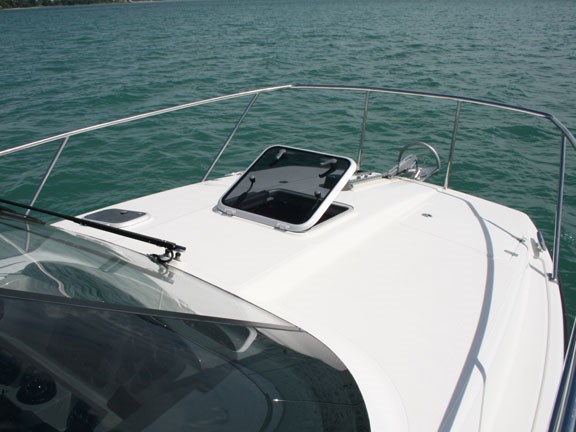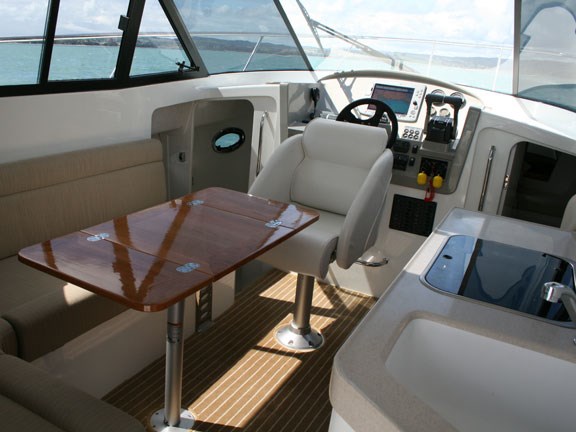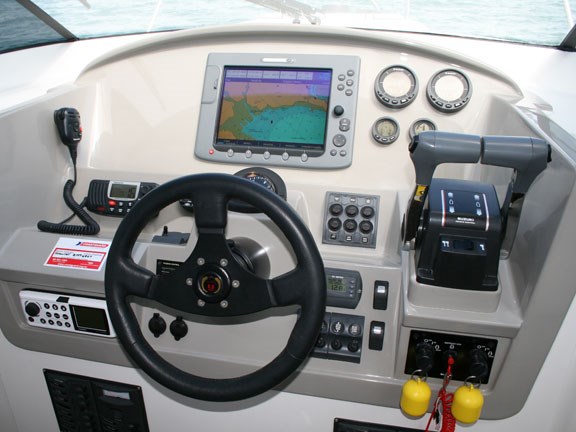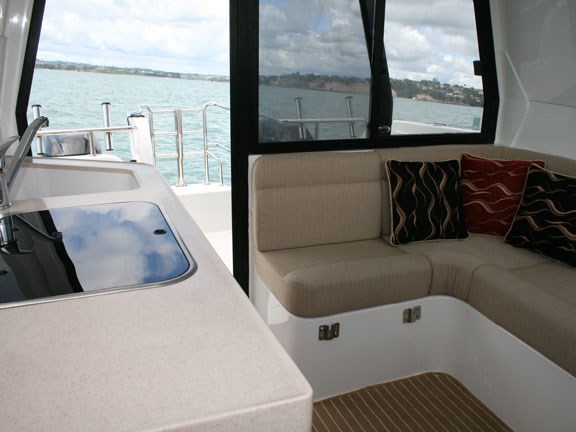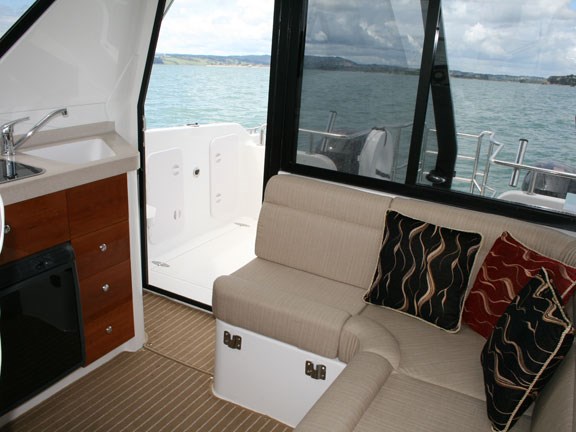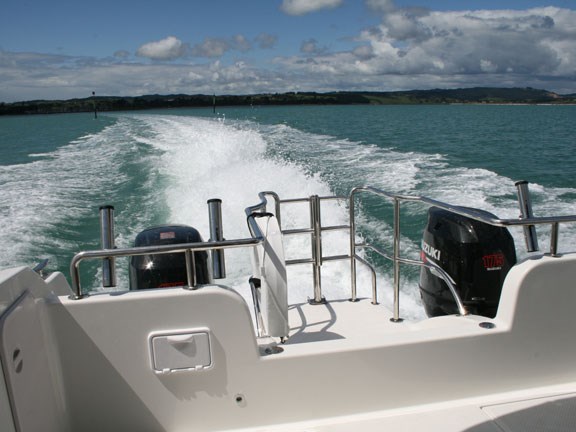 Mid-sized production power cats have been missing from NZ's retail menu, and would-be owners have had to resort to custom-designs to fit the bill. ArrowCat has just plugged that gap with a new locally-designed, offshore-built 30-footer that's big on room, performance and features.
The ArrowCat 30 can comfortably wear several hats. For the serious fisher-folk there's a nice beamy cockpit with launcher and rodholders aplenty. For the socialite host there's roomy, up-market seating in the saloon, plus an optional cockpit dinette setting for the smokers. And for the weekending family there's loads of indoor and outdoor space, sleeping for six, and all the home comforts.
Versatility aside, this glass-composite vessel also brings enthusiastic, fizz-boat-like performance and confidence-inspiring stability from its sharp-entry bows and twin outboards, plus a comprehensive electronic suite with all the safety features required for cruising our frequently fickle coastline.
The whole project was spawned by an accidental meeting between ArrowCat director Micah Zimmerman, and catamaran designer Roger Hill. Hill's earlier Black Cat design was just what Zimmerman was looking for, but he wanted structural integrity beefed up to potentially support 500hp and a top speed of 50knots. With the draft design in hand, he visited High Modulus for composite re-engineering. Lastly, he had to decide where the new cats would be built.
Micah is American and has worked extensively in China and knew the economic benefits of using the affordable yet experienced boat builders there. A contributing factor was the price-prohibitive nature of setting up a full assembly plant in the USA. Premises were acquired in Jiangmen, China, and as the first boats slid off the line, distributors were appointed in several countries including NZ, Australia and the USA. Engines are fitted to the customers' requirements by the local ArrowCat distributor, and if outboards aren't your thing, there's also an inboard option (it offers a full-width boarding platform, not possible with twin outboards).
Bricks and mortar
The ArrowCat measures 9.1m overall with a 3m beam. She weighs 3.4 tonnes (dry), and unlike the Black Cat before her, has no structural wood anywhere onboard. Hulls are hand laid with continuous strand fibreglass matting (22 layers for below waterline sections).
Above the waterline is a combination of more advanced composite glassed construction, Airex high-density foam core and uni-directional matting for a stiff and resilient structure. All joints are hand-taped and glassed, and hull and decks are bonded and sealed using a super strong Plexus adhesive.
Most of the fixtures are imported from US or European suppliers. This includes the aluminium fuel tanks, plastic moulded fresh water tank, lighting, hatches and latches. All the stainless deck gear is 316 marine grade. The supplied electric package comprises two starting batteries and two house batteries, with a helm voltage monitor able to report the condition of individual batteries, or the entire bank. Several alarmed gas/fume detectors are installed as standard.
Onboard accommodation
The versatility of the ArrowCat's interior will appeal to many – especially those seeking a dry family boat where everyone can have their own little space, and inside movement doesn't involve climbing over or squeezing past bodies.
At the centre of it all is the combination saloon/pilothouse. For the skipper there's a large, mid-ship mounted helm station with a plethora of electronic navigation and twin throttle controls, and an adjustable skipper's chair for a true big-boat feel, although GPS screen adjustment or reaching to flick a switch is a bit of a stretch without de-perching.
Having said that, this allows good standing space for piloting, and the boat's owner says that after a few short trips he has yet to use the chair – he prefers to stand at the helm. The large, clear screen and tinted side windows offer panoramic all-direction viewing for the skipper and crew, whether standing or seated.
Running along the saloon's port side is an attractive, comfortable L-shaped settee, providing seating for six adults. There's good storage behind and below it – in fact, the saloon table was stowed there (it's quickly re-mounted).
To starboard is the galley, crafted in Canadian cherrywood with a moulded acrylic countertop and sink. Standard equipment includes a two-element stove and fridge, a microwave cabinet and good storage.
A glass door and an opening window above the L-settee separates the saloon from the cockpit. This is an optional extra (the standard boat features a roll-down vinyl saloon wall).
Either side of the helm station is a step-down into hull companionways to the cabins. The port hull features a sizable quarter-berth aft, with a spacious head/shower combo and vanity in the bow. Natural lighting great – there's a porthole in the companionway and a clear, opening hatch above the shower.
In the starboard hull is an identical quarter-berth aft, while forward is the main queen-sized berth, situated above the tunnel. It's an elevated bed bathed in natural light (courtesy of a side port and large, clear, opening roof hatch. There's good storage for both beneath the bed (accessed through side hatches), as well beneath the steps. A sliding door provides stateroom privacy.
Midship quarter-berths are wide and long enough to accommodate a large adult, and I'm picking kids would just love to claim them for a quiet midday nap or game of cards with their mates, away from the olds. The saloon settee also converts to a double-berth, bringing the sleeping accommodation to six, although up to 10 could happily habitat the vessel on a day trip.
Overall, it's a bright, open interior with a modern feel and, thanks to the opening windows, great ventilation.
Deckside
The full-width open cockpit will be a favourite spot for many when at rest. This boat's owner has abandoned the rocket launcher in favour of a practical soft roof extender giving extra shade on hot days. Options are plenty here, with twin floor hatches and cavernous hull storage space beneath –literally big enough to swallow fishbins, live bait tanks, dive bottles and deck chairs. There is also side storage for smaller gear.
An optional cockpit dinette setting is available for those who want extra external seating, and a neat feature is the ready-to-go (plumbed-in) gas outlet socket for the BBQ. Aft of the cockpit is a well-designed boarding platform (mid-mounted between the outboards) with stainless rails. This incorporates a clever fold-down boarding ladder, as well as integrated rod holders. It's a spacious area – the boat's owner keeps his small inflatable tender between racks.
Accessing the wide foredeck is easy and secure, with side decks protected by a stainless wrap-around bow rail, and once forward there is lounging space for several sun worshippers. Good storage lies below the deck hatches – and a port hatch provides side access to the centrally-housed chain and warp compartment below the Maxwell windlass. The starboard hull houses the LPG bottles.
Making waves
With its sharp, easily-driven hulls, the ArrowCat's built for fast, affordable cruising, and the tunnel provides additional lift through air pressure – to further reduce hull drag.
The boat's powered by four-stroke counter-rotating four-cylinder Suzuki DF175s. While the boat's design allows for 500hp (2 x 250hp), the 175s returned performance that would be ample for most, and more than enough to embarrass the odd fizz boat, especially in a chop.
Our test day off Pine Harbour presented a mild wind chop. The spray chines pump plenty of water out the side, keeping our windscreen (and cockpit) completely fleck-free. In these conditions it's a bone-dry boat. From rest it builds speed progressively and smoothly, popping out on to the plane without fuss. Shoving the throttle forward to full power returns a surprisingly rapid out-of-the-hole acceleration, quick enough to pop up a skier.
We cruised at around 26 knots, with the Suzuki tachos showing 4500rpm, and the boat felt like it would cruise at this pace all day. With the saloon door open this brought a fair amount of engine noise, but the sound drops to background with the door closed.
At pace, you do hear a noticeable chop splash coming up the companionways from water crashing within the cat tunnel. Not loud enough to distract from the enjoyment of the passage, though – more a reminder that although it doesn't feel like it, you are actually running along at a fair lick.
The flat turns will surprise the monohull skipper. A slow arc produces not a hint of lean, but more impressively, a high speed tight turn is near dead flat and you'll need to hang on. Most owners will hopefully never need to do a high speed manoeuvre like that, but it did prove the stability that many won't expect from this fairly narrow-profiled cat.
Dollars and sense
On the economy vs performance front, the ArrowCat is impressive for its overall size. At a happy 3600rpm the GPS registers 20 knots and the gauges report 0.58 miles per litre. Pushing a little harder to 4500rpm, we hit 26 knots, with the engines using 72 litres per hour; 5400rpm shows 35 knots and then a flying 40 knots at WOT. The sweet spot for economic cruising is around the 20 knot mark, which will give a cruise range (575 litre tank) of just over 300 nautical miles.
The ArrowCat has substantial presence and it appears larger in the flesh than the specs imply. It's a modern, smart vessel that will be admired at any anchorage. With its large helm and roomy interior, it may also suit someone down-grading from a larger vessel (in today's economic climate, this may be a fortuitous reality).
It's hard to pick a distinct target market for this multi-national cat. It's certainly a dry, roomy family boat, but it's no slouch getting to the favourite summer spot or exploring new ones. And as the current owner informs me, also appeals to the non-boatie wife who up until inspecting had veto'd any thoughts of boat ownership. She is now a boat-owning convert…  

Specifications
LOA 9.1m
Beam 3m
Weight 3400kg (dry)
Engines 2 x Suzuki DF 175hp
Fuel  575 litres
Keep up to date with news from Trade-A-boat or like us on Facebook!