Genesis 52V Cruise
---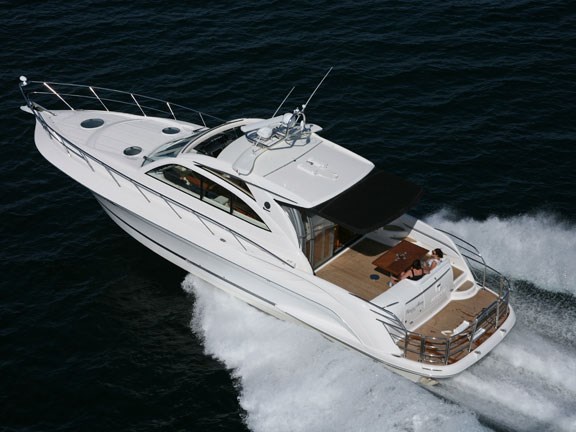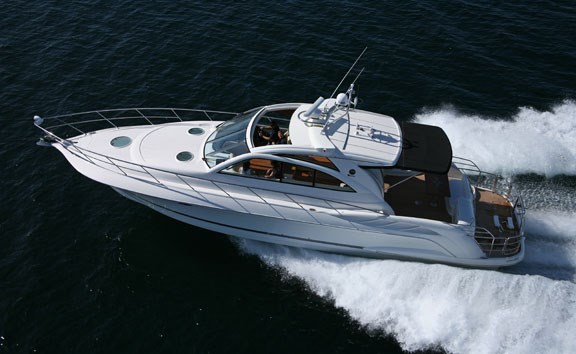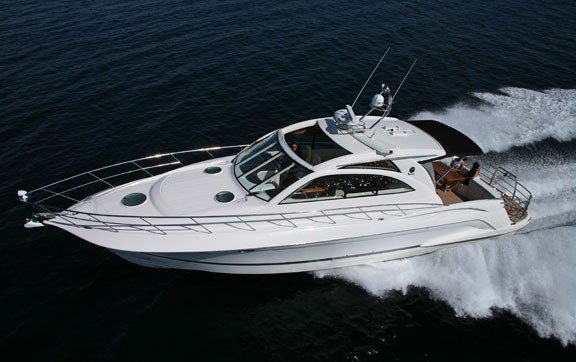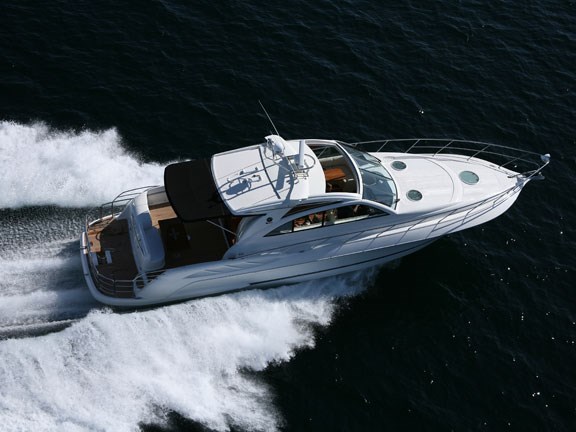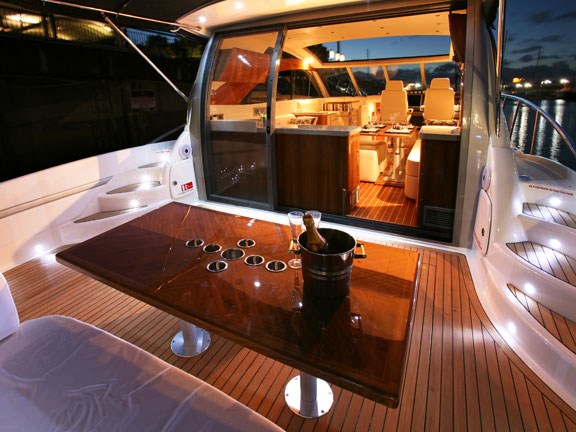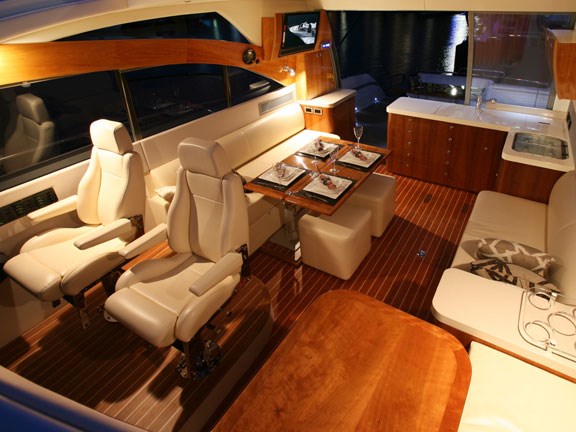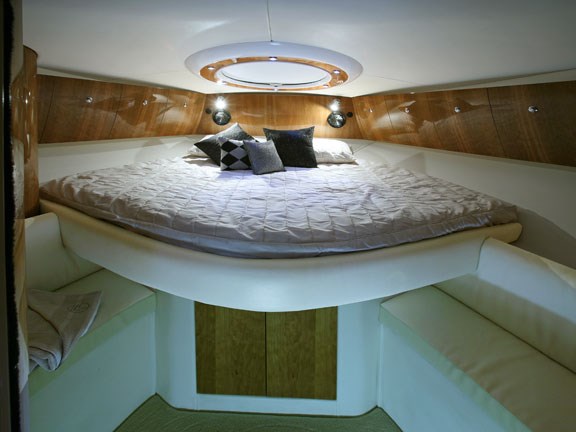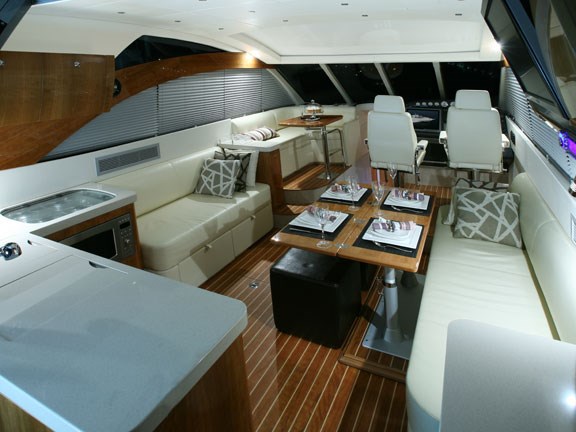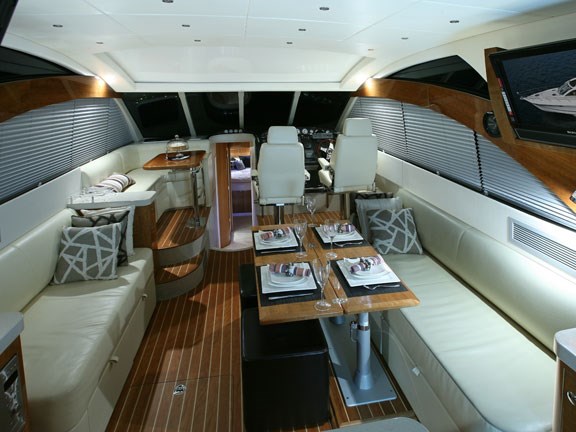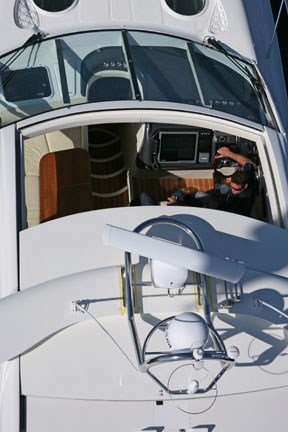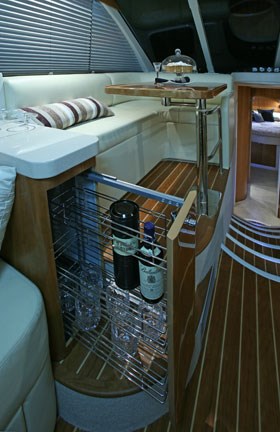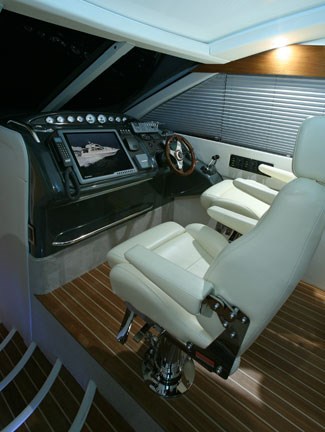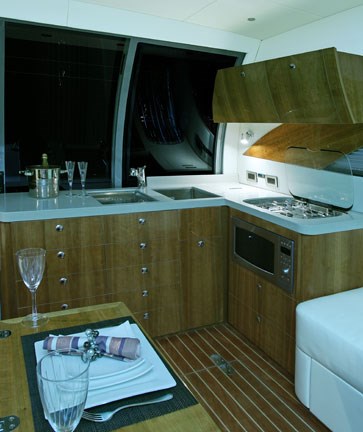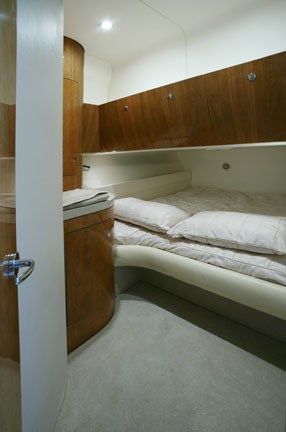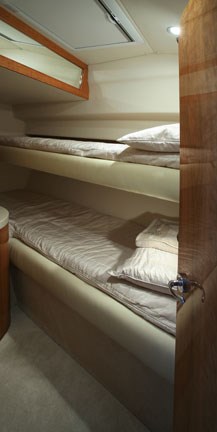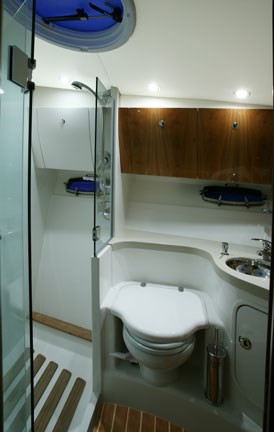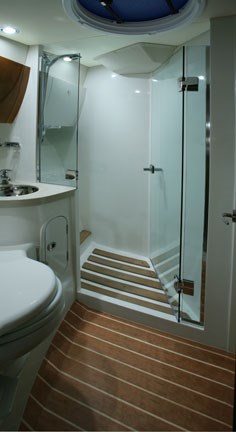 Curvaceous, bold and stylish, Genesis' new 52V Cruise mirrors the European styling and chic sophistication of the Genesis 44V Cruise, which marked a sea change for the iconic brand when it debuted in May last year
All aboard Construction Accommodation Performance Specifications
From dockside, the casual observer might be forgiven for thinking that he was sizing up the same boat because at first glance there is nothing obvious that leaps out and screams "I'm different".
From the same accentuated boarding platform to the exaggerated and aggressive hull lines and familiar curvaceous sweep of its superstructure, the 52V Cruise is very much the sister ship of its smaller sibling.
This is a little surprising perhaps, given that the new vessel comes from a complete set of new moulds – unlike the 44V Cruise, which utilised the existing hull mould of the popular Genesis 400 Targa.
The similarities do not end there. The new 52 shares an almost identical three-cabin, two-head layout and design emphasis on seamless indoor/outdoor flow from transom to cockpit to saloon.
Even the L-shaped galley, free-standing saloon table and raised breakfast/cocktail bar opposite the helm station are faithful to the 44V Cruise, with everything just where you would expect to find it.
Little has changed below deck either, with the master cabin and ensuite located in the bow and the same twin mid-cabins centrally placed either side of the companionway, with a second day head and shower centrally located to starboard.
There is no denying that the new 52V Cruise has grown in stature and volume, but it is still what I would regard as a cruising design optimised for the cruising couple rather than a madding crowd – although there are facilities and the privacy to accommodate four guests.
Genesis Cruisers MD Chris Pollock makes no apology for the similarities between the new 52V Cruise and the 44V Cruise and neither should he, because there is no denying that the Euro-styling design has struck a chord with buyers on both sides of the Tasman.
In fact as galling as it seems, the first 52V Cruise is destined for Queensland, Australia, where it will go into exclusive day charter. This, of course, is no skin off the nose of Genesis because as any production builder will tell you, being seen is central to the success of any launch.
The good news, however, is that the second 52 has been sold locally and features a completely different V Sport layout that more closely resembles Genesis' popular Targa configuration.
Pollock says the 52V Sport could be setting the scene on the Waitemata Harbour as early as Christmas, which is quite astonishing when you consider that the 52V Cruise/Sport was little more than a design concept two years ago.
With 14 Genesis 44V Cruise models sold to date – including four to Australia – and solid inquiry on the new 52V Cruise, it's not hard to see why Genesis has been reluctant to mess with its recipe and make design change just for the hell of it. Pollock is well aware of international design trends but says the 52V Cruise and V Sport series is a reflection of what existing Genesis owners want, rather than a hit or miss strategy or clumsy attempt to clone the competition.
"The V Cruise is very much our interpretation of what our customers want and the evidence to date suggests we've got it pretty right. Many of our owners have been with us for more than 20 years and we value that loyalty."
Genesis surveyed its 1300-strong database to determine exactly what owners were seeking in upgrade options in terms of accommodation, styling, layout and performance.
"This was hugely beneficial. It reinforced the value of customer retention and helped strengthen our own design philosophy. This allowed us to tackle the 44V and 52V with design and market confidence."
Equipped with twin Volvo IPS 600 engines delivering 435 horses a side – which Pollock says equate to 600hp a side on conventional shafts – the 52V Cruise lives up to a promise of blistering performance and crisp, sports cruiser handling.Volvo's revolutionary IPS pod-drive systems lifts the bar inexorably in terms of low-speed vessel manoeuvrability and puts control firmly in the hands of the skipper and not the crew with the biggest fenders. More on this later.
All aboard
There is only one way to board the 52V Cruise and that, obviously enough, is from the boarding platform. And what a platform. Laid in teak as standard, it is an extension of, rather than an addition to, the cockpit and creates a plethora of alfresco entertainment options.
A pair of matching curved stainless steel gates swing inboard for easy boarding from either side of a marine berth, and while the platform has relatively low freeboard, it is well protected with a full, hugging stainless steel belting.
A large 2.5" inverted stainless steel U-bar is fitted to the extreme rear of the platform to provide an anchor point for the inflatable, which clips easily into a pair of stainless steel cradle mounts. A removable bait board with six integral rod holders drops into the U-bar and is serviced with both fresh and salt water wash-down facilities from the transom boot.
What the 52V Cruise might lack in sheer cabin volume is generously compensated with wide, clutter-free outdoor living spaces and generous under-floor storage options. This, says Pollock, was a priority in survey findings and received detailed attention during the design stage.
The transom and cockpit is separated by a large, curvaceous transom boot with built-in lockers for the gas BBQ, gas bottles, cockpit sink, wash down facilities, retractable shower and massive central boot stowage for storing bulky items.
The transom sole is fitted with a pair of under floor lockers that can be configured as live bait tanks or for dive bottle storage. Passenger safety is assured with a 750mm high three-rail stainless steel pulpit in compliance with Queensland's 2C 1E charter requirements.
Pollock says 2C 1E certification required a number of minor structural modifications and safety items including additional hull bearers and windscreen pillars.
He says none of the structural changes were considered necessary from a structural perspective, and for the private owner would serve only to add weight. While these changes remain an option for charter purposes they are not included in Genesis' standard hull offer.
Construction
At a shade over 15,000kg light, the 52V Cruise has certainly put some weight on over the 44V Cruise, which harks to the substantial increase in volume. But it is still lighter than some other 50-footers thanks largely to composite construction techniques.
The decks are foam core GRP with solid GRP topsides and glass-encapsulated timber engine bearers and foam stringers. All interior bulkheads are glassed in for additional stiffness and rigidity. The hull and decks construction is covered with Genesis' comprehensive five-year structural warranty.
Indoors, all galley cupboards, drawers and lockers are from high-gloss American cherrywood although jarrah, walnut and English Tawa are offered as options. The sole is teak and holly veneer pressed onto marine ply, including the internal companionway steps with cream carpet in the cabins. The ensuite and day head/shower are also laid in teak and holly for easy care and maintenance. The interior colour scheme features soft-touch cream ultra-leather suede upholstery, wall and ceiling liners with matching vinyl exterior cockpit lounger and matching pair of stand alone stools.
The cockpit is best described as open plan, with its two-seater settee set internally against the transom providing the only fixed seating. But it is complemented with a varnished, solid teak cockpit table and loose, matching box stools.
In fishing mode, the table and stools can either be stowed in the saloon or left behind to make room for the central cockpit game chair that fits snugly into a recessed stainless steel fitting in the cockpit sole.
The 52 V Cruise is designed to accommodate a versatile boating wish list of which fishing is just one option. So while you won't find dedicated rod holders or cockpit shelving for tackle, you will appreciate padded combing sides, easy secure access to the deck and boarding platform and maintenance-free teak decking. There is a plethora of LED courtesy- and task-lighting for night diving and fishing if that's your thing.
A large central cockpit hatch gives easy and rapid push-button access to the engines, gen-set, batteries, battery switchgear, automatic fire suppression system and Victron 230V battery charging system. Offering partial standing headroom and plenty of natural light and ventilation, engine servicing and systems maintenance should be a breeze.
The saloon is separated and enclosed by three ash-tinted polycarbonate sliding doors with sassy vertical curvature to retain the stylish look of the boat. These doors are set into power coated gun metal anodised frames and can be opened progressively to create a seamless transition from cockpit to saloon.
The standard 52V Cruise layout features an L-shaped galley immediately inside the saloon to port ideally placed to serve both the saloon and cockpit while offering sweeping views around the boat.
Though not large, the galley is well appointed, with Corion countertops, a deep top-loading freezer, four-burner hob, microwave oven, single stainless steel sink and a handy draining board. Galley storage is excellent with an abundance of overhead lockers and lots of under-bench drawers and dedicated slide-out crockery rack.
Additional refrigeration is provided by the upright fridge opposite the galley to starboard. It's part of a cabinet that houses the switchboard assembly and overhead flat screen LCD entertainment system.
Like the cockpit, the saloon is equipped with a free-standing solid cherrywood saloon table that can be removed if not required. Saloon seating comprises of twin opposing cream ultra-leather squabs and a pair of matching free-standing box stools that stow neatly under the table, giving a dining plan that will comfortably accommodate six. The saloon squabs provide additional storage under.
For a couple though, the place to be is the elevated L-shaped breakfast/cocktail lounge built into the port forward corner of the saloon. Appointed with glass and bottle holders, slide-out mini bar, solid cherry table and stunning 360 degree views, it'll pay to get seated early because this is very much hot property on this boat.
The saloon's crowning feature is the huge electronic sunroof that stretches the full width of the cabin top and retracts 1.5 metres back into a ceiling mould to drench the saloon in natural light. Combined with electric side windows and vast windscreen, visibility, light, sun and ventilation are a given regardless of the weather.
Hot, cold or otherwise, the 52V Cruise will cope with it all – complements of the reverse-cycle onboard air-conditioning system with vents throughout the accommodation and saloon. Add in the full snap-in cockpit clears and New Zealand winter boating is very much back in contention.
The helm station is everything you would expect of Genesis, with extensive use of carbon fibre on the dash and a full array of instrumentation, including Raymarine's new 19'3D G-series navigation suite flanked by Volvo's IPS gauges. The high-back twin stainless steel helm seats are plush and inviting if not just a little imposing. Wheel, throttles, trim tabs and IPS joy stick fall perfectly to hand and the tinted windscreen takes care of glare.
Accommodation
The volume and layout of the downstairs accommodation is well laid out and spacious, with two private centre cabins, a day-head and shower and a large forward master cabin incorporating a second private ensuite.
With five doors, you could be forgiven for losing your way or becoming at least a bit confused as you move about below but it's unlikely you'd find a more comfortable and inviting place to stop and work things out at your own pace.
The port-side centre cabin is fitted with twin bunks, each with its own cupboard and small shared Corion counter. The berths are wide, comfortable with vinyl-padded bunk rails to match well-fitting ceiling liners. European-style round deck hatches with privacy shades throw ample light in below. The cabin opposite is a mirror of its neighbour but has a large double berth set off the sole and additional overhead lockers.
The main head and shower is immediately forward of the port cabin and is the same in all respects as the master ensuite. Completely moulded for easy cleaning, these units feature manual vacuum flush toilets with heavy plastic covers for showering, chrome and stainless tap ware, teak sole inlay and circular overhead hatches.
The master cabin is large and beautifully appointed, with a circular overhead hatch and surrounding timber inlay housing a series of LED down lights. A large island-style double berth is flanked with opposing soft loungers, generous overhead storage and large utility locker under the berth.
A second flat-screen television and DVD/CD is mounted into the aft bulkhead. Cream vinyl overhead liners, padded bunk rail and flecked white carpet blend to create a harmonious and luxurious living space.
Rock'n'roll
Volvo's revolutionary IPS pod drives are quite the ticket and deliver in more ways than simply close-quarters handling. With the exhausts exiting under water there is no intrusion from exhaust smoke or diesel fumes and with the raw water pickups behind the forward-facing props there's no chance of fouling.
Mounted on soft rubber mounts means no discernable engine vibration or harmonics at idle or slow speed cruising, and with both a fire-retardant engine room lining on top of a lead acoustic lining, there's precious little running noise at cruising speeds.
The 435hp D series IPS600 engines make no bones about pulling the new 52V Cruise cleanly and quickly out of the hole, and with a top speed of 32 knots, the miles roll by a lot faster than you think from your considerable altitude at the helm.
While top-end performance falls short of the 44V's explosive 40-knots, power is superbly distributed throughout the rev range. Even with the sunroof wide open there's not a hint of draft finding its way into the cabin or any sign of backwash being sucked into the cockpit. Unlike the 44V Cruise, the extra weight means there is far less tendency for the boat to leap forward when put into gear, adding to the boat's impeccable dockside manners.
Low-speed driving off the wheel is also predictable. A cruiser by design, the 52V Cruise has all the feel of a sports boat with a firm and positive helm, and a hull form that obliges when put through hard and fast cornering. The extra weight and height of the superstructure has taken nothing away from the hull's willingness to shoulder through a chop and deliver a dry and predictable ride. Fitted with Bennett trim tabs, the 52V is unlikely to be anything other than perfectly balanced, stable and well mannered, even when buffeted by strong cross winds.
So, would I want one? You bet! I've always said it would take a lot of cruiser to get me out of my blow boat but I think I've found in the new 52V Cruise the perfect accompaniment to next week's winning Lotto ticket.
(Price as reviewed $1,386,000 – packages from $1,300,000)
Construction GRP/foam core composite
LOA 16m (52ft 4in)
LWL 13.05m (42ft 9in)
Beam 4.4m (14ft 5in)
Draft 1.2m (3ft 3in)
Displacement 15.3 tonnes
Max speed 32 knots
Cruising speed 22-28 knots
Fuel Capacity 2000 litres
Water capacity 1000 litres
Black water 150 litres
Engines 2 x 435hp Volvo D6

Keep up to date with news from Trade-A-boat or like us on Facebook!