SeaMaster's Black Pearl
---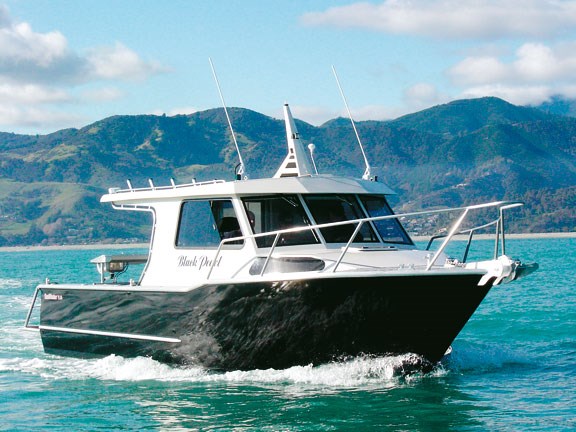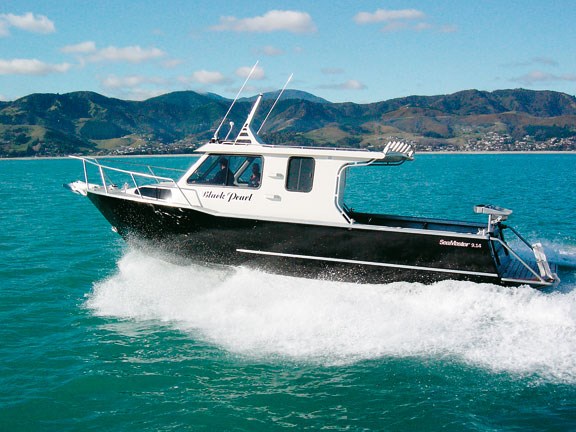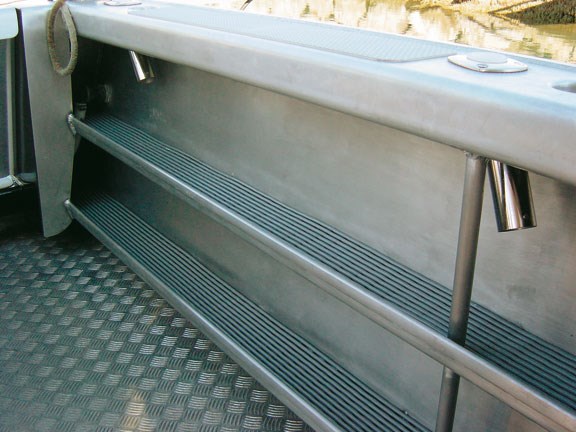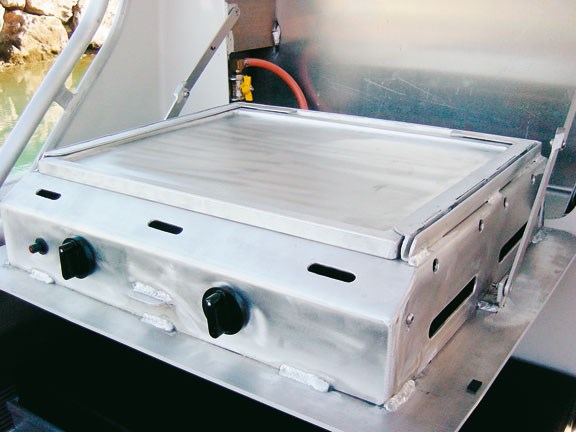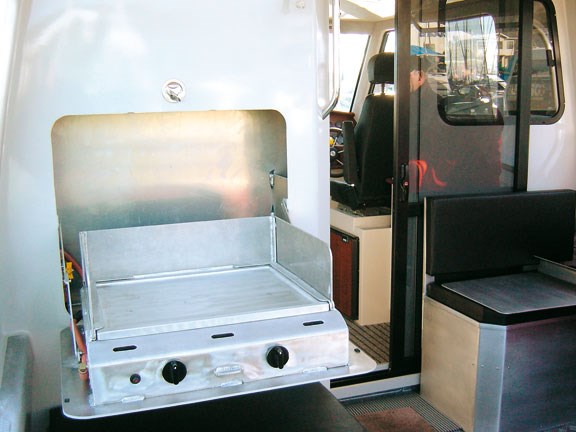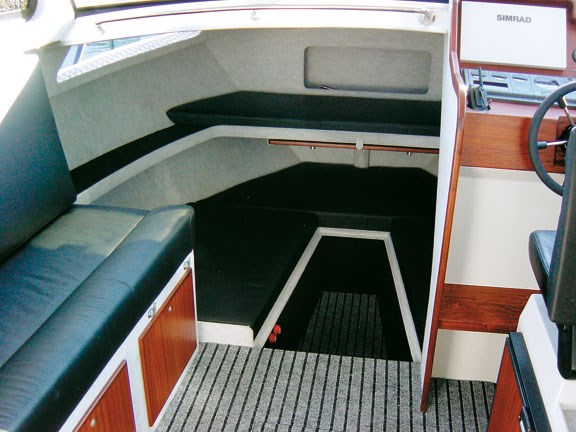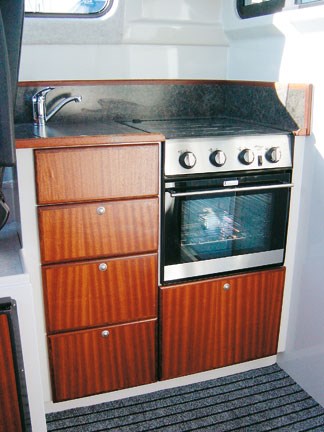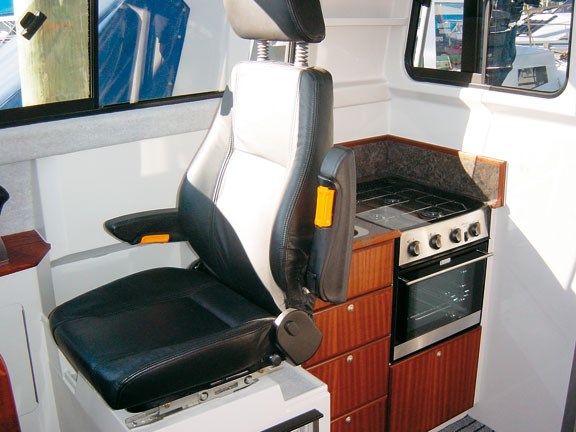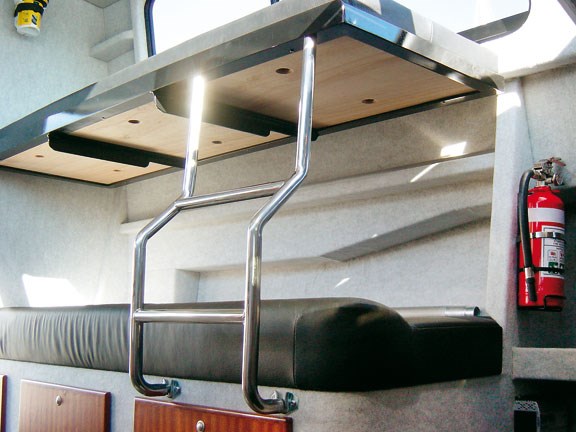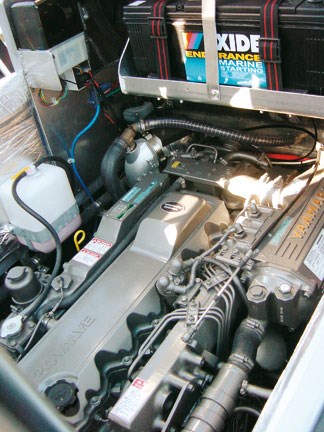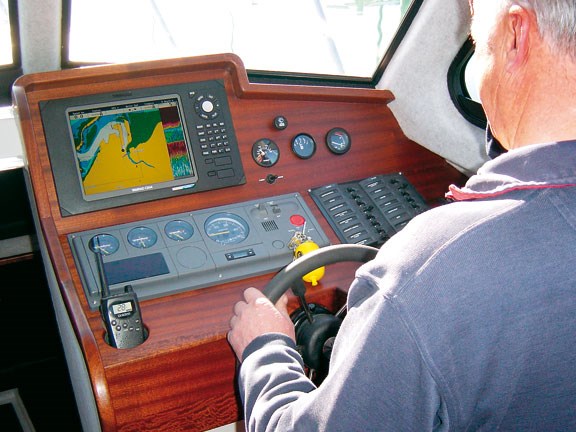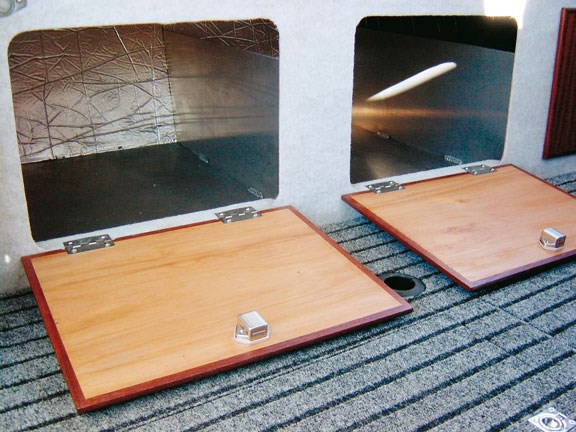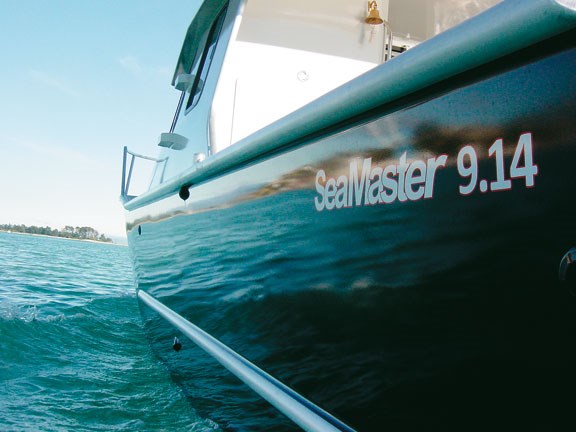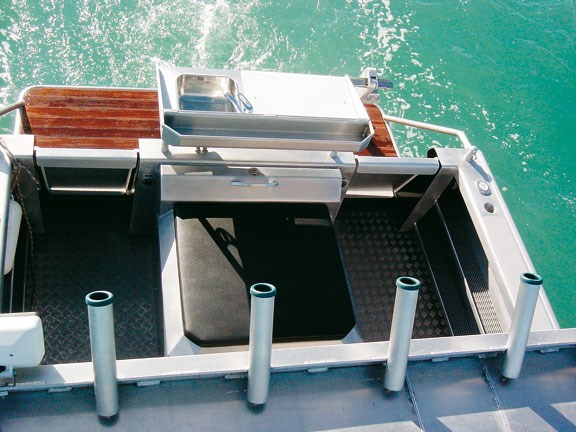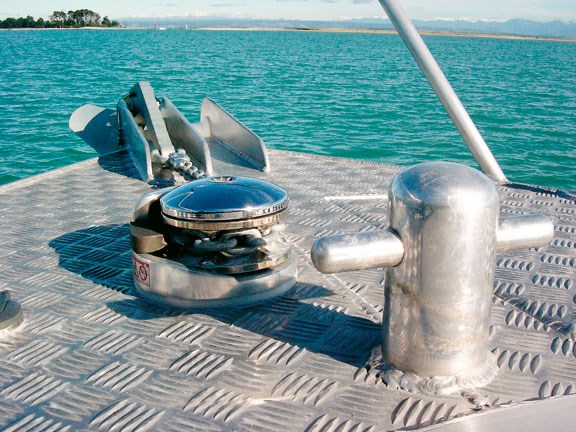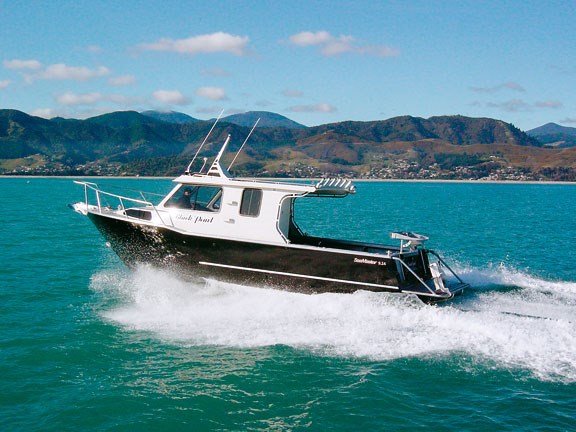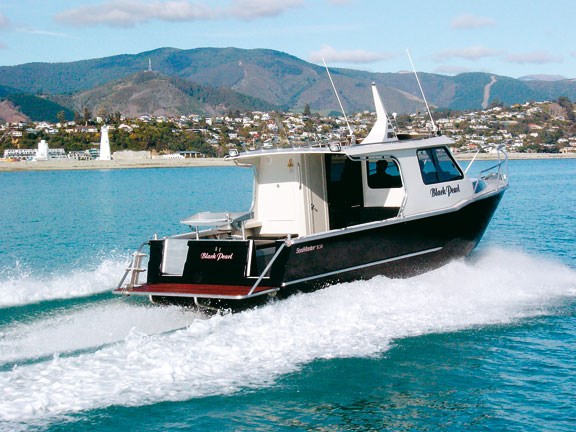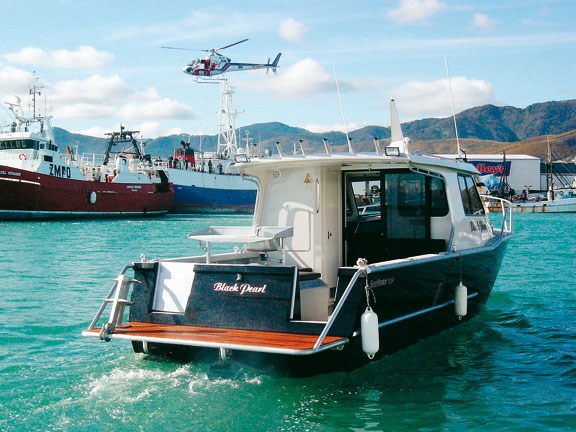 Like its big-screen namesake, SeaMaster Marine's new Black Pearl is a boat with attitude. Captain Jack Sparrow would covet its aggressive lines, bullet-proof construction and stylish fittings – perfect for winning the hearts of aloof damsels.
Penned by Marlborough's Barnett Offshore Design, the Black Pearl is a big, handsome boat with sweeping lines accentuated by a glistening paint job. An enclosed hard-top with a generous interior, she's the second custom alloy vessel of this type Nelson's SeaMaster Marine has built.
The company was launched 15 years ago and has developed a reputation for building tough boats with seakindly manners and fine finishes. There are more than 70 SeaMasters (of various sizes) in use around the world, some in places as far afield as the Cayman Islands and Alaska. Back home, many are used as workhorses by government departments.
Structural integrity, says the company, begins with superior construction and a core component of that was the early investment in digitally-controlled MIG/MAG welders. This technology guarantees precision, high-quality welds, and the evidence is everywhere. From the sturdy bollards to the custom-built, fold-out barbecue in the cockpit, you know these people care about the quality and safety of their product.
Custom-built for a North Island family of five, Tim Barnett designed Black Pearl around specific requirements. Fishing, of course – but also accommodating the wishes of two female family members for extended Marlborough Sounds voyages. So comfort levels are high. They include a fully-lined and carpeted cabin, foldaway bunk berths, a TMC electric head, hot and cold running water in the cockpit, and a basic but fully-functional galley, complete with marine fridge and icebox.
It's a tastefully-appointed galley, with wood panelling on the drawers, a three-burner gas hob, oven and plenty of easily-accessed lockers. All in all, Black Pearl is the ideal weekend getaway vessel – practical and functional but with plenty of class. And did I mention fast?
Engine and construction
She's powered by a 315hp, six-cylinder LP Series Yanmar engine (turbocharged, after-cooled and direct injected). SeaMaster Marine and its client selected the engine for its reliability and fuel economy. It's connected to a MerCruiser Bravo II Stern Leg – and as Barnett says, the package's power-to-weight ratio complements the hull well.
Opening the throttle is rewarded with a healthy surge but despite the acceleration, boat trim remains fairly flat, with good visibility over the bow. She tops out at around 30 knots but feels really comfortable at 26 knots (3200rpm). At this speed the Yanmar feels like it could keep running all day, consuming hydrocarbons at 45lt/hour. Fuel and water tanks hold 440 litres each. They're both underfloor and midships, contributing to the vessel's stability and handling.
The SeaMaster 9.14m is fabricated from aluminium alloy with 6mm bottom plates. Sides are 4mm, and cabin structure 3mm. It features 11 transverse frames with three hull stringers per side and a centre keel bar. Hull and engine weigh in at around 3500kg, so it's a tad too big for your average road trailer. When not being used, the owner will keep Black Pearl on a haul-out trailer and under cover near Picton.
Cockpit and cabin
It's a spacious cockpit layout designed to gladden the heart of all fanatical fishermen. Built around a treadplate floor (easily-cleaned once you've landed and gutted the prey), you're surrounded by rod-holders in the gunwales and a rocket launcher on the trailing edge of the hardtop.
More evidence of that welding expertise is at the rear of the cockpit, where a superbly-designed baitboard/fish-processing console (built over the engine) takes pride of place. It's equipped with a stainless steel sink with hot/cold running water through a mixer.
Two removable alloy washboards on either side of the fishing console provide for easy traffic between the cockpit and the Kwila hardwood boarding platform. It's a particularly generous platform, handy for retrieving divers, swimmers and, quite probably, very large pelagic fish. Cockpit shelves have been strengthened and specifically built to accommodate dive bottles. Pressurised salt water is also available for washing down afterwards.
And if you like eating your fish fillets really, really fresh, you can deploy the gas barbecue (it's tucked up against the cabin bulkhead and is out of the way while fishing and folds down when you need it). When you're done with fishing and barbecuing and the mood shifts to post-lunch relaxing, that rear console is easily removed to make things easier for swimmers and sunbathers on the boarding platform.
The engine housing also lifts off quickly, providing good access for maintenance duties on the Yanmar.
The hardtop has a good overhang and offers plenty of protection from rain/sun, but if the weather turns really awful, you'll have to take your cooking into the cabin. And the chef can afford to be a little more adventurous – there's a gas hob, oven, generous working surfaces and the all-important electric fridge. It's a well-designed, practical area.
The helm station is served by a fully-adjustable seat with a great back-rest. It's mounted above the fridge, and offers excellent visibility through the Black Pearl's large windows.
The timber dash is dominated by a Simrad CX44 combination GPS chartplotter/depth sounder, with a 10.4" TFT colour LCD screen. It offers superb visibility, even in full sunlight, and has full-, dual- or split-screen options. VHF and stereo are mounted high and centrally in the roof above the helm station, with the stereo connected to internal and external speakers.
Designed for a family of five, sleeping accommodation is spread around two berths in the cabin – one berth is a settee with the seat back lifting to convert to the second, a V-berth double up front, and a thwartships cot above the V-berth. Tight but cosy, and as it's fully-lined and carpeted, well-insulated. All berths are finished in classy, easily-cleaned black leather.
Foredeck
Getting to the foredeck is easy – with non-slip, rubber footings on the side decks and plenty of handholds in convenient places. Up front you'll find an expansive foredeck, ideal for catching a little sun in a calm bay. Anchoring duties are catered for by a 1000W Lofrans Clipper windlass (capable of handling chain and rope uninterrupted) and a 25kg plough anchor.
A see-through hatch in the forward cabin roof provides alternative access to the foredeck and also provides natural light to the cabin. 
In keeping with the comfort theme, Black Pearl is equipped with an inverter for small 240v electrical appliances. It takes its power from two 6v deep-cycle house batteries (connected in series) tucked under the portside forward cabin berth. The engine's 12v starter battery is housed in the engine compartment.
Custom-built boats don't come cheap – but not all of us can afford the iconic kiwi bach either these days, and yet this vessel represents just that kind of escapism value. Everything you could possibly want in a bach in the Marlborough Sounds is presented beautifully right here.
And when the song of the tui and lapping water just gets all too much and the thought of another sunset from the cockpit seems a bit ho-hum, you simply up anchor and find yourself another million dollar view elsewhere.
Jack Sparrow's sentiments exactly.

SeaMaster 9.14m
(Basic package $230,000+GST)
LOA  9.14m
Beam 2.97m
Construction Alloy (6mm bottom plates, 4mm sides, 3mm cabin)
Deadrise 19 degrees
Engine 315hp, six-cylinder LP Series Yanmar (turbocharged, after-  cooled and direct injected)
Drive MerCruiser Bravo II Stern Leg
Fuel 440lt
Water 440lt
Weight 3500kg

Keep up to date with news from Trade-A-boat or like us on Facebook!