Assault 890 Hardtop
---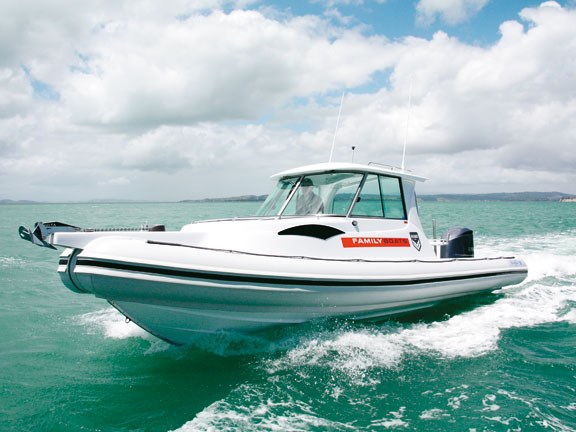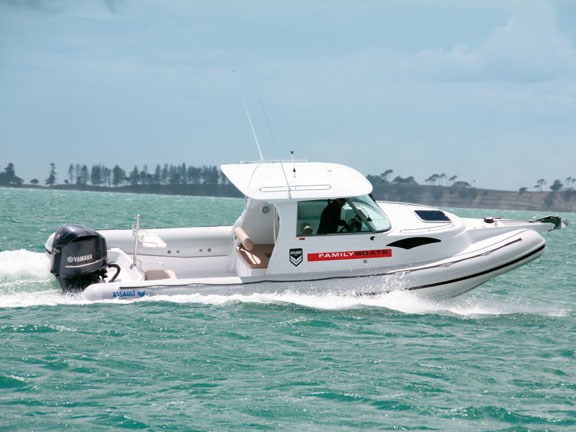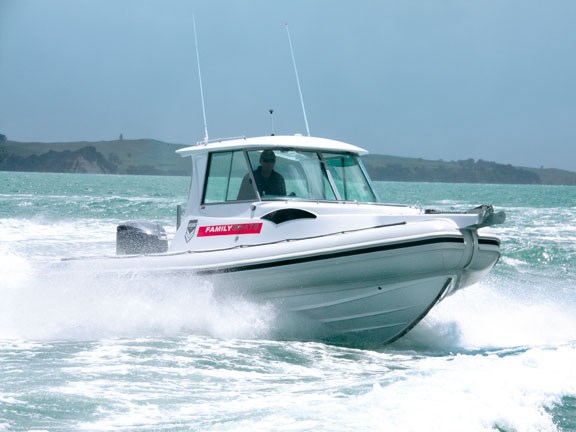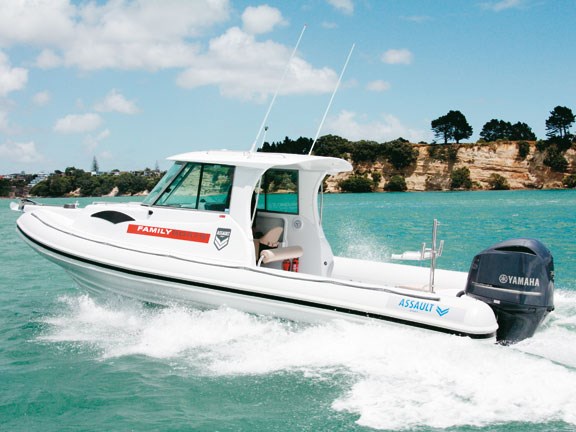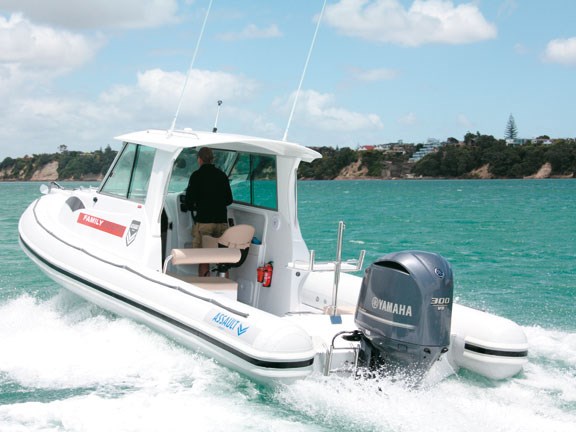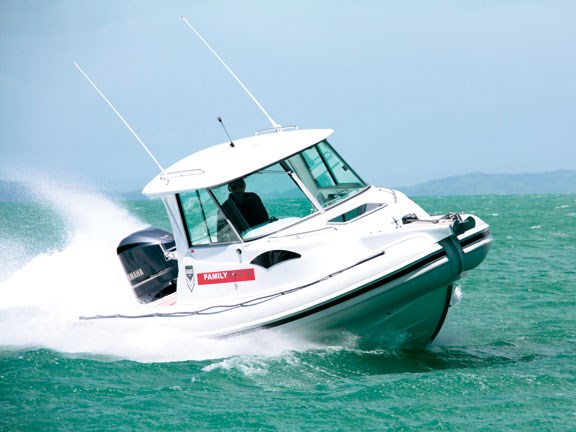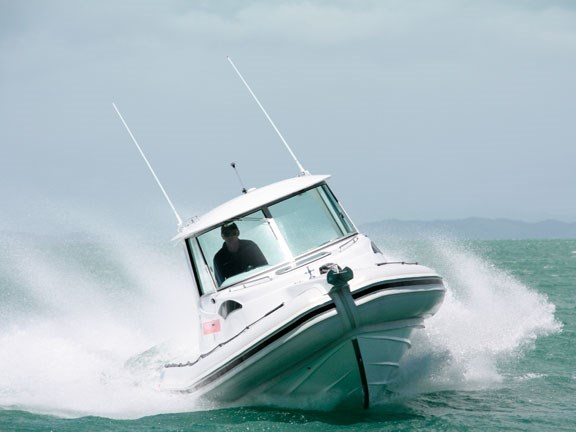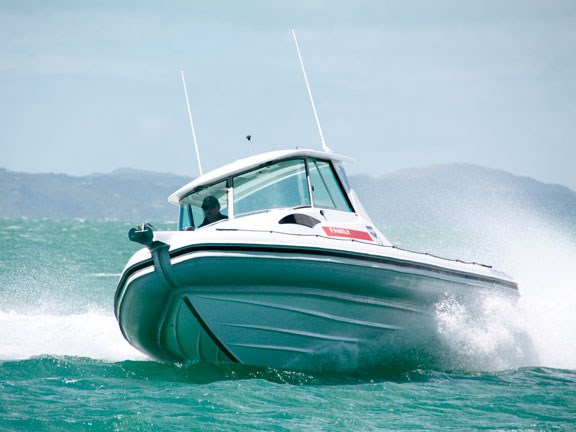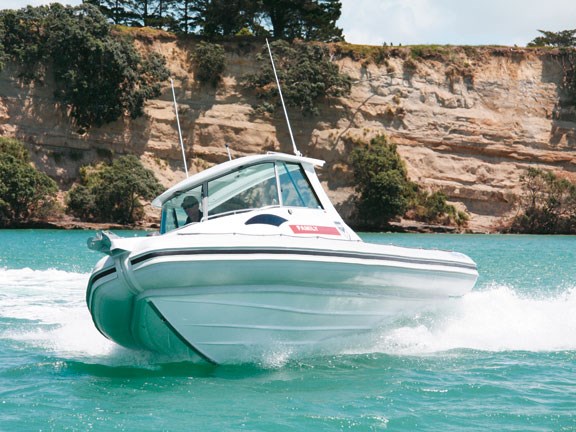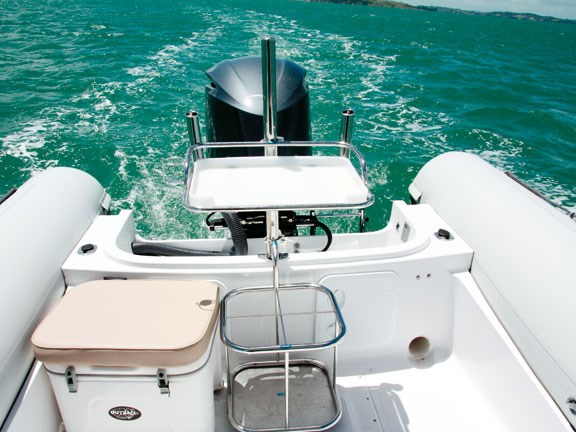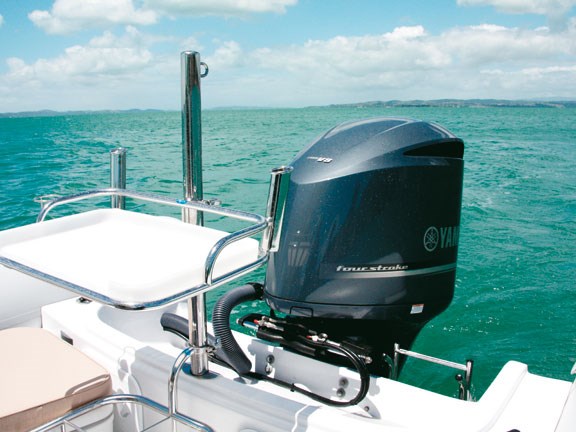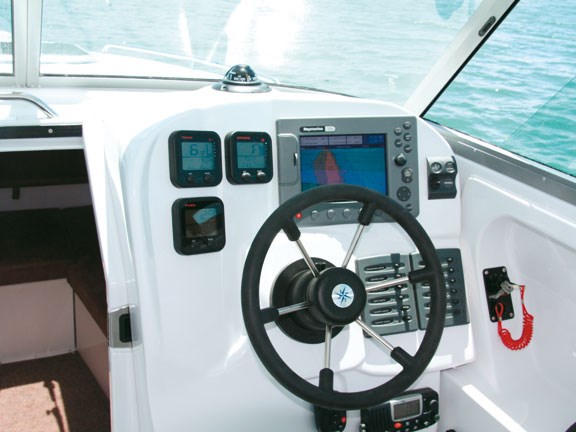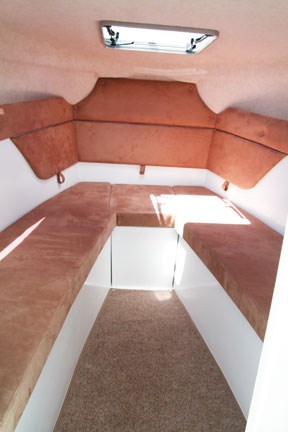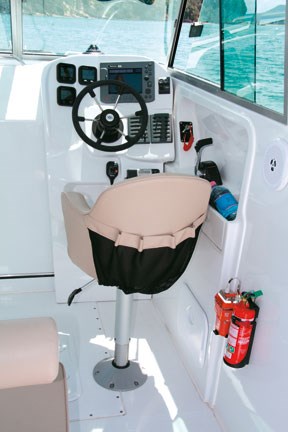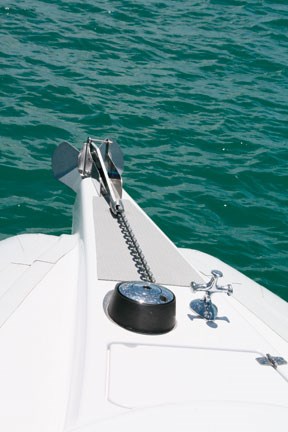 A favourite of the Coastguard, police, dive groups and sailing organisations, RIBs are often regarded as utility boats. But that's changing to "recreational", and the perception shift will be boosted by the new Assault 890 Hardtop from Auckland's Family Boats.
Family Boats knew a hardtop RIB required a well-proven hull – and it had a good basis on which to start –Gemini's Waverunner military-spec inflatable hull.
Located in Cape Town, Gemini Inflatables is an ISO9001 company where the boats have earned their pedigree in the harsh southern Atlantic seas. The boats are built to high standards and have passed every test nominated by marine authorities all over the world. Family Boats is the exclusive New Zealand importer of the boats.
Peter Carlson, managing director of Family Boats, has given the new collaborative project an appropriate name – Assault Boats.
Construction
A balsa-cored, fibreglass laminate is the basis for the hull. This reduces weight significantly while increasing stiffness. The hull's supported with a grid of internal bulkheads, mechanically fastened and laminated.
The deck's bonded to the hull and glassed to the bulkheads to form a monocoque design. An aluminium channel section along the keel provides additional strength and abrasion resistance, while the transom is massively reinforced with the longitudinal bulkheads laminated to the transom.
Heavy duty, Pennel Orca® Hypalon tubes have seven separate buoyancy chambers. They feature double-taped seams and an extra heavy duty 'shark fin' rubbing strake.
Although the tubes are not an integral part of the hull, they provide good shock absorption, dynamic stability and huge amounts of positive buoyancy. This adds up to a superbly stable and safe boat.
Once in New Zealand, the 250-litre stainless steel under-floor fuel tank is repositioned and the first of 17 new mouldings fitted. The result is a spacious hardtop offering the best of all worlds – large cabin, spacious cockpit, robust construction, but also light, and economical to run, and easy to tow. Multiple moulding options means the cabin interior can be custom configured to suit the purchaser's preferences.
Interior
Stepping down into the main cabin brings you to two over-length (and good width) upholstered bunks, with a lift-up centre section hiding a flush toilet with electric macerator. A large hatchway and two side windows provide ample sunlight, while tinted glass guarantees privacy after dark. A sliding, lockable door provides security, and the raised sill prevents water ingress from the cockpit.
The helmstation has plenty of dash space, and this boat was equipped with a Raymarine C80 colour chartplotter and sounder combo, together with the usual engine instrumentation. A Raymarine VHF radio and a Fusion stereo system complete the electronics. Good to see a 406 MHz EPIRB fitted – an 'extra' that really should be standard on all boats. Headroom is excellent.
A fully-adjustable, pedestal-mounted upholstered skipper seat with armrests dominates the helm position. There's a raised footrest (for use when seated). The electronic throttle control is neatly tucked away in a recess, so there's no chance of your knee fetching up against it.
The main passenger position has a removable back support. When removed, it forms a comfortable family bench seat, enabling the occupants to face either forward or aft. More conventional configurations, such as back-to-back and king-and-queen seats, are also available.
The main cockpit is vast. The tubes form an excellent, thigh-high gunwale (very comfortable seating). A non-slip pattern is moulded into the cockpit floor's gelcoat, although various deck coverings (including a teak deck option) are also available.
About the only disadvantage of the inflatable configuration is the lack of rod-holders into the tubes – but that's compensated for by a superb stainless steel bait board with rod holders and drink holder. Additional rod holders are fitted to the transom, and a rocket launcher can be fitted to the hardtop. The cockpit is self-draining through two 'flapper' valves. A single chilly bin with a squab on top provides additional seating.Anchoring this boat is a zero-effort task thanks to the fully automatic anchor winch. This is a unique feature – most inflatables lack a suitable mounting point in the bow for fitting a windlass.
Performance
We headed out from Half Moon Bay Marina in the middle of a wind warning. Winds gusting up to 35 knots whipped up an unpleasant chop – even in the Tamaki estuary. Yamaha's 300hp V8 is a huge beast of an engine, but it sports very polite manners. A lovely, throaty roar at starting soon mutes to a quiet rumble at idle, and at low revs the engine is almost inaudible.
Once clear of the speed-restricted area we opened up the big V8 to three-quarters throttle and held on tight – unnecessarily as it turned out. This is a big boat, and the pontoons provide huge amounts of stability and cushioning.
We tried the metre-high swell from all angles – side on, stern on, quartering sea and head on. Although the wind covered large, curved windscreen with spray, it was easily handled by the windscreen wipers. We never took a wave over the bow, despite hitting waves at 25 knots.
We ducked behind a headland to find sheltered water for the photos, and had a further play. The boat hit 42 knots at wide-open throttle. Carlson has been experimenting with various propeller options, so top speed may be even higher with another combination.
We spun the boat into tight donuts, and as is common with RIBs, it heels only until the inner pontoon is sitting on the water. This adds stability, acts as a natural brake and tightens the turning circle while ensuring the boat will never 'slip'. The multiple planing strakes gave the boat a good 'bite' at all angles, and we were always in control.
It was also interesting to note that despite the planing strakes this is a quiet boat. We got airborne several times in the conditions, but the landings were mercifully free of gut-liquidising thumps – no doubt a result of the 30-degree deadrise.
Midway through the test we swapped onto the chase boat for the photos, and another benefit of the pontoons was clear. Coming alongside another boat, dock or marina berth holds no fears of bumping or scratching the finish. After all, the entire length of the boat is a giant fender!
The boat's supplied with a tandem braked Voyager trailer. Although the boat is nominally oversize at 2.9m beam, it can be legally towed during daylight hours. For night-time towing, additional lights and reflective strips are needed, but if you don't want that hassle then a simple solution is to deflate the main side tubes. This reduces the overall beam to less than the 2.5m regulation width and removes any legal obstacles. The overall towing weight is a surprisingly light 2450kg, comfortably within the ability of a reasonable towing vehicle.
This prototype has completed its testing and the first unit will have rolled off the production line by the time this issue hits the shelves. A large degree of customisation is possible, including different colors for the tubes, different seats, teak decking, and various engine options. 
While the Assault 890 sells for $159,000 with the 300hp Yamaha V8, packages start at $99,990.
Assault 890 Hardtop
(Price as tested $159,000)
Construction: RIB with fibreglass inner and Hypalon tubes
LOA: 8.9m
Beam: 2.9m
Deadrise:  30o at transom
Fuel:  250 litres
Engine: Yamaha 300hp V8 5.3-litre four-stroke
Trailer: Voyager Tandem braked trailer
Tow weight: 2450kg
Keep up to date with news from Trade-A-boat or like us on Facebook!