Supremacy 670
---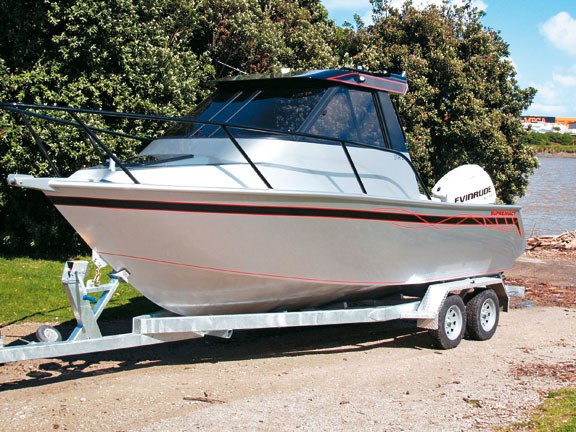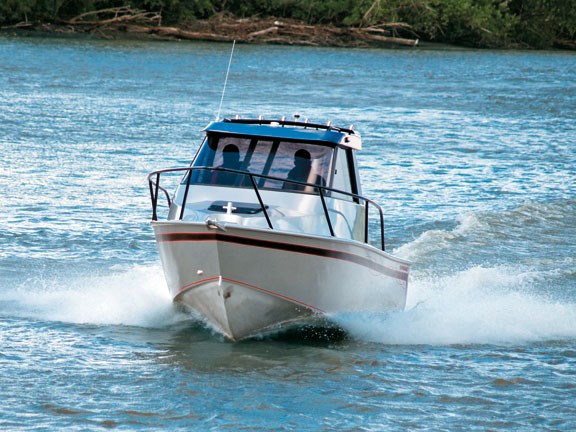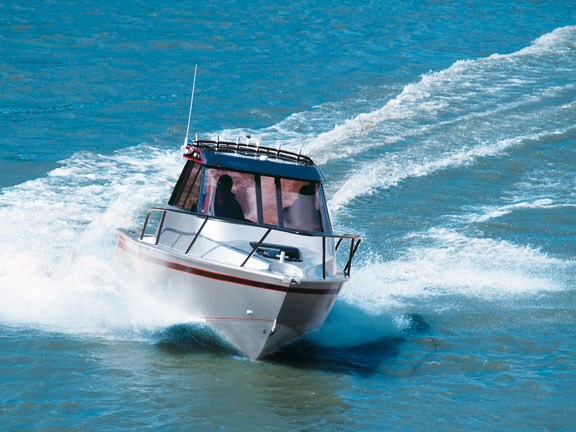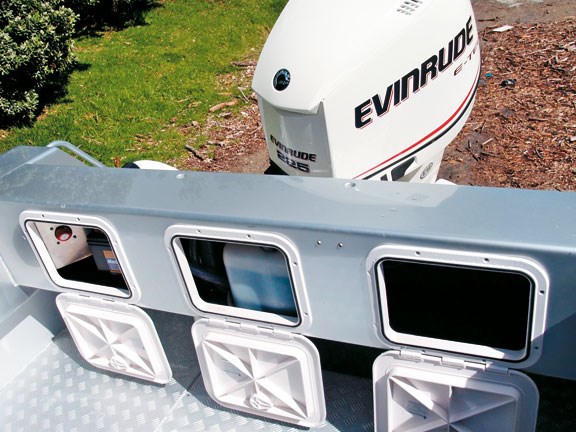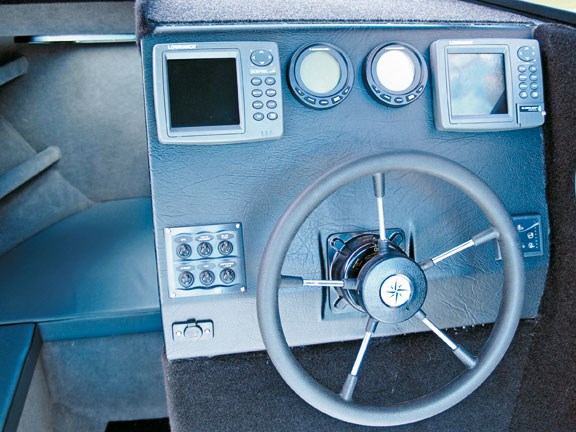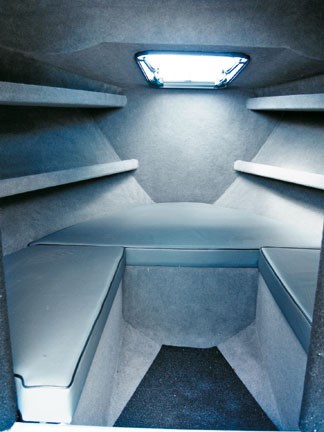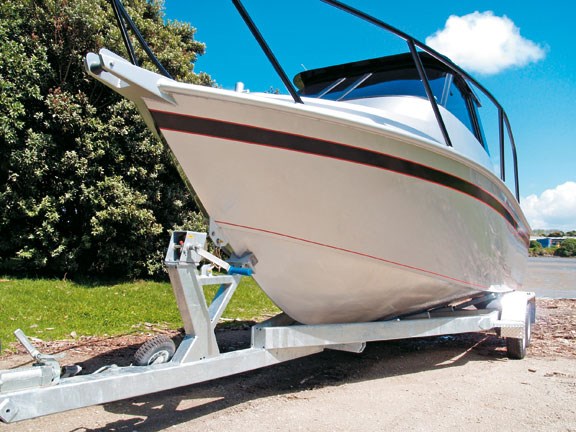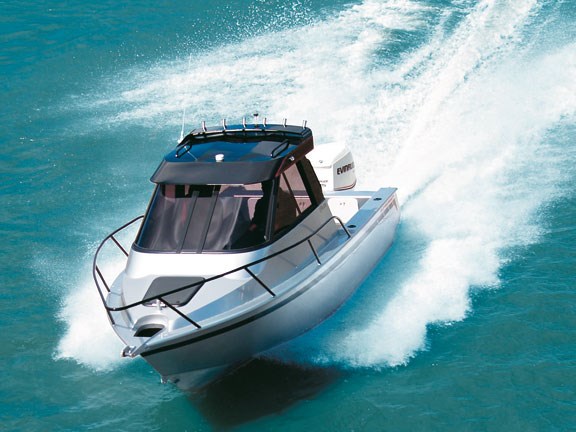 Palmerston North engineers Darryn Cooksley and Dereck Anderson specialise in fabricating equipment for high-pressure industrial and agricultural applications. But as keen divers, it was inevitable they'd eventually turn their hand to boats.
Welded fusion
Between them, the pair has had about 40 years' experience as sheetmetal workers for the dairy, transport and construction industries. They decided to join forces as partners in Almac Engineering about five years ago; it was only a matter of time before those skills were applied to building boats.
"We're used to doing things properly and working from plans," says Cooksley, "so the first thing we did was approach Scott Robson to design us a boat – we were looking at doing a 7.4m hull-and-deck kitset."
Robson was skeptical when the two engineers first approached him, until they persuaded him to visit the Almac workshop and check out their work. Impressed with what he saw, he agreed to draw up their concept.
That was three boats ago and the pair's latest boat, a Supremacy 670 HT Alloy, reflects Robson's eye for style and seakindliness matched with metal craftsmanship – it's about as good as it gets.
"We wanted to build a top-quality boat that would last," says Cooksley. "A lot of thought went into getting it right – and looking right."
Rolling up to the launching ramp on the custom-built Almac Engineering trailer, the 670 HT Supremacy looks right – she's well-proportioned and shapely. The light grey epoxy paint finish is applied by an outfit with the unlikely name of Alro Truck Smash Repairs (it's sprayed on in temperature- and climate-controlled booths used for painting trucks). The quality paint job is underscored by stylish graphics from Palmerston North's Captured Signs.
The Almac-built trailer is a rugged, galvanised, tandem-axle carrier with holes drilled in all the right places to drain water, cable brakes on one axle and centre/slide rollers.
Sitting on top, the Supremacy's swept-up looks hides a heart of solid alloy. The bottom plate is 5mm thick plate with sides of 4mm and a 6mm transom. Internal stringers and frames are 4mm flat bar and the cockpit sole and cabin are also 4mm thick. A 4mm thick C section aluminium tube is welded round the sheer line to act as rub rail and has a jaunty little kink where the sheer flattens out forward of the helm position.
The two Almac engineers have done most of their boating in the Manawatu, Wairarapa and Wellington areas and presumed that, initially anyway, the majority of their clients would be the same. So part of Robson's design brief was for a boat that could handle being caught out in areas where weather and sea can change from mild to wild in the time it takes to reel in 30 metres of monofilament.
The result is a steep, 21-degree deadrise and balanced, buoyant underbody. All that alloy gives the boat a healthy 980kg displacement – or 1800kg dry on the trailer. The double bottom can be flooded (or emptied through a bung in the transom) if more ballast is need for extra comfort at anchor or a stiff bash homewards.
On the water
We backed the boat into the Whanganui River through a cordon of flotsam brought downstream from the rain-swept central North Island. Near the sea, a 35-knot southerly created ranks of short steep waves marching up river against the flow.  Great boat testing conditions, I think – this'll soon sort the sea boats from the wannabes.
James Newell, of Wanganui Marine Services, has spent a lifetime on the river and takes the wheel. The 225 horsepower Evinrude E-Tec was James's match and it quickly hoists the 670 out of the hole and onto the plane, heading upriver at a comfortable 58km/h (31 knots).
"You could power it with 150 horsepower," he says, "but you'd have to work it that much harder and you really need the grunt to move a boat full of fishoes – or divers and gear."
Wound right out to 5500rpm, the Evinrude gives the boat a top speed of 88km/h (47.5 knots). Fuel is drawn from a pressure-tested, 150-litre under-floor tank that is bolted and siliconed in place under an inspection hatch in the cockpit sole.
The six rocket launchers mounted across the aft end of the hardtop come into their own on the bouncy ride upriver. They're a masterpiece of metalwork and incorporate a full-width handrail that always seems to be there when you need it. Handholds are mounted all over the Supremacy, mostly painted black to blend with the styling.
Powering into the 600mm river chop, the hardtop windows remain dry. The spray chine peels the bow wave well away from the boat. There are no spray rails on the hull and the steep vee cleaves through the steep chop without any wave walloping.
Driving some boats into these conditions can make their hardtops shimmy like a plate of jelly during an earthquake, but the Supremacy's is rock solid, supported by box section uprights at the aft end and other uprights at the forward corners.
The 6mm thick tinted safety glass windscreen helps with the sense of security and the dark grey carpet that lines the inside of the hardtop makes the ride more restful and relaxing.
Sliding side windows allow for free flow ventilation in the hardtop and the vinyl clad dash has plenty of room for a variety of instrumentation. More stowage is available on the carpeted shelf above it and in bins along the sides.
On the subject of relaxation – my 1.86m frame stretches out comfortably on either side of the forward cabin and even manages to stay on the grey vinyl upholstered squabs while the Supremacy powers upriver. Two shelves take care of any stowage requirements on either side and the finish is tidy and neat. The flush-fitting hatch lets in just the right amount of tinted sunlight so that catching 40 – or more – winks starts to look pretty appealing, compared to the raw air outside. 
It's a testimony, perhaps, to the Supremacy's easy ride, that after a lengthy boat test without seats, none of us seem to be suffering from back pain or muscular grumbles.
"Sorry about the seats," Darryn had apologised earlier, "but most people have their own preferences as far as seating goes, so we don't have a standard configuration. We put in whatever they want."
The Supremacy's 2.30m beam is carried well forward and provides a roomy, stable work area for the fishophiles. There are two rod holders mounted in the wide gunwales either side and a bait board can be mounted atop the transom. The rounded edge is easy on the thighs and craning out overboard, as you would to boat a big 'un, feels secure.
The Supremacy also caters for those among us who take their fun from the undersea side of things. The portofino stern has plenty of room for pre-plop gearing up and there's a dive ladder with well-placed handrails for getting back aboard. A strong, welded bracket is provided for an auxiliary power plant.
"One owner had us turn one of the under-floor stowage bins into a four dive bottle stowage area," says Darryn.
The Hydrive hydraulic steering allows instant and effortless manoeuvrability around the semi-submerged fauna floating down river and it feels kind of cosy, racing up a bush-lined corridor on a bright and windy day in spring.
The black hand rails on the hardtop and round the bow feel warm and reassuring to the touch and make the trip to the bow easy and safe. At the sharp end, an anchor locker drains overboard and also has a hatch to keep the contents aboard on a bouncy day at sea.
Everything about the Supremacy 670 HT suggests thoughtful and thorough craftsmanship; even the least accessible structural members are fully welded, and every edge is faired and finished. It's easy to see these boys had a background in metalwork before they started boatbuilding.
"We don't really build a standard boat – anybody who's interested in a Supremacy can talk to us and let us know how he wants them equipped or laid out – and we'll do it," says Darryn. "Engineering work is our bread and butter – we build boats because we like them."
Specifications
(price as reviewed $105,000)
LOA       6.70m
Hull length    6.40m
Beam       2.30m
Deadrise      21º
Displacement     960kg (approx)
Transom     6mm plating
Hull bottom       5mm
Hull sides, deck and cabin     4mm

Keep up to date with news from Trade-A-boat or like us on Facebook!