White Pointer 8m Hardtop
---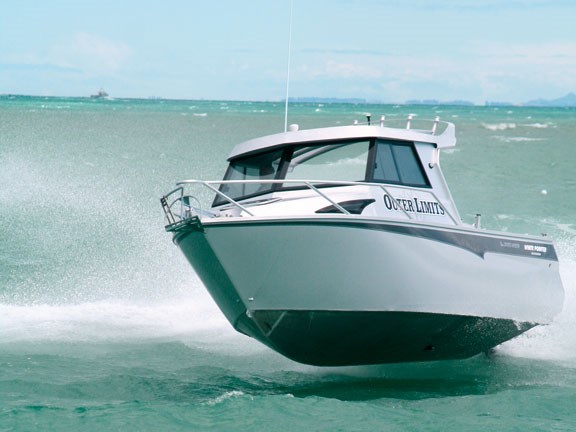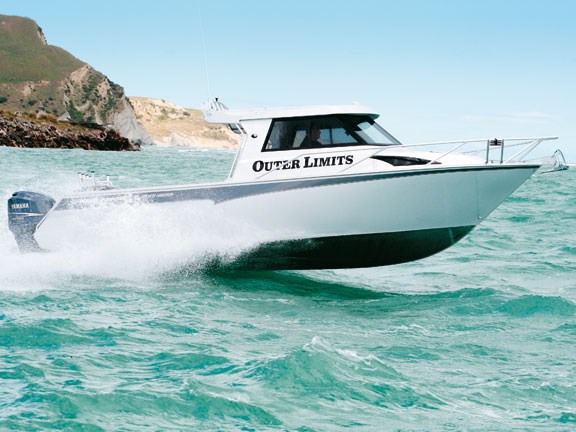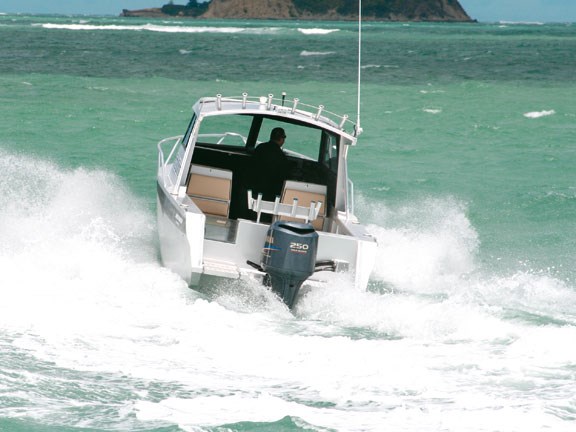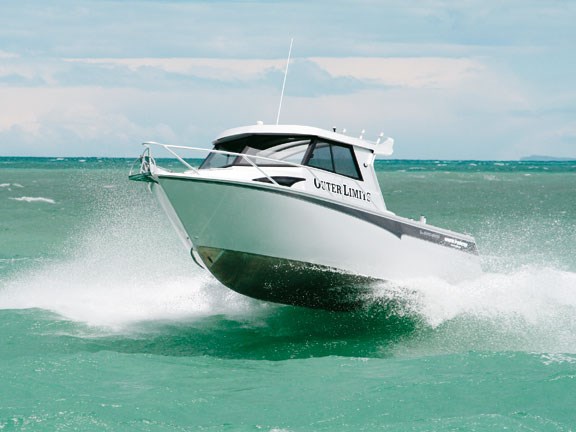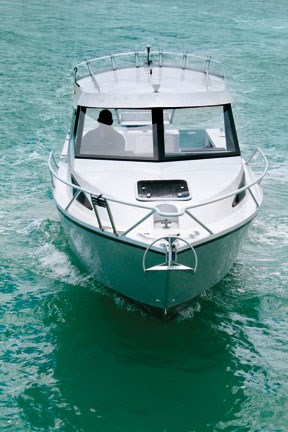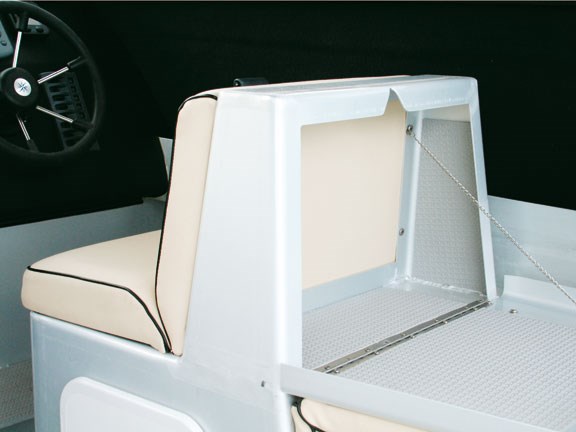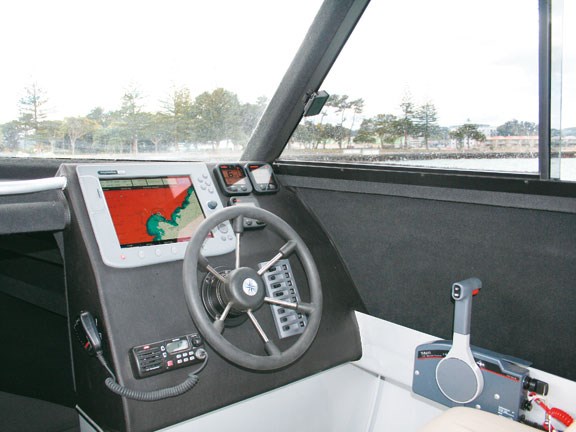 Gisborne's James Williams wanted a large, basic, reasonably priced boat suited to the East Coast's conditions. One that would instil confidence, taking him and three mates to his favourite fishing grounds 30 miles off-shore. His research ended at an 8m White Pointer Sports Hardtop.
Not that long ago, all aluminium boats were nicknamed "tinnies" and automatically carried a "low-end" association, but things have moved forward considerably since then. Today, their design, size, finish and optional extras totally belie that description, and many are almost indistinguishable from their fibreglass cousins.
Typical features on modern tinnies include high-spec paint jobs, interior lining, coved corners, rounded superstructure, sound-proofing, and all the electronic toys – and prices to match.
It's not uncommon to find 9-10m custom-built aluminium boats in the $300-$400K price range – and these prices compare very favourably with similar-sized composite boats.
Still, there are boaties – like James Williams – who prefer basic, hard-wearing vessels, and boatbuilders need to cater to those sentiments. Gisborne's White Pointer Boats is a perfect example. The company has pushed its custom-built range to satisfy the top-end of the market, but also caters to price-sensitive customers who have more modest requirements.
With a legacy spanning more than 20 years, White Pointer's range extends from 6.5m to 9.0m boats, and there are two distinct models – Hardtops and Cruisers. The Hardtops tend to be a basic design, with clients offered plenty of optional extras. Cruisers typically have higher specs that include paint, a lengthened wheelhouse, curved angles on the superstructure and softrider seats. Again, buyers are offered plenty of choices to customise the vessels.
While Williams' boat – Outer Limits – is spec'd to do a job and doesn't have too many "toys", its stylish outline and high-quality, acid-washed Nyalic finish dispels any notion of "basic". That's enhanced by the raked, toughened glass windscreen that wraps round to side windows, and the "eyebrow" roof line gives this boat a hot "sports" profile.
And despite the basic spec, there are elements of style: consider the full-length decal along the upper edge of the topsides, which complements the similar shaped quarter light in the forward cabin. It all adds to the boat's classy, on-water presence.
Cockpit
With a 2.5m beam, this is a very roomy area with a hard-wearing Nyalic-coated aluminium checker plate floor. It covers two under-floor storage areas – the rear one large enough to store dive gear, fenders and chilly bins – all at once. Other parts of the under-floor area are dedicated, pressure-tested buoyancy compartments. A high-pressure wash-down system quickly removes fish detritus from the cockpit floor.
Above the wide transom is a good-sized, custom-built removable bait board incorporating rod holders. The boarding platform is dominated by a four-stroke F250 AETX Yamaha, but there is still easy access into the cockpit. A fold-up boarding ladder is fitted to the port side.
There's plenty of shelf storage (full-length) along both sides of the cockpit, and the transom houses the twin battery system and master switches in two enclosed lockers. Further forward, two back-to-back helm and co-driver's seats are finished in a fawn vinyl, which contrasts nicely with the off-white paint finish. The seats contain lockers accessed from the side and the front, with a nifty, fold-down table built into the back rest of each rear seat.
Helm and cabin
The dash in front of the stainless steel wheel is simple and uncluttered, containing only Raymarine C120 chartplotter, switches, a VHF radio and engine gauges. Any loose items stored on the full-width parcel tray below the windscreen will remain in place thanks to a raised lip at the rear edge. The aft end of the parcel tray is also equipped with a tubular grab rail.
Other than the helm bulkhead, the forward cabin is open to the wheelhouse, allowing easy access and a good view of the kids playing on the bunks. It's a fully-lined cabin (as is the wheel house down to gunwale level), and contains standard V-berth bunks above storage areas.
A double row of shelves runs full-length on both sides of the cabin. Natural lighting comes from a Weaver hatch in the top and the two side quarter lights; at night, the cabin is illuminated by two 12v lights. There is additional lighting above the helm and a deck light is fitted to the rear edge of the wheelhouse.
The rear of the wheelhouse is topped by a rocket launcher with six rod holders. Good railing on the trailing edge (and also on top of the wheelhouse, plus handrails forward of the cockpit) make moving forward on this boat relatively safe. A fold-down telescopic boarding ladder on the port side (just aft of the bow) is smart innovation that allows boarding and leaving the boat when bow-on to a beach.
Performance
White Pointer boats are renowned as being designed for the unprotected waters off New Zealand's coast, where large swells and rapidly changing sea conditions can require a fast run home through rough seas.
On test day the weather "kindly" provided precisely these conditions. The forecasted southerly was moving up the coast and the swells were starting to build. "Highly confused" was the best was to describe the sea, with one-metre swells. Still, the White Pointer negotiated it all at a comfortable 20 knots. Given the conditions, it was an impressively soft ride, with the shape of the hull reduced "banging" only to those moments of foolishness – driving into big waves at far too high a speed.
The hull has a 55-degree deadrise at the front, reducing to 18 degrees at the stern. This is topped with a reverse chine running the full length of the hull, from zero width at the bow to about 90mm amidships and a wide 150mm at the stern. There are no planing strakes.
Although the wide chines help to push the spray away from the boat, the combination of wind and waves saw some water blown back onto the windscreen – hardly surprising under the circumstances. Coming home (at speed) with a following sea was a comfortable ride, and steering up and down the swells spot-on once the bow was trimmed up a little.
The Yamaha F250 AETX proved to be the ideal match for the boat, producing a top speed of 40kts. At a cruising speed of 25kts (3600rpm) the Yamaha uses about 27 litres per hour and at trolling it burns a measly nine litres per hour.
Williams – and his three fishing mates, with all of their fishing and dive gear – often takes the boat to – well, the outer limits – and says he is absolutely thrilled with her performance: "I can't think of one thing I'd change – even in 25-knot winds and rough seas. I've yet to find any nasty tendencies."
All up (boat and trailer), Outer Limits weighs in at 2300kg. Priced at just under $129,000, she's adequately specified and nicely finished and, as Williams points out, it's all really about getting back to basics.
Specifications
(price as reviewed $129,000)
Construction: Alloy
LOA: 8m
Beam: 2.5m
Engine: Yamaha F250 AETX
Weight on trailer: 2300 kg

Keep up to date with news from Trade-A-boat or like us on Facebook!