Corsair Cabriolet
---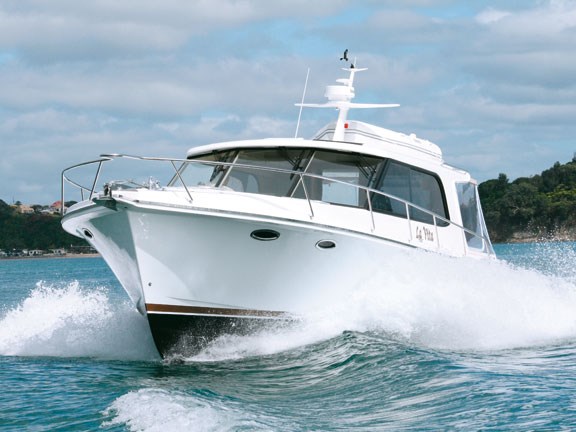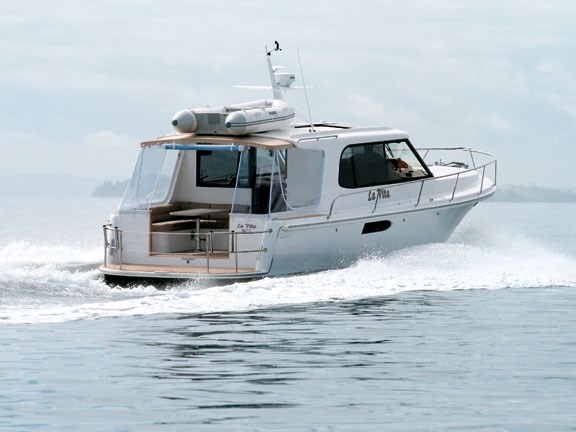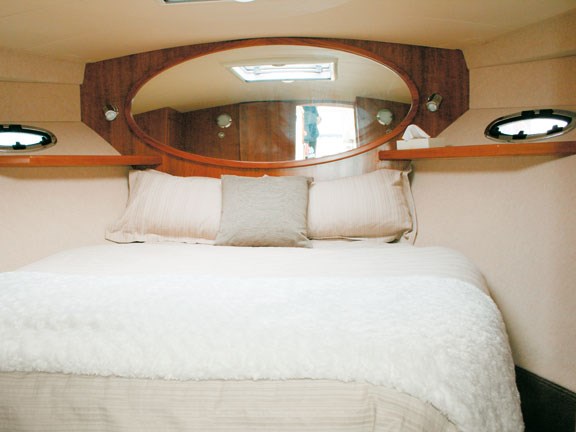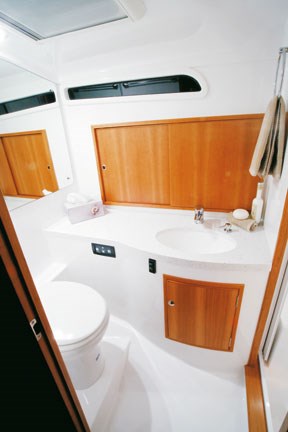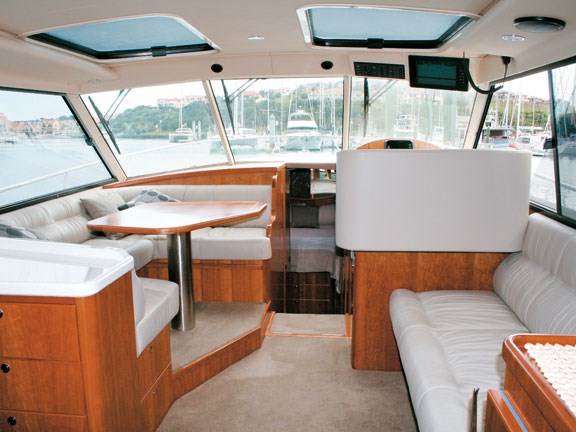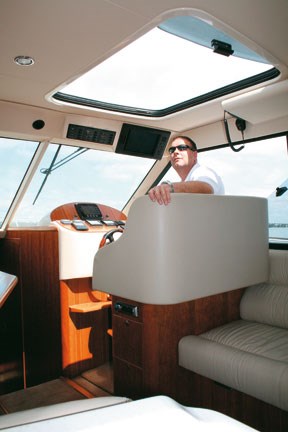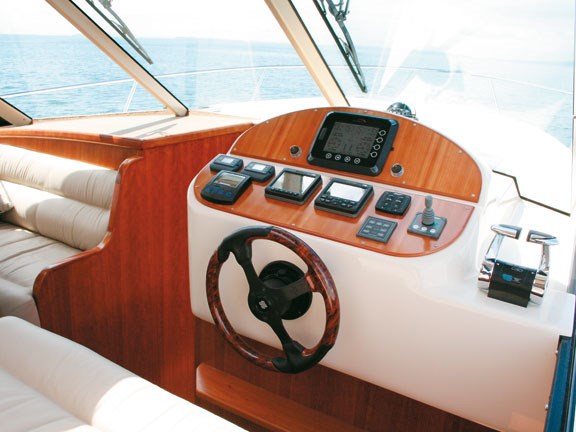 La Vita is the sixth Cabriolet from Dean Salthouse's Next Generation facility, and the first with a single centre rudder. It also features a new layout and high performance MTU engines.
After 30 years and 160 vessels, the trusted Corsair continues to evolve. La Vita features underwater changes, even from its five recent sisters. From day one, Dean Salthouse was aware the early Corsairs had one vice. Although stunning into head seas with its fine-entry bow, if underpowered or driven too slowly in big following seas the boats could be wave-pushed (and potentially broach).
To eliminate this risk, Dean added a large keel between the shafts with a flat bottom edge to run over objects if accidentally grounded, protecting the valuable props from bottom contact damage. Concerns about the keel's potential drag proved unfounded, and the boat still only draws a metre at rest.
La Vita is also the first of the new generation boats to adopt a single centre rudder, rather than the usual twin rudder layout. The new rudder sits directly behind the keel and trials have found it to be just as effective in most situations as the more complex and drag-inducing twin rudder set-up.
Another new addition is the fold down cockpit ceiling cavity (set up to store long items such as fishing rods).
The new hulls use traditional hand laid glass rather than the chopper gun method and have a balsa core. Topsides are moulded as one piece, and every layout option can be accommodated with pre-fab moulded GRP sections (rather than custom altering the original sections to suit each build variant).
Settling on sedan
Although most Corsairs were built as flybridge cruisers, Dean opted for a modern sedan layout, which keeps all aboard socially connected; great for families or gatherings, and especially underway, where the skipper can converse easily with everybody on board.
The basic interior layout is actually not too far removed from the original Corsairs, featuring a very comfortable large U-shaped dinette forward to port which can accommodate six adults in comfort, and a few more at a squeeze.
To starboard is the cleanly-laid helm with its very comfortable two-person helm seat, and further aft is a long settee, offset between the dinette setting and attractive and well-appointed portside cherry-wood U-shaped galley.
Opposite the galley beside the cockpit door is the fridge, wall-mounted TV, and a fantastic roll-away pantry system. The stern-facing galley window opens outwards, hinged at the top, and turns into a cockpit servery, as well as providing great ventilation and social connection to the outside.
Sit anywhere in the saloon and you find panoramic views through the large tinted glass windows, especially from the elevated helm seat, and the huge slide back opening window beside allows the skipper to exit from helm to front deck by just swinging a leg over the frame and sliding out. The twin large slide-opening sunroofs also add light and an open feeling – a real sense of connection with the outside.
The forward companionway drops down several steps and is slightly to starboard to give extra room in the portside cabin, which on La Vita is a three, single-berth layout pushing back under the saloon floor; two conventional side-by-side singles and one bunk above. This also easily converts to a double with single above. The roomy forward master cabin features an island queen-sized bed and opening tinted hatches.
To starboard off the companionway is the shower and head attractively moulded in a bright white and easy-clean finish. The shower is separated by its own sliding door with the vanity central and running right up behind the wc.
Companionway stairs hinge up and offer easy access to the mid-mounted fuel and water tank room, and an opening hatchway in the aft bulkhead leads to the well lit and uncluttered engine room. Engine service access is good even with the low roof height.
The layout of La Vita is different from previous models, and prospective buyers can choose from various layouts or add changes before the build to create their ideal vessel. Options include a four bunk forward cabin and port master, or two double room layout.
The cockpit on La Vita features another settee/dinette finished in the same rich cream leatherette, with cork on the sole. This would be a great spot for relaxing at anchor and with the saloon door and galley window open almost feels part of the saloon. Beneath the seats is the access to the huge storage space below decks, which can handle tender outboards upright, or a handful of dive bottles.
Zip-down clears wrap right around to offer cockpit wind and weather protection under the overhanging roofline. A full-width boarding platform (complete with live bait/catch tank sitting just above water-level) is just a single step down and has a wide rear opening for swimming, fishing, or transferring to a tender, plus side entry openings for when berthed or rafted.
A dinghy can be pulled up here clear of the water-straddling platform and cockpit during passage making, and there is a live bait tank right in the platform for your bait or catch.
The power of two
La Vita is powered by twin MTU 6R700 M94 common rail diesels rated at 345hp a piece (the first vessel in the fleet fitted with them), and Dean is stoked with their performance and economy. Top speed is a credible 33 knots with the engines sitting at 3800rpm, and at this pace consumption from the 900-litre tank is 4.63 litres per nautical mile.
At a comfortable 22-knot cruise speed, the MTUs show 2800rpm and tested consumption is just under three litres per nautical mile, giving a potential tank range of 272 nautical miles. This equates to burning 52 litres per hour at 20 knots, and 104 litres per hour at 30 knots.
Most impressive, however, is the low speed economy that shows a range of around 1000nm just above idle with the boat just gliding at eight knots consuming 0.8 litres per nm, and just 0.54 litres per nm in gear at idle giving seven knots.
Interestingly Mike Menzies graphed the figures of La Vita with that of another Corsair Convertible, New Beginnings, which runs twin 315hp MTU 6R700 M93s.Although top-end speed and economy was almost on a par, the bigger 345hp engines gave substantially better fuel mileage in the quarter throttle or less range and double the tank range at very low speeds.
On our test day, the water between Gulf Harbour and Motutapu was dead flat and we carried out single engine running trials, high speed turns, and docking maneuverability using the bow thruster (optional and added to this demo boat). The Cabriolet spins happily in its own length.
The 13.5m boat begins to plane at around 11 knots, and at a 20-knot cruise, the closed-up saloon is quiet and chatting can happen at normal levels. Open the windows, sunroof, and cockpit door and it is the sound of the boat through the water and wind noise that dominate. Obviously wind her up a bit more and the mechanical noise increases, although still not enough to force cockpit dwellers inside. The Corsair's trim tabs, out of site under the platform, make a notable difference in vessel stance and can lift the bow high or drop the nose to slice through when things get choppy.
At the helm, steering and throttle are within comfortable reach and the Simrad plotter screen is mounted above the windscreen offering reference at an easy upwards glance. This also is a good idea for night running in unfamiliar waters where a panel mounted screen can affect the skipper's night vision.
A down-facing bow-mounted camera also can broadcast to the large screen in good detail the anchor dropping and rising from the water, plus pontoon distance when berthing. Rather than multiple individual gauges for the engines, La Vita has a single mid-mounted screen that displays all info on both engines with multiple modes depending on your preferences. Also there is the Simrad autopilot and controls for the trim tabs, screen wipers, and electric capstan.
The Cabriolet is a modern, comfortable, and fast vessel built from long-proven solid bones, and with the combination of various layout options. Dean's passion for building strong long-lasting boats, combined with wife Treena's eye for soothing, earthy decor throughout, provides versatility: an entertainer's dream boat or a place just for the family to escape via the sea. It can get you to the Barrier in no time at pace, or gently to your favourite local bay for only a handful of diesel.

Keep up to date with news from Trade-A-boat or like us on Facebook!