Sea Nymph 580 & 640
---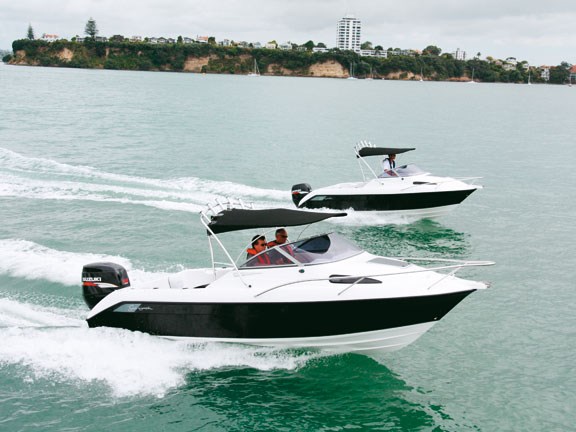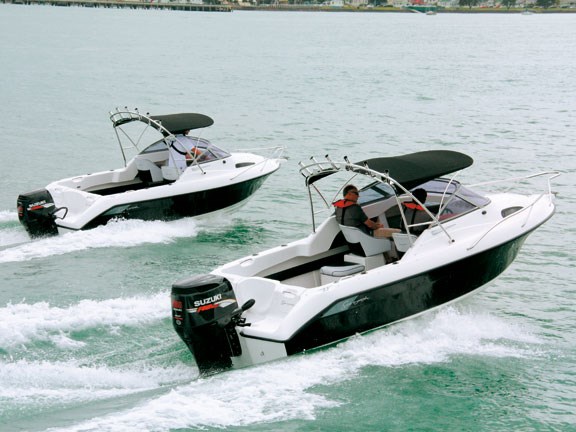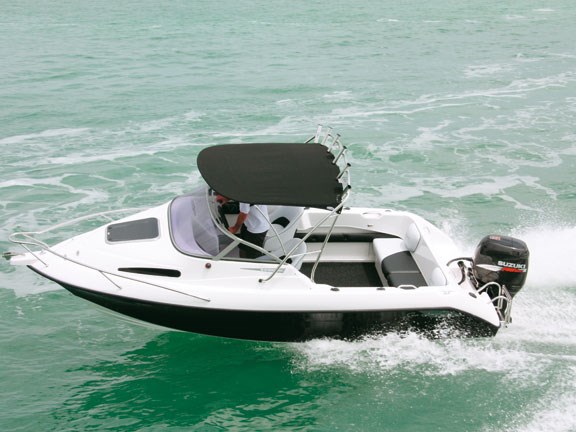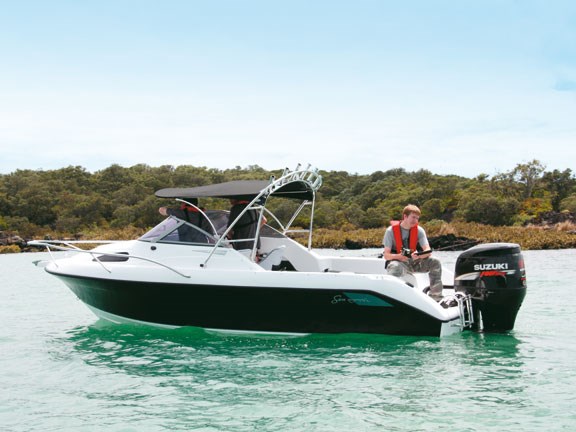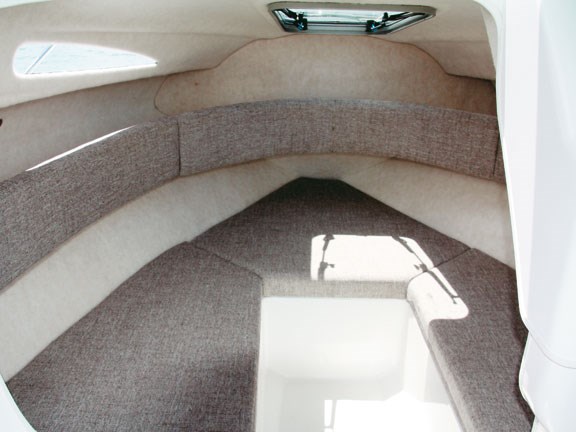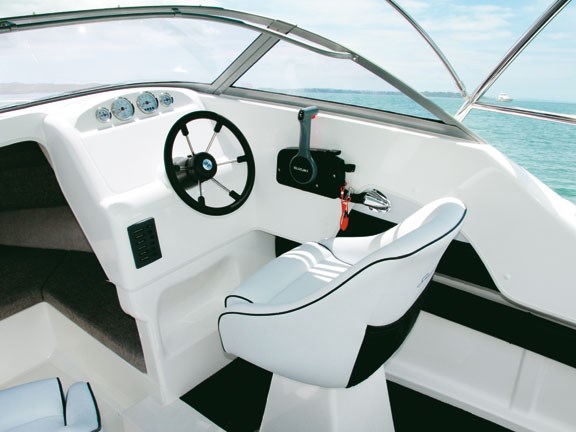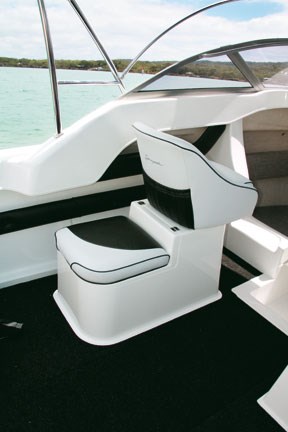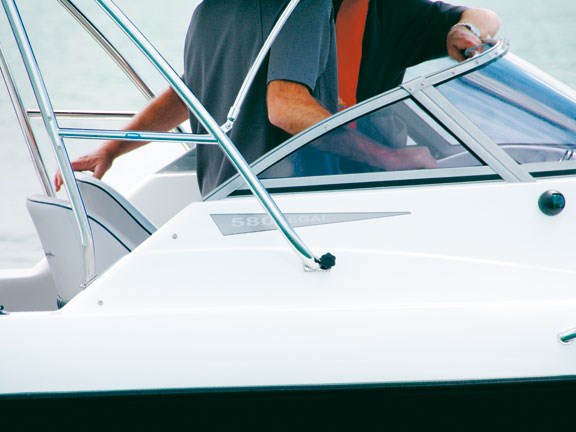 An icon of New Zealand boatbuilding, Sea Nymph boats have been in production for more than 30 years. For all that, they've never stopped evolving, as a recent tie-up with Formula Cruisers proves.
When Sea Nymph owner Robbie Hopper decided to make changes to the building process of the boats, he wanted to use a company with a similarly extensive history of production in New Zealand – and engaged Formula Cruisers.
One of the country's most respected boatbuilders, Formula's been building large composite cruising boats for 26 years. The new arrangement allows the company to optimise its substantial Hobsonville production facility, and target a new market. I took a look at the first two models from the new production arrangement – the 580 Regal and the 640 Blazer.
Similar in overall design, both models feature a forward cabin, bimini top and clip-on clears. Both are fitted with Suzuki four-stroke engines (a V6 DF200 on the 640 and the new four-cylinder DF100 on the 580). While Formula's production efficiencies and quality control systems bring extensive benefits to the boats, it hasn't made too many changes. Hull design, for example, is untouched, and both boats feature full-length planing strakes and hard chines. The 640 carries the maximum road-legal beam of 2.5m (deadrise 22o), while the 580 is slightly narrower (2.38m) with a deadrise of 20o.
The result is two boats with loads of internal space. Both cockpits are large and roomy, with flat gunwales that easily accommodate rod holders and are also comfortable to sit on. The hulls are well finished, with a new range of dark colours offsetting the white decks.
Considerably lighter, the 580 has an operational edge as it requires less horsepower to get it going. Its downside is a shorter cabin area (slightly too short for an adult to sleep comfortably). By contrast the 640's full-length squabs accommodate two adults in moderate comfort, and a closed cabin option is available.
Cabin floors are uncarpeted but have a comfortable non-slip texture. A drain into the bilge area takes care of any water that may get into the cabin. Cabin sides are fully lined, and a convenient hatch behind the helm provides easy access when upgrading electronics. The cabin's fitted with a fluorescent light, and shelves run down either side. Dry storage is available under the squabs.
Up front on deck, you'll find a stainless bow rail and a covered anchor locker. A stainless fairlead and "T" bollard are fitted, but an automatic anchor winch is available as an option on both models.
Helm stations are similar on both, with the layout unchanged from previous models. A broad dashboard has ample room for electronics. The 640 features a pod-mounted, padded skipper seat and a king-and-queen passenger seat, while the 580 has two identical pod-mounted seats. Both styles have a useful storage area underneath.
The helm positions are comfortable on both boats, with moulded footrests for both the skipper and passenger. The pod-mounted seats can be swung around to face the cockpit, though they're not adjustable for height.
Both models carry a robust stainless canopy frame with a rocket-launcher along the back. This extends further forward than most canopies, ensuring the main cabin is always in shade. Clip-on clears can be fitted between the curved acrylic windscreen and the canopy, providing a dry and warm area during wet weather running.
The cockpits differ only slightly in overall size, and both are set up for fishing. Gunwales are at a good height, providing solid thigh support when fishing. The transom walk-throughs (on either side) have padded drop-in inserts for running in rough weather.
A useful feature of all Sea Nymphs is the loose fiberglass fish bins with upholstered lids that double as seats. The quality of the upholstery on the lids has been improved, and, when combined with the padded backrests on the transom inserts, make a very comfortable seat. I particularly liked the grab handles recessed into the gunwales close to the stern – just the right place for passengers to grab while underway.
The boarding platform is ideal – wide enough to be usable, but not too wide as to interfere with fishing. The gleaming Suzukis dominate the stern of both boats, but the DF100 is surprisingly compact thanks to its inline cylinders. Both engines run ultra quietly – at one point we thought the DF100 had stalled...
Performance
On a perfect summer's day with almost no wind and a flat calm sea, we were really able to open up the Suzukis. Despite its smaller power plant, the 580 proved extremely responsive – and very well-mannered.
Both boats get up out the 'hole' very quickly, though the V6 understandably offers better acceleration. We had the boats running side by side at over 40mph – and both had power to spare despite a couple of adults and a full fuel tank on board.
The boats track well and the planing strakes allow tight, controlled turns with no slippage. They're exceptional hulls – remarkably soft and quiet when ploughing through wakes of various shapes and sizes.
I was particularly impressed by the boats' abilities when backing up. Game fishing enthusiasts would be happy to find they could reverse up at a fair rate thanks to the infills in the transom, which keep water out the cockpit.
The 580's fitted with a 150-litre under-floor tank, and the 640 with a 200-litre unit – providing a fair range for the frugal Suzukis.
Summing up these boats is easy: they're well-built, solid performers. The new manufacturing arrangement looks to have solved a few niggling finish issues that plagued the brand a few years ago. Some minor configuration changes show the dedication to ongoing improvement, and the boats are well priced for their size.
As reviewed, the 580 costs $56,750 including a Voyager single-axle trailer. The 640 comes in at $76,497, which includes a GT tandem axle with stainless steel brake calipers.
If you want to do the occasional overnighter, the 640 is probably the boat for you. But for day trips there is nothing to fault the 580, with the lighter package and smaller engine making for a lower initial investment and lower running costs. The 640 is also available as a hardtop model for those wanting more protection from the elements.

For more details contact Formula Marine Services at 0800 732 69674 or email fms@formulacruisers.co.nz
Keep up to date with news from Trade-A-boat or like us on Facebook!