VIDEO: Senator RH860 and RH650
---
Designed to handle big seas and challenging conditions
The RH860 is an enclosed hardtop with twin 225hp four-stroke Yamahas and is rated to carry eight
The RH650 is a twin rig with two four-stroke 115hp Yamahas and is rated to carry eight
The RH860 and RH650 are built by Napier's Senator Boats
Senator's deep-V allows a comfortable ride in the challenging Foveaux Strait
Designed to handle big seas and challenging conditions
Senator 860
Designed to handle challenging conditions, the RH860 is a strong boat with the power to handle big seas but also provide an easy ride.
The 860 has an overall length of 9.9m with enclosed hardtop, and twin 225hp four-stroke Yamahas. It has an extensive range, with a 450-litre under-floor tank and is rated to carry 12.
It has a separate, enclosed toilet and shower, a heater, fully equipped galley, and space for landing big blue cod, groper and tuna – as well as handling crayfish pots. Senator fitted a heavy-duty pot hauler (electric winch) to the starboard side of the cockpit for easy fishing.
The boat has a fine entry with a deep, pronounced deep-V for slicing through the Strait.
This particular test boat is used for fishing in Foveaux Strait, which demands unconventional techniques. The owner says they opt for drift fishing 99 percent of the time, with one of the Yamaha's idling in reverse to slow the rate of drift. Twin transducers are used to find precise locations for fish. Those transducers are connected to twin 10" Furuno screens – Navnet VX2 and separate sounder – and they are mounted on a customised dash.
Senator 650
The smaller Senator RH650 Special Edition (overall length 6.5m), has greater launch flexibility at smaller or difficult to get to ramps. This boat was also modified to specifications, including a pot hauler.
The RH650 is a twin rig with two x four-stroke 115hp Yamahas and is rated to carry eight.
To read the full review on the Senator RH860 and RH650, plus other boats like this, see the latest issue of Trade-A-Boat magazine, on sale now at all good retailers.
See similiar boats for sale online here.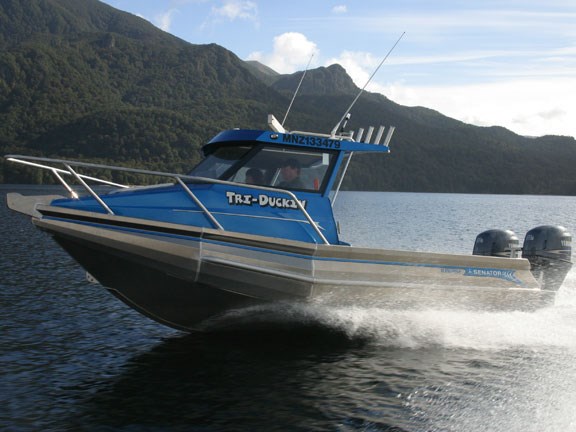 Keep up to date with news from Trade-A-boat or like us on Facebook!