Image 8m Fishmaster
---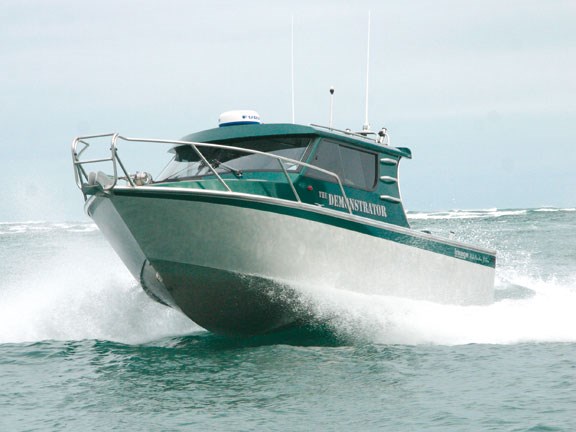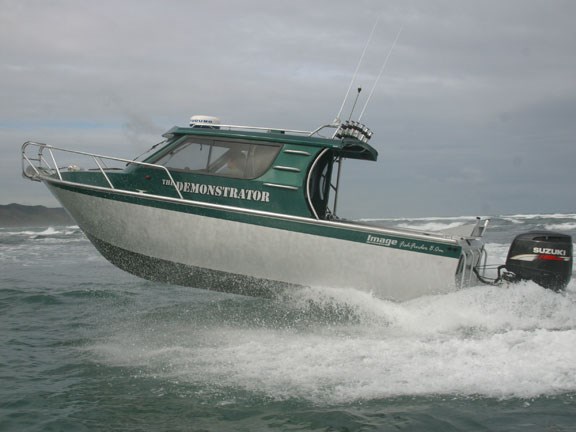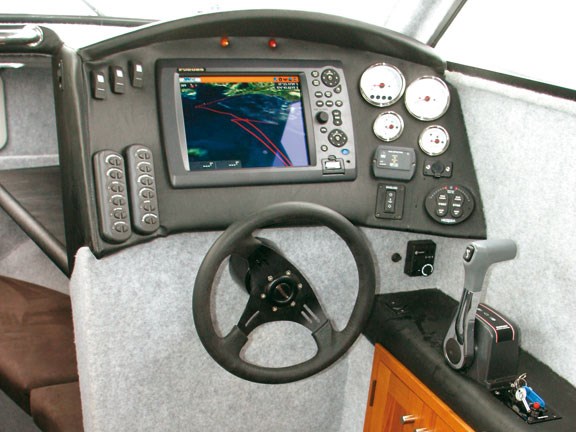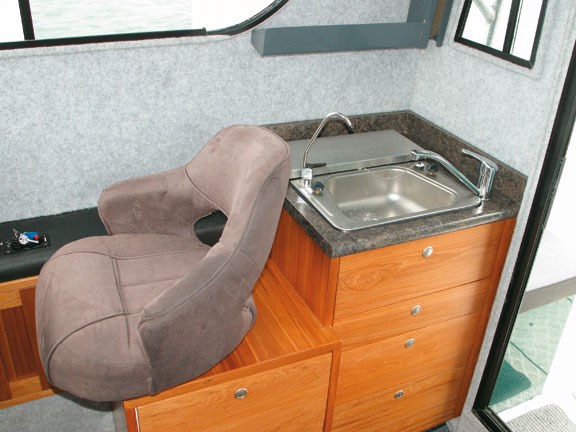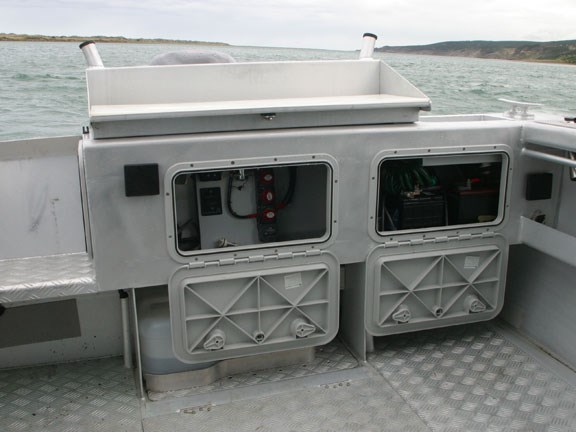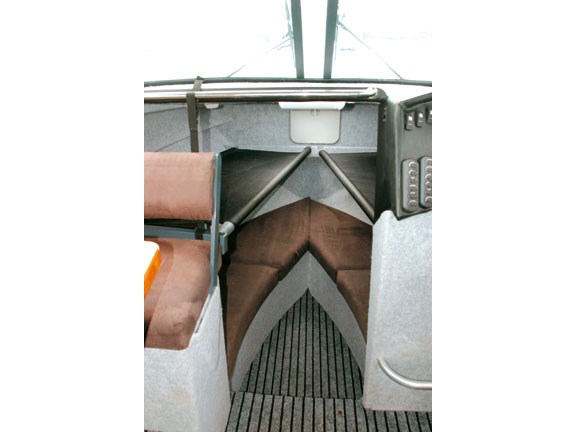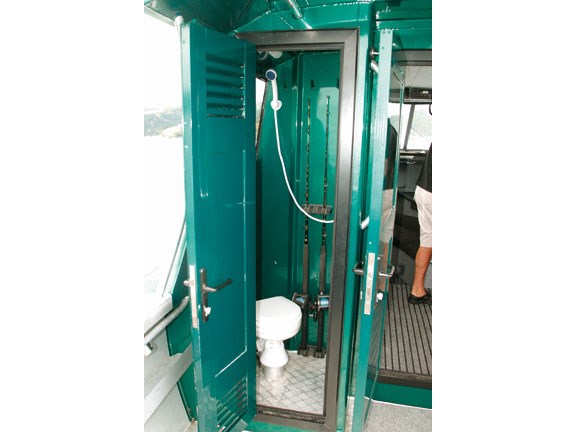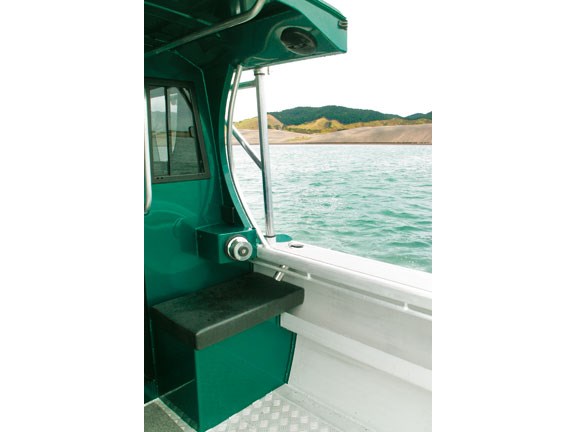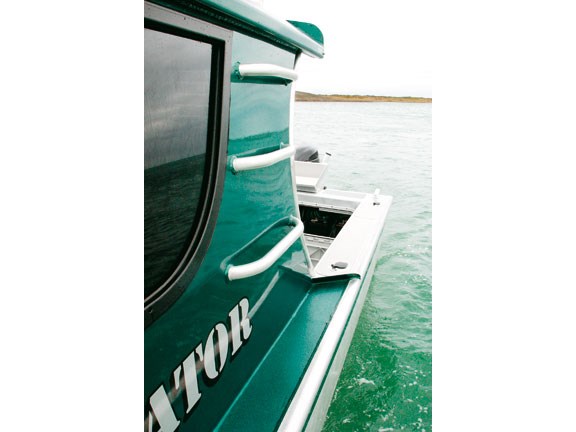 When your recreational waters includes coastal sea areas Puysegur, Foveaux and Conway you'd better have a capable boat because things can cut up rough in the deep south, as any Southland fisherman will tell you
The latest Image 8m Fishmaster is suited to the rough waters around its Invercargill home, due to its hull shape and design, strength, weight, balance and stiffness, make Image boats suitable
Image boats are attractive, with a purposeful look due in part to their signature extended cockpit overhang and larger than normal cabin for improved heavy weather protection.
Although a fishing boat first and foremost, Demonstrator One has plenty of creature comforts.
If strength, practicality, value for money and proven four seasons performance are important considerations, take a look at the Image.
The 8m Fishmaster is the latest addition to Image Boats' proven range of substantial, robust, aluminium trailer boats.
Demonstrator One heralds the arrival of significant design changes that both modernise and stylise the boats' appearance. Chief among these is a new curved windscreen and a matching cabin eyebrow.
Designer and builder Dean Wilkes says Demonstrator One is also the first with a transom modification that adds 75mm to the hull's planing surface. Interior changes have also been incorporated, including a larger dash area.
Construction
The heart of the hull is a fabricated triangular cross section formed by a fully-welded internal keel bar with seam-welded transverse stringers. They're capped with a seam-welded alloy plate for additional stiffness.
Six full-length 4mm bearers checked and seam-welded support the cabin and cockpit sole. The boat's five alloy bulkheads, aft cabin bulkhead and transom construction provide the lateral support and rigidity necessary to prevent wracking and twisting in heavy conditions.
All metal work is from 5083 marine-grade aluminium with 6mm plate to the waterline, 4mm topsides, 3mm cabin sides and cabin top and 4mm checker plate cockpit sole and boarding platform.
Layout
While there has been a design change to the transom, the fold-down ladder and transom walk-thru remains on the port side flanked by a full-width transom bait board that hinges up.
An alloy sink completes the transom profile. Twin transom lockers house the boat's start and house batteries and battery selector switches and salt-water wash down pump and hose.
Demonstrator One's cockpit has an external fully-enclosed head and shower unit tucked in on the starboard side under the extended cabin top overhand.
It has been nicely finished and carries as standard a gas califont, electric head, self-draining floor and upright storage for rods.
Cabin and saloon
Cabin access is from a central extruded aluminium door. A modest bridge deck provides protection from cockpit back wash finding its way into the cabin.
Cabin layout sees a small galley set immediately to starboard and equipped with a small stainless steel unit with a shallow sink and two-burner hob with fresh and saltwater pump options. This unit is recessed into a timber cabinet with a set of four drawers on slides.
A small U-shaped dinette opposite the galley and helm station provides dining and seating options, with deep dry storage bins under the twin squabs. The table can also lowered to create a double berth independent of the forward cabin.
The helm station layout has a comfortable all-weather driving position. While there is a facility for moving the driver's seat back and forward there is no height adjustment.
The larger dash is in black vinyl and brimming with the latest Furuno 3D Navnet technology flanked by two gangs of BEP switchgear and Suzuki's stainless-rimmed analogue instrument package.
The forward cabin is trademark Image with twin berths and optional overhead pipe berths for additional crew or secure gear storage. An infill squab can also be added to create a large double berth.
Suzuki power and technology
Demonstrator One is rigged with a new-generation Suzuki DF 250 V6 four-stroke outboard with multi-stage induction, two-stage cam and offset drive shaft resulting in what Suzuki says is the most compact, lightweight and powerful 250 outboard on the market.
Suzuki Marine New Zealand manager Colin Archer says the Suzuki DF 250's crankshaft is uniquely positioned forward of the offset drive shaft, which has allowed Suzuki engineers to position the engine's centre of gravity forward. This, he says, places the engine's axis of inertia up over the upper engine mount to reduce engine vibration.
He says one of Suzuki's best features in terms of aiding boat performance is the DF 250's capacity to swing a much larger propeller because of Suzuki's 2.3:1 final gear ratio.
Drive time
Being of moderate deadrise the Image appeared less prone to lean into the breeze than some boat I've experienced with excessive transom deadrise and, while equipped with trim tabs, these weren't required.
Weight distribution or movement through the boat did not unduly affect trim and performance.
The standard Sea Star hydraulic steering felt well-matched to the Suzuki, delivering positive yet nicely weighted feed back to the helm.
The Image clearly benefits from a deep, fine bow entry designed to slice through waves rather than pound across the top, resulting in a softer more predictable hull. The Image's moderate topside flare and a variable single chine rail work well to disperse and channel wake and wash away from the hull.
The boat displayed phenomenal grip on the water when put into a series of high speed cornering maneuvers and recovered quickly and with minimum cavitation due in no small part to large diameter propeller.
All in all the Image impressed all those onboard with her response, sea kindliness and sense of purpose in difficult conditions that could have presented a real challenge for a lesser boat in inexperienced hands.

Specifications Image 8m Fishmaster
LOA 8.25m
Beam (external) 2.50m
Transom deadrise 18 degrees
Fuel 350 lts
Water 64 lts (optional)
Hull 6mm/topsides 4mm
Engine Suzuki DF250 V6 four-stroke
Trailer Image tandem axle (Carlisle Hydrostar brakes)
Price as tested $206,000
To read in-depth boat reviews, see the latest issue of Trade A Boat magazine.
Keep up to date with news from Trade-A-boat or like us on Facebook!