Altec 760 Hard Top Jet
---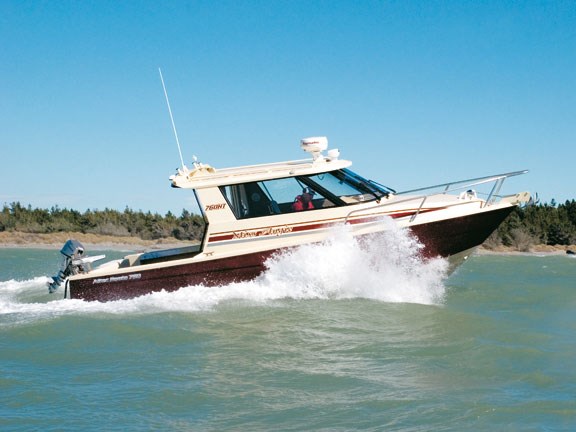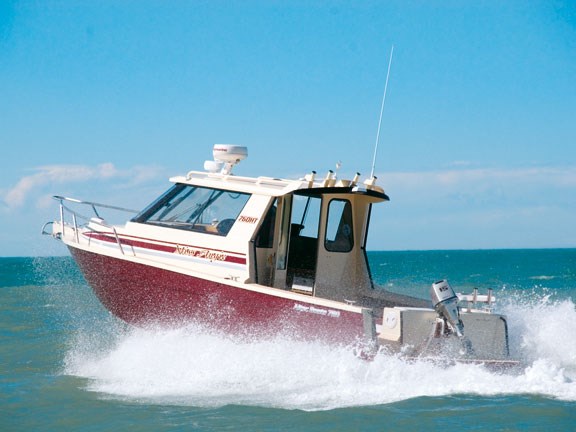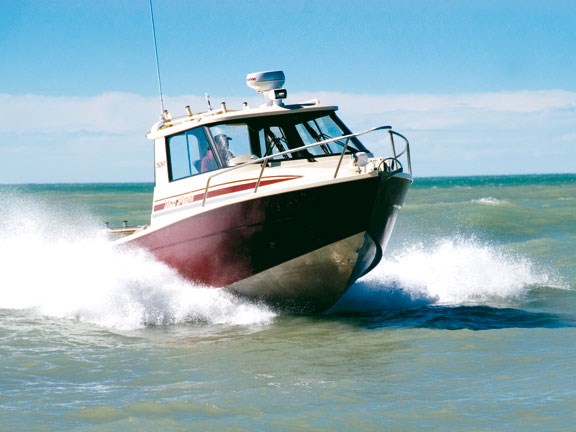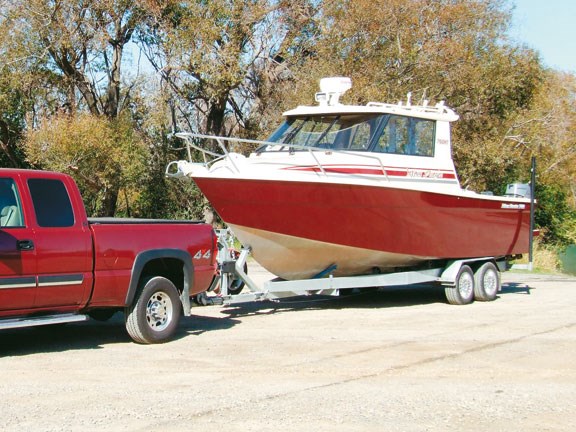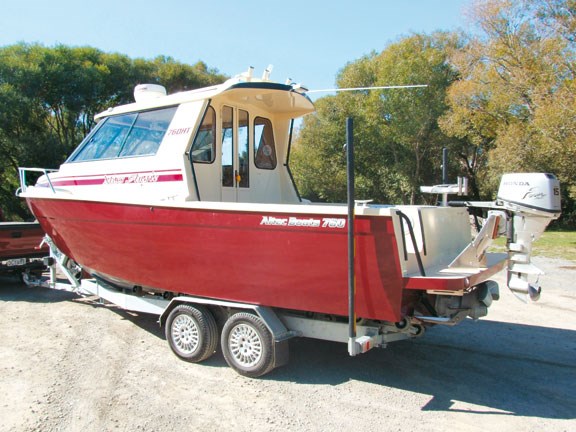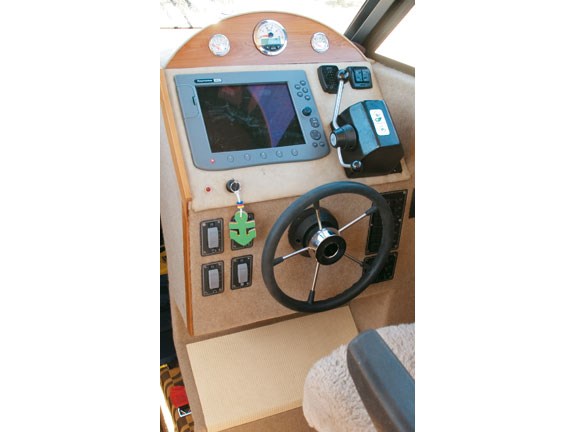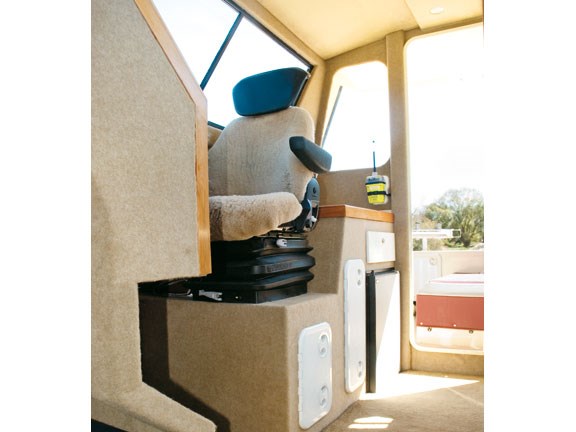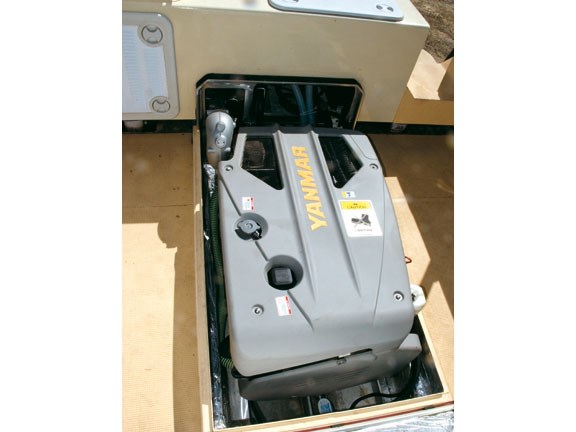 Christchurch's Altec Boats NZ Ltd recently fitted one of its 760 Hard Tops with an inboard engine and jet unit, and while the boat's great, the engine/jet combo could do with a little tweaking
Fabrication is to a very high standard and will easily meet survey requirements.
It's a spacious wheelhouse for the length of the boat.
The Altec 760 has good manners in a light to moderate seaway.
While the fit and finish of the vessel is exemplary, the vessel as she stands has a trailerable weight of 3445kg, with 70 percent fuel loads.
This 760 HT was commissioned for a local businessman who wanted a good-sized, yet still trailerable day boat to access fishing spots around the Canterbury coast. Waterjet propulsion was one of his pre-requisites.
Scott Pringle and his team at Altec Boats were happy to oblige and set to work, fitting a new Yanmar BY260 turbo diesel coupled to a second-hand, reconditioned HamiltonJet HJ 211 waterjet.
Construction and design
The Altec 760 HT is based on a generic Scott Robson design that features a variable deadrise (19 degrees at the transom) and wide, turned down chines. Two planing strakes either side of the keel provide additional lift.
The 7.55m hull has an overall beam of 2.55m, keeping her within acceptable parameters for towing. With the boarding platform incorporated into the transom design and the strong fairlead blended into the bow, overall length extends to 8.55m.
Construction is marine grade aluminium alloy with 5083 used in fabrication of the hull and 5052 for the superstructure; 6mm plate on the bottom and the transom, with the topsides formed in 4mm.
The hull's braced with six longitudinal bearers, three either side of the keel, and five transverse frames, all formed in 4mm. There's an internal keel bar, formed in 10mm. Floors are fully welded from the inside bearers out to the chines to form reserve buoyancy chambers. Topsides and superstructure are fabricated from 4mm plate.
The 6mm toughened glass is to survey standard, and a high-quality Seamac bi-fold door separates the wheelhouse from the cockpit.
Layout
A Muir 600 winch is remotely operated from the helmstation. The self-draining anchor locker easily swallows 15m of chain and 300m of anchor rope.
The forecabin features a full length vee berth with storage beneath, supplemented by two parcel trays. LED lights are flush-mounted in an overhead binnacle – there is no hatch or sidelight window.
At the helm station you'll find analogue gauges with engine speed, fuel and volts. Other engine functions including oil pressure and coolant temperature are monitored by alarms and warning lights that indicate within the tachometer dial.
A Raymarine C120 combination plotter, sounder and radar is located ahead of the helm while the VHF and CD player and remote spotlight controls are mounted overhead.
Throttle and forward/reverse actuators are also located on the dashboard but are too close to the helm for my liking, making adjustments in a seaway a little awkward. The helmseat, manufactured by Grammer, is an adjustable, hydraulically-damped unit that proved very comfortable.
The seat base extends back and up to form a bench top with large storage compartments and a three-way refrigerator beneath it. If overnighting, a portable gas cooker can be mounted on the counter top. To port is a long settee that has huge storage compartments built in to the base on two levels.
A long engine box dominates but there is still plenty of room to move around either side and in front of it.
Two Rule bilge pumps are fitted into small sumps in each aft corner of the cockpit, and they're supplemented by two similar-sized pumps located fore and aft in the engine compartment. The transom incorporates large lockers for batteries – one house and one engine, bridgeable – as well as for the washdown pump and hose. Cast alloy cleats are solidly welded on each corner aft and on the port side is a transom cut out, giving access to the full-width boarding platform.
Performance and handling
The six-cylinder Yanmar 6BYZ-260Z diesel has a peak output of 191kW at 4000rpm. It has a dry weight of 315kg. The waterjet impeller had to be re-sized from approximately 3.4kW down to 3.0kW to allow the engine to reach 4000rpm (maximum power).
Her rugged construction means she weighs close on 2.7 tonnes with 75 percent fuel capacity – and this without any payload.
The Altec 760 has a nice attitude on the water and delivers a comfortable ride with little in the way of hull noise.
Immediate impressions from the helm confirmed earlier suspicions that this vessel is a little underpowered and under-jetted for her weight. The engine runs sweetly enough but because of the impeller's reduced blade area (to allow the engine to reach peak power), acceleration was sluggish as the jet worked hard to deliver sufficient thrust to lift the boat on to the plane.
With a full payload of say four adults, their associated gear, and a full tank of fuel, I imagine the engine would have to be run at almost wide open throttle to maintain 20 –23 knots, and this won't do much for fuel consumption.
Steering is via a push-pull cable and a manual, rotary-style helm. Consequently, the helm is very heavy and this, coupled with the lack of real thrust in the low and mid-speed range, makes steering the vessel a real effort. Things would improve hugely with the installation of a hydraulic steering actuation system, preferably power-assisted.
We were advised that the boat is capable of 30 knots in lightship trim in favourable conditions and will cruise at 23/24 knots again in ideal conditions. Fuel consumption is said to be around 45 litres per hour.
Specifications Altec 760HT Jet
LOA 8.55m LOH 7.55m Beam 2.55m Deadrise 19º @ transom Engine Yanmar 6BYZ 260Z Waterjet Hamilton HJ 211 Weight on trailer 3446kg
To read more in-depth boat reviews, see the latest issue of Trade A Boat magazine, on sale now.
Keep up to date with news from Trade-A-boat or like us on Facebook!