VIDEO: Bluefin 665 HT Offshore
---
Sturdy construction and superior seagoing manners are synonymous with Sportcraft's Bluefin series, properties ably reflected in the Tauranga company's newest model – the 665 Offshore. A slightly scaled down version of its bigger sibling – the 700 – the 665 offers easier towing and handling without compromising performance.
The 665 debuted at this year's Hutchwilco Boat Show in Auckland and quickly generated a number of orders. Sportcraft general manager Jamie Black says design evolved directly from customer feedback: "While the 700 is one of our most popular models, we became aware that a number of prospective buyers found it a little too imposing from a towing and a handling perspective.
"So we thought we'd offer the same boat in a slightly smaller version – lighter and easier to tow, requiring less horsepower – but which you could still take offshore with confidence."
And there's no doubting the new design's blue water intent: tough, no-nonsense lines positively bristling with grab rails. A solid hard top with reinforced glass to protect you when Neptune's having a bad day, mated to a large cockpit offering heaps of elbow room for wrestling your catch on board.
Black's design brief scores an A – the package weighs in at 1545 kg (dry) on the trailer, versus the 700's 1800 kg – yet it doesn't appear to have lost any of the marque's inherent ruggedness.
She's an attractive vessel – the blue and silver paint job looks very sharp – but if you had any doubts about the 665's fishing focus, a quick survey of the cockpit will remove them. There are six rod holders in the gunwales (three per side), five more on the hard top's rocket launcher, and they're complemented by a Deluxe baitboard fit for serving a smorgasbord.
It's a seriously spacious cockpit (it doesn't seem to have lost much to the 700), with the standard shelves on either side for rods and fishing gear. Tread plate floors are great for a wash down after the day's fishing, but are hard on the feet. The 665 bridges these issues with tube matting – and in this case someone's done a particularly neat job of fitting it. It's easy underfoot, offers secure grip, and best of all, is easily lifted for wash downs.
Among my favourite features on the Bluefin series is the gunwale design – their width makes them an obvious bum-perch, and as they're nicely rounded, they'll be kind to your thighs when you're wielding a gaff at full extension.
Black says the factory purposefully leaves the boats with a fairly spartan fit-out – allowing new owners to select their preferred accessories.
Performance
The most interesting thing about the 665 is its performance. Black likes to refer to it as a scaled-down 700, rather than a scaled-up 650, and while you'd expect it to offer better fuel efficiency and performance than the 700, it would naturally be a bit thirstier and less agile than the 650, not so?
Well, no, not so.
The new boat is fitted with a 135hp Mercury Optimax, and the manufacturer's Smartcraft gauges provide lots of interesting data about its performance. Black has run comparative tests between the 650 and the 665 with the same model engine, and surprisingly, the 665 out-scores its smaller sister. Which suggests there are particularly good vibes between the new hull and the 135hp Opti.
We did 40mph across a nasty chop in the Tauranga harbour, and in flat water, says Black, it reaches 50mph. Holeshot performance is excellent. The strakeless hull enjoyed the chop, and there's a profound feeling of solid security sitting at the helm – despite the messy conditions outside. It feels sure-footed and inspires confidence.
The boat rides on a non-braked, tandem axle Sportline trailer.
To my mind the 665 is best described as a successful brew – mixing handling/towing convenience with offshore capability. She'll be easier on your psyche (and your wallet), and when required, will happily take you 20 miles offshore to that secret waypoint recorded in your chartplotter.
Specifications Bluefin 665 Offshore (price as reviewed - $59,995, packages from $54,995) LOA 6.65m Beam 2.5m Deadrise 17 degrees Weight on tandem trailer 1525 kgs (dry) Fuel 140 litres (underfloor) Construction aluminium (bottom 5mm, sides 4mm and hardtop 3mm) Engine 135hp Mercury Optimax
For more information, call Sportcraft Boats at 07 928 7193.
Read a review on the Bluefin HT 700.
To read in-depth boat reviews, see the latest issue of Trade A Boat magazine.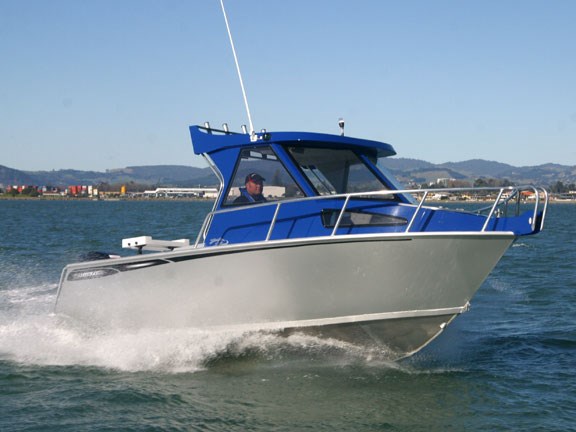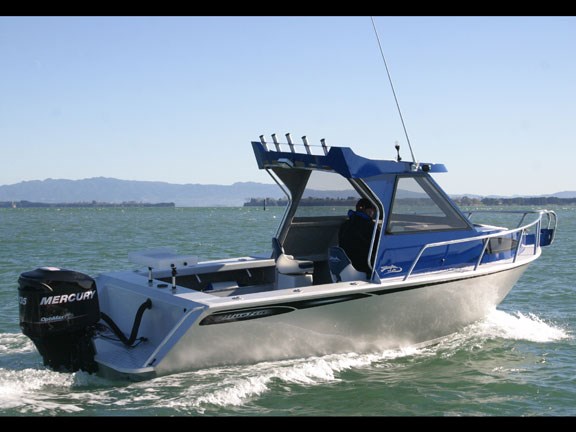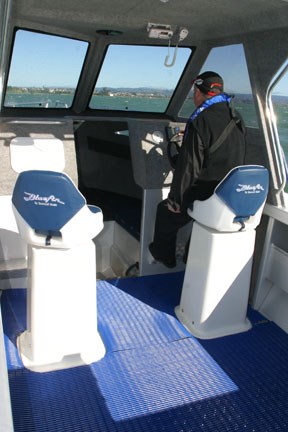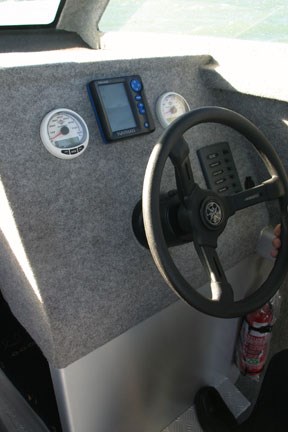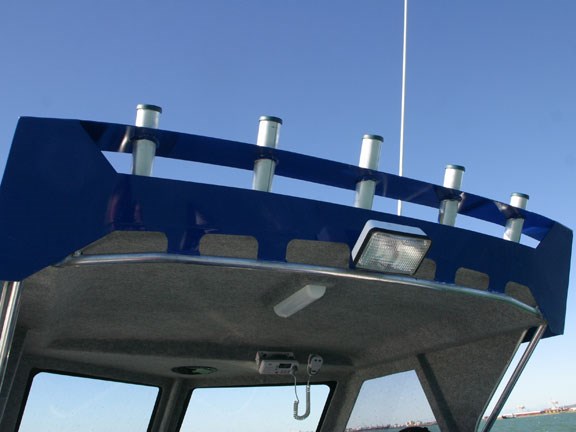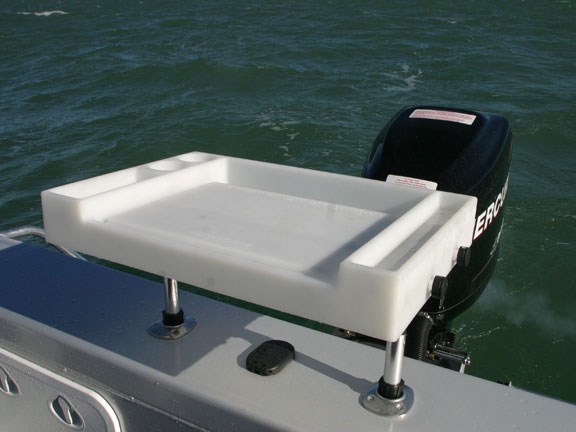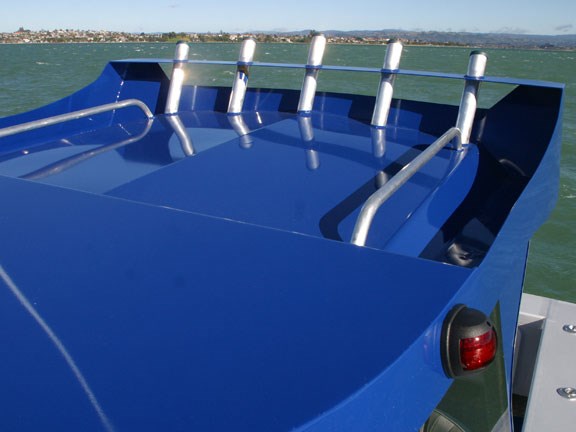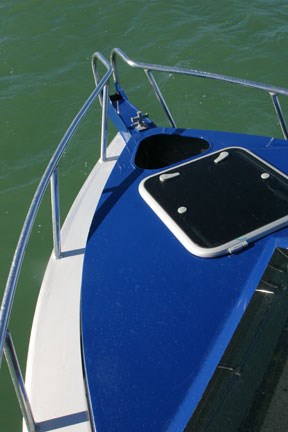 Keep up to date with news from Trade-A-boat or like us on Facebook!