VIDEO: Seahouse Liberty 855 Hard Top
---
Seahouse's new Liberty 855 is a splendid blend of comfort, style and adventure
Handsome, well-proportioned vessel
Stylish interior, warmed by Webasto heater
Super-quiet Suzuki DF 300hp
Exceptional, fly-by-wire controls
Clever davit for craypots and dredges
The just-launched 855 enclosed hard top is the company's new flagship, its biggest vessel, and from my perspective, by far it's most interesting. She's a big, bold vessel, handsome, pragmatic in design, stylishly appointed, and very comfortable.
The 855 belongs to Hanmer Springs sheep farmer Craig Rutherford, a boatie with decades of experience, who plans to use her mainly around the Marlborough Sounds.
A large, imposing boat, the 855 is nicely-proportioned, with its extended hard top and curved windows presenting a comfortable balance to the hull's sweeping lines. She's also a fairly wide vessel (2.7m beam) – and while that requires a bit of extra caution when towing, the advantages are evident in the roominess inside.
Rutherford's food-from-the-sea interests are more about shellfish than fishing, and that's reflected in the relative lack of the rod holders. What the boat does have, though, is a davit mounted on the swim platform for handling craypots and scallop dredges.
Cockpit
Even with the extended hard top, it's a generous cockpit, with plenty of space. It's adorned with the standard, full-length shelves down either side, with lockers in the transom.
A two-burner cooker and sink nestles against the wheelhouse bulkhead (starboard) and like so many other parts of the boat, it's the finish that makes the difference. This unit is mounted on a hardwood (jarrah) base, and a fold-out table is mounted against the cooker.
But from my perspective, Seahouse's piece de resistance on the 855 is the bathroom door (port side of the cockpit). Again, where many alloy boats favour function above form with square, blocky structures, this bathroom is a superbly rounded structure, and the door itself is a work of art.
Inside the bathroom is an electric toilet, shower (drawing on a 130-litre fresh water tank) and gas califont.
Interior
Step though the bi-fold door into the cabin and you're immediately struck by the temperature differential – courtesy of a 2kW Webasto heater, plus carpeting and fully-lined sides and ceiling. It's a stylish interior – blue vinyl upholstery, tan carpets and off-white lining.
A compact but well-laid out galley lies opposite the dinette, with plenty of surface areas, a tier of four drawers and a top-loading fridge/freezer.
Up front you'll find a standard vee-berth configuration, with serious headroom. The infill completes the double berth, and the berth extensions on each side extend into the wheelhouse.
The helm station's dominated by a 12" Navman 8120 GPS/chartplotter/ sounder with fuel computer – beautifully crisp in its detail.
Performance
Suzuki's flagship DF300hp outboard is a four litre, 24-valve V6 with dual overhead cams and variable valve timing. It's completely non-invasive to the conversation at the helm, and with the cockpit's bi-fold door shut, it's almost inaudible.
We cruised serenely at around 30 mph (40kmh) with the engine turning over at 4200rpm. At this speed the fuel computer showed the big V6 consuming some 33 litres an hour. With the 350-litre underfloor fuel tank, this equates to a fairly extensive cruising playground.
At WOT (6300rpm) the boat hits 40mph (64kmh) – her fine bow knifing cleanly through the waves. The absence of strakes makes for a smooth action, and I couldn't manufacture any cavitation in the tight turns.
But my favourite piece of Suzuki technology is the fly-by-wire electronic shift. Ultra smooth, there is zero clunking as you shift between forward and reverse. It also provides an instantaneous, progressive and precise response.
At 3.3 tonnes, the Seahouse 855 is a serious towing proposition, and she rides on a dual axle (both braked) Mudgway trailer with 15" wheels. The rig's equipped with Sensa-Brakes, and Rutherford tows it with a 4.2 litre, turbo-charged Toyota Landcruiser.
Though he's had very little time with it, Rutherford says he is very impressed with its handling and the quietness of the Suzuki. "I'm particularly taken by the ease of low-speed manoeuvring – and the ease of towing."
To read the full review of the Seahouse Liberty 855, see the latest issue of Trade A Boat magazine, on sale now.
See a range of Seahouse boats for sale here.
Specifications Seahouse 855 X Cab Liberty Hard Top
(price as reviewed $220,000)
LOA 8.55m
Beam 2.70m
Dry weight 3,370kg
Engine Suzuki DF300hp
Fuel 350 litres
Fresh water 130 litres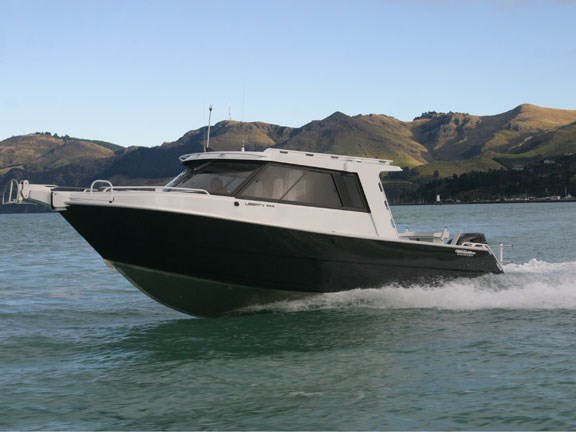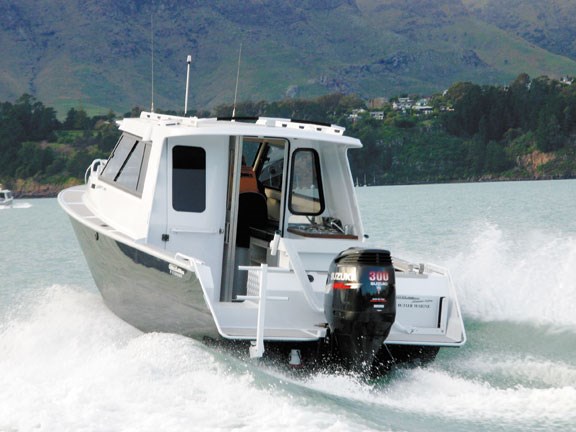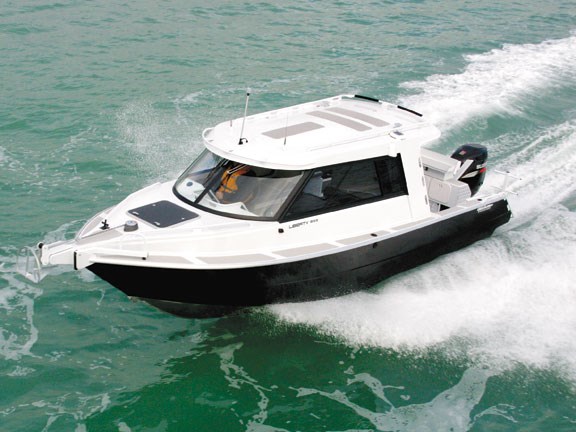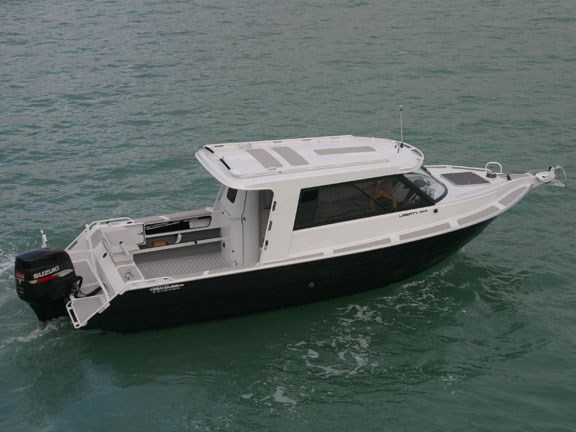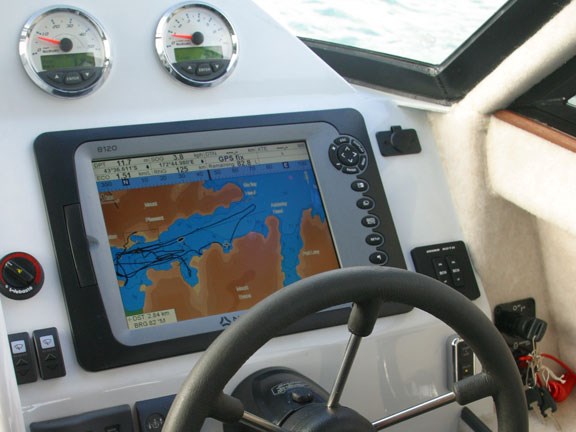 Keep up to date with news from Trade-A-boat or like us on Facebook!