Salthouse 65Q
---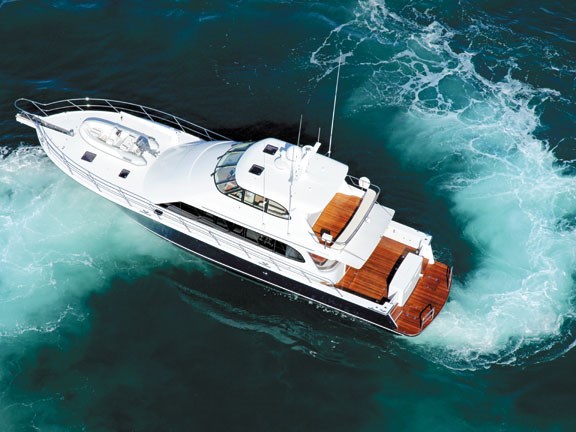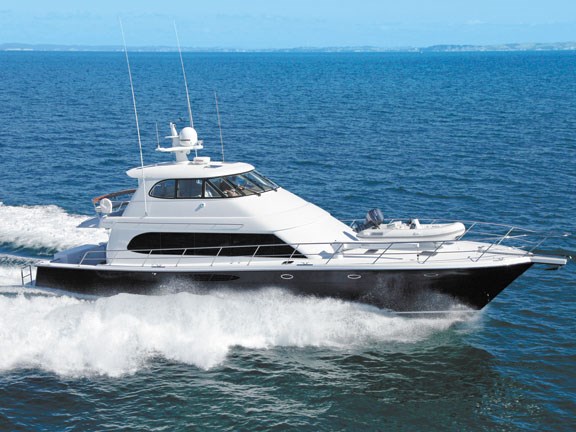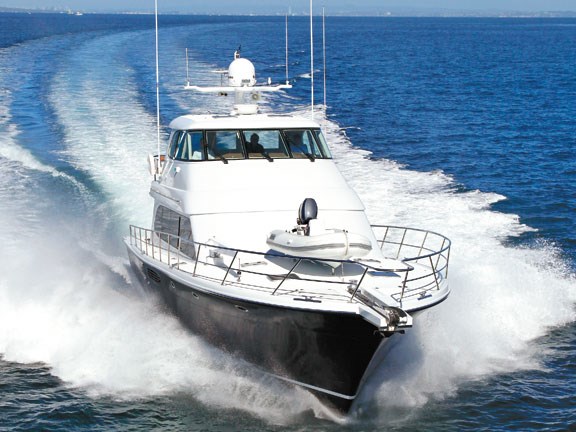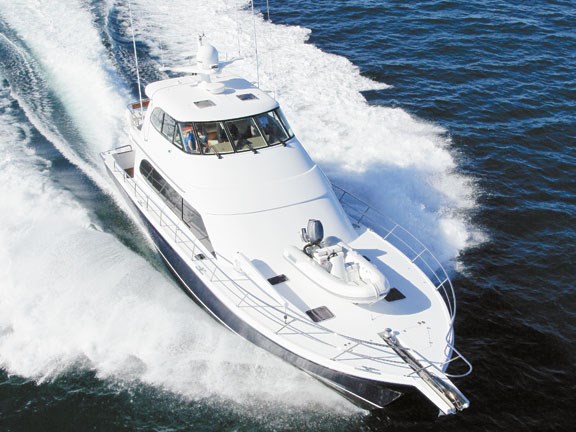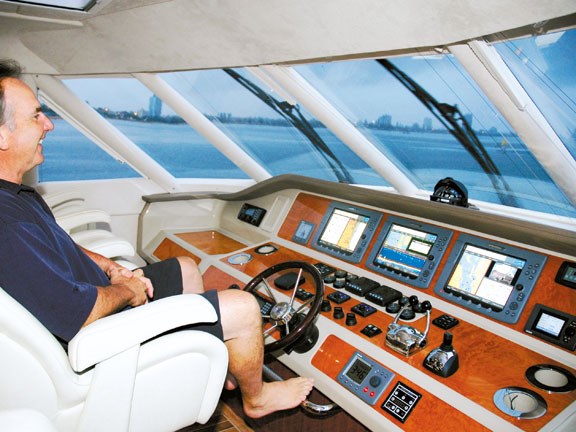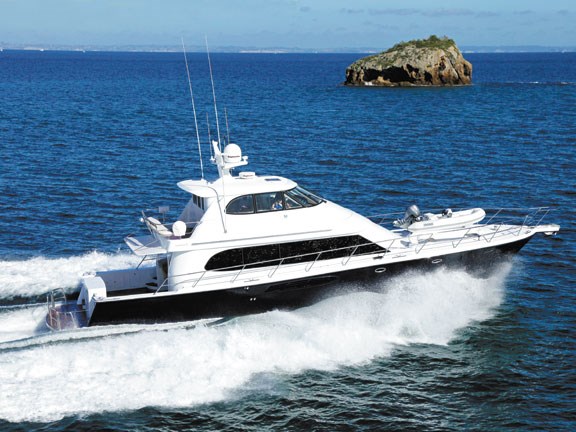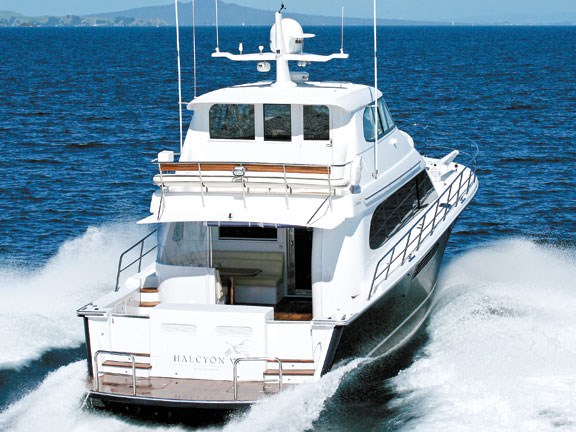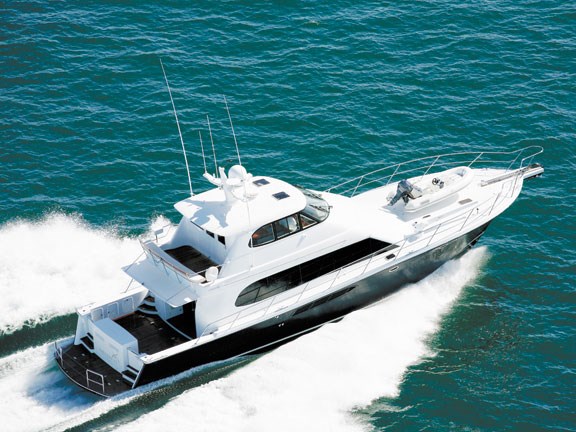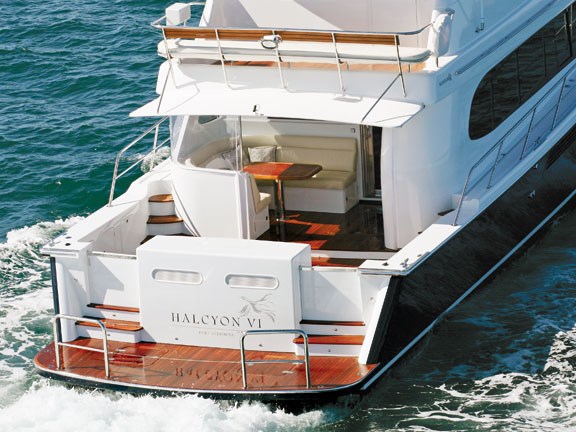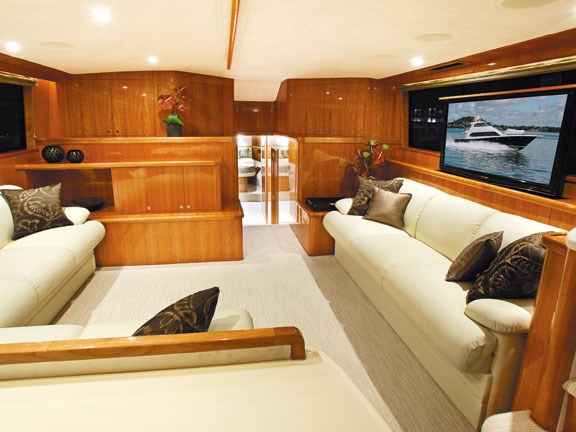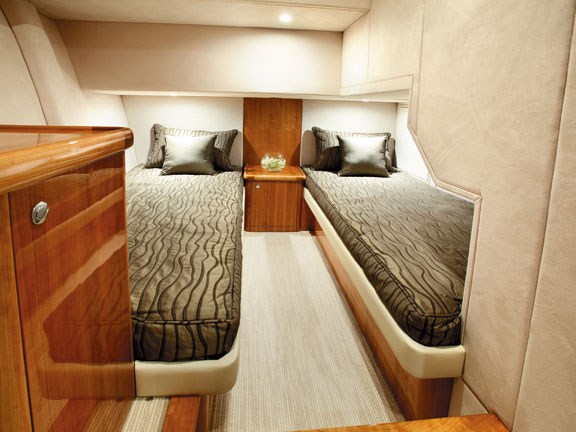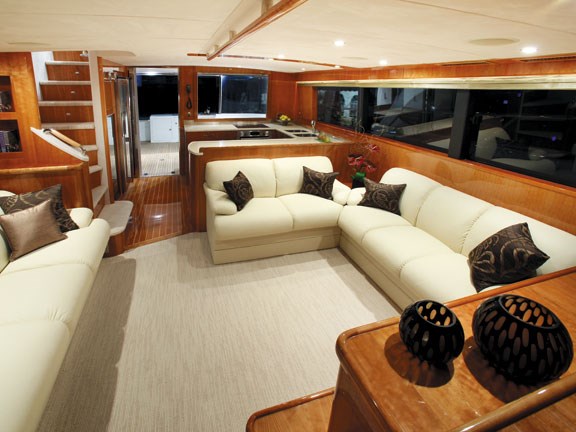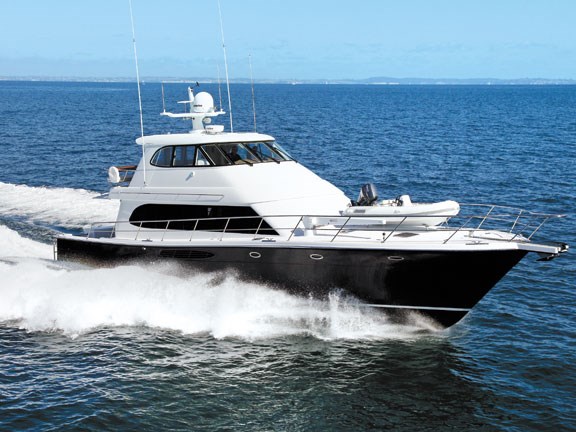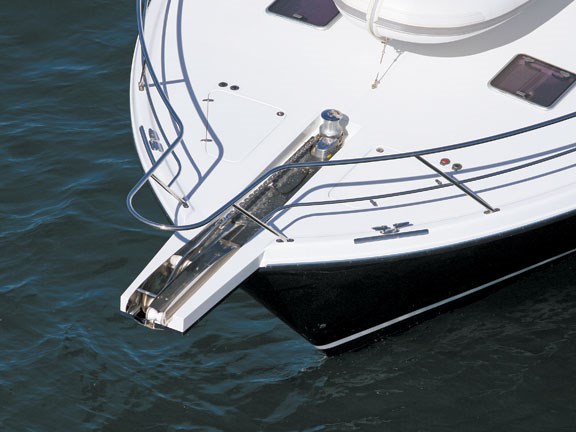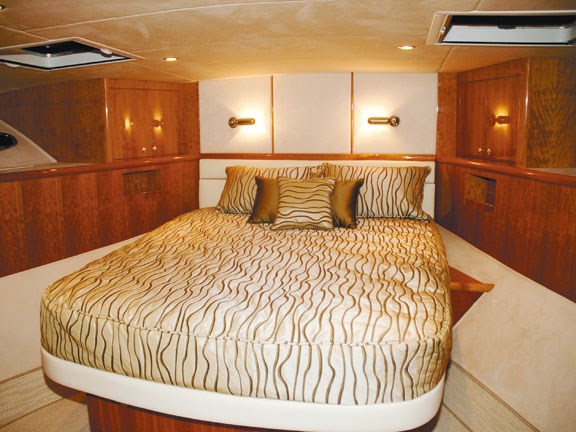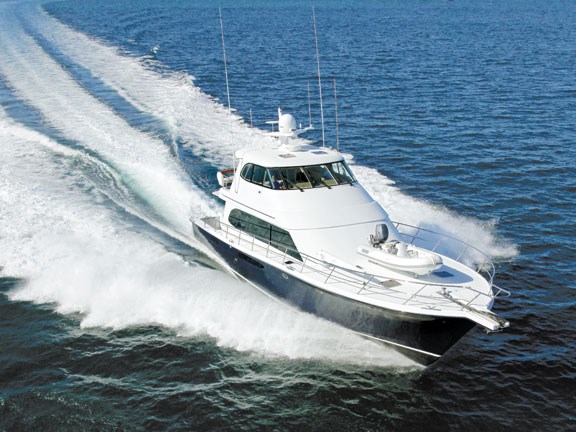 The Salthouse 65Q was ordered as a two-hand operational serious coastal cruiser, and has been repowered with a whole new propulsion system for a new level of docking friendliness and greater efficiency at sea
Spacious and luxurious interior
Powerful Volvo Penta IPS600 engines offer weight and space savings plus fuel efficiency
Halycon VI has an enclosed flybridge to house state-of-the-art communications and electronics
Easy to dock with excellent maneuverability
Comfortable, quiet and impressive cruising
The 65Q Halcyon VI features Volvo Penta IPS600s, each producing 435hp, under the cockpit floor. Salthouse dropped the keel, changed the chine and worked with Volvo Penta to create a running surface ideally suited to the forward-facing steerable drives.
Build
The weight saving achieved through the quad IPS600 installation over the previous Caterpillar C18s is said to be about 1500kg.
Salthouse builds its boats with composite construction, balsa-cored hull and decks, and things like foam-cored doors. The 65Q seen here displaces 32,000kg dry (just 1500kg more than a Riviera 61) and 37,000kg laden and ready to cruise.
Performance
Owners Don and Susan say they have seen more than 31 knots on their fully-laden Halcyon VI – with 5600lt of fuel, 1000lt of water and 10 people aboard. As for consumption, during a recent coastal jaunt they averaged 20 knots for 160lt/hr, or about 7.76ltr per nautical mile.
Layout
Because the four modestly-sized Volvo Penta D7 engines are located back aft under the cockpit sole, and the traditional engine room below the saloon is turned into a smaller utility room, the accommodation is enlarged.
Don and Susan have fitted a queen-sized bed longitudinally, with room around all sides, in the amidships stateroom to port, with further gains in storage space.
Trans-Tasman crossing
Rather than ship their new boat to Australia, Don and Susan took delivery in New Zealand and explored the Bay of Islands, the Hauraki Gulf and Great Barrier Island.
After they were familiar with their new boat's systems, Don and his mates embarked on a trans-Tasman crossing via Lord Howe Island.
"We didn't need to take on extra fuel," Don explains, "but we grabbed 2000lt at Lord Howe for peace of mind. We arrived in Newcastle with 3000lt aboard. We travelled at 1300rpm and 8kts before moving the throttles up a notch to 1600rpm and 10 knots (roughly hull speed) for 45lt/hr. And it was quiet operation all the way.
"That's one of the great things about this boat: we do a lot of cruising at 9.5-10 knots, using 30lt/hr, and it's just so quiet," Don says.
With the IPS, the Salthouse 65Q draws just 1.3m opposed to about 1.6m in their previous Riviera 48. And with the fly-by-wire steering and joystick, the boat is incredibly manoeuvrable.
Cruising kits
The building specification includes serious kit, such as a watermaker, dive compressor, and custom-made integral 300lt petrol tank in the transom for refuelling the 25hp outboard on the 3.5m Aquapro tender.
The boat has a 22kVa Onan plus an inverter than runs the fridges, AV systems, lights and AC outlets.
On Halcyon VI, the saloon is the primary lounging area. The main dining area is the signature alfresco setting found on most Salthouse boats, which is outdoors but under the flybridge overhang, with drop down aft clear curtains and powerful reverse-cycle air conditioning.
A big aft galley with electric window feeds straight to the dinette. Opposite is a separate self-contained head and shower.
Bridge living
Halcyon VI is fitted with satellite communications and a wireless internet network, with a printer in the bridge. There are HF, VHF and satphone, three Raymarine E120s wired to a CCT system, infrared cameras on the bow and in the engine room, wind gauge, and the latest Contour Zone networked power control and monitoring system from BEP.
There is a Joystick docking device that controls the four IPS 600s, but when berthing the outdoor station with Joystick on the flybridge deck offers the best vantage point and views.
Seating comes by way of two extra-wide Salthouse helm chairs, a forward-facing lounge for two, and an L-shaped lounge that converts to a skipper's or mate's trundle bed.
Anchoring gear is heavy duty, with a stainless steel Ultra Anchor, spare Manson anchor, 50 metres of chain and 50 metres of warp, plus a 24v Lofrans windlass.
Besides the aft station, the external bridge deck contains a lounge for 10 that is upholstered in weatherproof leather.
Engineering highlights
The generator is located well aft of living quarters, with splitter and underwater exhaust. The hot-water service is oversized, with high pressure pumps, and there are separate washing machine and drier. Elsewhere is an oil-change pump and the Sea Recovery Aquamatic 2500lt per day watermaker. The boat carries 1000lt of water in its tanks.
The fuel was shifted forward to the utility space in two big aluminium wing tanks with a crossover valve. Also here is the dive compressor and cylinder storage, the high-pressure gurney for washdown time, rod holders, and tool kit, plus Salthouse-supplied spare hardware and fixings. All the sea strainers have glass inspection windows, the batteries are maintenance free, and the boat has a central vacuuming system.
The compressed-air sealed hatches with big 75mm drains over the engine room ensure watertightness, and give security to the engine room, which is accessed from the cockpit.
Decked out
The Salthouse 65 has a big cockpit with storage hatches, a dive-bottle filler, the bowser for the two-stroke fuel, garbage bins, pressure-washer outlet and a amenities centre mid-transom with slide-out 240v barbecue and twin fridges.
The deep swim platform includes two wet wells with, I'm told, capacity to hold two-dozen crayfish.
At night, insect screens can be added, and opposite the alfresco setting is a free-standing outdoor WC with shower.
Interior gloss
Highlights of the U-shaped aft galley include grain-matched timber joinery, custom cupboards, pull-out knife holder and spice rack, pantry on slides, a lazy Susan, and big twin sinks.
There was a four-burner cooktop, combi convection microwave and side-by-side built-in fridge, with additional long-term fridge and freezer space back outdoors.
The central lounge room has a large timber storage area forward, while the television is hooked to a Bose Lifestyle system, Playstation 3, and digital tuner. The wet bar is nearby and ducted air-con pours out overhead.
The 65 boasts a three cabin/two head layout, with the third head back outdoors. The en suite's highlight is a huge shower, while the Tecma heads are switchable to saltwater.
Sea trials
The 65 hull is a warped plane design with a flat seven degrees of deadrise at the transom. Wash is noticeable by its absence from six knots to hull speed of 9.3 knots, while 10.5 knots saw us burning about 45ltr/hr for a safe working range of about 1200nm, leaving 10 percent of the fuel in reserve.
At 15-16 knots the 65Q is comfortable, quiet and it doesn't leap out of the water. At about 21 knots, we enjoy a smooth cruise at 176lt per hour. Top speed on the day is 30.1 knots, but the acceleration is even more impressive.
To read in-depth boat reviews see the latest issue of Trade-A-Boat magazine, on sale now.
See Salthouse boats for sale here.
Specifications
Salthouse 65Q (Priced from A$3.324m w/ four Volvo Penta IPS600 engines)

LOA 21.20m
Beam 5.60m
Draft 1.20m
Deadrise 7° aft
Displacement 36,500kg loaded
Engines 4 x 435hp Volvo Penta IPS600s
Fuel 5600lt
Water 1000lt (plus desalinator)
Holding tank 350lt

Other boats in this class
Riviera 4400 Sport Yacht
Maritimo C60 Sports Cabriolet
Keep up to date with news from Trade-A-boat or like us on Facebook!