VIDEO: Four Winns SL222 & SL242
---
Luxury styling gets a dose of adventure-DNA in the new Four Winns SL series, a range of speedsters that gives lake boaties the freedom to go fast in comfort
With its versatility and superb attention to detail, the SL is the complete boating package
Both boats also feature a split-chine hull, aimed at producing sport-friendly wakes without forcing a bow-up attitude
The interior is plush, sumptuous and very practical
A highlight of the series is the cockpit heater system which delivers warm air from the engine bay
The Quick and Quiet feature lets you choose where to direct the exhaust gases
The SL (Sports meets Luxury) series was launched late last year, and is a result of what Four Winns calls "cross-stream architecture" – the morphing of various boat styles/designs into a multi-purpose bowrider.

There are three in the series – the SL222 (LOA 6.88m), SL242 (7.44m) and SL262 (8.08m). A 222 and 242 recently arrived in New Zealand (imported by Wanaka's Torque Marine) and both were quickly snapped up.
There are plenty of similarities between the two models. Both, for example, are fitted with a 320hp Volvo Penta 5.7-litre GXi petrol V8 mated to a duo-prop stern leg.
Both boats also feature a split-chine hull – a new innovation for the SL series. Four Winns boats are renowned for their signature Stable Vee hull, designed for confident cornering, easy planing and great stability at rest. The combination of its shallow draft and a raised stern leg affords access to more areas.
The SL's split chine hull's an extension of the Stable Vee design, aimed at producing sport-friendly wakes without forcing a bow-up attitude – the attraction for those who like somersaulting behind boats.
Interior
The interiors are plush, sumptuous and svelte – superbly appointed and supremely practical.
Beverage holders, lockers, squabs, and tables are perfectly placed, they all look great and work even better. Each boat carries carefully-coordinated decor – chrome, rich timber accents, thick carpets and well-padded, double-stitched upholstery.
When you order your SL, you get to choose its colour scheme. There are six gel coat colours, with a range of complementary shades for the upholstery. You can even ask for the scheme to be carried through to the trailer.
Chillin'
The SL boats' open layout makes it perfect for entertaining. Even the smaller 222 will carry 8-10 people in comfort.
For purists, the slightly squared bow might look a little odd, but it creates enormous room in the U-shaped forward lounge, seating five or six. Infill squabs transform the area into a large, enclosed sunbed.
The aft lounge is equally spacious. A filler cushion system for the transom walkthrough creates wrap-around bench seating in the aft cockpit, enhanced by the reversible backrests on the helm and passenger seats.

Features
Highlights include the fold-out boarding ladders (bow and stern) stowed in discreet lockers. And, the SL's swim platform is wide, deep and spacious and covered with quality rubber matting for grip.

I also liked the glove box that's actually a drawer – far more useful for stowing personal items. And the fold-out wet bar on the 242 – complete with sink and faucet. And the deep, two-metre locker in the cockpit sole, perfect for stowing boards and skis.
My favourite feature (on both boats) is the cockpit heater system. It delivers warm air from the engine bay. You extract an extendible, flexible coil and feed it into the top of your wet suit.
The SL242 is equipped with a Porta Potti in a dedicated room on the port side, equipped with a tilt-open roof (with built-in curtains for privacy).
Performance
The SL's have a neat feature called Quick and Quiet. In standard (quiet) operation, the V8's exhaust gases are channeled underwater through the prop hub.
But, flick a switch on the dash and a pair of butterfly valves in the exhausts re-route the gases (and the beat) through outlets (above water) on either side of the boat. The freer breathing also gives the V8 a bit more Quick.
As with all Four Winns, options abound, and if you're really into tow sports and want to take full advantage of the SL's wake-making attributes, you could ask for an arch with mandatory speakers, lights and board racks.
The boat handles beautifully, and the Volvo V8 packs a healthy punch when you want to make things interesting.
Read an in-depth review of these boats in the November issue of Trade-A-Boat magazine, on sale now.
Specifications Four Winns SL 242
LOA 7.44m
Weight (dry) 2300kg
Beam 2.59m
Fuel 220 litres
Draft 84cm
Deadrise/transom 20º
Specifications Four Winns SL 222
LOA 6.88m
Weight (dry) 2030kg
Beam 2.59m
Fuel 189 litres
Draft 84cm
Deadrise/Transom 20º
See Four Winns boats for sale here.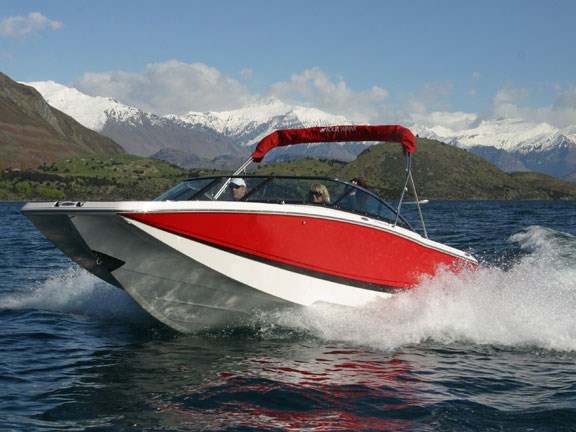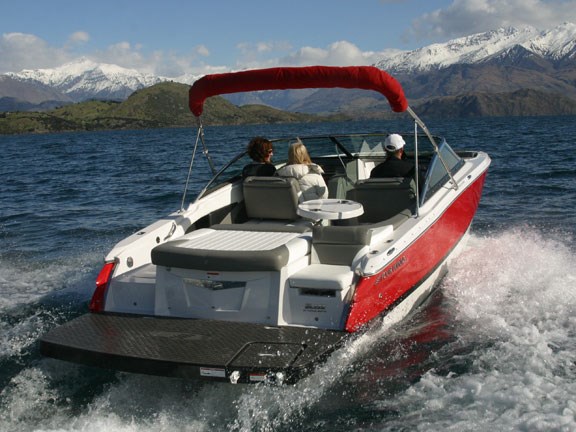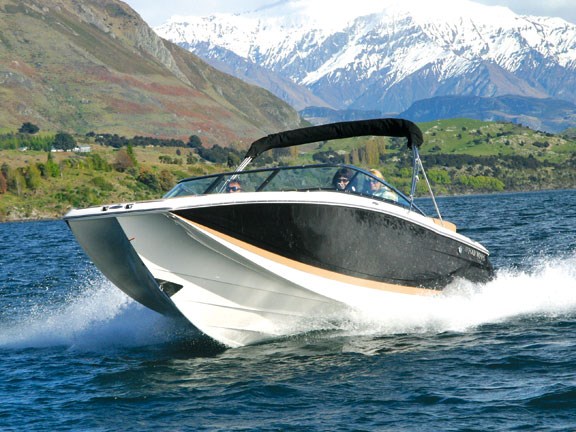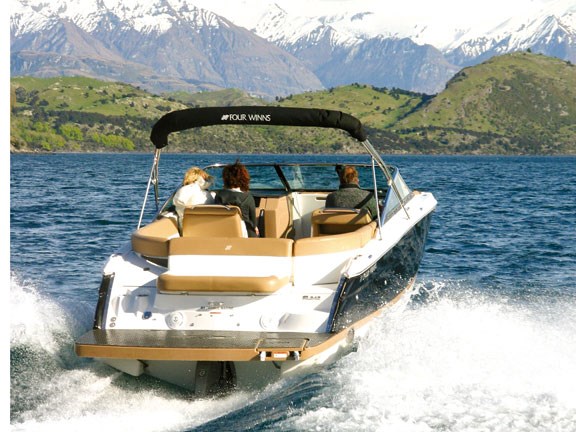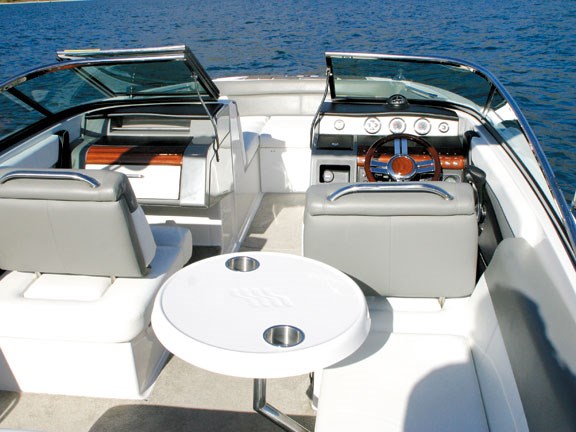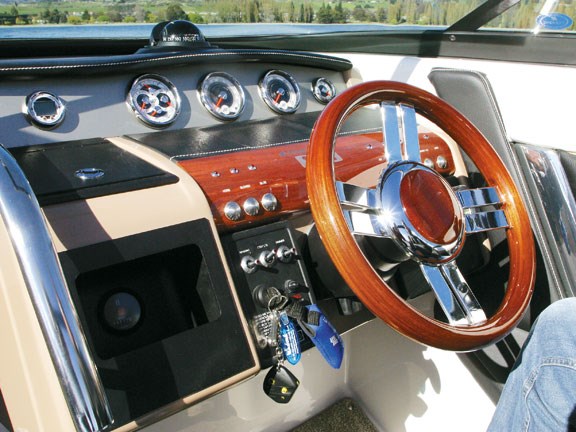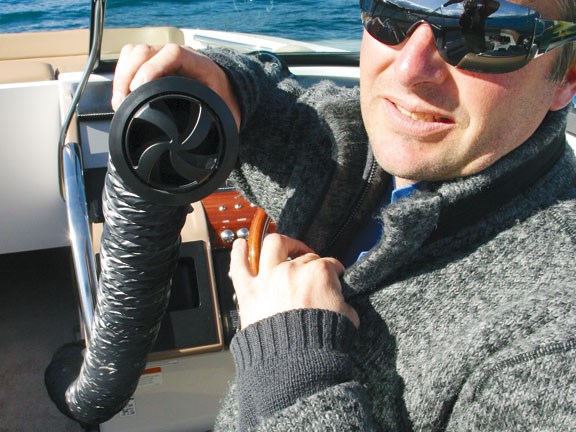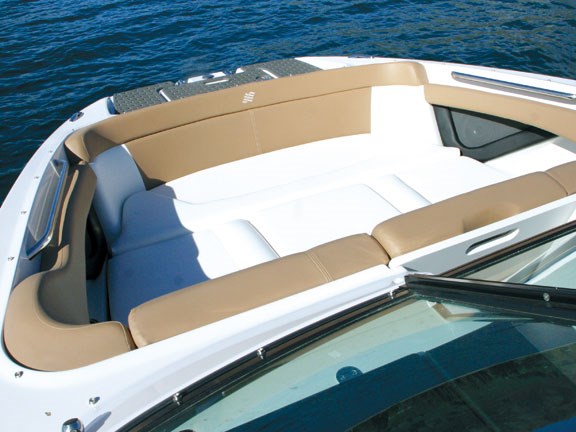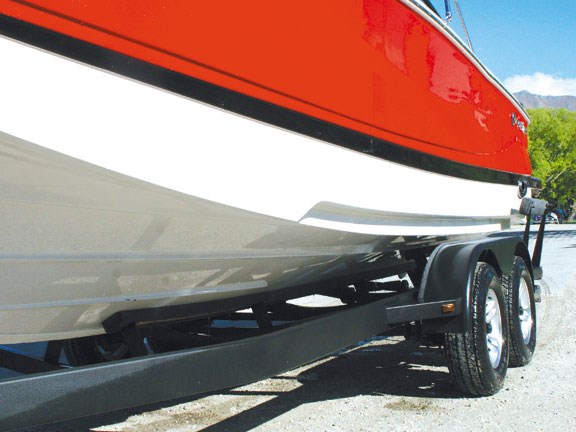 Keep up to date with news from Trade-A-boat or like us on Facebook!