Bavaria 38 Cruiser
---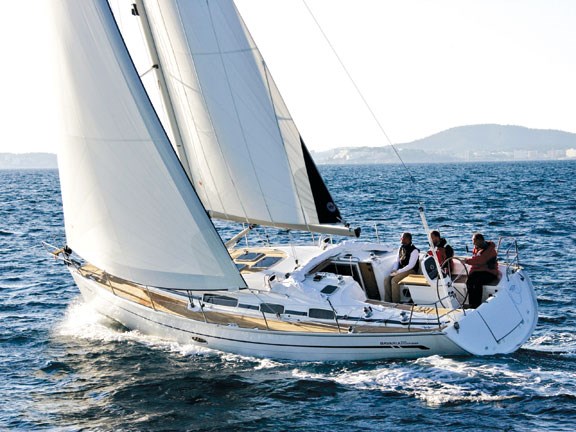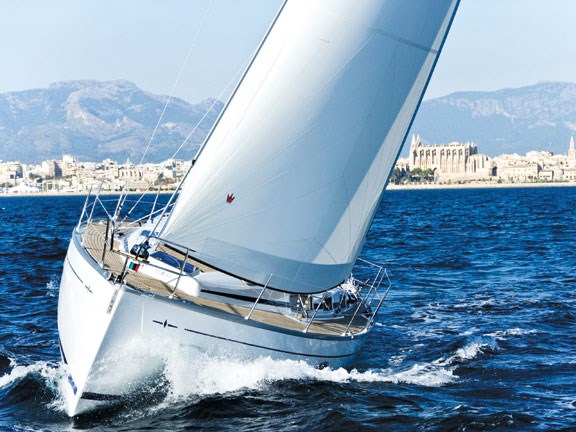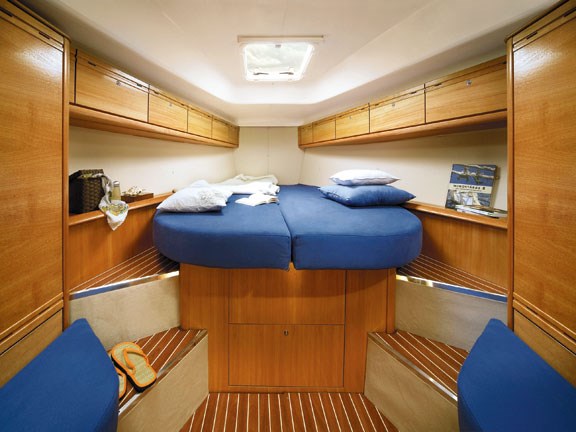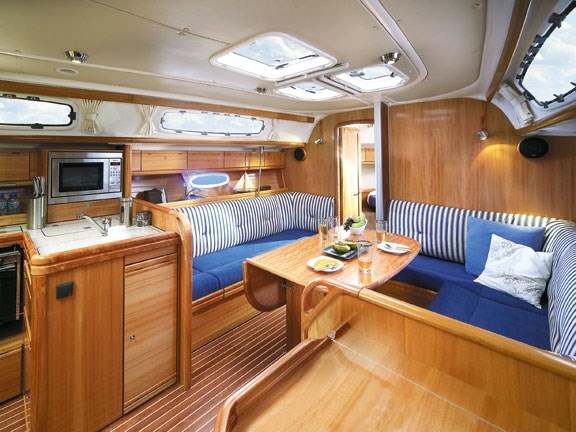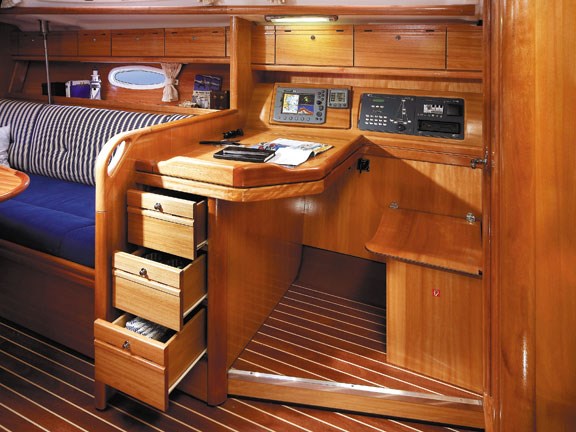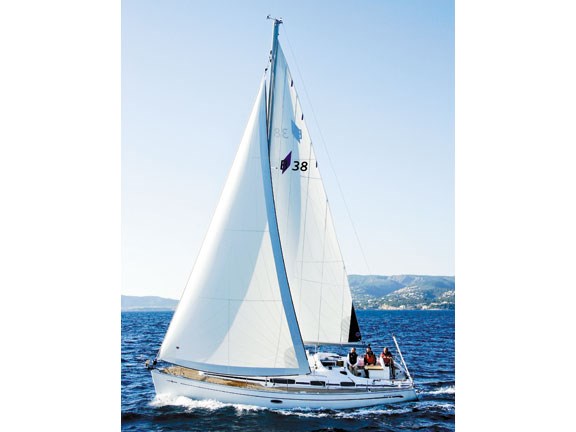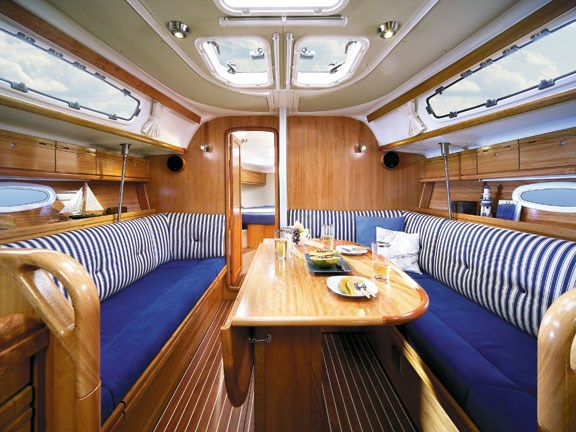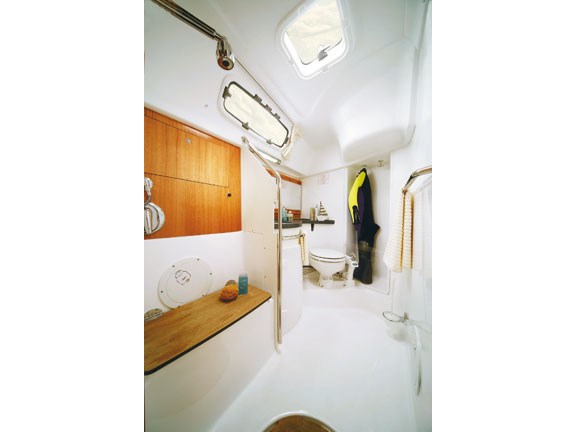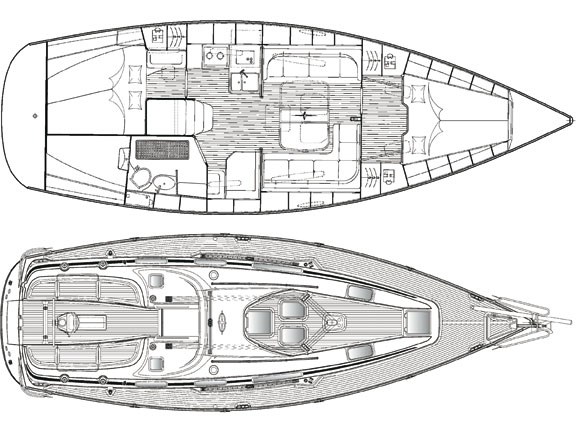 Bavaria's new 38 cruiser presents subtle refinements on the marque's earlier models, adding up to a comfortable cruiser that's not too shabby around the race course
The Bavaria is an easy boat to sail and quite forgiving of minor distractions at the helm
A sensibly-sized Volvo 40hp sail-drive caters for those who prefer motor-sailing
A large U-shaped galley has been introduced on this model
New nav station and comfortable helm position
Swap out the sails and set the boat up for spinnaker/genniker work and you could be competitive on general handicap in offshore racing
With each new Bavaria model has come minor design refinements and modifications and these are largely present on the new Bavaria 38, adding up to a better all round package.
Chief among these is a better sea-going internal layout that has seen the introduction of a proper U-shaped galley on the port side and a much larger sea-going chart table opposite to starboard.
Another design modification includes a new electric boarding platform with built-in boarding ladder.
On deck Bavaria has added a one-piece deck liner to hide the run of halyards across the cabin top to the cockpit, which is in vogue but adds unnecessary weight.
And on weight, the new-generation helm station with bulky instrument pod and fold out cockpit table is all very well but it is an edifice that will severely restrict your ability to sail your new 38 single or short-handed.
The review boat featured Bavaria's new endless mainsheet arrangement which brings the main sheet back to the secondary winches instead of the cabin top winch, purportedly to make short-handed sailing easier.
Another "refinement" is the companionway hatch boards, which now swing out much like shutters rather than dropping into recessed cleats. I question the integrity of this, and the number of deck hatches that make great swathes of the cabin top 'no step' zones.
The 38 cockpit arrangement is vintage Bavaria with the same Lewmar/Rutcheson deck hardware and fittings and Selden anodised rig that has been Bavaria's choice for as long as its yachts have had a presence in New Zealand. The 38's 7/8 rig is well-engineered and stayed and offered with a variety of furling main alternatives.
The in-mast furler on the review boat worked efficiently but the factory-supplied Elvstrom/Sobstad main suffers in the light without battens to maintain sail shape. Flexible battens would help, but let's not forget the 38 is first and foremost a cruising yacht.
Below decks
Below decks, the most significant change other than the rearranged layout is a new generation touch pad switch panel displaying icons rather than words. Gone is the circuit breaker, replaced with an LED indicator light.
Bavaria builds its boats in solid GRP up to the waterline, with GRP/foam sandwich topsides and deck. The hull laminate is beefed-up around the keel join and includes Kevlar fabric in the bow for increased impact resistance. The factory offers a five-year osmosis warranty.
A structural grid supports the keel loads, and the floor timbers, stringers and bulkheads are all glassed in to add overall strength. There is a reasonable bilge though the relatively flat hull shape will require you to get in there with a sponge to get it completely dry. Marine-grade plywood is used for the bulkheads with mahogany solids and veneers for the interior joinery.
The furniture is pre-assembled as modules, which are then built into the boats on the assembly line, allowing buyers to choose two or three-cabin layouts.
Like every Bavaria I have sailed before, the new 38 acquitted itself well in 15 to 20 knots of breeze. The self-furling main suffers a bit being very flat, but the cabin top traveller gives you a modicum of sail control.
Likewise, the overlapping headsail with its heavy canvas UV strip will be testing in light airs but is more than adequate for comfortable cruising. The Bavaria is an easy boat to sail and quite forgiving of minor distractions at the helm with enough mass to keep sailing along without constant tweaking and trimming.
The helm position is comfortable and there is plenty of grip on the water from the rudder. Other than the bulk of the helm station console, managing sheets is straightforward with good winch placement.
In factory trim the 38 should manage a comfortable six knots upwind and 7's and 8's reaching and running in moderate conditions. Swap out the sails and set the boat up for spinnaker/genniker work and equip her with an experienced crew and I'd guess you'll be more than competitive on general handicap in twilight and offshore racing.
If motor-sailing is your thing then your well catered for with a sensibly-sized Volvo 40hp sail-drive to call on. It will turn out nearly eight knots tapped out in flat seas and a comfortable 6.5 knots at 2000rpm.
Certain design decisions appear to have been made to favour sailing characteristics at the minimal cost of a few cubic feet in volume. The 38 is less beamy than her predecessor, and the beam draws in a more toward the stern than some of its contemporaries.
As a yacht it is handsomely styled and functions well with a level of gear and equipment to make sailing and living aboard a comfortable and enjoyable experience.
The bottom line is that the 38 Cruiser is a production boat, which makes it a starting point from which to build a personal yacht.
To read in-depth boat reviews, see the latest issue of Trade-A-Boat magazine, on sale now.
Read more Bavaria reviews here.
See Bavaria boats for sale here.
Specifications
LOA 11.75m
LWL 9.91m
Beam 3.91m
Draft 1.97m
Sail Area 69.2 m²
Ballast 2100kg
Displacement 7184kg
Water 360 litres
Fuel 152 litres
Engine 40hp Volvo Penta D2
Designer J&J Design
Keep up to date with news from Trade-A-boat or like us on Facebook!