Grady-White 185 Bowrider
---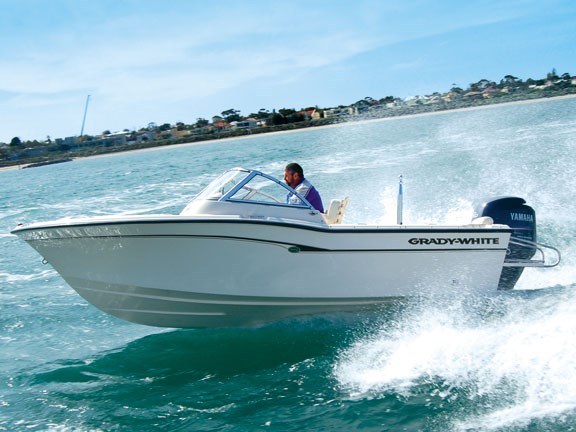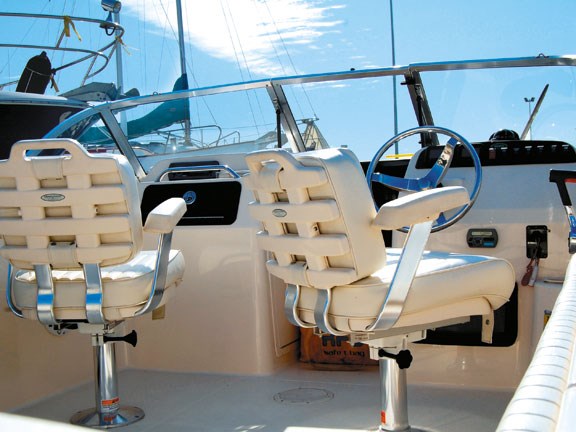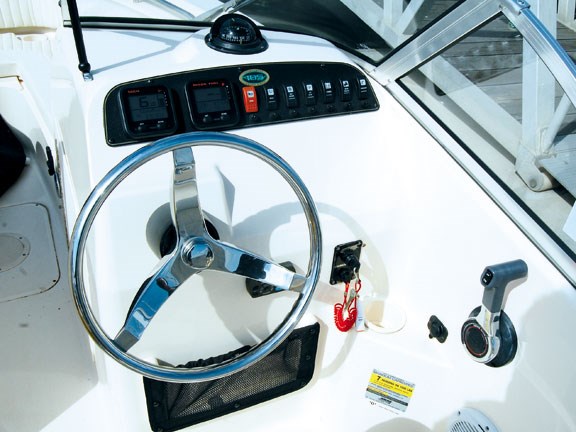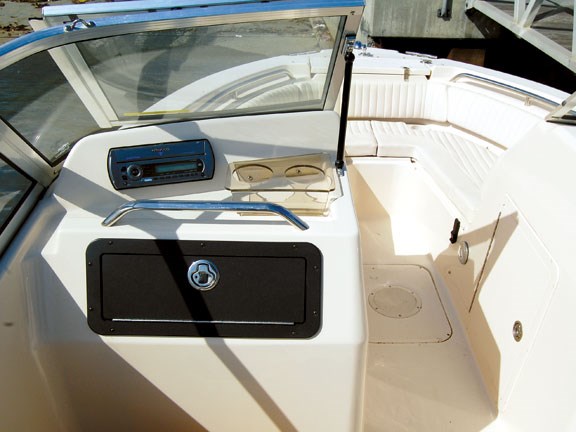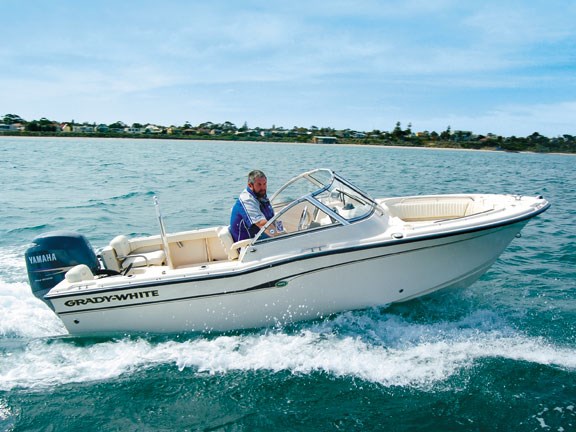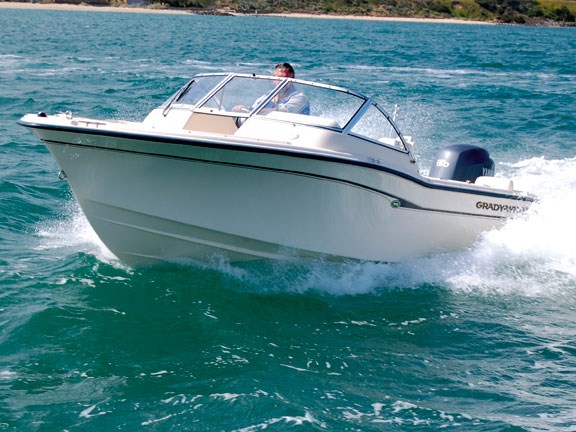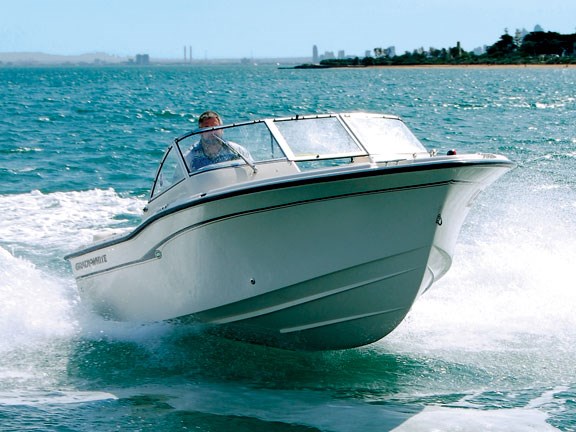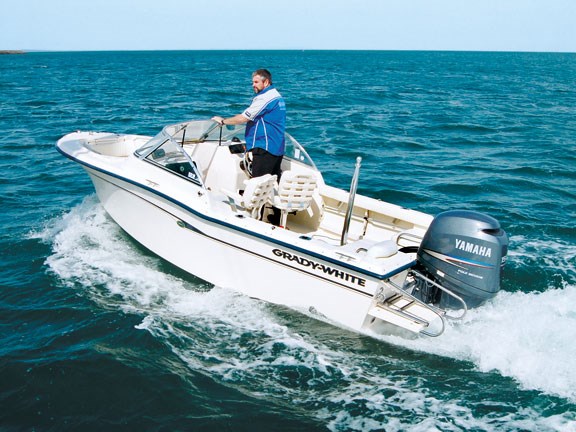 Grady-White boats are not well known by mainstream boaters in this country. Go to the US, however, and they are revered as one of the premium boats on the market – and so they should be.
Soft riding hull
Excellent build quality
Clean, crisp helm layout
Easy to manoeuvre
Strong-feeling boat that inspires confidence
These hardy Americans have enjoyed a great reputation for strength and seakeeping abilities for decades. The company celebrated its 50th anniversary in 2009, after starting up in North Carolina making wooden runabouts. By 1963 Grady and White had 13 models. By 1968, with new owners, the company was focusing on family fishing boats and were achieving top rank among small sportfishing boats.
These days a Grady-White has many features that you don't find on many boats of this size, which are well thought-out and benefit the boating experience for owners and crews.
Take the cleats for example. Six strong, stainless steel (316 grade) mooring cleats, which are through-bolted – two on the bow, two hefty spring cleats and two aft.
And a wiper for the skipper? The Grady has one and it really does help when the going gets a bit rough.
There are four rodholders in the gunwales as well, plus storage along the sides and under the gunwales for another four or more rods, in purpose-built racks.
The storage locker under the portside console continues under the bench seat in the bow to accommodate skis or even a wakeboard, keeping the cockpit free of clutter.
Other features include two insulated-cooler bins that drain over the side, a DC outlet for charging your phone or iPod and two lockable-storage compartments.
For the skipper, an adjustable helm seat, full instrumentation and illuminated-rocker switches for the electrical systems on the boat.
Big and strong
The Grady-White 185 is no lightweight. The hand-laid hull weighs in at 1021kg without the engine. Add the engine and the standard fuel capacity of 227 litres and you have a boat that will tip the scales at somewhere around 1500kg without passengers. It translates to a boat that feels solid on the water and inspires confidence through the chop.
The variable deadrise hull has a fine deep-vee at the bow that flattens out as it goes aft offering a smooth ride and stable platform at rest. Grady-White builds a hull that is both strong and rigid due to its no-rot rib system that is glassed in and they offer a limited-lifetime warranty on the hull.
Although the Grady-White 185 offers positive floatation, it shouldn't be needed as the cockpit is self-draining through two big scuppers and there's a 4164 lt/h electric-bilge pump as standard for added safety.
On the water
Our boat test day was sunny and mild, with a northerly gusting up to about 15kts. With the 150hp Yamaha four-stroke we were soon planing away at 3500rpm doing 34kmh (18.3kts) and using an economical 22 lt/h.
The helm seat was comfortable and supportive, and it was easy to read the digital gauges even in direct sunlight.
Our test boat was fitted with the optional hydraulic steering, which was light and very direct. There are also handy rails around the bow section of the boat.
The big tick that I'd give this boat is how dry it is. The flare of the bow and the strakes and chines knock the spray downwards and make for a particularly dry boat.
Similarly, the SeaV² hull design with its variable deadrise and deep-vee forward make the boat soft in its ride and also makes it track very straight – even with a quartering sea.
The boat was easy to manoeuvre and felt extremely well-mannered when I started to throw it around a bit.
Trimmed out and opened up we recorded 38kts (70kmh) at 5500rpm using 63 lt/h. I found that at 4000rpm we were comfortable at 27kts (50kmh) and using around 26lt/h.
Verdict
A strong and comfortable boat packed with features you don't find on many boats of this size. The Grady-White Tournament 185 Bowrider is well thought-out and, although expensive initially, should last a lifetime and hold its value on the second-hand market.
To read in-depth boat reviews, see the latest issue of Trade-A-Boat magazine, on sale now.
Specifications
LOA 6.44m
Beam 2.26m
Weight Approx 1500kg
Deadrise Variable
Engine Yamaha F150AETL
Fuel 227 litres
See Grady-White boats for sale here.
Keep up to date with news from Trade-A-boat or like us on Facebook!