VIDEO: Naiad Coastguard Boats
---
Coastguard's Far North fleet has been bolstered with the addition of two new 10m Naiad RIBs. While the boats have identical hulls, layout and engine choices reflect the crews' individual preferences – and underscore the design's versatility.
Comfortable and safe for crew
Larger and more powerful than predecessors
Toilet and cooking facilities
First-class navigation units
Sturdy tow posts with large cockpit for working lines
The Naiads were delivered late last year to the Coastguard units at Whangarei and Kerikeri in the Bay of Islands. Both are upgrades from the units' previous rescue boats – a 6.8m Naiad RIB for Whangarei, and an 8.5m Rayglass Protector RIB for the Kerikeri crew.
The crews needed larger, more powerful vessels. Boats that could travel more quickly in bigger seas while offering the crews greater comfort and safety.
The two 10m RIBS are the products of two different builders. Whangarei's Circa Marine built the Whangarei boat (Circa Rescue), while Henderson's Bluewater Boats built the Kerikeri boat (Bay Rescue II).
The main difference between them is the outboard/inboard engines selection: twin 250hp ETEC Evinrude outboards for Circa Rescue, and twin 315hp Yanmar diesels mated to 274 HamiltonJets for Bay Rescue II.
The main factor is fuel availability. Circa Rescue is based at Whangarei's Marsden Cove Marina, and fuel is easily available. Furthermore, they've retained the old 6.8m Naiad as a second boat and it's fitted with twin 115hp Yamahas. Retaining similar power configurations and control systems hopefully eliminates crew confusion and promotes better boat handling.
Bay Rescue II is based at Dove's Bay which only carries diesel. Refuelling for petrol engines would require refilling at Russell or Opua – a lengthy round trip – and neither of these facilities operate 24/7.
Skipper Murray Jeffs also feels the HamiltonJets offer greater peace of mind for Coastguard skippers.
"There's no worrying about nicking a prop blade when manoeuvring around rocks in tight situations – and more importantly, it allows you to get much closer to boaties in the water. You don't have to worry about someone being injured by a spinning prop."
While the Yanmars and jet units add extra weight to Bay Rescue II (she's estimated to be around 1.5-tonne heavier than Circa Rescue), Jeffs says this is not really apparent on a 10m RIB.
"It remains a remarkably stable vessel. Besides, I believe the weight difference is offset by the jets' greater manoeuvrability."
Both crews are delighted with their vessel's performance package. Circa Rescue's Graeme Allen says the Evinrudes are ultra-smooth, quiet and very efficient, between them using around three litres per nautical mile at cruise speed (25-30 knots). The boat tops out at 42 knots.
He is also very impressed with Evinrude's I-Command engine management system, which he says provides instant information about the outboards' welfare.
Jeffs says together the diesels consume around d 57 litres per hour at cruise speed (30 knots at 3500rpm). Bay Rescue II has a top speed of around 40 knots. The crews also appreciate the longer, maintenance-free demands of the diesels, compared with conventional outboards.
Both boats carry 650 litres of fuel.
Electronics
Both vessels are equipped for four-man crews – and Circa Rescue features an extensive Furuno package spread across four virtually identical stations (four 27cm colour screens, able to display inputs from radar, GPS, cameras and so on). They are all interfaced.
BOI Rescue's stations are similarly kitted out – though the crew has opted for two 10.4" Koden GTD110 displays, a Koden MDC 1040/3 radar (4kW) and a Koden MRE 280 ATA (auto module). There is also a Koden CVG80 8" plotter/sounder (at the helm). This equipment is supported by three Icom IC-M504 VHF radios, a Raytheon ST60 fluxgate compass and crucially, a Flir Thermovision system for easier searching in poor visibility.
Internal layout
The enclosed cabin means crews have a chance of returning dry and warm from a search and rescue mission. A toilet is also an added bonus.
Both forward cabin have a single bunk to port, with the toilet and storage lockers to starboard. The boats are fully-equipped medically, including oxygen and defibrillators.
The Naiads also have basic cooking facilities.
Towing
In both boats a large hatch in the cabin leads to the forward well-deck – a deep, secure area with working space for two crew.
The Naiads are equipped with sturdy tow posts, and big cockpit for working the tow lines. Circa Rescue's outboard rig makes for a much larger cockpit, but Bay Rescue II's inboards benefit from a large boarding platform with a wide drop-down boarding ladder.
The two units have only had the new Naiads for a few months, but both claim the vessels' performance exceeds their expectations.
"These are sturdy, safe, smooth-riding boats equipped with exceptional equipment. They lend lots of support to the entire volunteer ethos," says Jeffs.
Read the full review in the March issue of Trade-A-Boat magazine, on sale now.
See Naiad boats for sale.
Specifications – Coastguard Naiad 10m
LOA 10m
Beam 3.2m
Draught 600mm
Displacement 3980kg (dry)
Engines 2 x 250hp ETEC Evinrude (Circa Rescue)
2 x 315hp Yanmars with HamiltonJets (Bay Rescue II)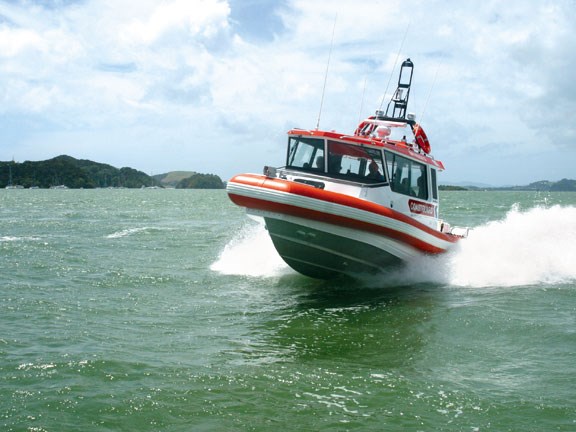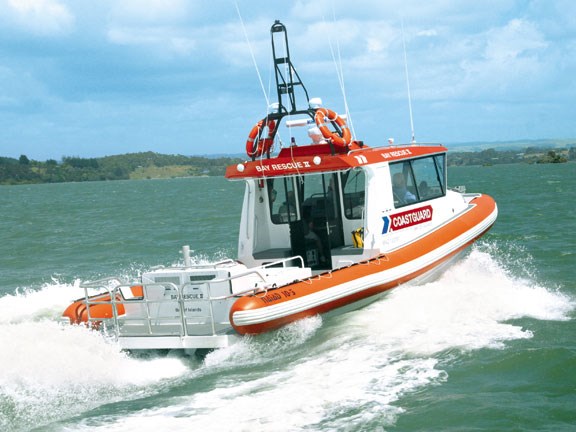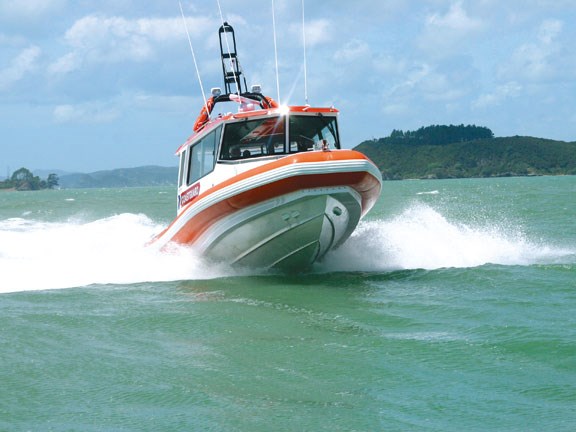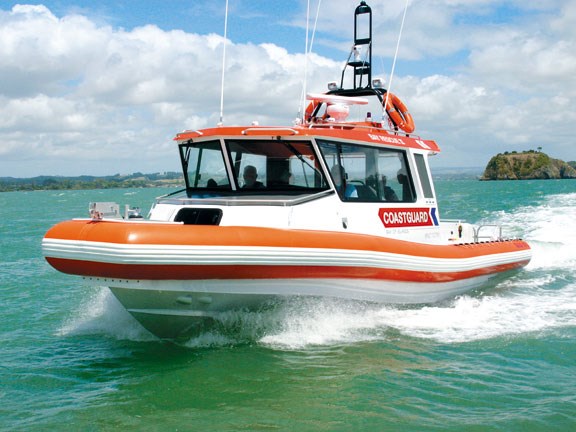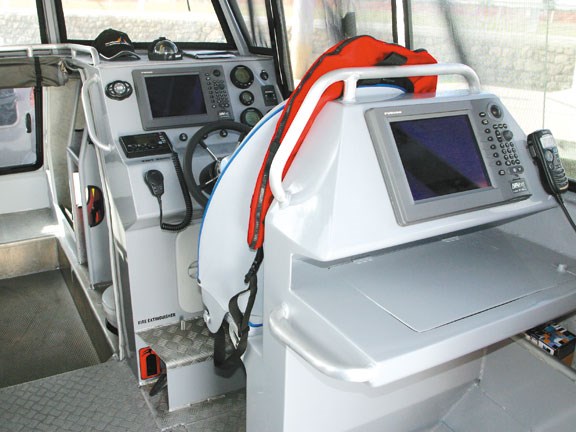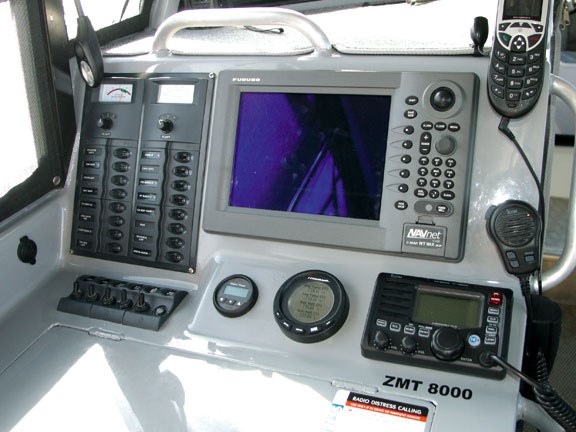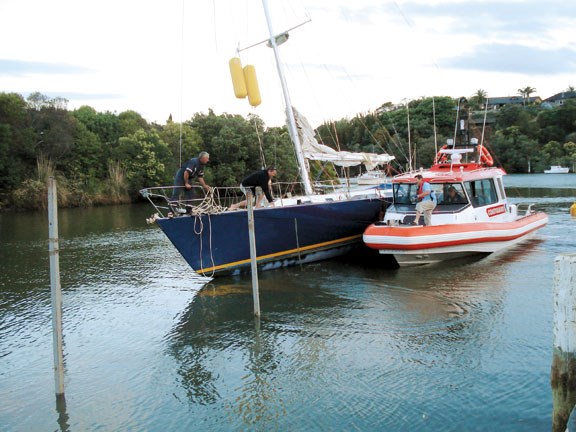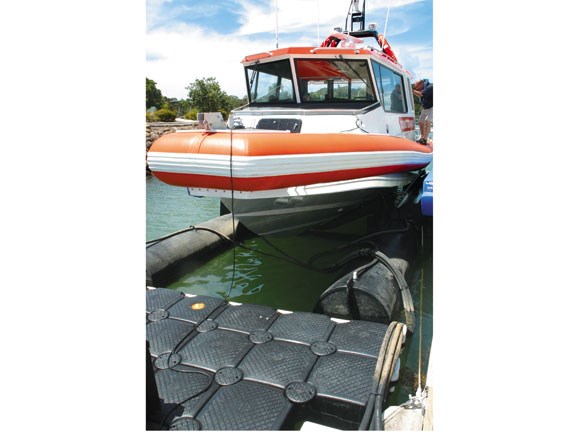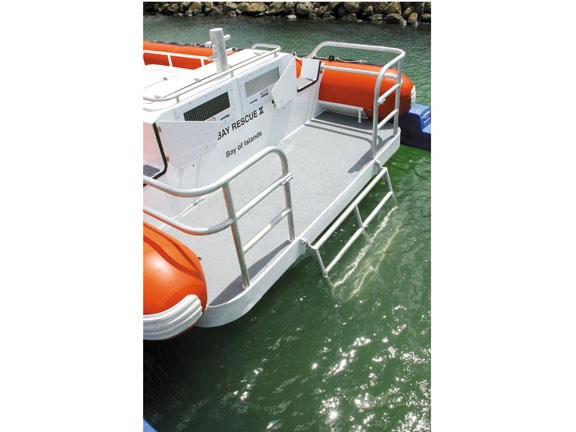 Keep up to date with news from Trade-A-boat or like us on Facebook!